Mix and Match Basics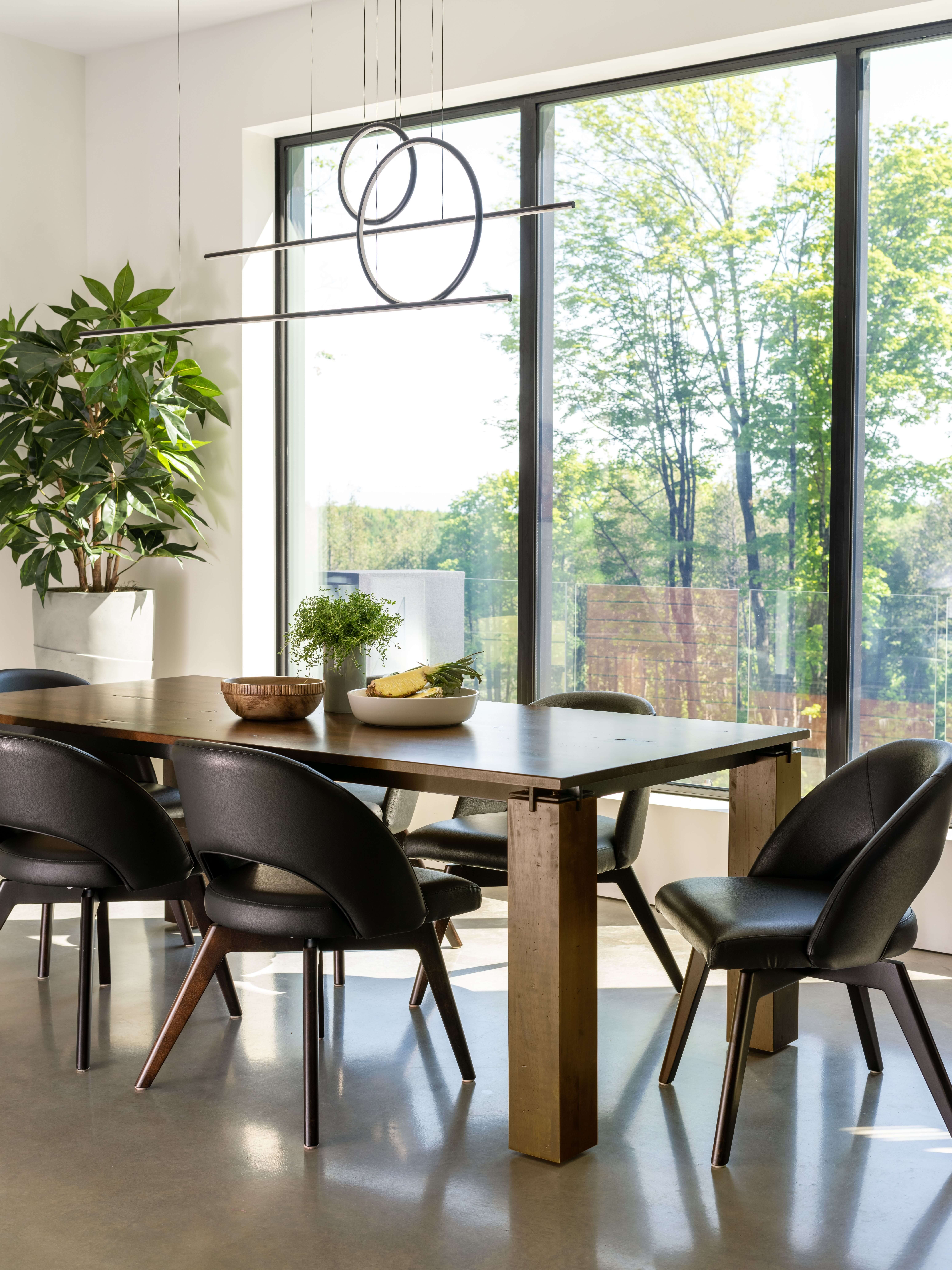 Decorating is a creative, limitless and constantly evolving process. The wide range of styles we've known for many years is constantly changing and expanding. Navigating through all these trends can be quite a challenge, but it also means greater possibilities, allowing us to really let our imaginations run wild. Over the past decade, the "mix and match" approach has completely overturned interior design rules.
Perfect for the eclectic and the daring, but also for those simply looking to add a touch of originality to their home, mix and match is defined as the art of mixing styles, colors, patterns, textures, and materials. The result is a uniquely dynamic and personalized decor.
Would you like to discover and own this wonderful trend filled with unlimited potential? Here are a few tips and ideas to help you become a master!
Learning to Mix Styles
Combining different architectural or decorative elements while maintaining harmony can seem daunting. To ensure consistency in your decor and simplify your layout, we recommend sticking to two different yet complementary styles. Consider pairing opposites like past and present looks, curved and straight lines, and rustic and refined materials. Combinations like these will make a decor less homogenous, giving it a unique character.
Some of our Favorite Combinations!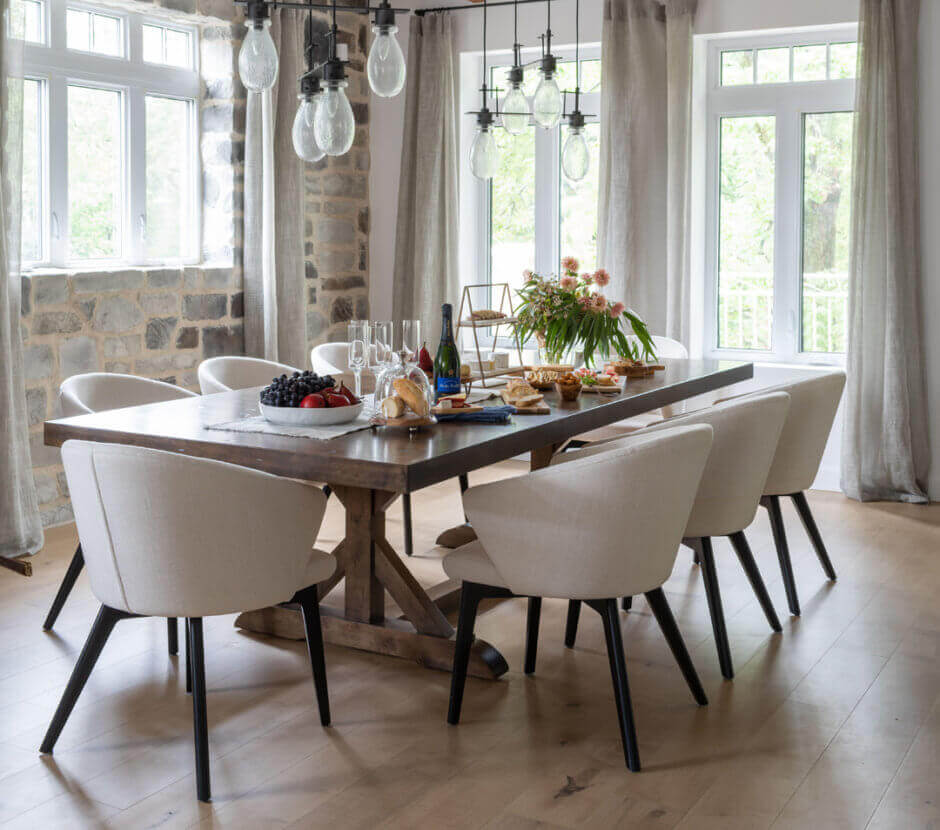 Start with exquisite contemporary chairs with rounded shapes and angular lines from the Downtown collection. Add a stately solid wood table with an industrial feel from the Loft collection. The result will be both avant-garde and welcoming.
Mix furniture with broad straight lines like this table from the Loft collection with delicate, classic pieces like these timeless chairs from the Canadel collection. Create a contrasting effect by pairing light and dark tones. The result will be a charming room that recalls the calming effect of the countryside.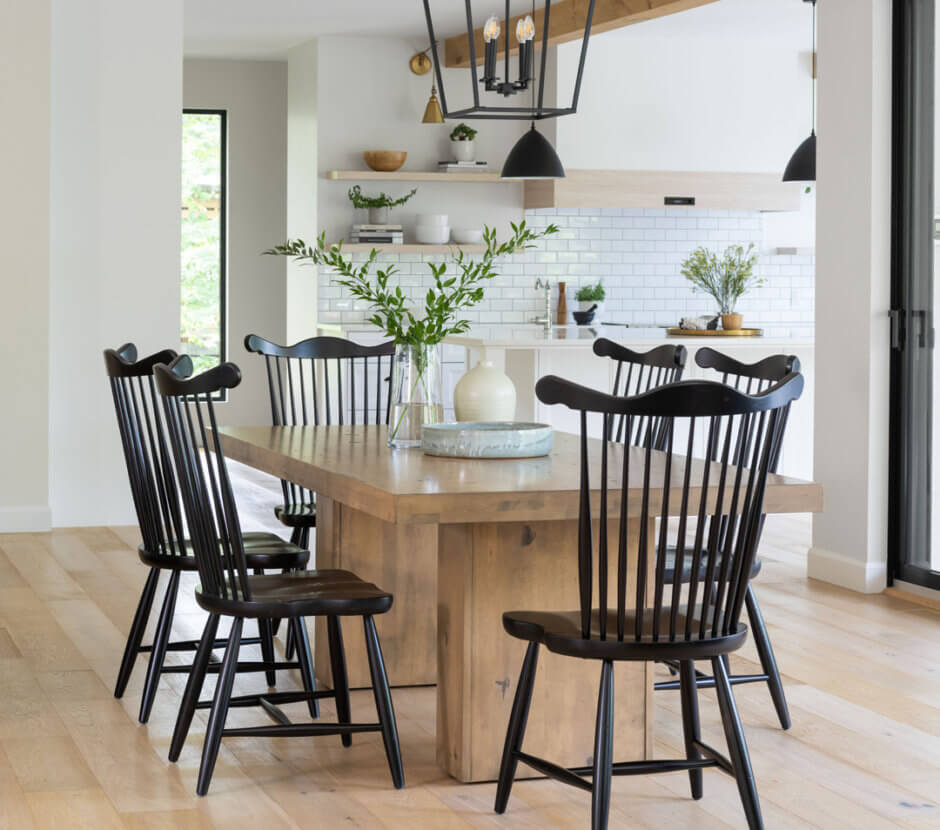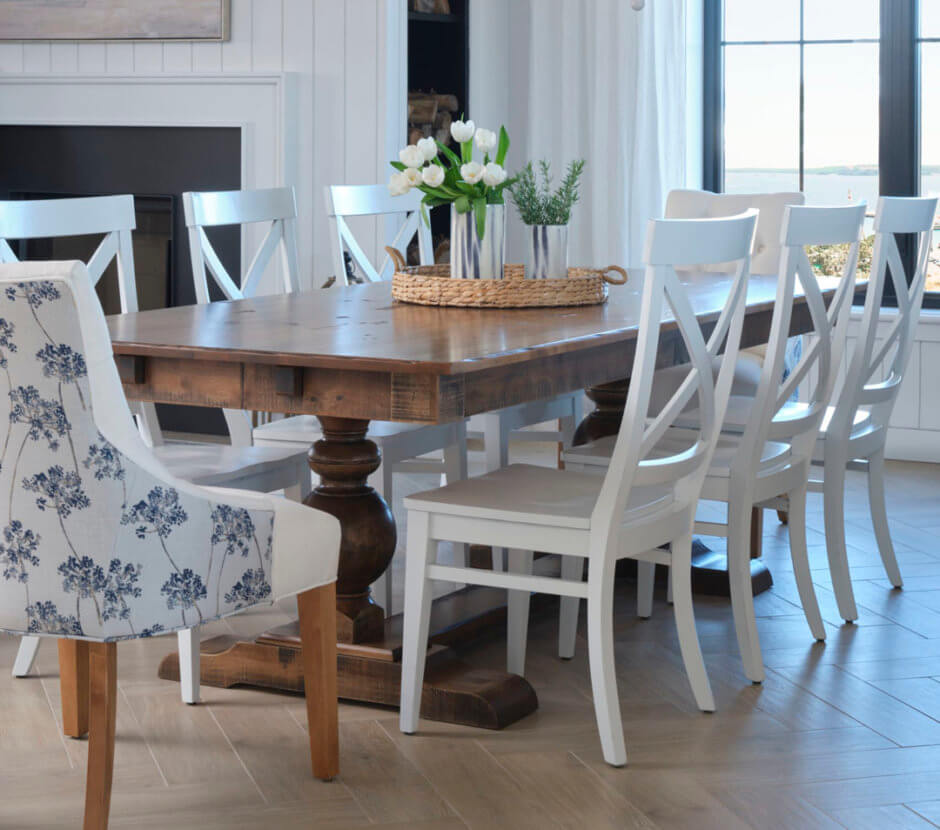 Do you love the authentic allure of rustic-finish furniture, but also the elegance of a classic style? Combine elements from these two worlds with furniture from the Canadel and Champlain collections. The result will be a chic, cozy setting steeped in history.
For a lighter mix, choose furniture with a streamlined look and combine it with decorative elements in different styles. For example, matching bohemian accessories with contemporary furniture will bring a good touch of warmth to the room. In the same way, floral fabrics will really soften an industrial-looking space.
Choosing a Guiding Principle to Create Harmony
Establishing a specific theme or visual identity for your room will help create balance and avoid overloading the space. This can mean basing your decoration on one color, pattern or shape.
Although mixing different prints and textures is a fundamental element of the mix and match approach, it is a good idea to make choices that will give your decor a variety of patterns (stripes, polka dots, flowers, etc.), but in similar shades. You can also opt for the opposite mix, selecting a single pattern, but in different colors. Whether it's accessories, fabrics, floor tiles or wallpaper, the possibilities for incorporating them into your decor are endless. Dare to be maximalist and create a living environment that's surprising, but above all, a lot of fun.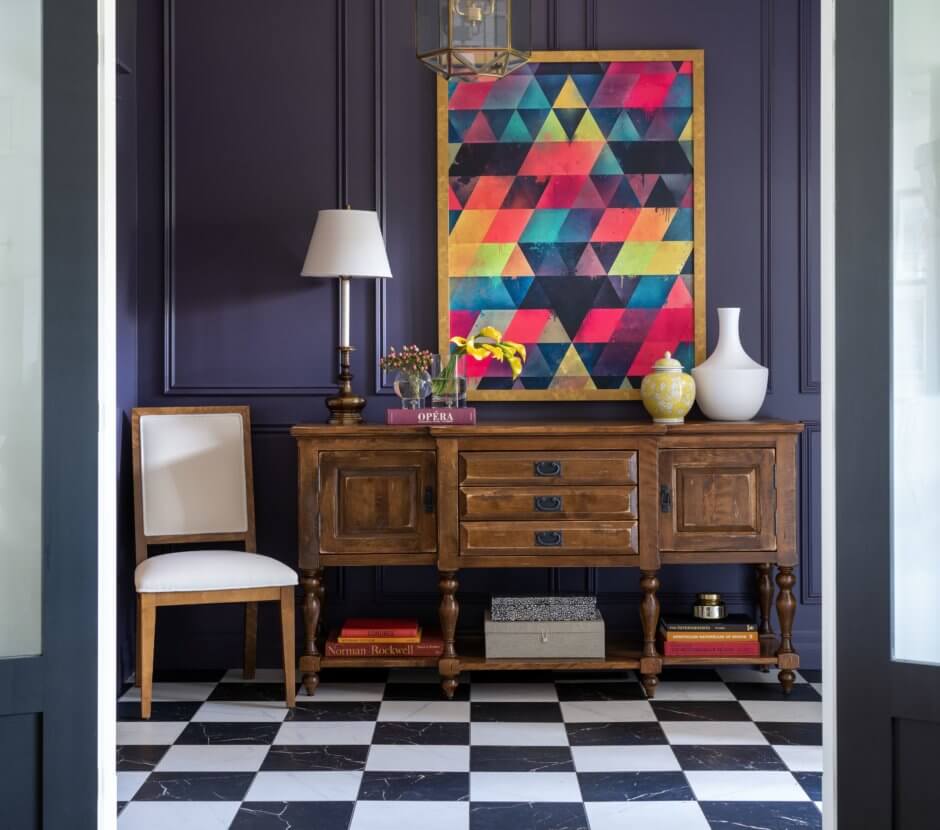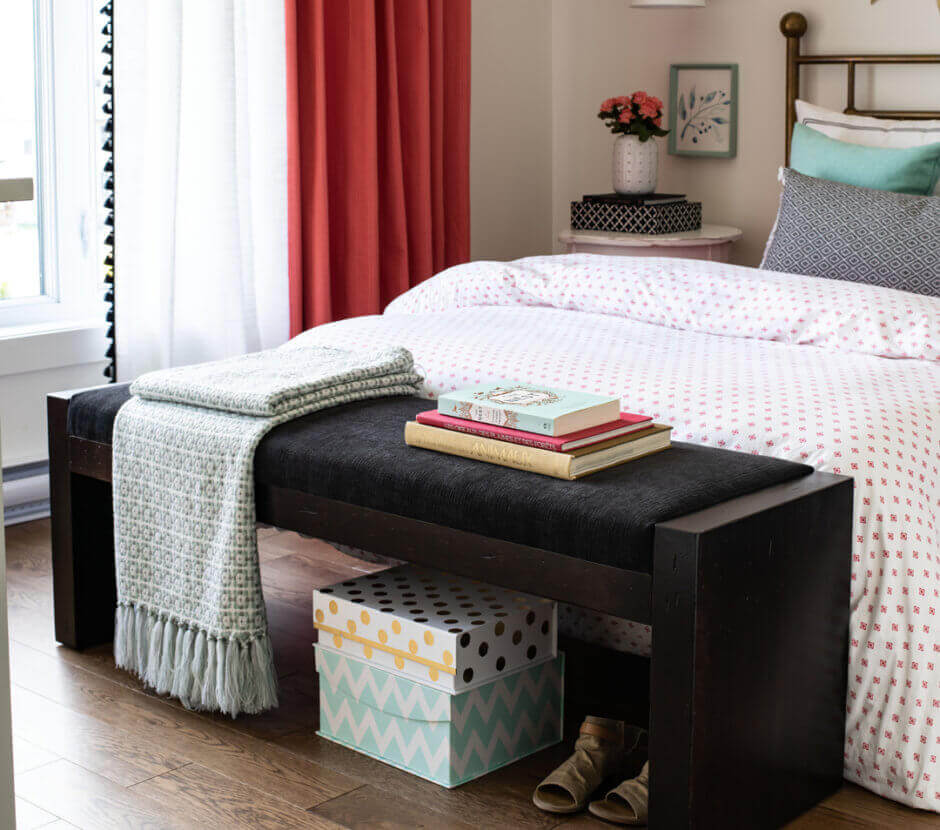 Another of our favorite tips is to select light, neutral colors for the walls and let your creativity flow when choosing furnishings and accessories. This will allow you to enjoy a space that is as original as you want it, but which can easily evolve over time.
When combining different colors, we suggest you choose a maximum of three in different tones. Similar colors from the same primary color bring harmony. That said, complementary color schemes—opposites on the color wheel—create stimulating, expressive settings.
Creating a Unique and Unexpected Setting
Canadel offers a wide range of models and numerous customization options, making it easy to create a dining room or living room set that expresses your uniqueness! Here are a few ideas to guide your choice of furniture:
1. Get a beautiful table and add chairs in different styles
Don't be afraid to mix patterns, colors and fabrics! These pieces will inevitably become the center of attention in your room and set the tone for your entire decor.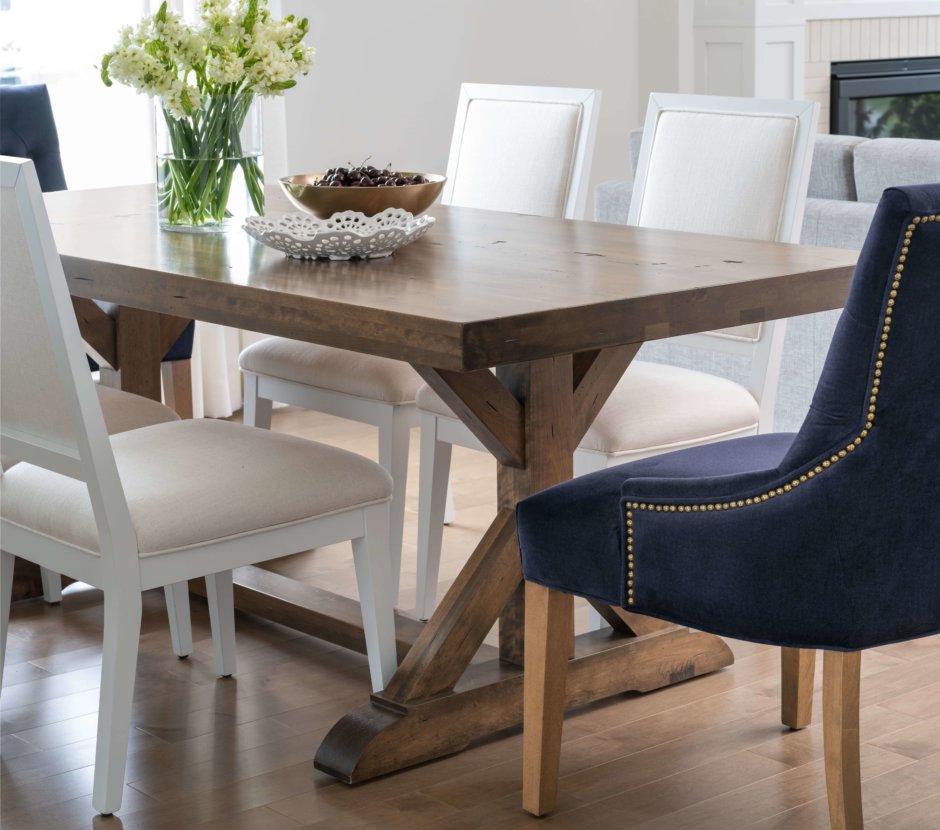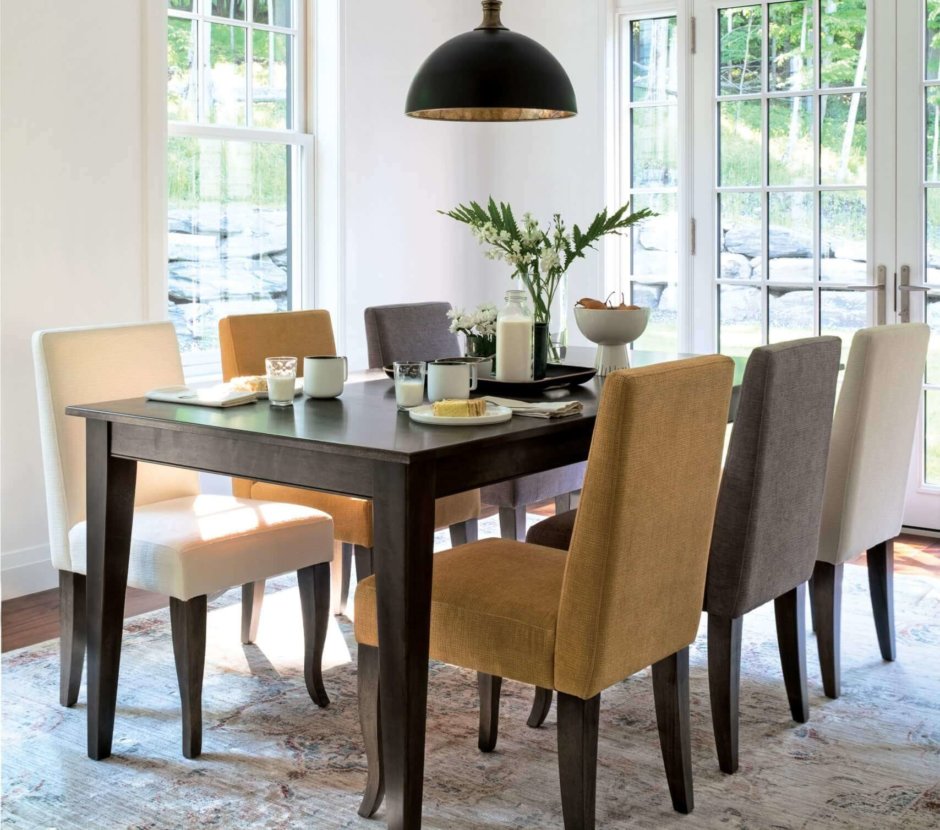 2. Alternate chair models and colors around the table
Prioritize a muted, elegant table that will draw all the attention to your chairs! Using the same fabric in different shades can create a very interesting visual impact.
3. Dare to choose two fabrics, one plain, one patterned, for your dining chairs
First, find your favorite patterned fabric. Then find a plain fabric in a shade that matches some of the pattern details.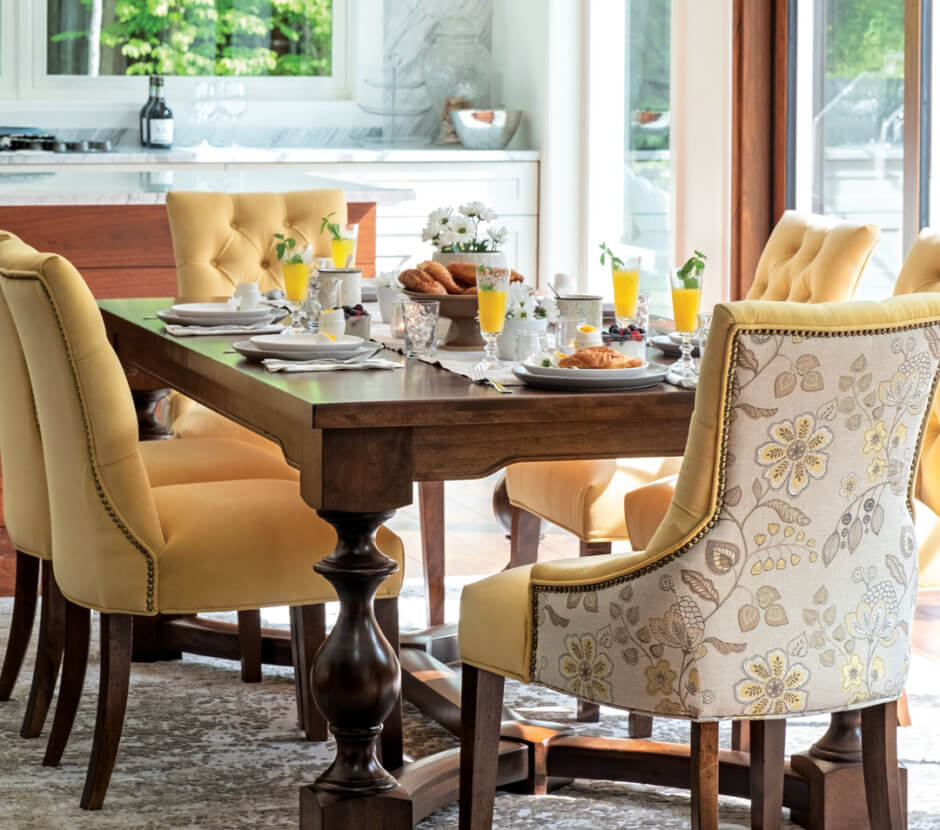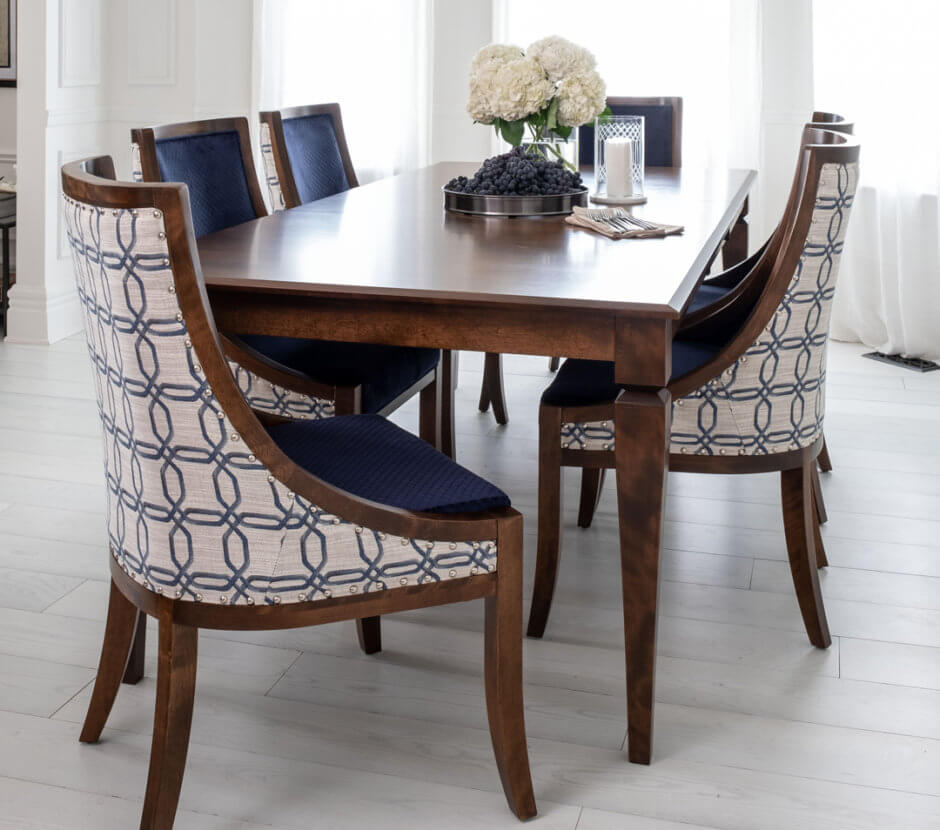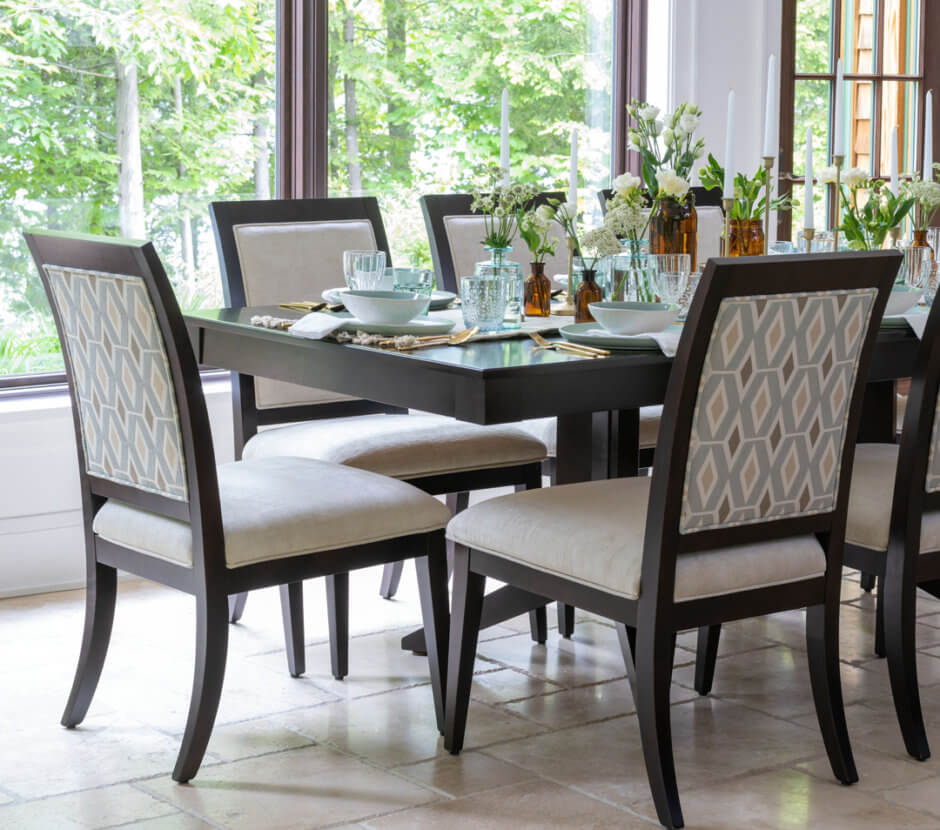 4. Choose a different chair for the ends of your table
For a stately dining room set that's anything but boring, get upholstered chairs of different designs for the ends of the table. For a more discreet mix, choose the same fabric. And for a creative result, anything goes!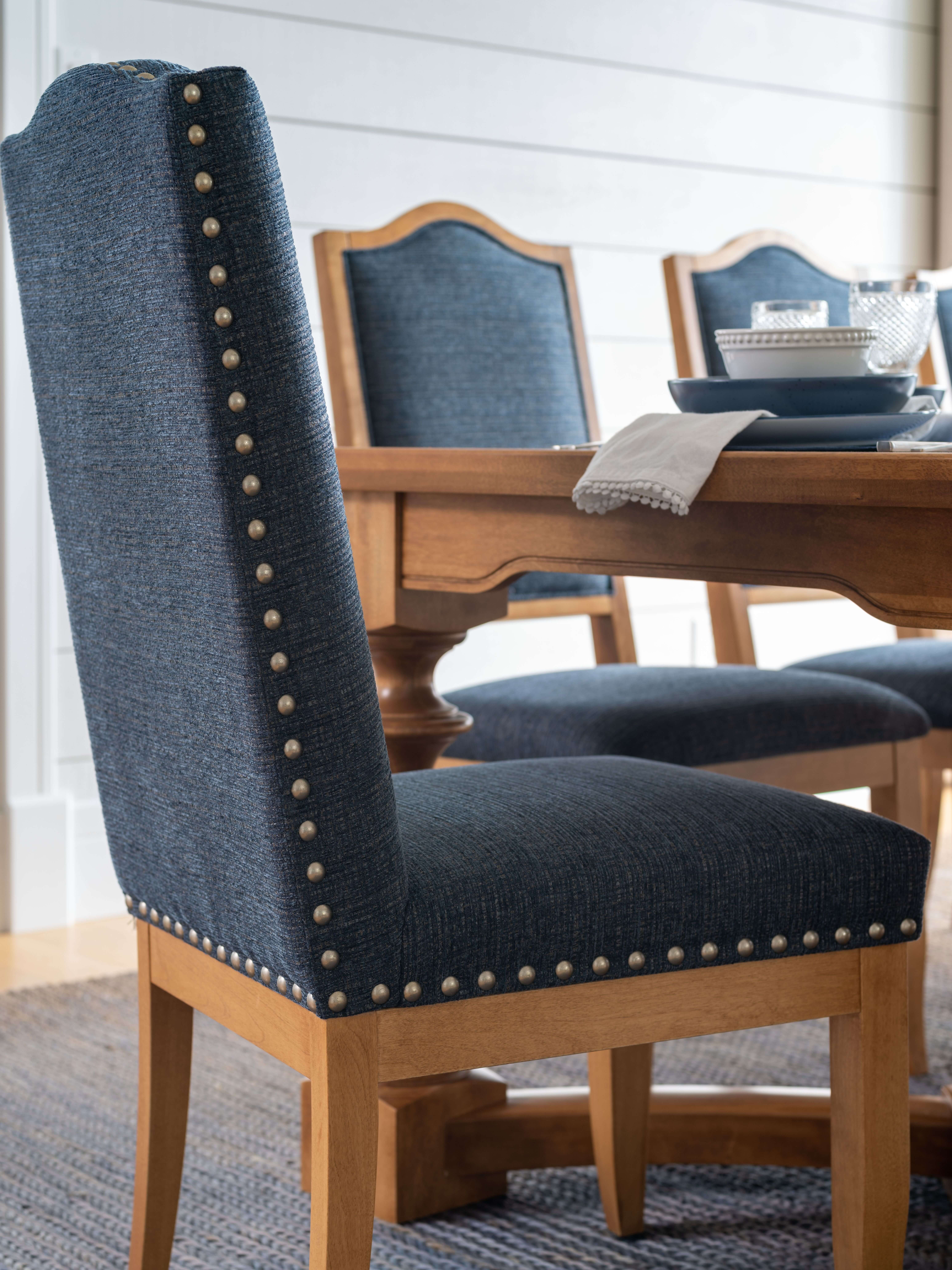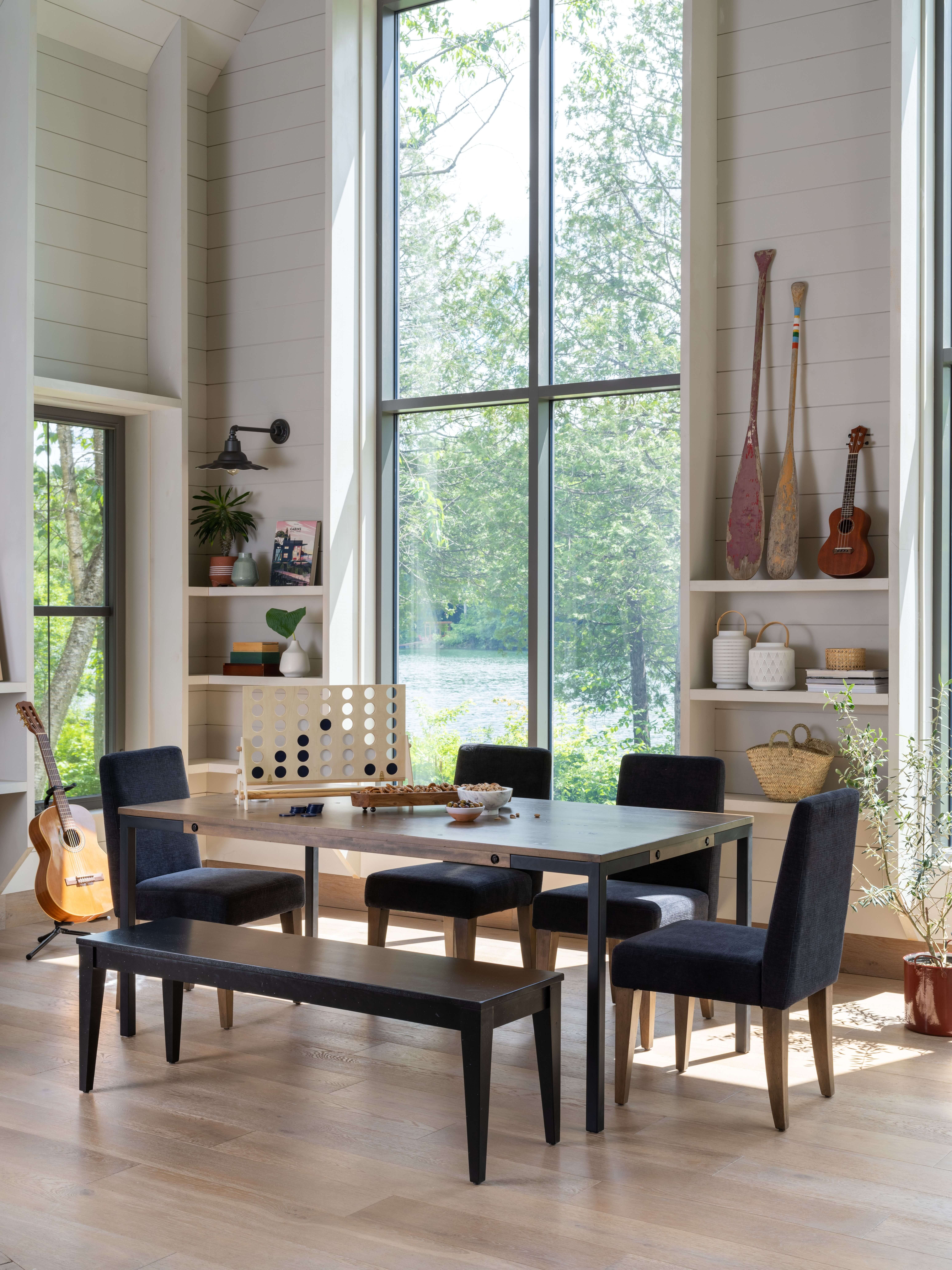 5. Add a bench to your set
A lovely wood or upholstered bench on one side of the table can give a streamlined look to any room, while extremely practical. It enlarges the space, clears the view and transforms into a banquette when placed against the wall.
We're huge fans of the mix and match trend—it allows us to break all the rules of interior design and let our personalities shine through our decor.
The key is to base the design of a room on elements that resonate with you, while making sure to echo colors, materials, textures and shapes. Dare to use unexpected combinations and bold elements. You'll be really proud of the result.

These beautiful photos are from our customers!