A Fern-Filled Dining Room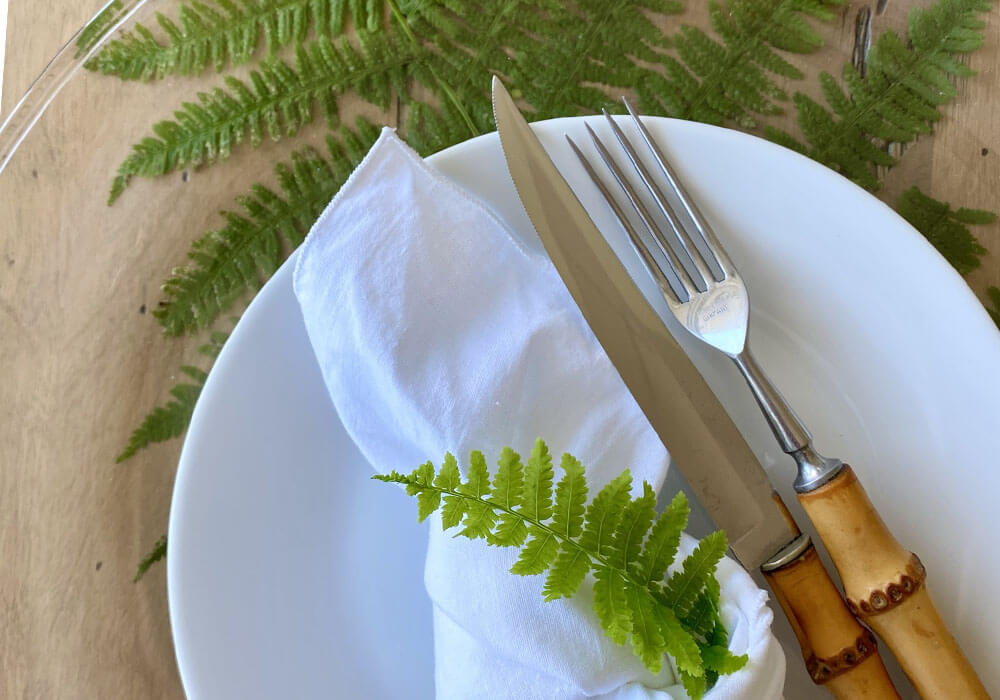 In this decor, ferns are our first choice for a touch of natural aesthetics, ensuring that this magnificent green plant color is given a place of honor. Did you know that in ancient Greece, India and Egypt, the color of the gods, the true symbol of rebirth, vegetation and fertility, was green? This hue of calm and serenity is also synonymous with hope and life. It is even thought to increase creativity.
It appears that our brain is spontaneously attracted to this color. Indeed, green symbolizes nature and is associated with moments of rest and relaxation. Not only does it give us the feeling of home, but it also stimulates our appetite! Hence the interest in integrating it into our table decoration, because nothing is better at putting our guests at ease, tickling taste buds and pleasing the eye.
For the Celts, the fern symbolizes memory, and in other cultures it is thought to be a good luck charm. Its fronds magnificently adorn a pristine white, soft gray or light-green tablecloth.
To make it a part of your table, we suggest simple tips and tricks that will have a grand effect.
Wild or Hothouse Ferns?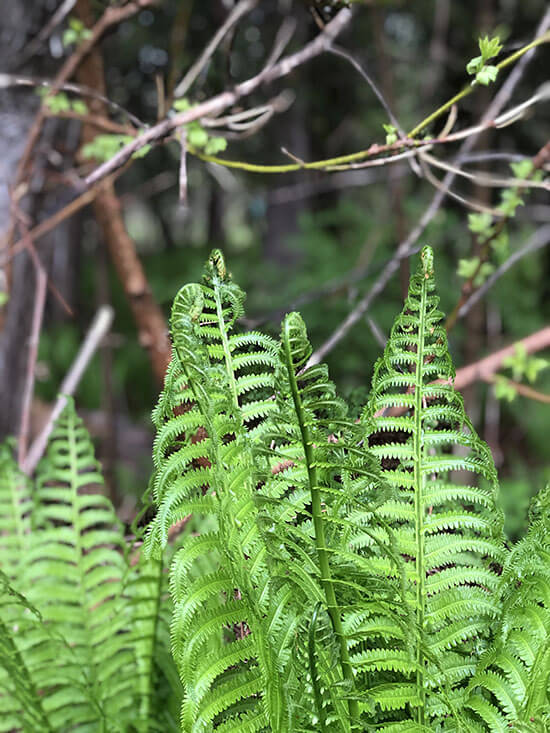 Although not all types of ferns are found everywhere, there are nearly 13,000 species, so the choice near you can be extensive! Whether you pick them in the garden, in the forest or in the undergrowth, to preserve the beauty of the fronds longer, cut the stem with a paring knife.
Picking the fronds yourself in the forest will give you the perfect excuse to enjoy an invigorating walk. Before unfurling, the growing fronds are tightly wound. It is better to select those that have reached a certain maturity to highlight their delicate lacy look at the table. They are easily found in shaded areas, in moist soil. Just look out for them and you will make beautiful discoveries… for free!
Ferns picked in the wild don't cost a penny, but there are a few rules to follow when cutting them (see sidebar). A visit to the florist could provide more durable ferns, but the effect will be virtually the same.
It is important to cut wild ferns the day they will be used and to put them in water as soon as they are cut. Also, since cleanliness at the table is a must, make sure the foliage is spotless before decorating your table with wild ferns!
Under the Plate… In the Plate…
You can put fern fronds under the plates, and for this, you'll need as many fronds as there are guests. To get the look you want, fern fronds should be quite large and extend beyond the plate, so full-bloom fronds are a good option. Here are the steps to follow:
At each place setting, lay a frond flat, spores down, and spread out so that you can admire its shimmering green color.
Place a clear charger plate on the frond, then a smaller serving plate, preferably white for a contrasting effect. You can also repeat this by adding a clear bread plate, taking care to place the fern frond in a different direction.
Layering is perfect to add more "greens" to each place setting. To do this, simply tie a napkin and insert a smaller frond. Then, place the decorated napkin nicely in the center of the serving plate with a knife and fork.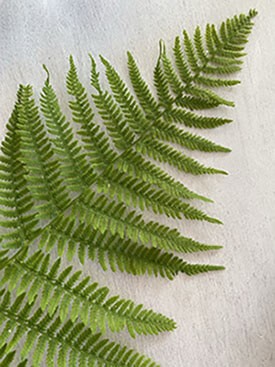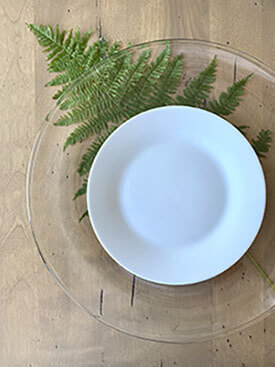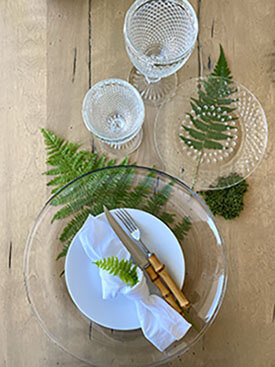 In the spring, you may be lucky enough to find small fuzzy pussy willows. Replace the fern in the napkin with the willow blossoms you have hand-picked or with decorative apple or crab-apple branches. Another option: make a mini bouquet of fern and pussy willows!
Tip: Use pruning shears, as the shoots are more difficult to cut!
…Or in a Vase
To enjoy the beauty of ferns at your table even more, fill your vases with fronds instead of flowers. Just follow these simple steps to make your table look great at little cost!
In the forest or at the florist, select medium-sized fern fronds. Keep in mind that if they are too wide or too high, they will hide your guests and create an obstacle to discussions. Don't forget to wash and dry the wild fronds thoroughly!
Opt for several narrow-neck glass vases that will better hold the stems. Select jars or bottles of different sizes.
Fill the selected containers with fresh water and place the wild fronds in them right away.
Create a table runner with your vases by lining them along the center of the table.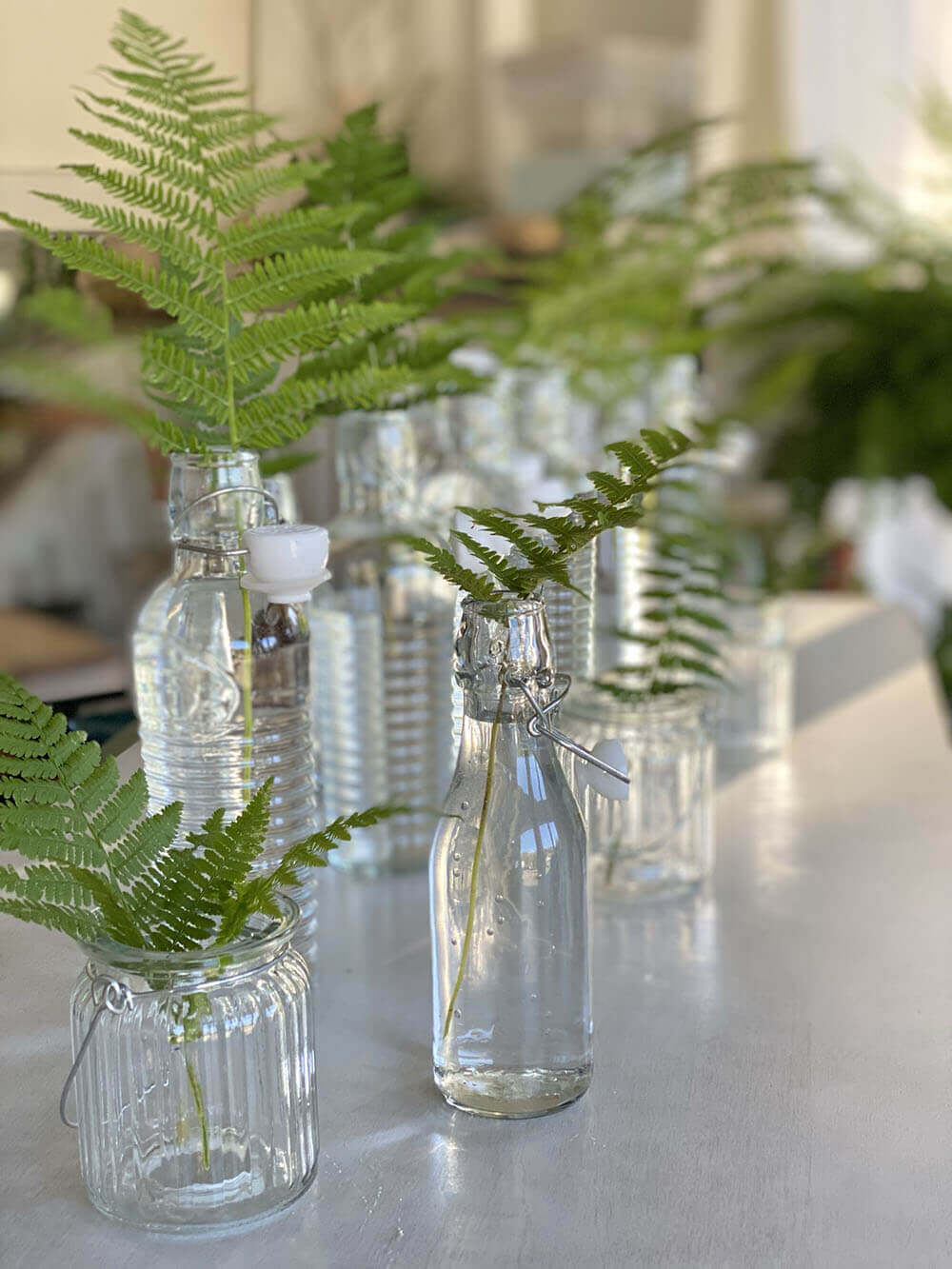 A Festive Wall that Stands Out!
Involve your children in creating a festive atmosphere that will delight their birthday guests at little cost! All you need is a variety of fern fronds and cute washi (or masking tape), which can be purchased at craft stores.
These decorative Japanese rice paper tapes are the latest trend, and they have the added bonus of not sticking to your walls forever. There are many colors and patterns to choose from, so buy a few, because the more colors you have, the more admiring looks you'll get! For a personal touch, let your little one choose their favorites. The birthday child will be even prouder of the result!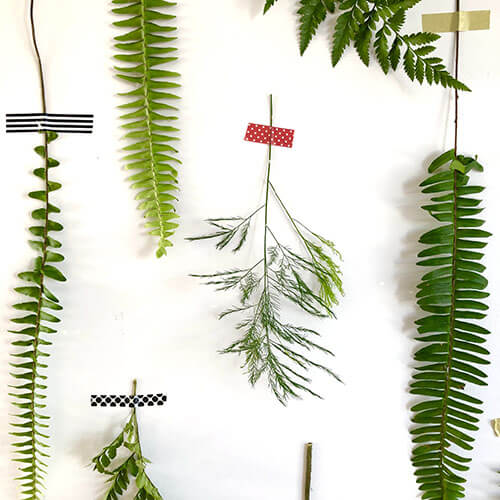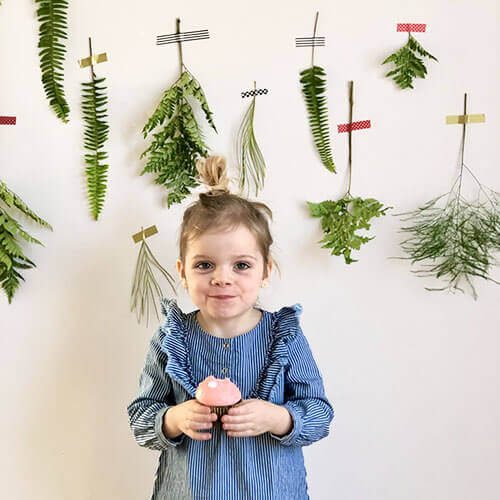 Together, choose a wall on which to create the masterpiece. The staircase wall is also an interesting option. To protect them, remove photos or paintings from the wall so that your artist's little fingers can run free. Cut pieces of ribbon and let them glue the ferns here and there, stems up and fronds down with tapes of different colors and patterns. Stand back and admire the work!
Making your own table decorations is certainly a pleasure, takes little time and, while beautiful, is also beautifully simple. A visit to your garden or a forest will allow you to achieve this trendy and eco-friendly look. A touch of nature at the table whets the appetite and gives the room a clever and brilliant feel!