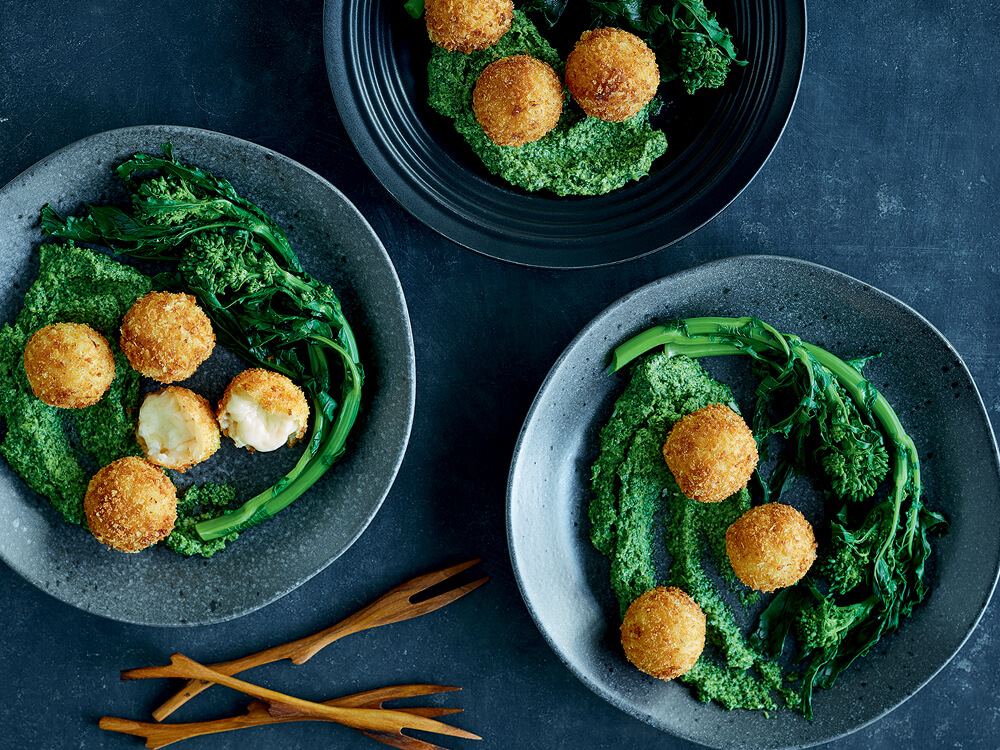 Preparation : 45 minutes
Chilling : 1 hour
Cooking : 45 minutes
Servings : 30
Cooked arancini freeze well
Ingredients
Risotto
1 onion, chopped
2 tbsp (30 ml) olive oil
¾ cup (160 g) arborio rice
¼ cup (60 ml) white wine
3 cups (750 ml) hot chicken broth
½ cup (35 g) Parmesan cheese, freshly grated
Arancini
1/3 cup (50 g) unbleached all-purpose flour
2 eggs
1 cup (80 g) panko breadcrumbs
3 oz (85 g) mozzarella cheese, cut into 30 small cubes
Vegetable oil, for frying
Directions
Risotto
In a pot over medium heat, soften the onion in the oil. Add the rice and cook 1 minute, stirring to coat in the oil. Add the wine and let reduce until almost dry.
Add the hot chicken broth, about 1 cup (250 ml) at a time, stirring frequently until the liquid is completely absorbed before adding more broth. Season with pepper and a small amount of salt. Cook 25 to 30 minutes or until the rice is tender. Add more broth as needed. Add the Parmesan and stir until completely melted.
Spread the risotto out on a baking sheet and cover with plastic wrap. Let cool and refrigerate 1 hour or until completely chilled.
Arancini
Preheat the oil in a deep fryer to 375°F (190°C). Line a baking sheet with paper towels.
In a shallow dish, place the flour. In a second shallow dish, lightly beat the eggs. In a third shallow dish, place the breadcrumbs
Using a spoon, scoop up about 1 tbsp of the risotto for each arancini and form into a ball with your hands. Insert one cube of the cheese into the centre of each arancini and reform into a ball.
Coat the arancini in the flour, shaking off any excess. Dip into the beaten eggs, letting the excess drip off. Then press into the breadcrumbs and coat well.
Fry 10 arancini at a time in the hot oil or just until nicely golden, about 2 minutes. Watch out for splattering. Drain on the paper towels.
Arrange on a serving platter and serve with rapini pesto, if desired.