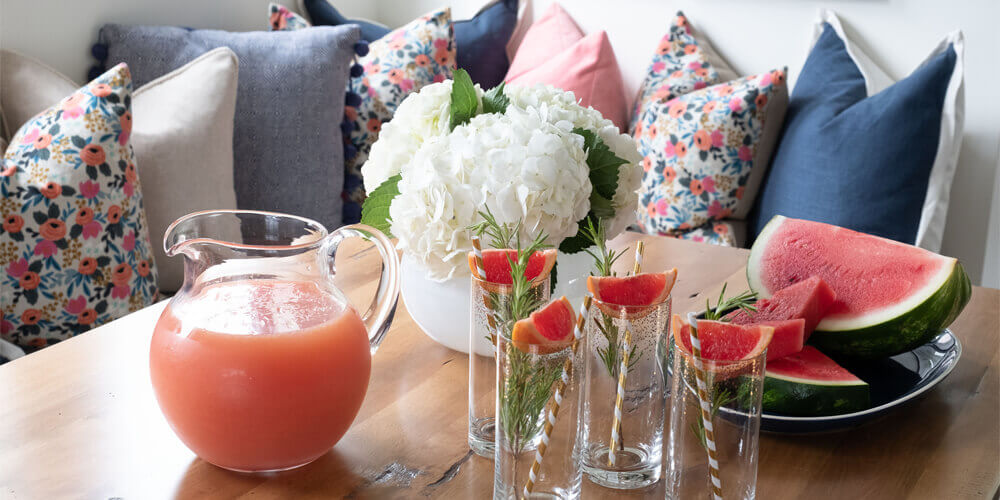 The addition of natural accessories, whether made of wood, stone or plants, has marked the decoration trends of recent years. It is that the botanical aesthetic envelops us in a soft cocoon where it is good to live. A spirit of calm and serenity emerges from the rooms where we find these reminders of nature, whether through a few simple accents or by combining several elements inspired by the gardens, forests or streams that surround us.
Flowers no longer play a secondary role. They are no longer being used only for pretty vases and table centres in decoration. They can be seen beautifully adorning curtains, chairs, tables and walls with contemporary tapestries. They are no longer reserved only for more feminine decorations. We now observe floral trends flourishing more and more in various aspects of our everyday life, finding a place in all styles.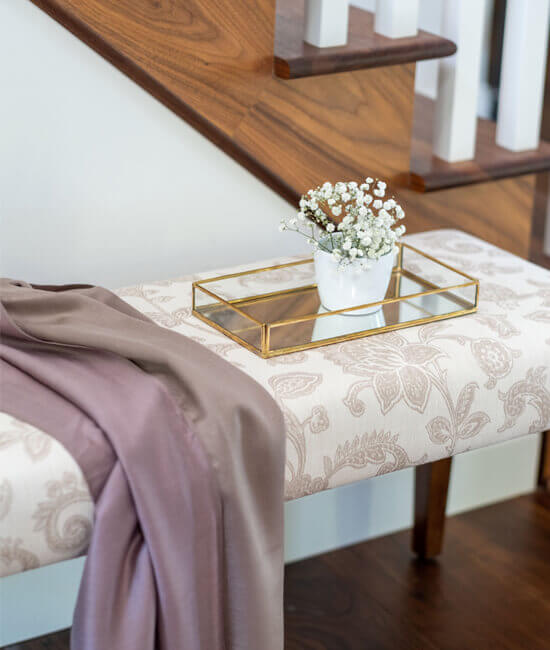 To Each Style Its Own Floral Pattern
Although they have been ubiquitous over the years, whether in a farmhouse, French or country-style settings, the floral motifs have faded a little. It might be because they have been considered a little too exuberant versus the minimalist and modern styles we have seen lately. Or maybe they just are they better suited to some styles than others?
According to Chantale Fontaine, an expert designer, floral patterns are in tune with just about every style. It is all about appearance. Colourful, oversized and very representative of reality, they will fit perfectly with a classic or contemporary style. We can easily see a more abstract pattern advantageously adorn a modern or minimalist decor. They will also adapt beautifully to the industrial style if one opts for a sepia hue with abstract or even realistic motifs, grasses, for example.
Tapestries, Fabrics and Floral Accents, Where to Put Them?
A golden rule of Chantale is not to include too many floral motifs, as the result could be disappointing. For her, it's all about knowing how to balance them properly. Thus, it makes sense to concentrate them in one part of the house. That way, they will find the place and the highlight they deserve.
To adopt the floral trend into one's home, there are, of course, tapestries. They are best suited and will be more beautiful in dining rooms, bedrooms and living rooms.
According to the designer, the trend of the day is to apply very large floral patterns with oversized sheets on a single wall, which is preferable to create a subtle and light vibe.
For a remarkable and original accent, it is possible to opt for the backs of chairs covered with a floral patterned fabric. To keep it simple, keep the seat covered with a plain fabric. For a decor that is neither too masculine nor too feminine, a floral fabric of a sober tone (gray or beige for example) will be indicated. To introduce a sunny note, a fabric with some yellow flowers will create a touch of gaiety. And since pastel, soft and tangy tones are trendy, the seats can be covered with a plain and yellow fabric that will highlight the floral pattern of the back. For even more originality, nails will beautifully embellish these chairs.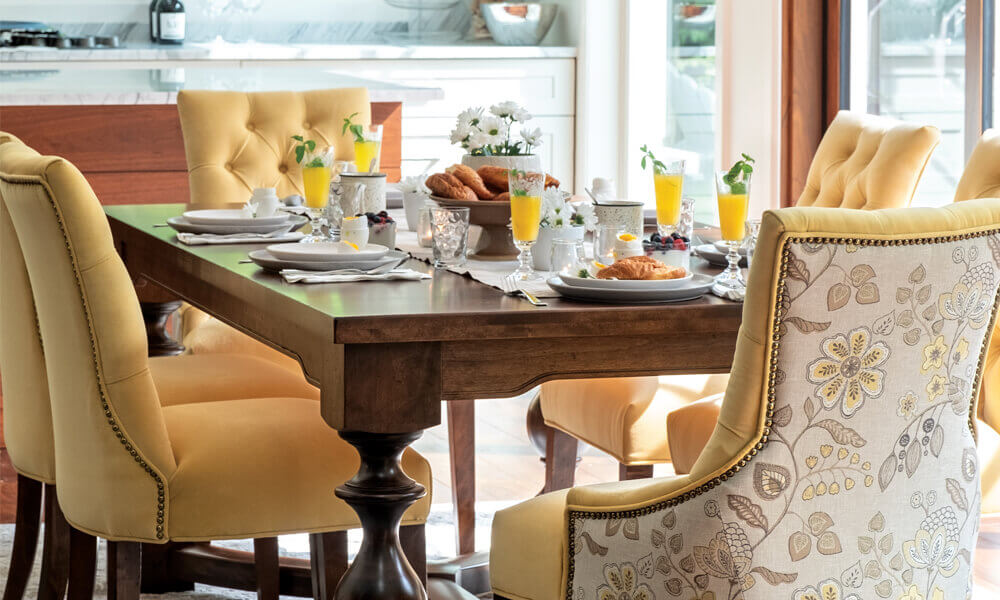 Flowers Without Missteps
The floral trend undoubtedly has its place in bedrooms, living rooms, large bathrooms or dining rooms. Chantale is less likely to integrate it into small and medium-sized kitchens, as these rooms often present many obstacles and can easily give the impression of being overloaded. On the other hand, a floral fabric will be perfect on a bench or even with an emphasis on the backs of the chairs, according to her, so it is better to avoid it on the walls and the dressing of the windows.
In other rooms, a floral pattern on a wall does not mean you can't also use a different one on curtains, carpets and chairs. In a dining room with a floral tapestry, chairs covered with textured fabrics or with stripes can create a great look. Avoid as much as possible: the combined use of a tapestry with curtains or other covering fabrics with floral motifs in the same room. Overuse of the pattern will create an impression of overload and overabundance.
A Little Highlight
For those who like the floral trend, but are hesitant to incorporate it in large quantities into their home, accessories with floral accents can be a good option. You can very well add them by touches, here and there in your house.
They will look lovely on the cushions of the living rooms and bedrooms. It is common to choose sofas or bedding of neutral colour for these rooms, which opens the way to almost infinite possibilities: one can very well opt for different combinations of solid fabrics or floral patterns and varied colours without fear of aesthetic missteps.
It is also very simple to replace the cushions when we get tired of seeing them. Why not choose brightly coloured floral patterns for warmer seasons and replace them with more sober and sophisticated styles for Fall? The bright colours cushions can simply be stored until the following year. It is a really easy, sustainable and cheap way to create the impression of having a totally new decor every season.
No need to opt for a total look when it comes to curtains and dressing up the windows. Of course, sober floral fabrics are an option. If you are still hesitating, why not choose curtains with a combination of fabrics. For example, opt for a curtain with a bigger section made in a plain fabric with just the bottom covered in a floral pattern, or vice versa.
As for the dining room, a tablecloth with floral motifs will give the desired appearance. And as with cushions, it is quite possible to get more than one to adorn your dining table setting differently according to the seasons.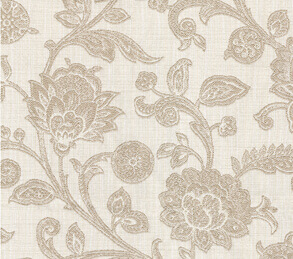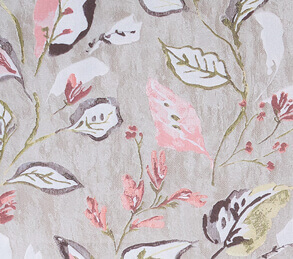 Do It Yourself: The Floral Trend
If you are not into the idea of covering a wall in a floral-patterned tapestry, then opting for posters featuring flowers is a great option. Making frames yourself with plant-inspired fabrics is also very simple and allows you to achieve the desired floral look. Just stretch and glue the chosen fabrics onto cardboard boxes and then frame them. For the fabric, you can vary the patterns but focus on the same tone. Along with a set of identical coloured frames in different sizes, the posters will beautifully decorate a wall.
It is also very easy to make botanist boards yourself, currently very popular in decoration. Simply place flowers and plants between the pages of a newspaper or notebook. Then, put a weight on it and let it dry for several weeks. The flowers and leaves can then be arranged by sticking them on a fine white or black paper. You can then frame your artwork at an affordable cost.
Although the botanical trend has been on the rise in decoration for a few years, floral motifs have always been present in our homes. They have been bypassing fashions and trends without ever stopping to attract and seduce us. Whether they are cheerful, discreet, sophisticated or sunny, they are suitable for all styles and tastes. Simply adapt them to yours.