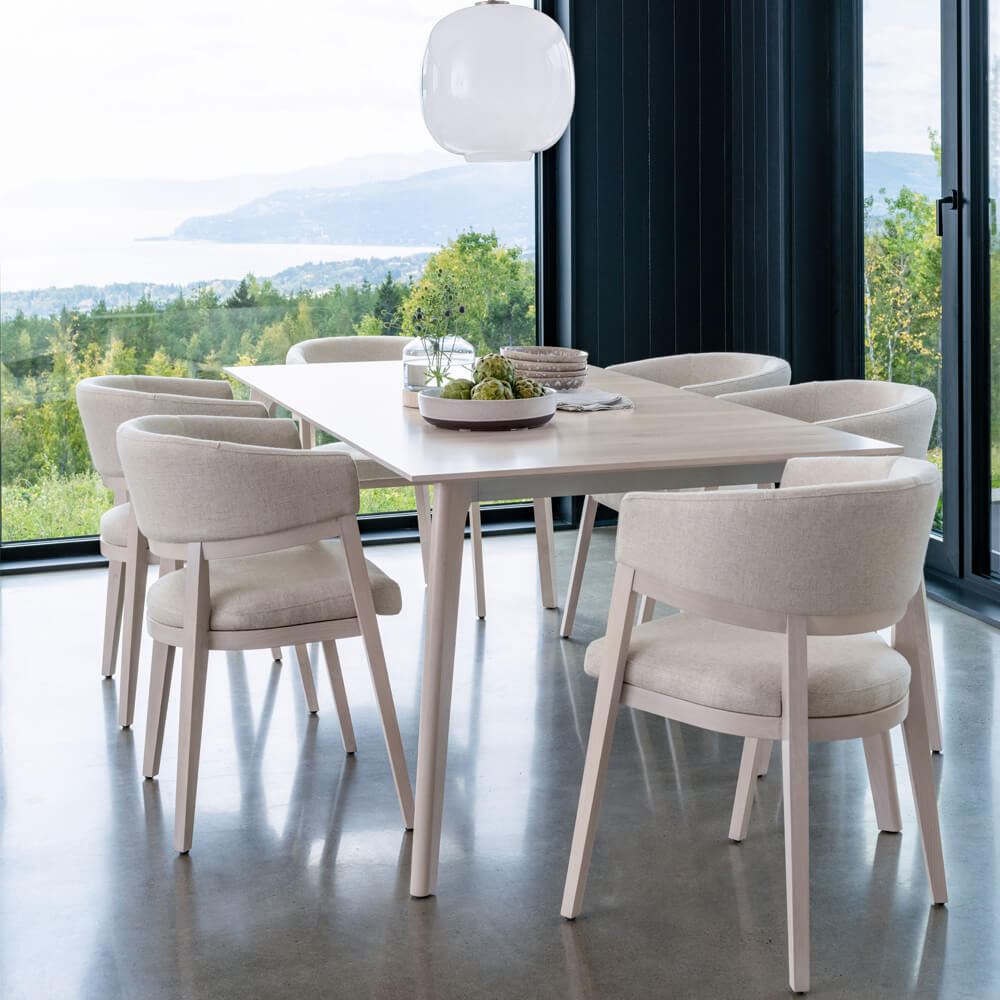 It is a well-known fact that opposites attract. This also applies to decorating rules. Think of the mix-and-match trend—a way of creating perfect moods by combining different styles, textures and shapes. In recent years, round furniture pieces have become a must-have. Put alongside other more linear elements, they bring the perfect touch of softness and polish to our homes. Soft and supple accents are combined with rigid and straight lines to create a visual balance in the overall decor.
A Timeless Choice
The curved look is not new, in fact, it's quite the opposite. Its success is due to a soft, unifying and timeless character that conveys a certain mood, and has done for decades. Indeed, rounded pieces are largely based on furniture from the 1950s and 1960s, and on popular designs from the 1970s and 1980s. Think of round velvet sofas, spherical light fixtures and wallpaper adorned with curves and geometric designs. All good reasons to be daring and to integrate the shape into our homes!
A Shape with a Lot to Offer
We still love the simple, uncluttered and minimalist looks, but now we want them to show a little warmth. Round shapes are synonymous with design and elegance and they easily look at home in any room. They bring conviviality through their inviting and unifying character, delicacy when combined with a more austere decor and energy through their impression of movement. Studies have shown that round shapes can even promote relaxation and concentration. Whether in the living room, dining room or bedroom, let yourself go and add round touches wherever you want.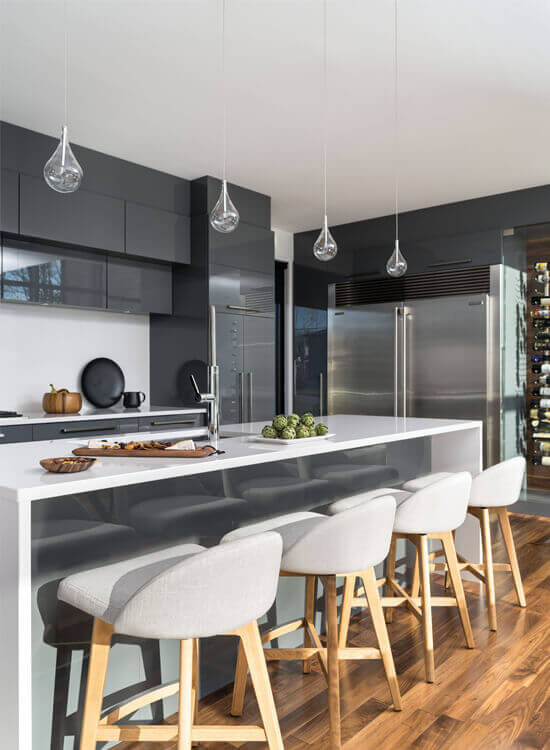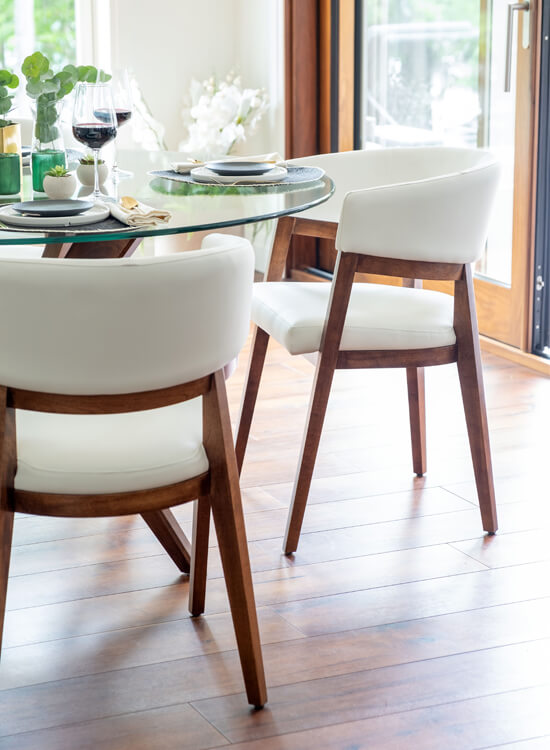 In Perfect Harmony
Fluid shapes create balance between other elements of our decor, and even between different rooms in our home. They create a harmony that breaks up the static effect that may be caused by the straight, strict lines of most of our furniture.
In the kitchen, choose a counter or an island with rounded corners to encourage people to gather around. For the dining room, a round or oval table offers the possibility of creating a friendly and inviting setup. Guests can talk amongst themselves more easily, in an inviting environment. In addition, from an aesthetic point of view, round shapes are visually less massive.
In chairs, rounded backs offer comfort and ease while their straight and solid legs ensure security and stability. Because a furniture piece meant to be practical can also be decorative, choose a sideboard with curved corners to complete a mood that is both cozy and creative. Push the trend even further and use accessories of similar shapes like trays, vases or frames.
In the bedroom, choose a curved headboard and round nightstands. Add a bolster to maximize the relaxing effect of a round shape. Extend the look to the living room with rounded accent furniture, bowed light fixtures and beautifully rounded decorative cushions. Finish with a large rug that will define and enclose the relaxing space with grace and charm.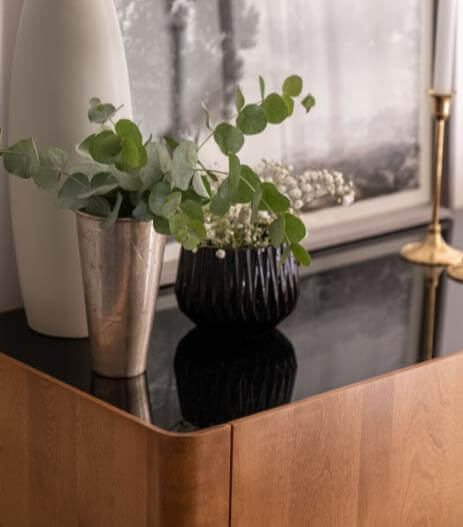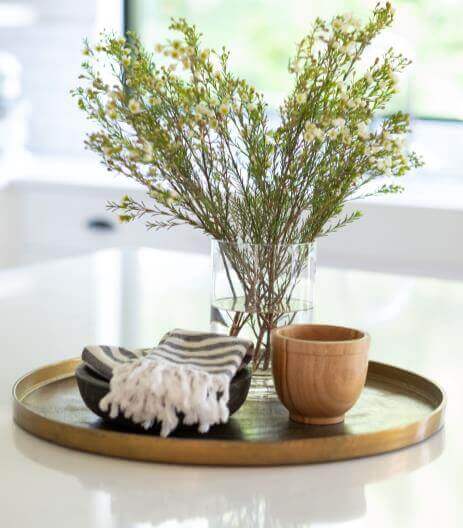 From Floor to Ceiling
Although a plump enveloping sofa is always tempting, curves aren't just for furniture. Oval, half-moon, round, squircle* or bean-shaped accessories suggest more than just straight edges. A round mirror above the console cabinet in the entryway offers a last peek before walking through the door. A beautiful round light fixture warms up the living room for moments of rest and relaxation. A small footrest provides much appreciated comfort at the end of a long day. Round placemats are used to set a good meal made with love. Whether for practicality or simply for aesthetics, this trend is quickly becoming an obvious choice.
* The trend is a nod to a geometric and mathematical shape invented in 1966 by architect Peter Panholzer—the "squircle"—a concept that combines "squares" and "circles". Since then, the term has been making headway and is now commonly used in the design community.
Perfect Curves
A rather feminine look at first glance, this trend blends in seamlessly with any look, whether retro, Scandinavian, bohemian or minimalist. It's easy to integrate as long as you don't overload your decor with too many round pieces. Like all good things, balance is required to properly highlight the flexibility and uniqueness of this trend. For those who want to stick to the basics, consider choosing small appliances and main furniture pieces in flowing shapes. Along with the slow deco movement, which is based on the careful selection of elements that make up our homes, curved pieces can help us achieve our dream cocooning space in no time.
What about Colors?
Obviously, pastel colors and soft shades do very well. On the other hand, since rounded shapes already bring their share of whimsy, it may be best to opt for neutral tones. This is especially true for larger furniture, unless you want to create a flashy effect. In that case, say yes to bright yellow chairs, but then go easy on other elements in the room. And as for accessories, you have free rein!
… And don't forget patterns, which are also a great option for incorporating some of those organic shapes into our everyday lives.
Many lend themselves perfectly to the world of design: Moroccan, polka dots, paisleys, arabesques, scrolls, florals and more.
Be inspired!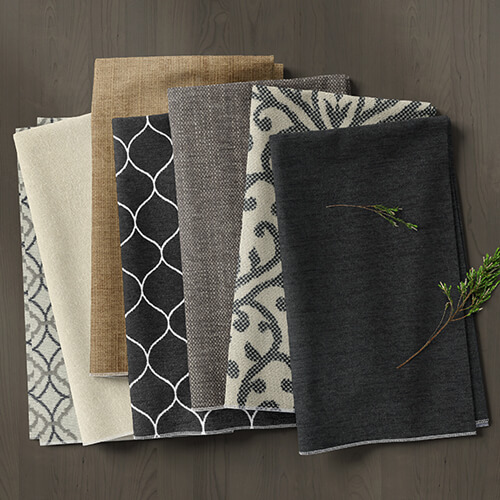 Borrowed heavily from the past, this trend can instantly bring a modern feel. It also adds volume and softness with its enveloping curves. These fluid shapes allow structure without partitioning spaces and create a friendly, warm and dynamic mood.