Minimalist vs. Maximalist – More than a Trend, It's a Way of Life
Everyone has their own style when it comes to designing the home of their dreams. It may be filled with a wealth of finds from boutiques or travels, or a refined sanctuary to rest the spirit. Our home is usually a reflection of our personality. And since nothing is black or white, the ambiance we choose can reveal the broad outlines of our character, but can also hide some secrets.

To Each Their Own
Do you lean toward minimalism, maximalism or even both?
To clarify, let's take a look at two trends that have left their mark.
Minimalism
Minimalist art appeared at the end of the '50s and dominated the scene throughout the '60s. All that is superfluous was set aside by artists who created works with simple shapes and monochromatic hues. This movement quickly moved into the sphere of interior design. Surfaces are uncluttered, colors are neutral, and knickknacks are put away. Say goodbye to distractions and make room for surroundings that are both refined and airy.
Many have eagerly adopted the style, and for good reason: consuming less saves money, is better for our planet, and allows us to declutter our homes and clear our minds. Famous author of four books on organization, Marie Kondo added her voice to the minimalists who claim that the golden rule is to keep (or show) only what sparks joy. The aim is to create a soft, calm and serene interior, without neglecting the overall character.
Maximalism
This trend, straight out of the '70s, promotes accumulation to create an eclectic and excessive decor. It is the bohemian and disco era that brings warmth and liveliness with its wide range of colors, materials, and rich and varied textures. Mix and match was very important in this movement. Overflowing bookcases, buffets filled with mismatched dishes, pictures hanging on the walls… Our attention is attracted by a great array of things in one space.
However, the idea is not to choose items and furniture at random, just to fill the space. It is more about creating planned chaos, a place with personality and comfort conducive to cocooning. We fill our spaces with memories and objects that give us pleasure and that are part of our daily lives. Imagine entering a maximalist home that feels like a boutique filled with treasures telling a story.
Tips for Designing an Interior that Reflects Who You Are
Although different, these two decorating styles may seem difficult to integrate into your home, but they are quite simple to achieve by following some basic tips and tricks.
An Uncluttered World
First and foremost, you need to declutter your space, but without throwing everything away! It's all about adopting a lifestyle trend that brings us back to basics. Start with one room at a time and sort all your things. You will have the pleasure of finding forgotten treasures. And why not take the opportunity to donate some of the things you decide not to keep? Focus on what really matters to you.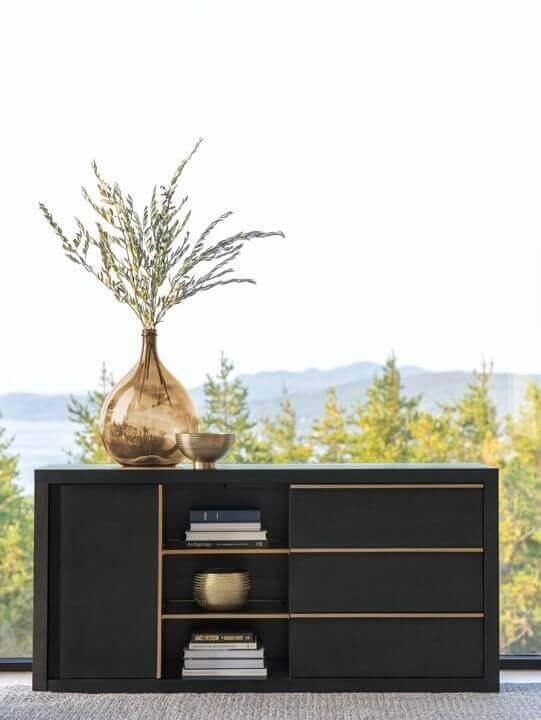 Next, move from rooms to walls. Remove almost everything on the walls, leaving only what you want to showcase. Limit the number of paintings, shelves, hooks, etc. Carefully select the works to be displayed. Then give each item a place of its own. This is truly the way to keep a room tidy and clutter-free. Furniture choice is also important.
For a fluid and functional space, the key is to minimize the amount of furniture. Moving around the room must be easy. Instead of several small pieces of furniture, select a larger or special piece that will be the focal point of the room. Consider an attractive one-of-a-kind coffee table with a candle and a book on it, or a bookcase with doors to keep your things out of sight.
Finally, from floor to ceiling, pale and neutral colors are to be prioritized in order to create uniformity and open up the area. They also bring brightness and inspire calm. Shades such as beige, white, grey, pewter, and materials such as linen, concrete and light wood are preferred.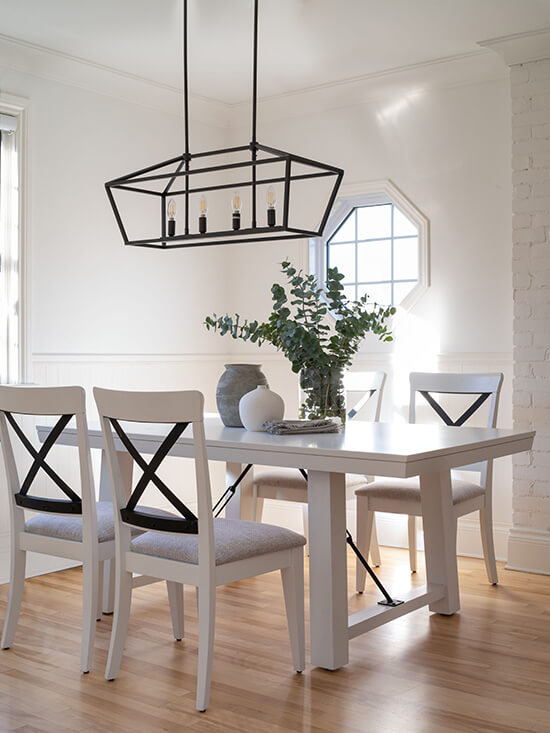 By adopting an attitude of simplicity, where less is more, and with a little work, your home will be serene and life will be sweet.
Like a Museum
Here, doors open to another universe where not everything is visible, but a lot is on display. This is not only a question of decoration, but also of practicality—especially in the kitchen, where everything is at hand. Without being obvious, maximalists are precise, meticulous and they are perfectionists. Designing the perfect décor requires patience. It's about finding appealing styles, pieces, and objects, and then putting them together in the layout of your dreams.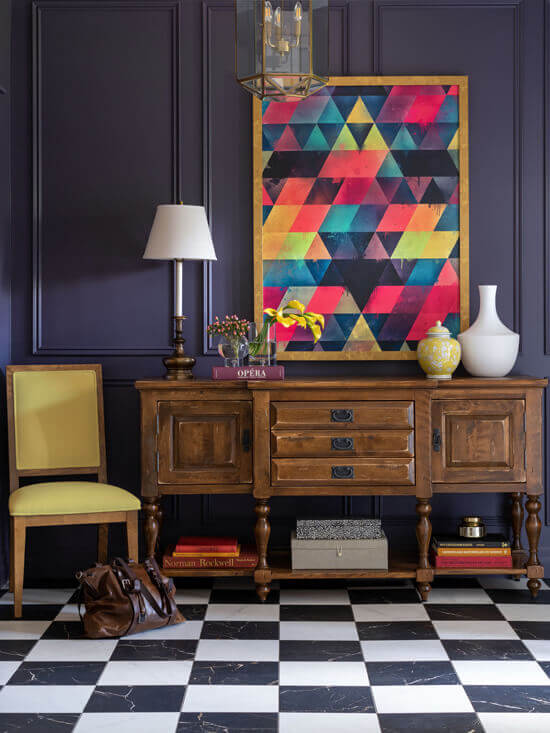 The key to success lies first and foremost in the choice of colors, patterns, and materials. Together, these elements must strike a balance. To achieve this, there must be a common thread connecting all the other components. This principle applies to every decorative item in the room as well as to the main furniture. Accent furniture must contrast with the other pieces to make a statement.
For example, in the dining room, a wise choice would be to opt for modern chairs with inviting rounded backs around a large rectangular antique-styled wooden table. In the kitchen, dare to have colored cabinets with a long contrasting rug in front of the island and classic oak stools at the counter. For materials and textures, rattan, wood paneling, rawhide, fringed and shaggy accessories, and Turkish footstools are some favorites of this seventies trend.
The most important thing to remember is to have as few bare spots as possible. An interesting way to do this without creating a cluttered effect is to rely on the room's structures. Line the walls with frames of various sizes and materials, mix colored with black and white photos, drawings, prints, and patterns. You can even display short messages or postcards that are dear to you.
Think about incorporating a touch of nature to brighten up the ambiance. Plants will add texture and life to your decor. Choose some with hanging foliage like fern, ivy, bamboo, and spider plants hanged from the ceiling at different heights.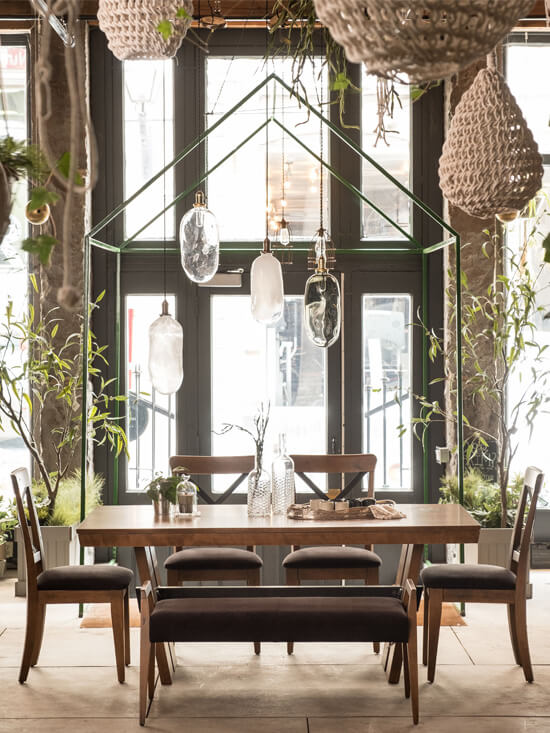 The entrance, bathroom and living room are perfect places to incorporate them. In the kitchen and dining room, opt for light fixtures with special shapes such as large globes suspended above the table, or a brass half-sphere to light up the island.
Above all, be daring. Magic happens when we breach our comfort zone! Maximalist design is about feelings, emotions, memories and stories. Even if some items in a room contradict each other, with a little attention to detail, they can coexist and create a most surprising effect.
Defining the styles and trends will give you a better idea, making it easier to be inspired without becoming a slave to fashion! Whether you like maximalism or minimalism, or both, the important thing is to take the time to design your interior with the things that make you feel good and happy.
Which Side Are You On?
Being very dynamic and energetic, my cozy nest reflects a minimalist design in order to bring calm to the hectic pace of my daily life!

– Mélissa, Web and Social Media Coordinator

A modern living space, adapted to today's reality while integrating natural elements such as stone and wood, this is my favorite minimalist decor!

– Marie-Claude, Customer Service Agent

Being neat and orderly, I opt for the minimalist style. Simple and functional with a modern touch, nothing could better illustrate my mantra!

– Simon, Department Manager, Quality Assurance