This summer, treat yourself!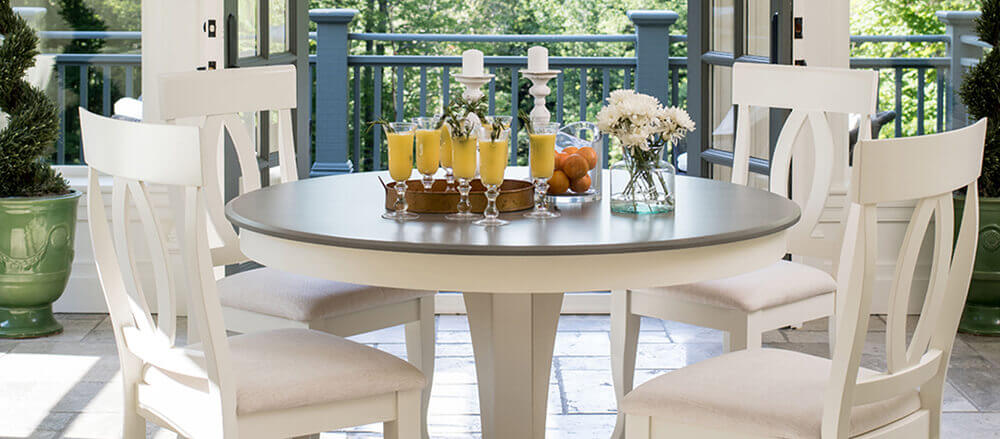 The dazzling summer sun sets in around the continent. From East to West, from North to South, the mild weather makes it possible to practise a multitude of activities, for all passions.
Outdoor enthusiasts will enjoy fishing trips and moments of nature viewing. The most athletic will roam the golf courses and bring out their tennis racket. Foodies will criss-cross the agri-food sites to discover local produce and plan meals with friends where the smoky smell of the barbecue will amaze the taste buds of the neighbourhood. In the search for relaxing moments, afternoons at the beach or just reading your favourite authors under the sun's rays  will make you take a well-deserved sunbathing.
Summer is also the time for a change of scenery and to create a holiday atmosphere at home, like a little staycation. The Canadel team has identified some trends, tricks, recipes and activities to make the most of the hot season!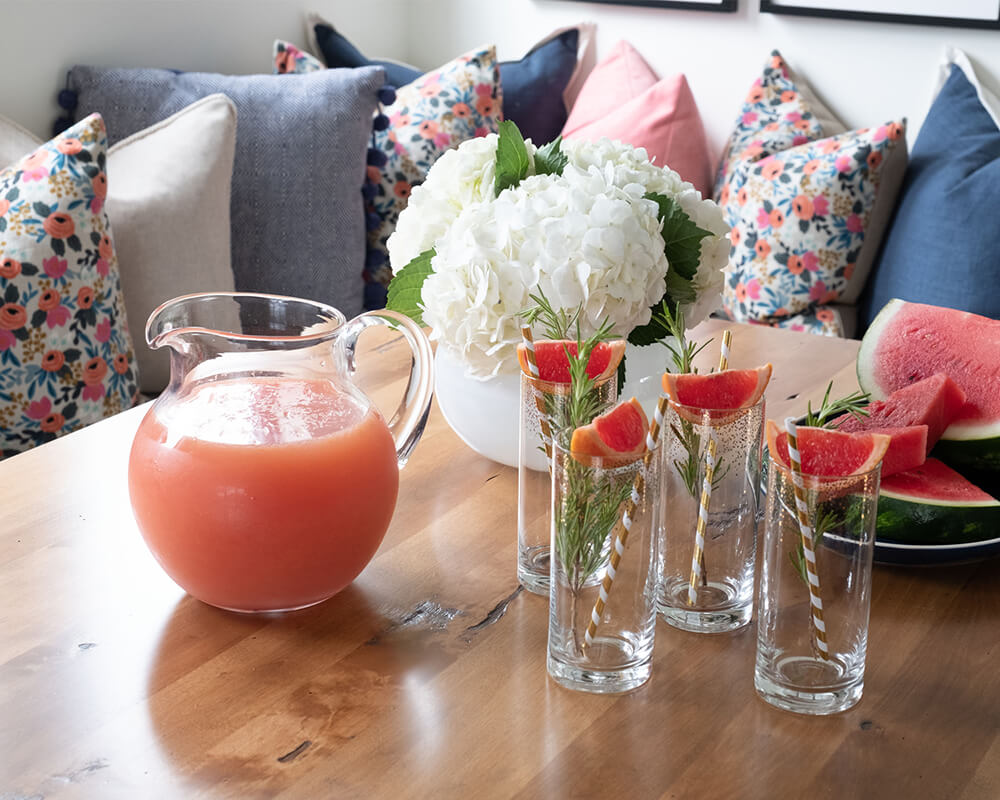 Add a Floral Touch to Your Space
Summer rhymes with cheerfulness! Not much could be brighter and more cheerful than flowers, don't you think?  As mentioned in the article The Floral Pattern Trend, the warm season is ideal to add some colours. It is time bring out the interior or exterior cushions with bright images and floral patterns to create a remarkable and original decorative accent.
For the outside life, whether it's the seat cushion with ties, the lumbar or the one with various fun shapes, this touch of comfort will also create a lively atmosphere. Including a storage space can be useful to keep safe and enjoy your favourite items over the summers! It is highly recommended to choose a fabric that is protected from ultraviolet rays and is waterproof. That way, the cushions will be weather-resistant and it will prevent the fading.
Did you know that Canadel offers Sunbrella fabrics™ for their strength (stains and discolouration) and the easy maintenance they provide?
To bring summer inside of the house, combine plain textiles with floral patterns to embellish your dining room. Take out your flower tablecloth or accessories reminiscent of the aesthetics and opulence of botanical museums. Also, change your curtains to bring the beauty of the gardens into your home. With its embellished setting and unique charm, the floral decoration adapts to all styles and tastes.
Accessorize Your Kitchen
No matter the season, the kitchen is the heart of every household. Have you ever calculated the number of times you actually go to this essential room? As the article Accessorizing Your Kitchen illustrates so well, the effort to decorate this room does not seem proportional to the time spent we spend in this highly used place. By adding accessories, it is important to preserve its practical and functional aspects.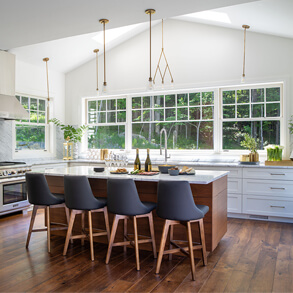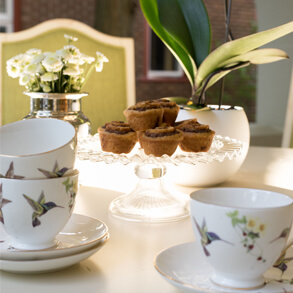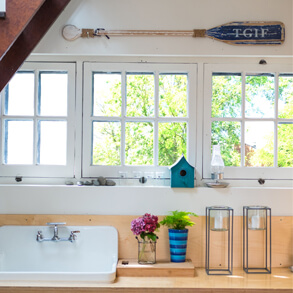 Have fun with the shades! Simple and inexpensive, you can adapt your décor accordingly to the seasons. In summer, if you have glass cabinets, display your patterned mugs or colourful dishes. Place a bowl of oranges or pineapples on the island or worktop for an exotic touch. Let your fresh herbs embellish your window sills. In addition, they will be nearby to flavour your dishes. Embellish a corner of your counter with greenery or freshly cut flowers. Colourful dishcloths in a small basket bring a vibe of summer to the kitchen.
Make Beautiful Centrepieces

During your daily walk, you noticed pretty daisies. By weeding your flower beds, you see that your iris plant is already furnished. The flora you find will certainly enhance any table, entry console and even more. Your creativity and imagination will certainly be of use. We suggest the article on Easy to Make Centrepieces in order to become the new Martha Stewart! Some rules and tricks are presented in the article. Here are a few:
Eliminate visual barriers: At gatherings, guests will enjoy chatting face-to-face. Think of a low ornament that will allow people to exchange in a warmer way.
Let the scent of the feast be the star of the event: we want the guests to remember the exquisite flavours of the meal, not the over-scented flowers!
Playing with seasonal elements: fruits and vegetables can also serve as a very pleasant and easy on the eye element of decoration.
Use a reasonable number of colours: focus on a solid shade that will catch the eye as soon as you enter the room.
If you're running out of time, don't hesitate to contact the local florist to brighten up your favourite space. Remember: "The art of receiving manifests itself in and around the plate."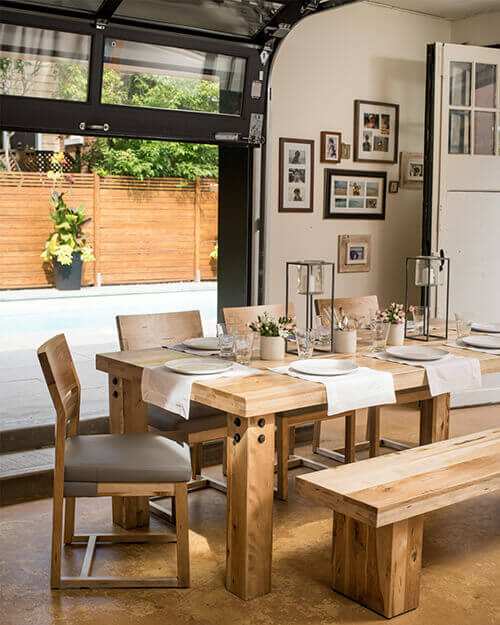 Enjoy Your Island in Your Yard
An island is a place that brings people together. This multifunctional furniture, usually found in the kitchen, can be very practical outdoors on a sunny afternoon or for a fun late evening. A great way to combine the useful and the pleasant!
Sangria, Piña Colada and Daiquiri… You have mastered the art of mixing different drinks: pour fresh juices or festive cocktails for your guests. The service furniture will increase the workspace for the king of the barbecue or the pastry chef master. Add a holiday vibe to your terrace with pretty cacti, tropical plants and exotic fruits. Your guests will be satisfied, delighted and enchanted by the time they have spent in good company.
Your Canadel product is designed to last. If you want to take your island outside, during a party, for example, simply remember that extra precautions should be taken not to damage it.
Do not leave furniture exposed to direct sunlight, which could damage their finish. A pergola, outdoor kitchen or shady area is recommended.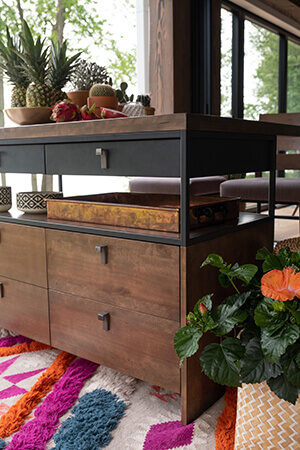 Lift the wooden furniture instead of dragging it when you move it. Ask for help to make sure not to damage the legs. Note that some islands are also available on wheels.
Find out more about the different islands in our article The Beauty of a Kitchen Island!
Light Up the Barbecue
So far, the art of receiving has been well mastered. Your loved ones will turn their gaze to your decoration worthy of the tropics. They will enjoy a great cocktail in the backyard. They will have seen the beautiful centrepiece created especially for the occasion. It is now time to whet their appetite with these mouth-watering maple ribs. The original recipe was designed for the oven, but our charming collaborative blogger Anick has concocted a barbecue variant just for us. Yum!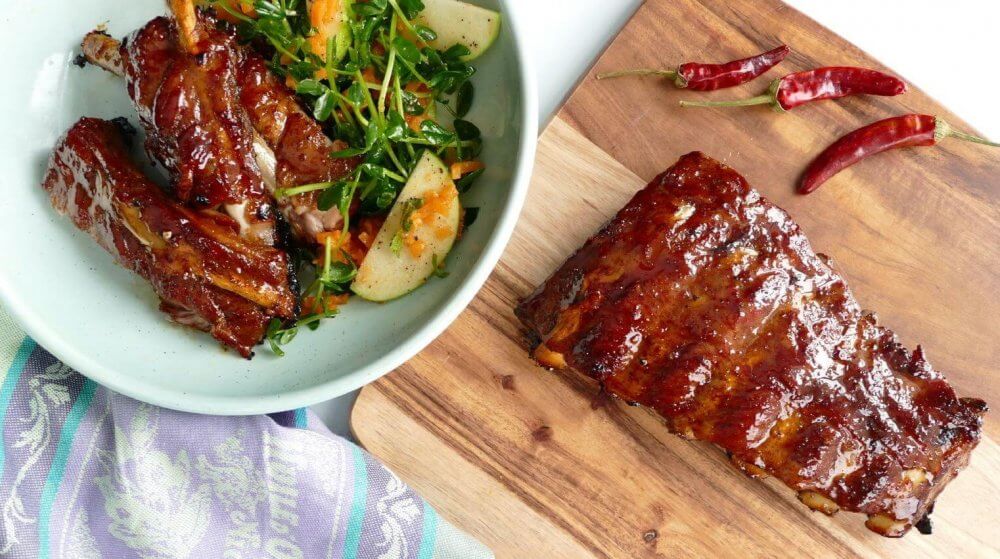 Several fresh accompaniments from the vegetable garden will beautifully embellish this dish. Your garden will probably be filled with good vegetables as the summer progresses! If you don't have a green thumb, consider going to the local market to encourage hard-working farmers who produce an abundance of high-quality food.
Make Home Your Favourite Place for Summer 2020
After all, all these reasons are excellent for creating the most memorable memories. A proverb says that "we learn to count seconds, minutes, hours, days, years… but no one explains the value of a moment" (Donato Carrisi). This summer, give yourself time to enjoy every moment.
Slow down and relax!
Cook and savour!
Host and talk!
Wander and dream!
But above all, have a good summer!