How to Enhance Your Kitchen in 11 Easy Steps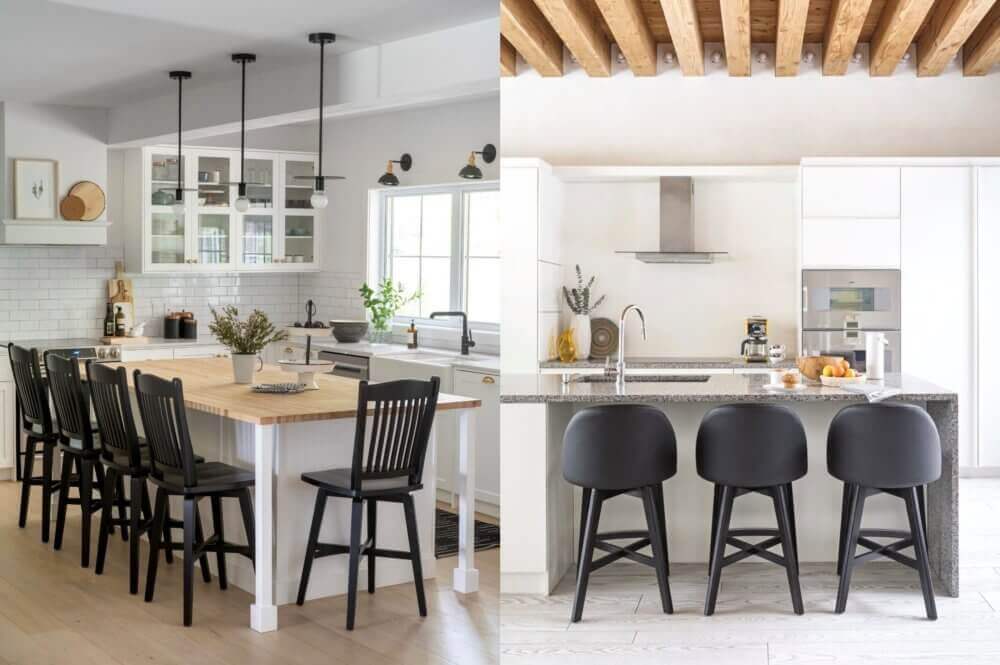 Many people put a lot of emphasis on decorating their living room and tend to forget about their kitchen. While beautiful cabinets and aesthetically pleasing appliances play a big role in the look of the space, it's not enough. Just like other rooms, this friendly multifunctional space requires more attention than ever.
Are you a new homeowner in need of a little customization? Or would you like to bring a breath of fresh air to your existing kitchen? All reasons are good to get inspired. Read on to check out our top 11 tips to spruce up your kitchen!
For a brief overview of 2022-2023 trends, know that soothing warm colors, such as shades of pewter, terracotta, sage green, dark green, ochre and warm white take the spotlight. Also, consider glass cabinets or wood shelves in place of traditional cabinets. Go for medium to light colored wood and add gold accents. You'll be on the right track for a truly trendy kitchen!
Adding accessories to each room makes them more interesting while adding color and texture. Even though the needs and limitations of a kitchen differ greatly from the rest of the house, the key to designing and decorating the space is to make sure that every element is as functional as it is stylish. So, here's the long-awaited rundown of our best secrets for brightening up your kitchen and making it the area of your dreams.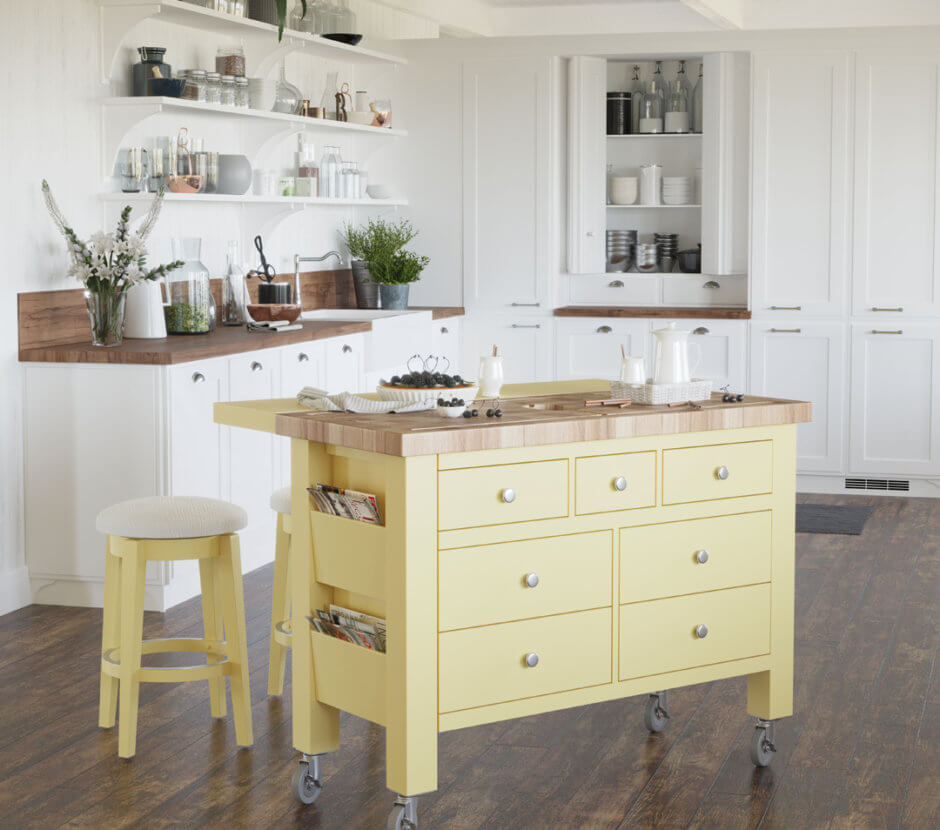 Frequently seen as the most congenial element in a kitchen, an island provides additional storage, a larger work area and a more interesting visual impact. Dare to mix and match by adding a mobile island in a different color, which will bring a touch of originality and contrast to your decor.
Often perceived as a central element of the kitchen thanks to its multiple functions, the island or lunch counter must be accompanied by gorgeous stools that meet your tastes and needs. That said, replacing existing ones can completely transform the look of your kitchen, rejuvenating it and making it trendier. Currently, light wood tones, neutral and natural-looking fabrics, black and metal accents are everywhere!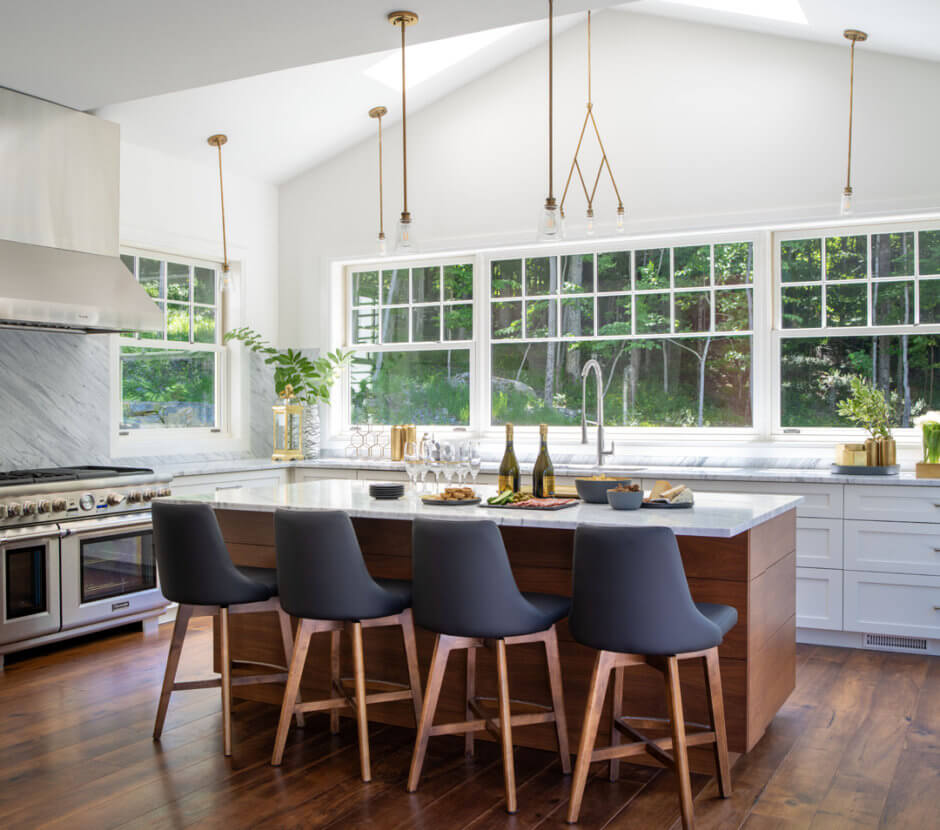 3. Cabinet Handles, Faucets and Fixtures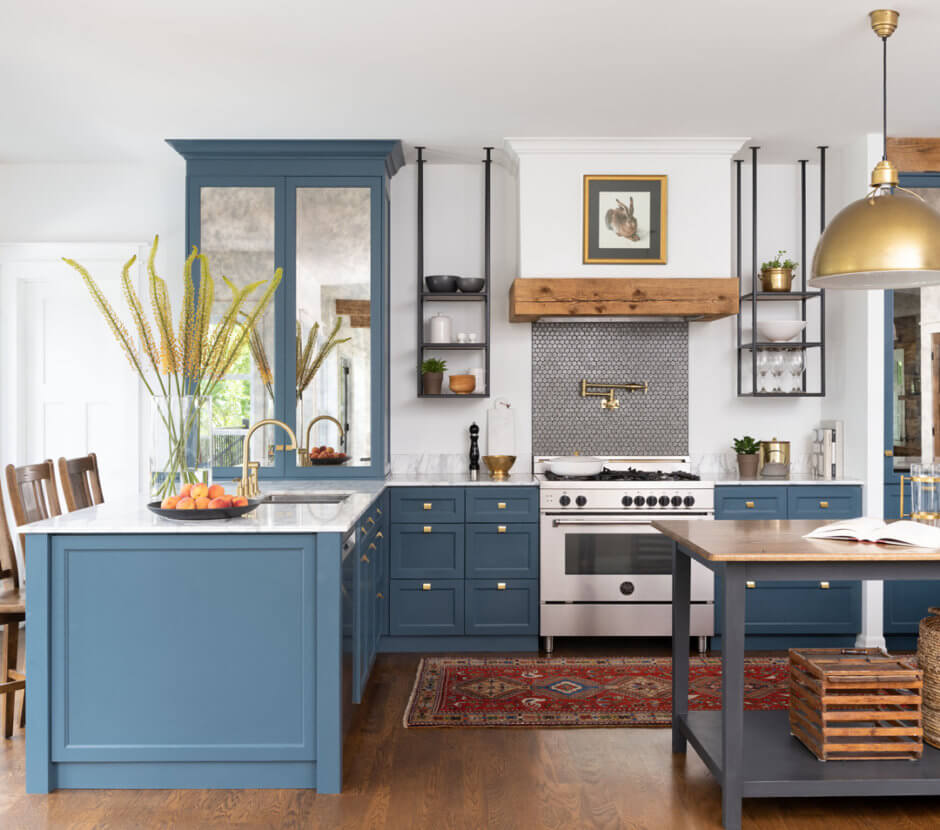 One of the first things you might think of when you want to rejuvenate your kitchen without too much effort is changing your cabinet handles, faucets and light fixtures. These small transformations can really bring sparkle to the space. While silver and brushed chrome elements have prevailed for a very long time, we have seen the trend evolving in the last few years from black to the current different shades of gold and even white. When it comes to lighting fixtures, let your creativity run wild, but make sure the new arrangement works.
4. Stylish Organized Countertops

While decorating a kitchen requires fewer accessories than the rest of the house, details make all the difference. Focusing on the beauty and aesthetics of small appliances and kitchen tools is definitely the way to go.
That said, you may want to change your soap dispenser or holder, sugar, flour or coffee containers, salt and pepper shakers and more. The current trend is neutral colors and a natural look. We love amber glass containers with simple white labels or textured porcelain containers in warm white or soft grey.
We also like natural wood touches, such as beautiful cutting boards laid vertically against the backsplash or a wooden utensil jar. And don't hesitate to add a large bowl of fruit. Adorned with lemons, pineapple or apples, it will bring color and freshness to your decor.
Finally, depending on your tastes and needs, you can include a wine rack, napkin holder, mail or paper holder.
Sometimes we lack storage space, or have a wall that needs special attention. In this case, a large glass cabinet is a must! Filled with your finest cutlery and accessories of all kinds, it will become your favorite decorative element. The current trend is neutral, matte dishes with a raw, imperfect look. Or think of more contemporary and organic dinnerware sets with straight lines and thin, raised edges. Release your creativity and have fun with heights, shapes, colors and textures.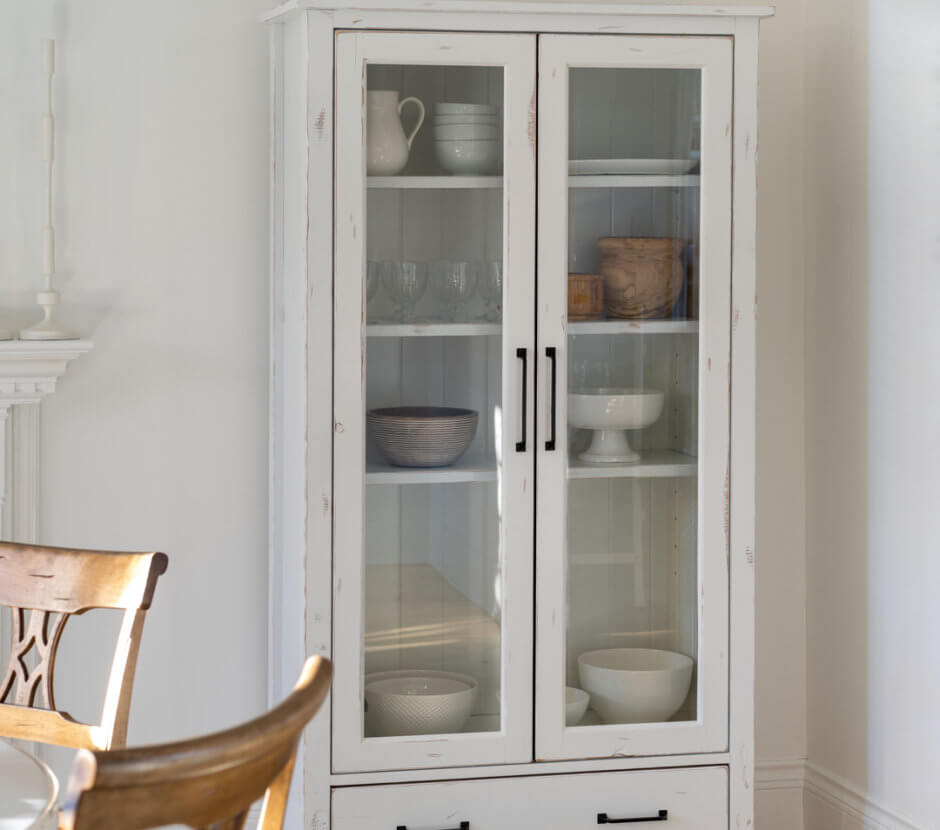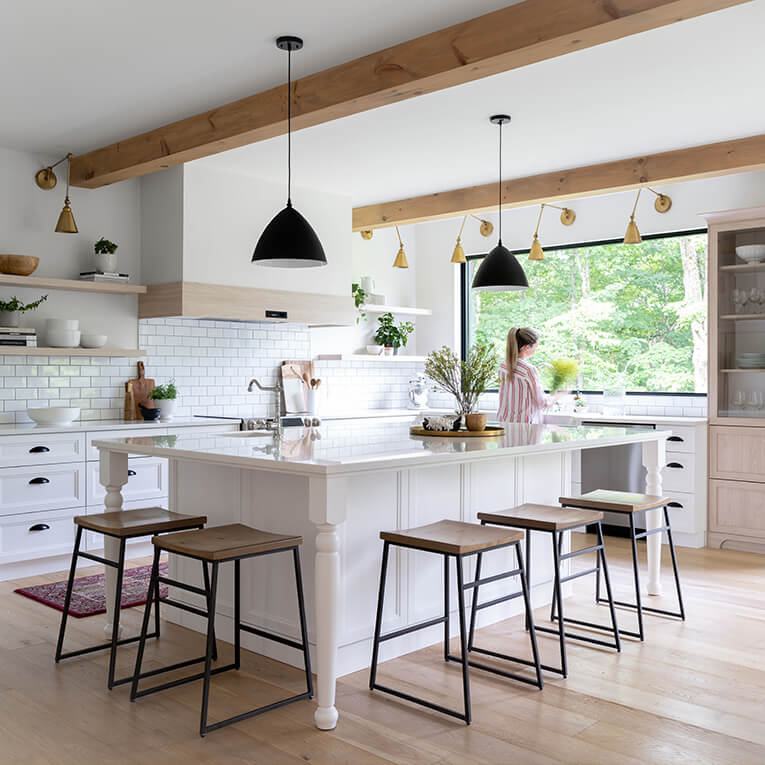 For a warm and distinctive decor, add beautiful solid wood shelves. Depending on the layout of your room, it may be a good idea to remove the cabinets on either side of your sink, window or cooktop and replace them with shelves to create a more airy and beautiful space. Arrange spice containers to add a splash of color, hang your best mugs or bowls, and add frames, plants, candles and more.
7. Books and Recipe Stands
Another simple yet alluring idea is to showcase your recipe collections. Whether you lay out books vertically on a shelf or stack pretty notebooks in different sizes, you'll appreciate the effect, as well as the fact that they'll always be within reach. Be sure to include a wooden or metal book stand, which will allow you to display your favorite book, keeping it open during your moments of culinary prowess.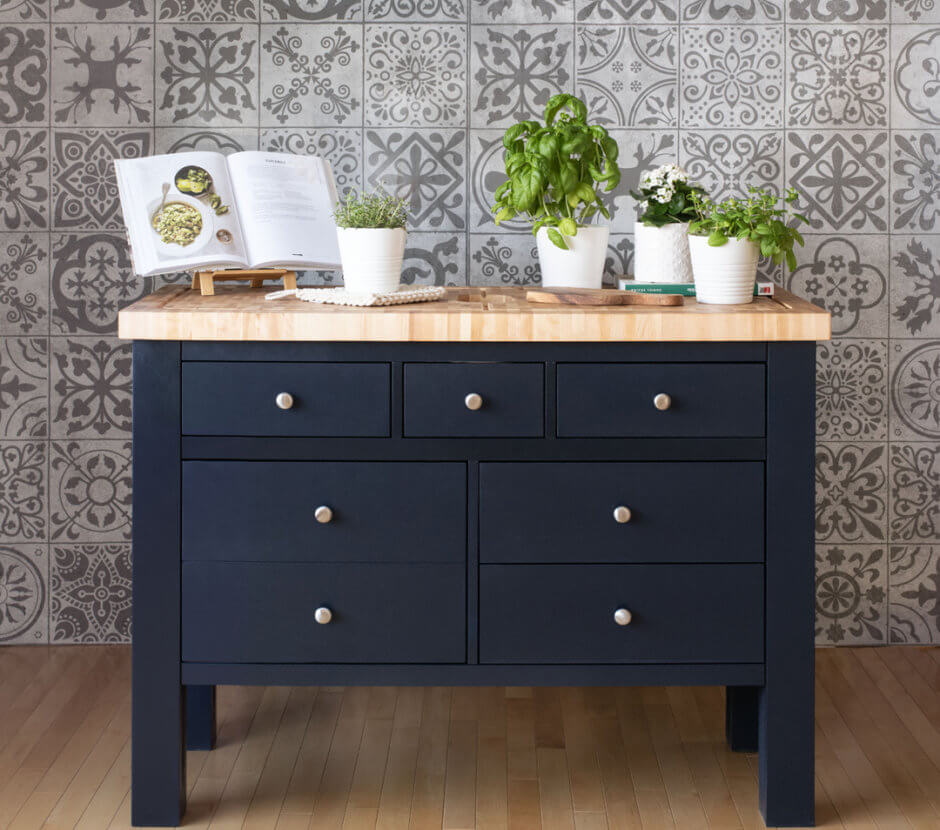 8. Greenery and Fresh Flowers
Bring nature into your kitchen! Consider beautiful flower pots with lilacs, hydrangeas, peonies or eucalyptus or opt for pretty green plants. This touch of greenery will bring an unparalleled glow, a hint of romance and cheerfulness while spreading the most pleasant scents.
9. Tablecloths, Cutlery and Centerpieces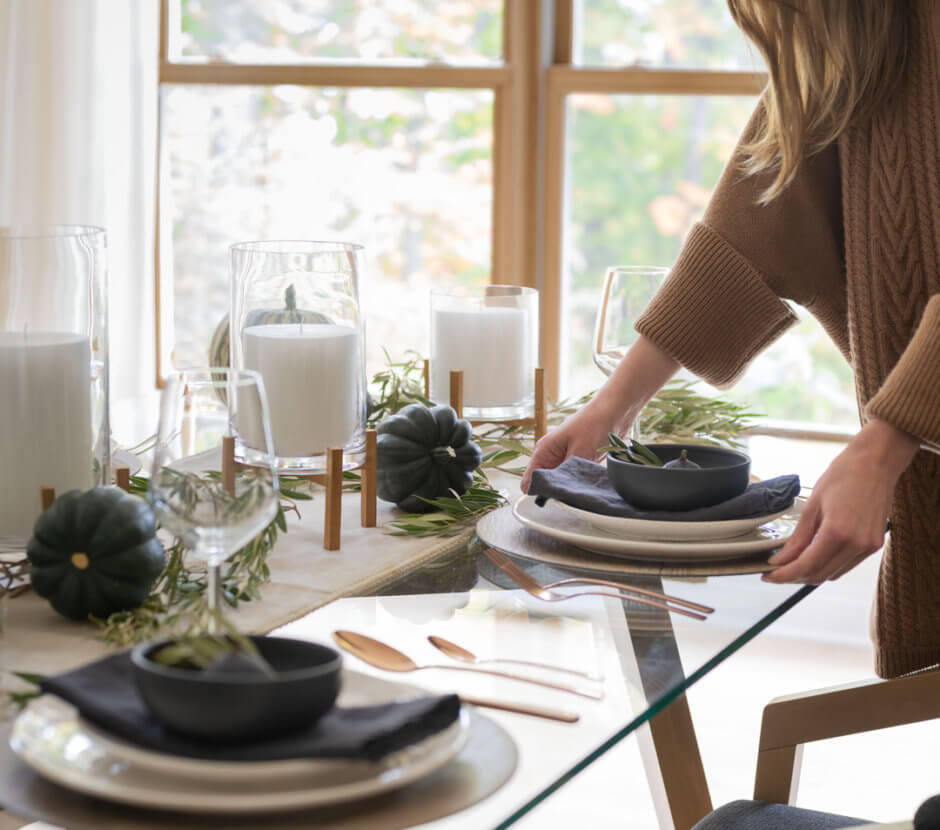 Any occasion is a good excuse to set a beautiful table. Release your creativity and dress up the table with a beautiful woven or braided table runner and round or rectangular rattan, straw or linen placemats. Add a tray and an original centerpiece and you're done!
Comfort is always welcome! Especially when it can add a bit of sparkle, originality and texture. This very simple trick is worth considering because being able to change rugs with the seasons and adopting new trends is an enticing approach.
11. Coffee Station or Mini Bar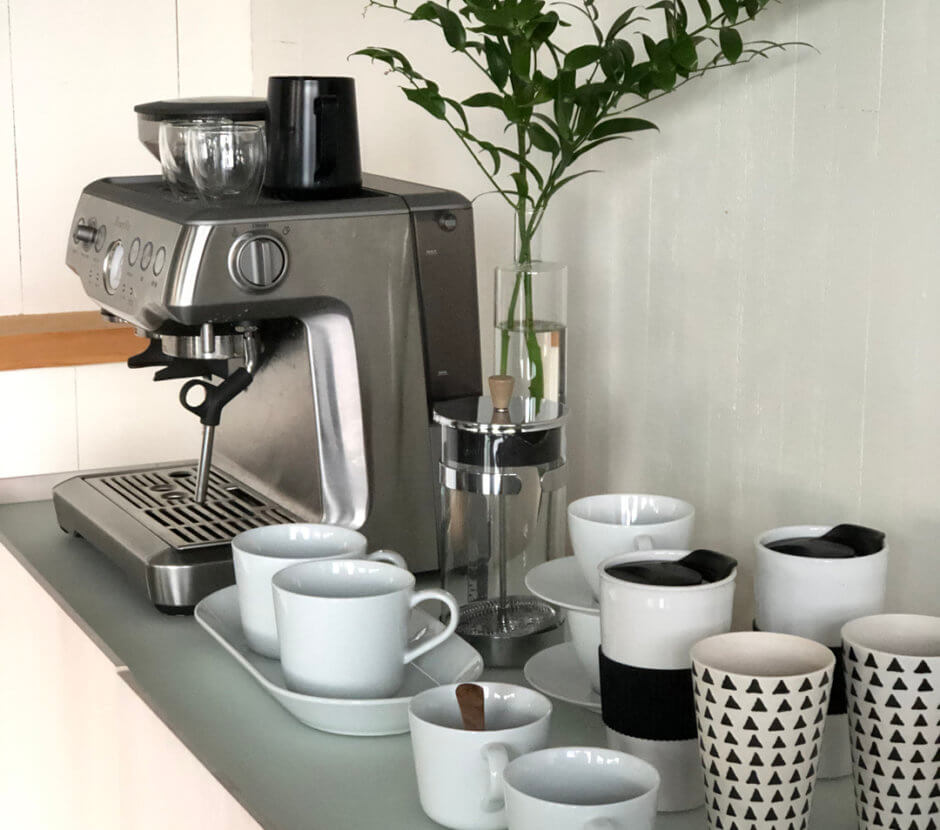 Finally, why not add a coffee station that will help you become a better barista, or a mini bar to jazz up your next receptions! It could also be a candy bar, a reading corner or even a mini kitchenette blending in with the room to encourage quality time with your family. Unleash your creativity! It's all about customizing your space, making it your own and creating a unique area that will make you feel good about being home.
In short, designing and decorating your kitchen should be a pleasant experience, allowing you to create an inviting space that will make you proud. Opt for an overall neutral atmosphere; it will allow you to let your imagination run wild by adding various decorative elements that are both trendy and original. It's easy to transform your decor to match your mood.