Maple, Rum and Sweet Spices Ribs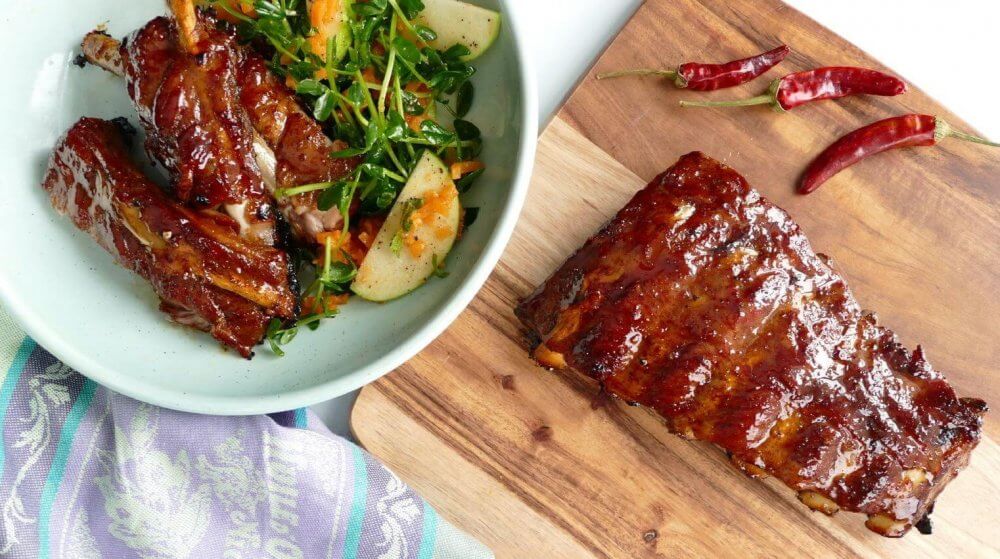 Maple, Rum and Sweet Spices Ribs
Servings : 2 à 3
Preparation : 20 minutes
Cooking time : 3 hours
Ingredients
800 g pork back ribs
½ cup (125 ml) of maple syrup
1/2 c. (2.5 ml) ground ginger
1/2 c. (2.5 ml) freshly grated nutmeg
1/2 c. tea (2.5 ml) cinnamon
1/2 c. (2.5 ml) or less cayenne pepper
For the barbecue
1 onion

1 piece of ginger, about 10 cm

2 cinnamon sticks

Spicy sauce, to taste
Sweet Sauce
200 ml of apple juice
½ cup (125 ml) of rum
½ cup (125 ml) of maple syrup
¼ cup (60 ml) of cider vinegar
2 tbsp. (30 ml) good quality balsamic vinegar
Salt and pepper
Preparation
Preheat oven to 300 ○ F (150 ○ C). Line the bottom of a roasting pan with parchment paper and place the pork ribs on it. Combine maple syrup, ginger, nutmeg, cinnamon and cayenne pepper and brush both sides of the meat with this mixture. Cover the roasting pan with foil and bake for 2 hours.
Meanwhile, add the apple juice, rum, maple syrup, apple cider vinegar, balsamic vinegar, salt and pepper to a saucepan. Bring to boil then reduce to medium. Let it simmer over low heat for 30 minutes while stirring occasionally. The liquid will decrease by half and become syrupy. Put aside and let it cool down.
Remove the ribs from the oven and set the heat to 350°F (180°C) or light the barbecue and wait until it reaches 400°F (205°C). Brush both sides of the meat generously and put the roasting pan in the oven uncovered or place the ribs on the grill, reducing the burner to a low intensity.
Cook for 10 minutes. Brush the meat again but reserve some sauce for later. Let it cook for another 10 minutes. Brush the meat once more and serve immediately.
For the barbecue
Cut the onion into large quarters and put it in a large saucepan with the pork ribs. Cover with water. Peel the ginger and cut it into rings and add them to the cinnamon sticks and the hot sauce in the pan. Bring to a boil, reduce to medium to low and cook covered 45 min.

Follow the cooking method for the sauce explained above. Preheat the barbecue to 400◦F (205◦C).

Remove the ribs from the pan, drain them well and pat them dry. Place the ribs on the grill, flesh side down and brush the top abundantly. Reduce the intensity of the burner under the pork ribs to low and cook covered for 10 min. Turn the ribs, brush them again with the sauce, and cook for 10 minutes more. Brush with the rest of the sauce and serve.