The Beauty of a Kitchen Island
The kitchen is a place where we spend a lot of our time, which makes it, for a great majority of us, the most important room of the house. The desire to keep this room up-to-date makes us look at many interior design magazines and blogs where we can clearly see that the kitchen islands are a major trend. And with good reason! Not only are they beautiful and useful, but they also become a unifying element where it is good to gather. We agree, an island is great, but is a complete renovation of the kitchen necessary to be able to include it? Thankfully not, because the mobile island is the answer to your wish.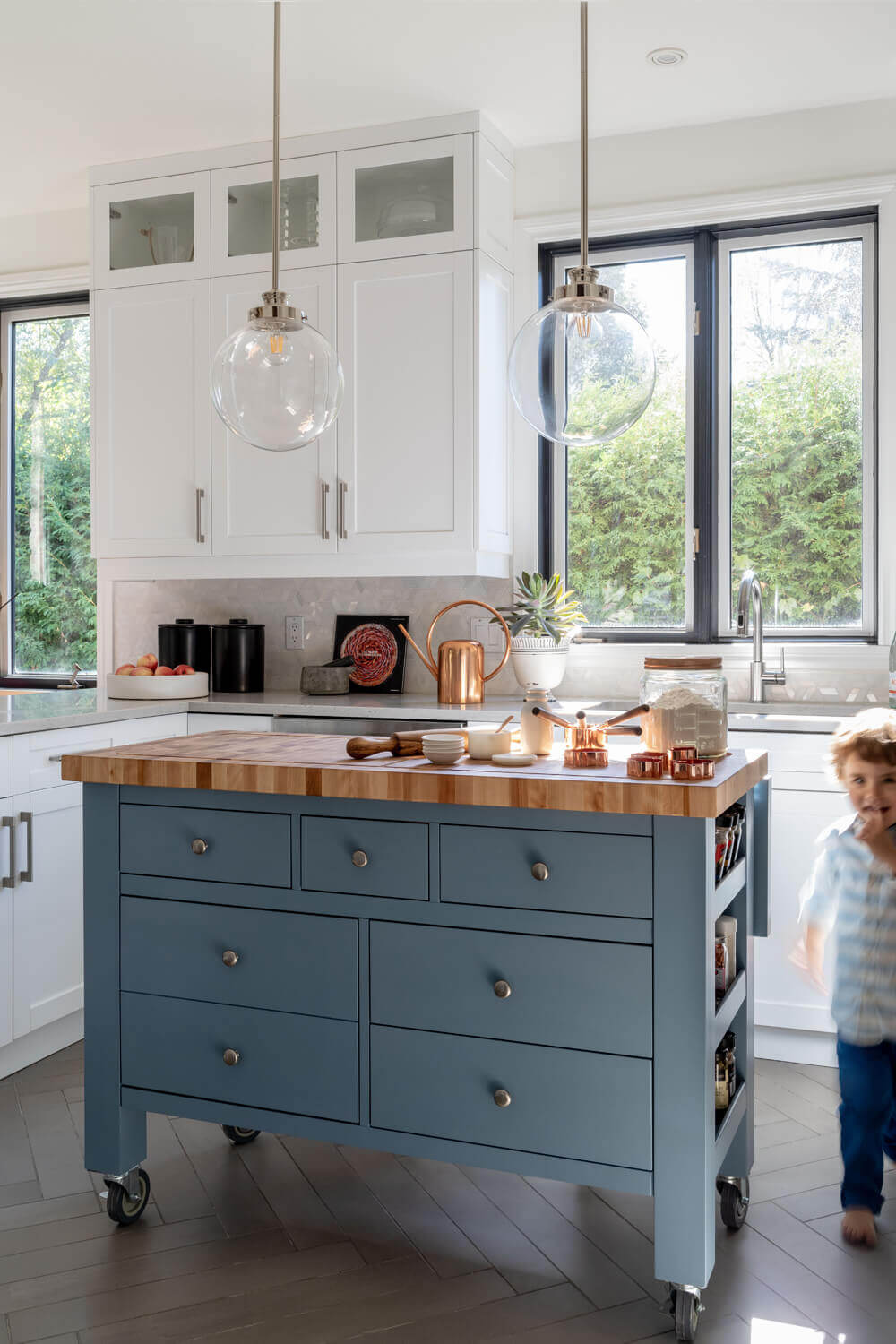 Analyzing Your Space
You first need to measure the space you have to know what type and size of island is right for you. A lot of different types exist to meet everyone's needs. It is possible, in some cases, to incorporate appliances such as a hotplate, a cellar, or a sink. However, this requires a large island that will eat up a lot of space in your kitchen which is not always ideal. A mobile island will also be useful and requires much less space.
When planning a kitchen, you need to keep enough space around the island to be able to move freely in the room. Thus, it is better to have enough space between this piece of furniture and the cabinets so that two people can stand side by side. On the other hand, your moving island can be easily moved, even from room to room. What is great about it is that it will not be cumbersome when you work in the kitchen or when your loved ones or guests gather around it.
A good way to determine the size of the island that will suit your kitchen space is simply to design a full-size model on a cardboard that is cut and then placed on the kitchen floor. It is then a matter of moving around it, as we would in our daily lives. This will make it easy to quickly assess your needs for the space required to be comfortable preparing meals. Another helpful tip is to remember to open the cupboard doors and the dishwasher doors during this exercise to make sure everything fits.
Know What to Buy by Knowing Yourself
Are you someone who cooks a lot? Do you lack storage or preparation space? Are you just looking to rejuvenate the look of your kitchen or add a little sparkle to it? Answering these questions is an important step to determine the type of island that will best suit your needs.
For those who do not wish to renovate their entire kitchen, those whose space does not allow the installation of a large island or those who simply want to acquire a multifunctional furniture, the island is perfect. It leaves a nice freedom in terms of options for finishes, colours and even functions.
Before undertaking an expensive renovation because we find that our kitchen lacks storage and order, a good idea would be to consider buying a mobile island. It's an excellent way to add space with drawers that store dishes, cookbooks or utensils. In addition, we can even add a built-in stand on the side to place your favourite cooking magazines!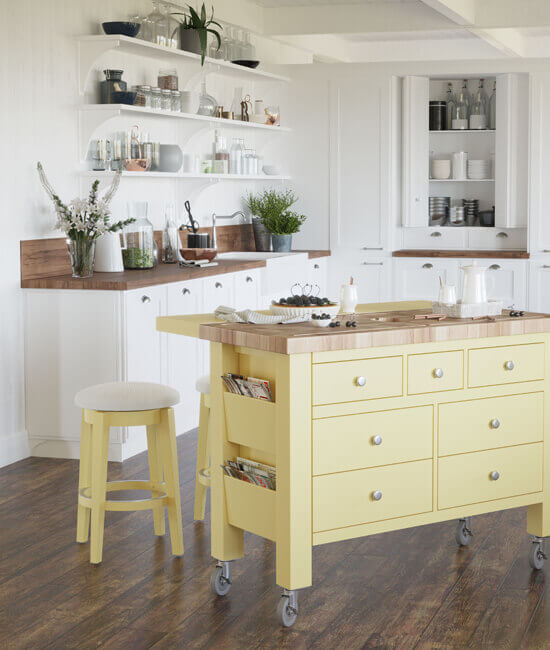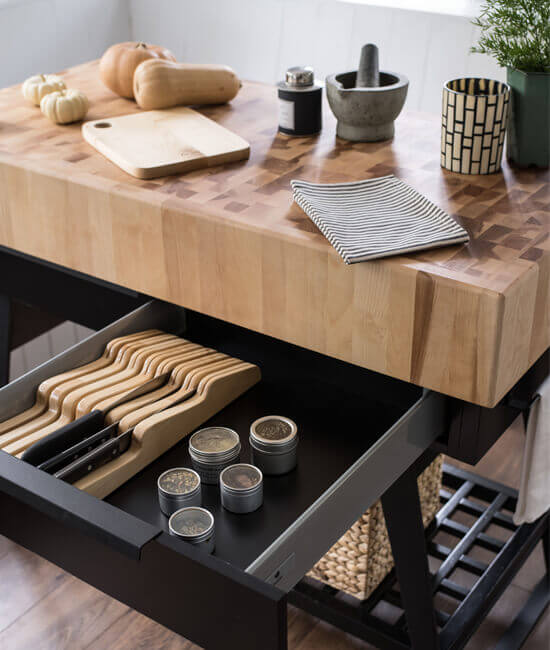 Useful and Decorative
A stylish island with a top made in a rich material like wood that can serve as a butcher's block, for example, will give a whole new look to your kitchen. It will rejuvenate it by giving it an immediate radiance boost. You can, of course, cook there as on a utility island, but once the preparation of the meal is finished, place aromatic herbs, pretty vegetables, flowers and decorative baskets to give it a more aesthetic role.
It is really simple to further accentuate your island and completely change the look of your kitchen at a much more reasonable cost than doing renovations. Simply opt for vibrant colours like tomato red, Caribbean blue or sunflower yellow that will beautifully brighten up your room. More sober colours are, of course, offered, you will actually see that the choices are almost endless.
For the Chef
With regard to the active cook's dream island, it may well consist of six drawers; one of which will include, among other things, a knife rack, another will offer a separator for his favourite utensils allowing him to have his "tools" of preparation at his fingertips and another will have a waste container. It can also be equipped with a removable panel that will act as an extension to take advantage of a larger area for meal preparation.
The top of this chef's island can be fitted with one side of a butcher's block on which it will be easy to cut food and on the other side of a fixed stainless steel plate to be used for the preparation of meat, in accordance with hygiene standards. To top it all off, you can even add storage shelves on the side to store spices and cooking magazines. Preparing culinary masterpieces will become a real pleasure.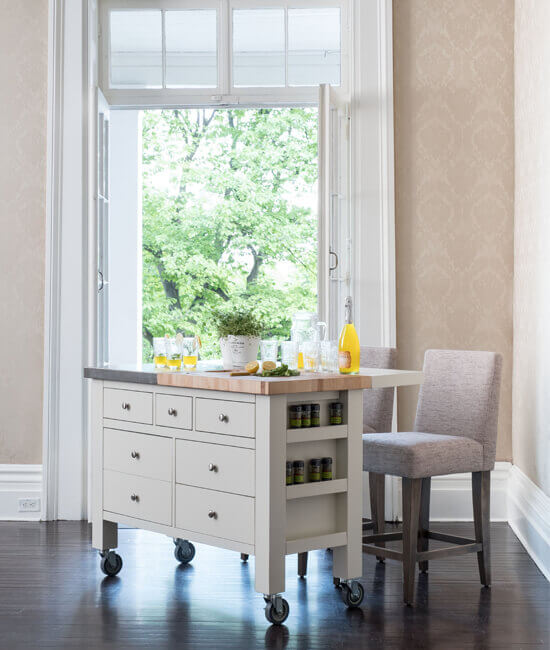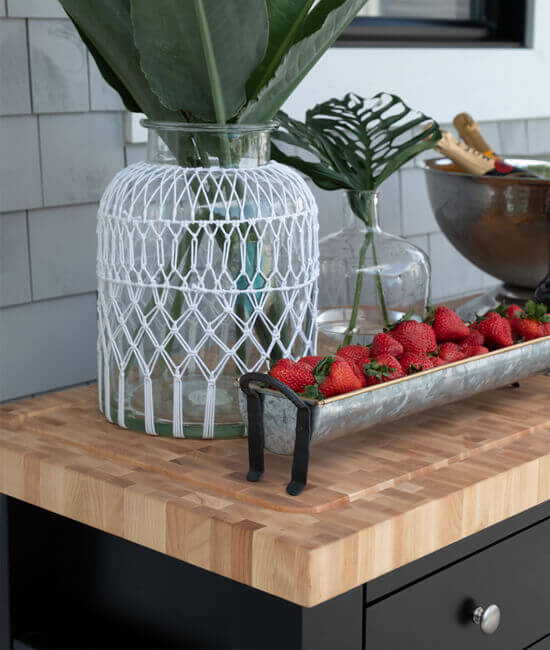 For Every Occasion and Every Room
Of course the island plays a big role in the kitchen. It is also a multifunctional piece of furniture that can be used for something other than meal preparation. It can be transformed with seasons and opportunities and can move even more easily from room to room if it is fitted with wheels.
Summer kitchens have grown in popularity. The island can follow you on the terrace to accommodate refreshing drinks or even better, a bucket or bowl of ice for champagne. When placed near the barbecue, it is also really useful to accommodate the grill master while he cooks. He can use it to place his spices, sauces and other ingredients for an easy access and to dress the plates.
In the living room, the island can be transformed into a second-hand bar. Bottles and glasses can be placed on it for the "mixologist" of the family to have his own corner to prepare his own secret cocktail recipes. To whet your guests' appetite, turn your island into a dessert buffet. Be assured that all eyes will be drawn to it!
The island has taken an important place in our kitchens over the last few years, and it is easy to understand why. Gone are the days when expensive kitchen renovations were needed to finally enjoy all its benefits. It is now quite possible to get one that will be customized to your tastes, meet your specific needs and will serve for all occasions and throughout every season.