Easy to Make Centrepieces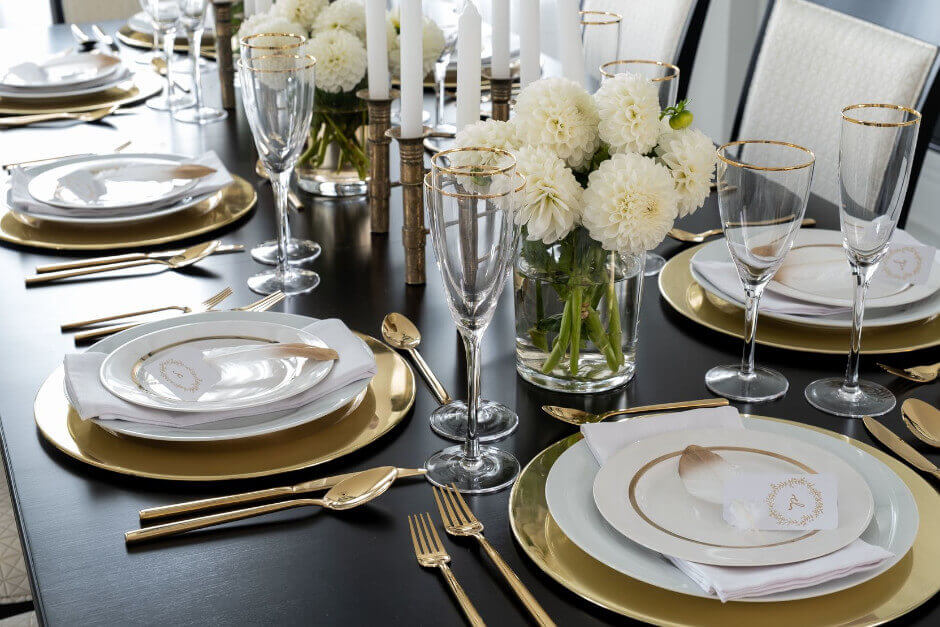 If satisfying the taste buds is important when you are the host of a party, to please the eye is just as much. A well-arranged table is a great way to stimulate your appetite, after all, we eat with the eyes – as the old saying goes! Taking the time to decorate your dining table allows you to really give free rein to your creativity. Nothing better to express it as a table centrepiece displaying your tastes and perhaps even your talents. Hectic schedule? Don't worry, you can simply give a call to the local florist to ask him to prepare a centrepiece and have it delivered to your place. It is also very simple to design one yourself by following a few rules and tips.
Glance and Perfume
We must say goodbye to the magnificent sculptural bouquets with large flowers: an efficient centrepiece must not be too large, nor too high, to allow your guests to see each other easily from across the table. It is therefore better to opt for flowers and cut the stems so they don't hide your guests (the flowers must not be higher than the mid-chest of sitting guests), allowing everyone to discuss with ease. Also, do not forget that some plants have invasive scents. Since the flavours come largely from the olfactory sense and not the taste, flowers or herbs that have a stronger smell will reduce the pleasure of the taste buds.  Besides, a perfume can please one person, but may be hated by others.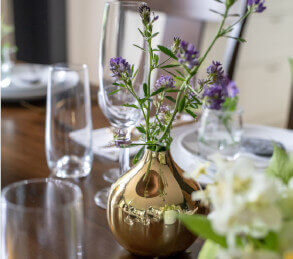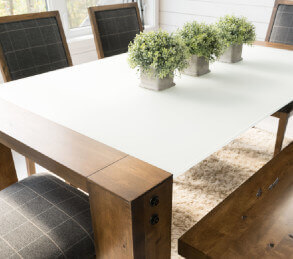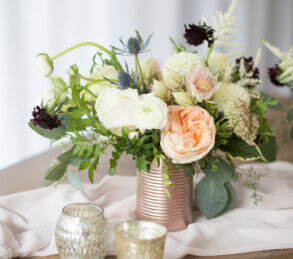 Release Your Inner Martha Stewart
You do not need to have fairy fingers or an artist's soul to make a centrepiece. It is easy to make one yourself, that will even be remarkable. You can buy floral foam and make your own composition by pricking the flowers here and there. Just create according to your imagination and the seasons, and choose flowers from the garden or buy some depending on the occasion.
Do you like new trends? Dried flowers are making a big come back! It is pretty easy to cut some and just let them dry for a few weeks. Just tie them together and hang them upside down. All you have to do is make a pretty bouquet and tie it with a ribbon of your choice.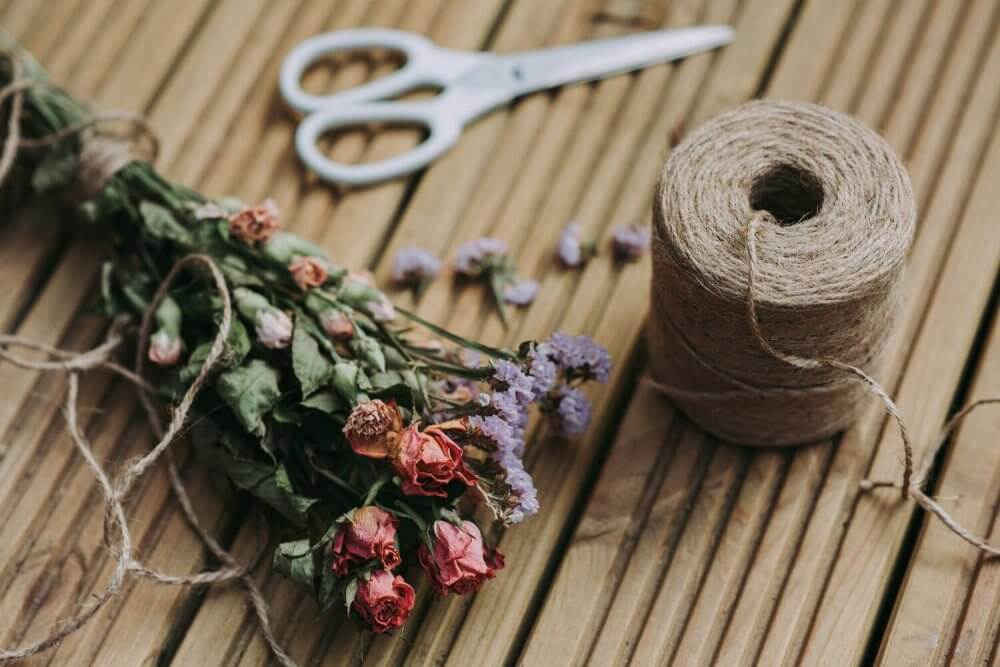 You can also do things differently. Although centrepieces are often composed with floral, you can choose fruits, vegetables, branches, pine cones, and even pretty leaves to fabricate a unique one. Simply place the chosen elements on a tray, respecting the style and decoration of the surrounding space.
Are you a minimalist? A neutral colour plate on which you place small squash for example, or just a few leaves and some shrub red berries could create the most beautiful effect. Do you want to be bold? An arrangement of local forest mushrooms will certainly be a great piece of conversation, in addition to being a beautiful set up.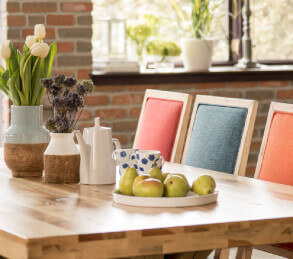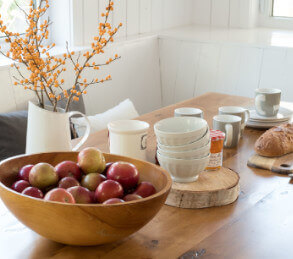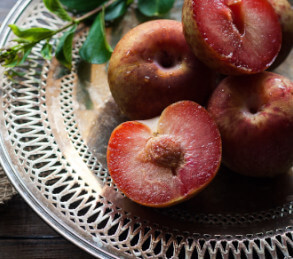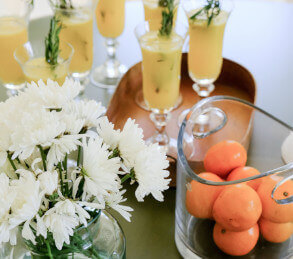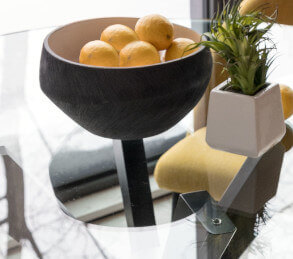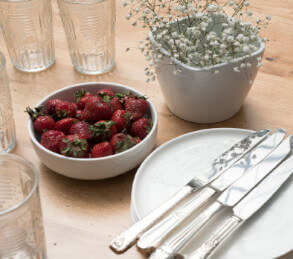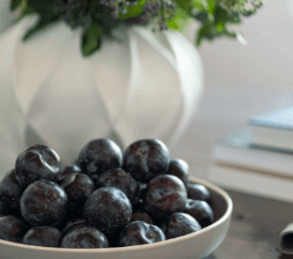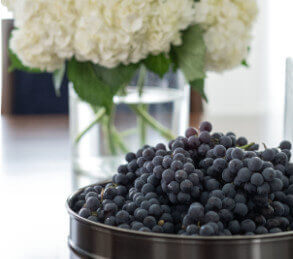 For those who prefer the rustic style, place three to five mini wood logs of different sizes on the centre of the table. Add a few bright red pomegranates or pears on the logs to create a warm and cozy atmosphere at a lower cost. You can also arrange a beautiful bowl full of colourful fruit or filled with water and fresh flowers. Mason jars decorated with a raffia bows or ribbons used as a candle holder are charming and timeless. In the summer, you can simply fill them half with water and pour a few drops of food colouring of different hues in several jars and then add floating candles. For the holidays, buy LED light strings on copper wire and insert them into pots or small bottles for a festive look.
Do you like miniature cacti? Place them judiciously on a large plate with decorative stones, and voilà, it's done! You want to be eco-responsible? Recycle any glass jars or take beautiful seashells to turn them into little candle holders.
Then we have, of course, the centrepieces that will really awake your guests' sweet side. Think of using chocolates, sugared almonds, small meringues and even some cake decorating candies. Remember to keep it out of reach of children!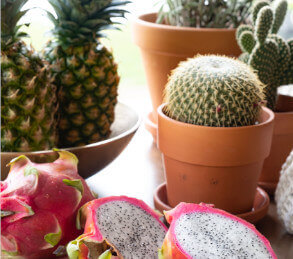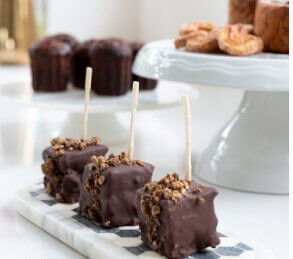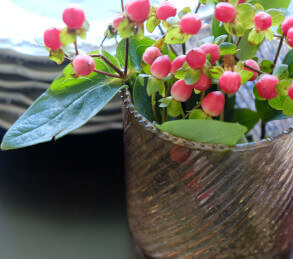 The Colours Set the Tone
Although a table centre must capture attention as soon as you enter the dining room, it is good to stick to a reasonable number of colours to create your composition. This way, you can never go wrong by combining a bright colour with leaves of different shades or by opting for a gradient of the same colour in an arrangement. Flowers of a vibrant pink will be much more prominent in a bowl of a contrasting colour. Keep it simple by choosing only one vibrant colour. It will be enough to create an impact and the other hues will perfectly complete the arrangement.
The art of entertaining manifests itself in and around the plate. A well-decorated table gives the impression to the guests that we took a greater care in the preparation of the evening. And who does not like to feel special? A centrepiece can, of course, be ordered from the florist, but it will be considered even more unique if you take the time to create it.
Share your creations with us on Instagram using #mycanadeldining