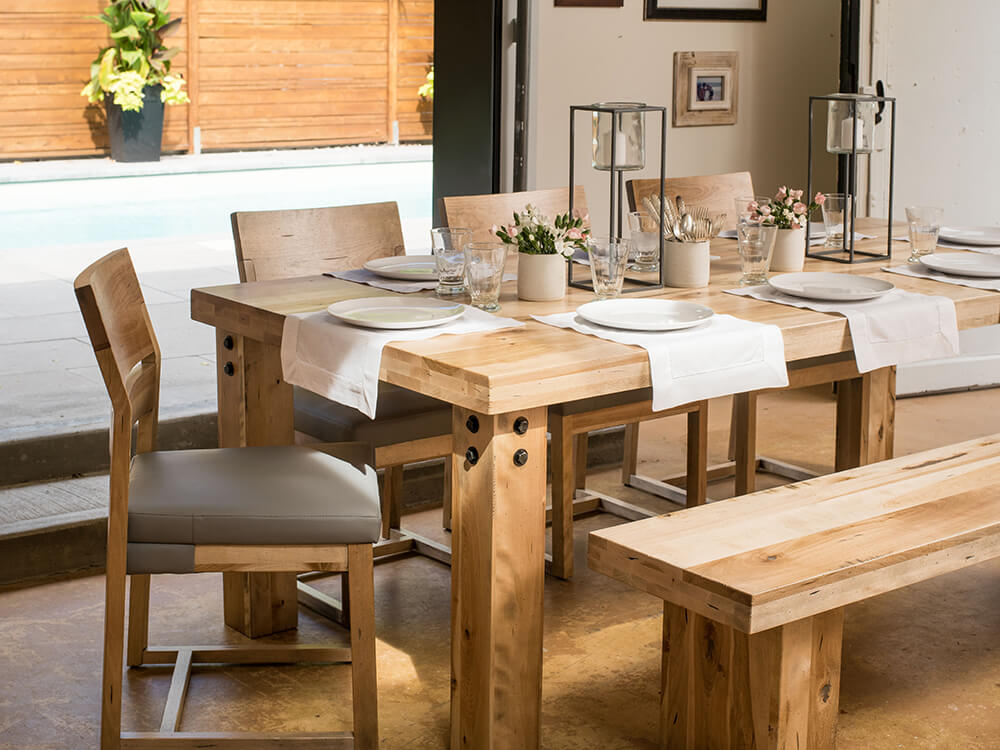 They say that the easiest way to refresh a home is simply to apply a dab of paint. Repainting walls is deemed THE solution to bring in a breath of fresh air; it is also about doing less and just removing some gimmicks. Trends in 2021 are all about a return to nature and simplicity. This year, light wood will add warmth to our homes. In the blink of an eye, this noble material reminiscent of nature's beauty, wheat fields and sandy beaches, is sure to please and will enhance your space in no time!
More Than a Trend ꟷ A Way of Life
Known in Danish as hygge, light wood is the perfect embodiment of this practice. To achieve this intimate style and foster well-being and happiness, light, bright, cozy colors are highly valued! Fast-paced life and busy decors are toning down, giving way to the slow living lifestyle. We're slowing down, taking the time to enjoy life and choose the things we want in our surroundings. And to refine this concept, soft colors and light woodwork will add warmth and comfort.
Tireless Material
What makes this material so enticing is its character—full of contradictions, yet consistent. In spite of its raw natural appearance, it looks at home in any setting while remaining discreet. Its soft blond honeyed hue makes it both versatile and inconspicuous, yet its strong personality shines through. It blends easily into any room of the home, from floors to walls, from furniture to accessories. There is no excuse not to try integrating it into your landscape. Worry-free and without a doubt, its solid value will stand the test of time and the seasons. Birch, oak and pine are just a couple of examples of the materials available. Whatever you choose, noble woodwork automatically raises the tone of any decor.
Something for Everyone
In addition to all its other qualities, it is a true chameleon. Light wood suits every room from bathroom to bedroom and can be used in any decor. It is especially popular in the dining room where it creates a welcoming and soothing environment. Because dining sets are not changed every year and because the dining room is used for many occasions, integrating this trend into a dining decor is a must. Timeless, durable and versatile, light wood will find its place, and will suit all tastes.
Contemporary Feel
For the sober minimalist who goes for a little touch of originality, the contemporary trend will suit a dining room perfectly. Its modern timeless look creates a clean ambiance that fits in any decor. Choosing wood structures and upholstered seats adds warmth and a little je ne sais quoi that infuses charm into this style.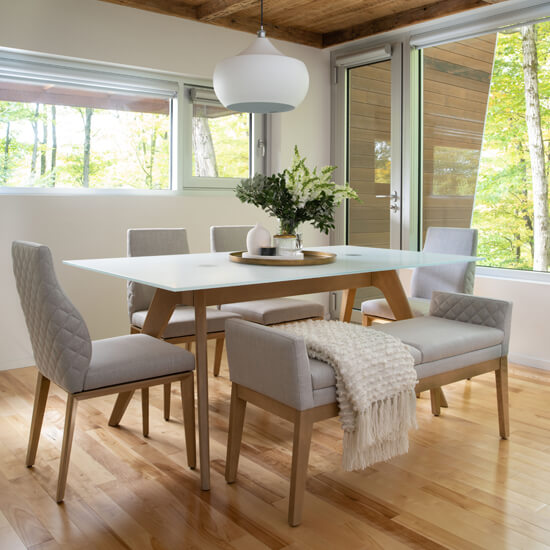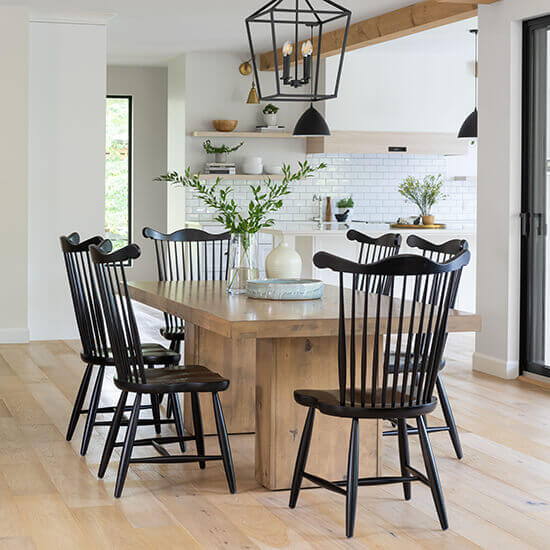 Farmhouse Look
Mix & Match at its best brings together a variety of elements, from different times and of different shapes, creating a surprisingly coherent ensemble. This is why the industrial look, with its straight lines and cool materials, blends perfectly well with more classical and rustic styles. Highlight the beauty and strength of each style by balancing opposites. Don't be afraid to match a solid wood table with sculpted chairs, or a metal fixture with rattan accessories. Combining several contrasting accents will create an industrial look, chic and welcoming.
Scandinavian Flair
Appreciated for its unadorned look and its functionality, the Scandinavian influence is at home in any interior. Characterized by natural materials and delicate colors, it creates a bright and inviting atmosphere. A solid value that will add a little Nordic touch to a dining room. Scandinavians love white and light wood tones. A monochrome set creates a sophisticated space and exudes instant serenity.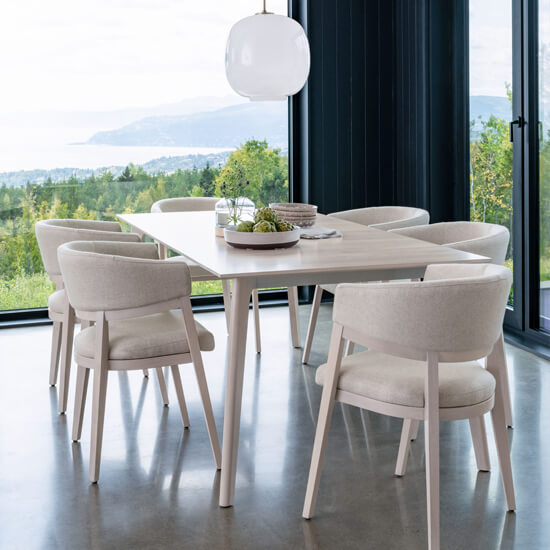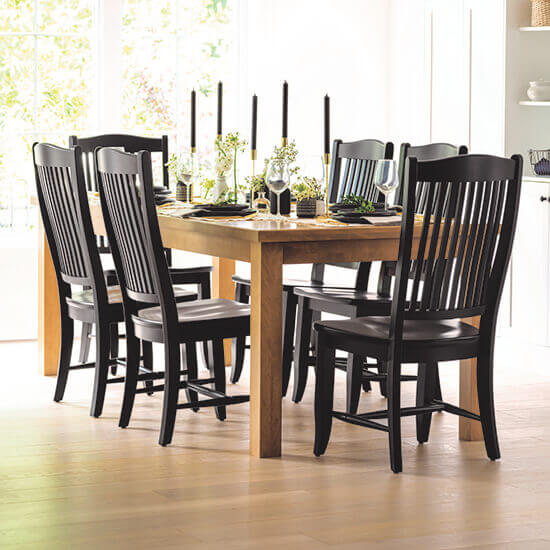 Love of Tradition
The dining room is often considered the heart of the home. A room where most meals and family moments are shared, it is the place where traditions are made. This is why a more classical and traditional atmosphere may be preferred. However, this is not synonymous with boring and old-fashioned. A timeless look can be achieved by arranging interesting pieces of furniture and accessories that will bring life to the room. For example, choose black chairs to add character to a simple light wood table. Decorate with candle holders for a dramatic effect, add a few plants for a touch of color, and it's done!
Rustic Industrial Look
An industrial look is not necessarily cold and rough. It can have a rustic, warm and refined look that is very inspiring. A simple, natural wood dining table paired with interesting seating can liven things up and presents the perfect opportunity to be a little daring! Comfortable and practical, cushioned poufs slide easily under the table for more space. More guests can be seated, and the benches can also be used in any other room of the house. Since they are more discreet and mobile, have fun with them by choosing different colors and patterns. A simple way to add a little vitality and a modern touch!
Dynamic Contrast
Embrace mixes of dark and light colors. The secret to success is to choose a dominant shade. For a sleek designer kitchen, go with a natural wood island paired with stools in a dark or vibrant tone! Another very practical alternative for foodies is an island topped with a butcher's block. As useful as it is esthetic, this work surface will serve several functions and increase the practicality of this piece of furniture.
However, proper care is essential to keep it looking pristine. It's very simple:
Wash the surface with dish soap and a cloth and dry thoroughly.
To disinfect, use a solution of one part vinegar and four parts warm water. Add a few drops of lemon juice to eliminate odor and add a fresh scent to the room!
Oil the worktop every three months. Apply food-grade mineral oil, wait 15 minutes, wipe off excess and you're done!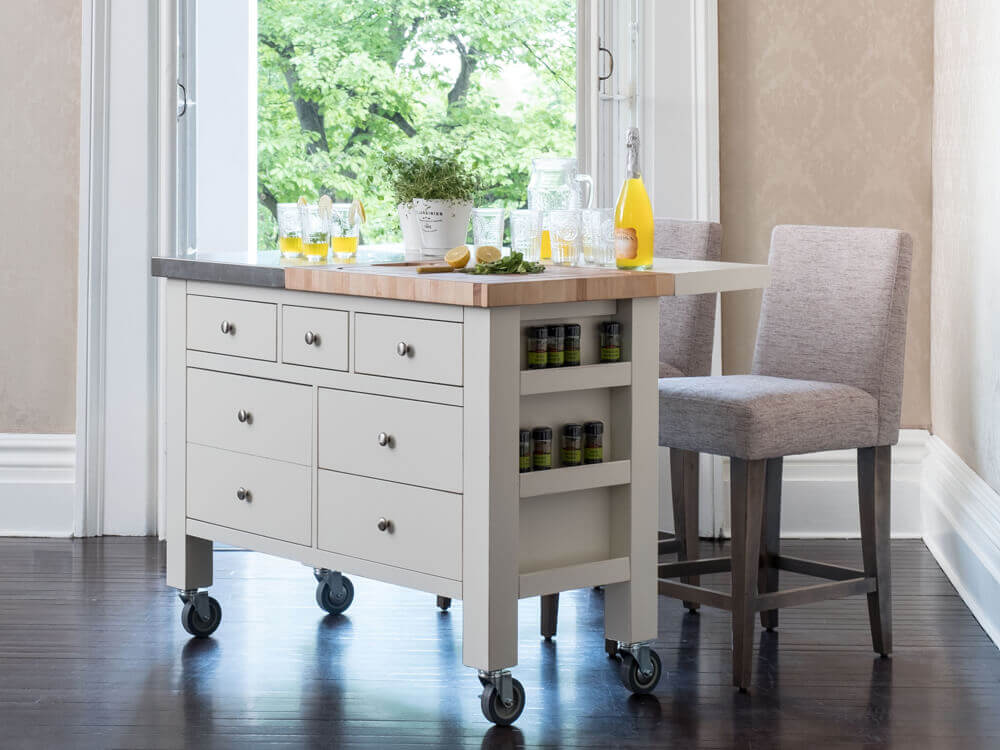 Atmosphere of Harmony
No matter what style you prefer, using light wood can serve as a unifying thread throughout the home, creating harmony. Choose to make it more permanent with the addition of natural looking ceiling beams or unpainted stairs. Such structural elements give an instant cachet to a space and create an impact that won't go out of style anytime soon.
Otherwise, opt for accessories and small wooden furniture. Think cutting boards, kitchen utensils, wicker baskets, linen curtains, rattan light fixtures. Add furniture and decorative objects of various colors, textures and materials in a Mix & Match style. A consistent look throughout the home makes it easier to move an object or piece of furniture from one room to another as needed. For example, move the bench from the foot of the bed to seat more guests at the table during a family brunch without disrupting the harmony.
Hint… You don't have to choose furniture according to the color of the floor. Just remember that the tones should mix well and that too great a difference between shades could detract from the overall ambiance.
Gentle and Durable Trend
Hand in hand with the dynamic color duo of the year, the light wood trend also exudes calm, well-being and solidity with its warm neutral character. Its soft tones blend with all colors and mix brilliantly into all styles and spaces in the home. This trend adds serenity and modernity to a decor, with total ease. Just imagine your dream decor and make it happen!