Trendy Crush : The Velvet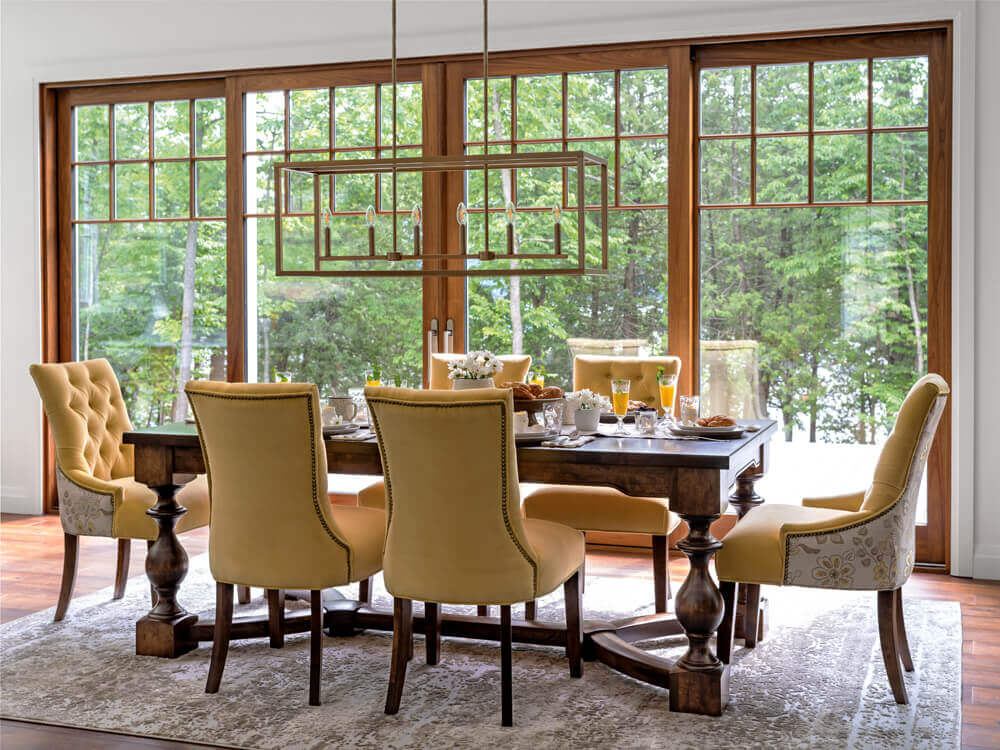 No one can escape trends. Whether we like it or not, everything comes from a greater inspiration, from everything around us. We then simply adapt it to our tastes and personality. What is interesting about the great trends in decoration in recent years is that our interiors are easy to transform. With the minimalist popular movement and simplicity of the Scandinavian style, we find ourselves with beautiful canvas to work with. While we still love simplicity, it's time to add some warmth and texture to our decor.  The velvet trend has been infiltrating our lives for almost 2 years now in all spheres of fashion, especially in decoration. Its popularity continues to rise and certainly peaks in 2020.
We see the inspiration of the master of shades of the last three years. Pantone has been choosing rich and original shades as star colours (ultraviolet, coral, classic blue) that have a story to tell, just like your home. We love velvet for many reasons: its cozy side, but at the same time chic and elegant. Its classic and somewhat vintage look, while being a little daring. We also like the fact that it can remain very discreet or give character to a room, depending on its hue. Although one would like to put velvet everywhere and with everything, some rooms of the house lend themselves better than others to the trend. With its soft and comforting aspect, we add it to the rooms in which we wish a calm and comforting atmosphere. It is preferred in the living room, in the bedroom, in the office or in the dining room. However, nothing forbids you from integrating it, more discreetly, into any other room.
A Touch of Comfort
Velvet finds its place perfectly in the living room in several ways. The best way to integrate it without taking it too far is to opt for small pieces of furniture such as a bench, an ottoman or even a nice armchair. We choose it quilted for an older and Victorian look, sleek if you prefer  a touch of modernity. The advantage of choosing smaller furniture made of velvet is that accessories can be added to make the decor even more harmonious and coherent. You can easily add a velvet cushion to a long bench or armchair of the same texture, as well as long curtains. If you want to dive deep into the trend, you can also choose a velvet sofa as the main element. Perfect for a refined cocooning session! Their popularity is growing and it is the perfect element to give personality to a room.
To avoid overdoing it, choose one colour of velvet.
The monochrome will create an instant chic look!
Cozy Vibes
We also like the comfort that a touch of velvet can bring to the bedroom. Once again, accessories and small furniture are the key for a successful look. Remember that the bedroom should inspire relaxation and calm. We do not want a too heavy and loaded decor. A bench at the end of the bed, a small ottoman for the dressing table or a footrest that matches with an armchair are great ways to integrate velvet into this room. While remaining in the theme of relaxation, neutral and soft colours are preferable in this case. The texture of velvet combined with a colour such as pale pink, beige and gray is the ideal combination to achieve this trend successfully.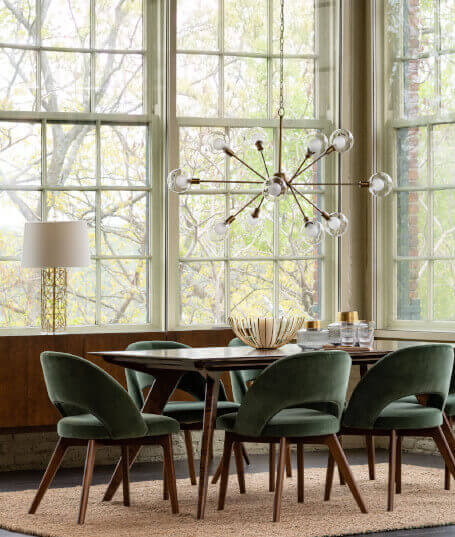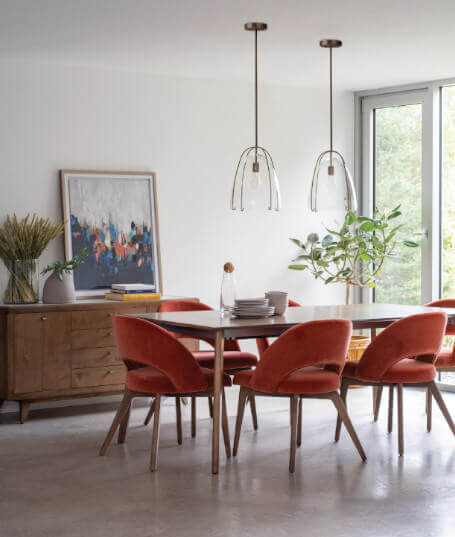 A Warm Welcome
The kitchen and the dining room are very interesting rooms to explore velvet. Generally fairly neutral, these rooms allow you to let go a little and add a dash of audacity. Velvet being a very warm and felted material, it lends itself perfectly to the unifying atmosphere of these rooms. In the kitchen, a few benches for the island are enough to embellish the decor. It's the perfect touch to revamp and add a touch of colour to a room without much effort.
In the dining room, a variety of options are available to you: a velvet bench, chairs for the table with chic and smooth seats, quilted, entirely covered in velvet, mix and match of fabrics, and more! With the customizable options offered by Canadel (and your imagination), the options are endless. It is possible to create a very refined and simple look, or even a more rustic style by multiplying the patterns and textures. The dining room is an ideal room for that, as we spend a little time there each day, but not enough to get tired of the decor, so we can dare a little more! It is also a place where we gather, where we receive people. So we want a welcoming and inviting atmosphere where we feel good.
The Perfect Match
Velvet is a rich, warm, versatile and chameleon material. It transforms according to its colour and goes with different textures and patterns. For furniture, we often see it arranged with metal structures in gold, silver or black to create a more modern look and compensate for the sometimes massive appearance of the texture. Velvet is also paired with wood, which gives it a more classic and balanced look. You can also match velvet to almost any material: cotton, suede, linen, wool, satin, straw, rattan, and more. You can even mix sleek velvet with corduroy, a patterned velvet with a solid colour. The velvet can be used for a neat, contemporary and Scandinavian style, or for a bohemian or rustic feel.
Set the Right Tone
The colour of the velvet will determine the mood you want to give to your decor. For example, for rooms where you want a more soothing atmosphere, choose shades of blue, beige and earthy colours like brown or khaki. These are reassuring, classic and timeless choices. To be on trend, opt for a pretty terracotta, a yellow, a green, a red or a pale pink. The more vibrant colours energize the room in the blink of an eye, while the more pastel colours add contemporary freshness.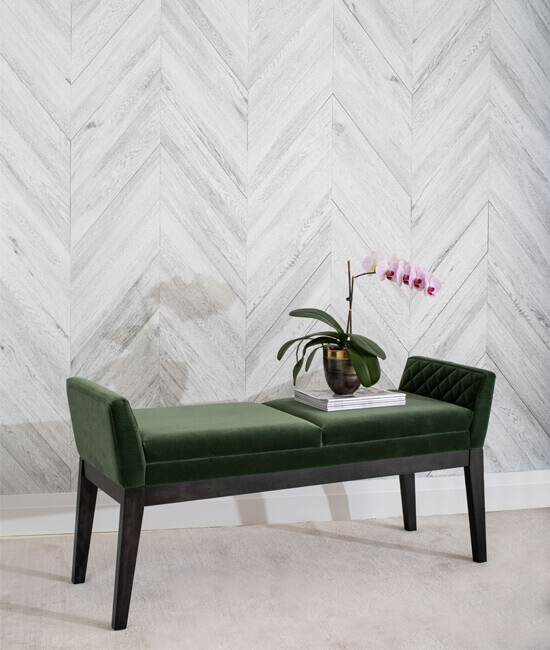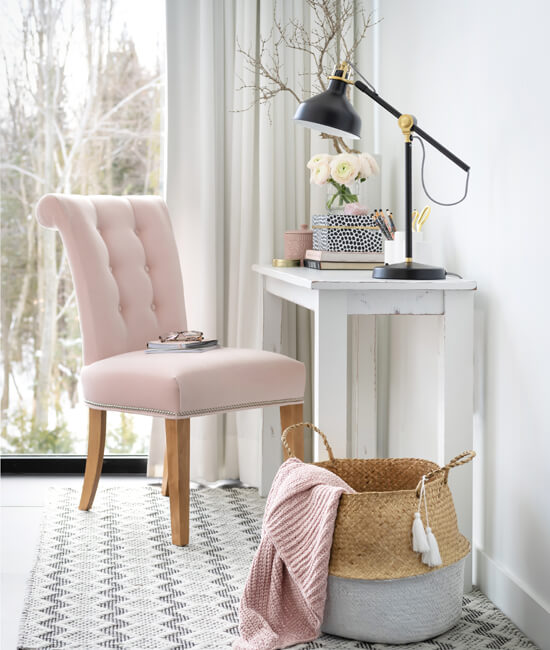 With Care
As mentioned, velvet is a delicate and refined material that deserves special treatment. In order to make sure that our favourite items actually pass the test of time, we need to take good care of them. At Canadel, we use high quality velet. It is best to gently cleanse stains with a damp cloth (not wet) and a mild water-based soap. If the furniture requires more intensive washing, a dry cleaner is the best option. If you place heavy objects on the velvet, it could mark the fibres of the fabric, don't worry, it will return to its usual shape after a few hours. For regular maintenance, pass a soft brush over the fabric to remove all marks of dirt and dust.
The velvet trend is becoming more evident in 2020 and is here to stay. Owning an item of this noble material, whether it is a piece of clothing, an accessory or a piece of furniture will always have a wow factor, year after year. There is therefore no risk of succumbing lightly or more deeply to the softness and charm of velvet.