Embellish Your Entry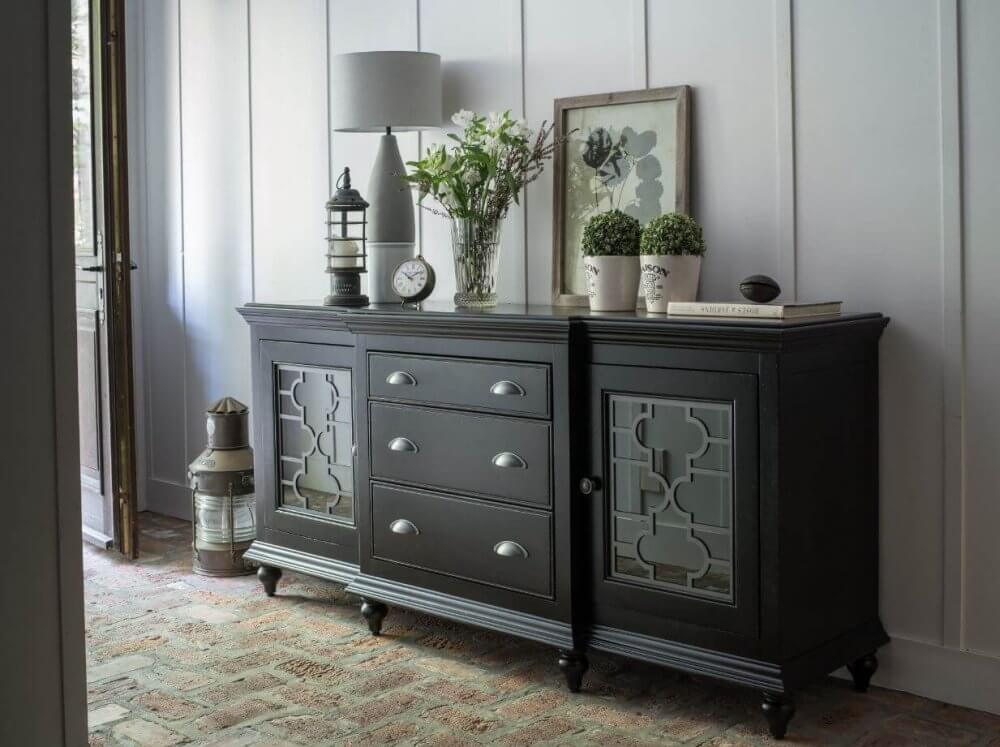 Neglected, forgotten and above all, underestimated, our lobby often has a hard life. Since it is considered a place of passage, a place where we do not invest much of our time, we often tend to perceive it as a cloakroom rather than as an equal part of our home. However, when you take the time to think about it, this is the first room your guests see when entering your home, your chance to make a good first impression and also, the first room that welcomes you after a long day at work.
As this is a transition space to a busy day and also a return to the comfort of your home, we do not spend most of our time there. All the more reason to make the most of it and add a touch of fantasy and daring to your decor. If the desire to paint your walls in a bright colour or cover them with wallpapers with original patterns has always tempted you, your lobby is the perfect place to achieve your desires. Generally smaller in size and somewhat set back from other rooms, the lobby allows you to dare and loosen up, according to the seasons and without taking too much risk.
A Functional Entrance
To let oneself go in fantasy does not mean to fall into the abuse. You can choose a style of decoration for the entrance which stands in stark contrast with your decoration or on the contrary, which comes to create an effect of continuity with the rest of the house. It is all up to you, as long as everything is well dosed and tidy! There is nothing more relaxing and comforting than entering a home, clean, uncluttered and organized. That's why it's essential that your lobby is functional and have practical storage furniture designed for your space.
Because small spaces can quickly become clutter, it is best to choose multi-storage and closed cabinets. For example, instead of opting for an open cabinet or library that both take up a lot of space and often become storage areas, go for a nice buffet. The buffets are not only reserved for the dining room, just dare to think outside the box! The advantage of choosing a piece of furniture of this type is that it does not usually take up too much space, can hold a lot of things and becomes a piece of decoration in itself. Store everything in it, all that you prefer not to see, but that you like to have at hand: keys, letters, paper crayons and other practical items. If you choose a buffet with a shelf at the bottom, it is ideal to put pretty boxes or a few wicker baskets to store hats, mittens, umbrellas, reusable bags, etc.
Choose Your Accessories
Now that everything is tidy, it's time to decorate! Wooden buffets offer an instant cachet to any room and they truly are timeless. However, nothing prevents you from going beyond the classics and opt for a colourful wooden buffet or one that has an aged, antique look. No matter what shade you like, metal-accented accessories are a sure-fire way to go with anything!
On the top of the buffet, you can introduce the soul of your home by choosing elements related to the rest of your home decor, or do the opposite, and go for a total different look. You can choose a nice plate, a bowl or a nice tray to put down your keys and change upon your arrival at home. Frames, empty vases or ones filled with flowers, books, trinkets, lamps; let yourself be inspired! It is also a great place to put an essential oil diffuser or candles, because nothing is more pleasant and stimulating than to be greeted by a sweet scent!
The wall next to the buffet is also the ideal place to display a picture or a painting in a frame, such as a work of art. Guaranteed to impress! Otherwise, the mirror is also useful to take a last peek at your reflection before leaving the house, plus it is a great way to create an amplitude effect to the room.
Golden rule to respect: the frames and mirrors must be suspended from 57 to 60 inches from the ground.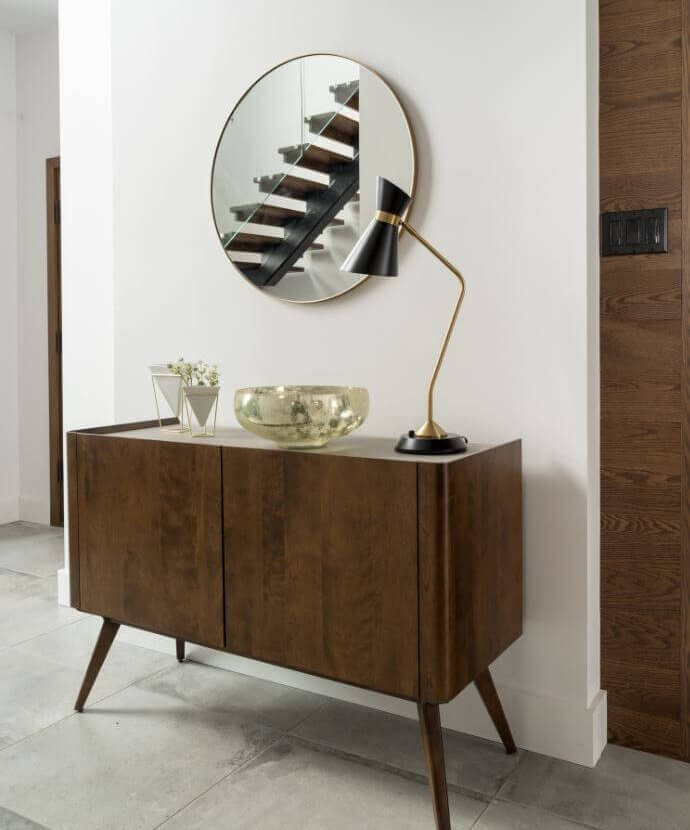 Maximize Your Space
The buffet is the key element, the centrepiece of your lobby. At his side, you can also place a large basket or a high vase to store your umbrellas. Another practical element to have is a chair or a small stool to sit down and put on shoes or just to put your bag on it when you get home! To maximize space and storage, a simple and very practical idea is to install a few hooks on the side of the entrance cabinet to hang a hat, the leash of your favourite companion or a purse.
If your space is limited, place the storage in height instead of cluttering the floor. You can install hooks, shelves or filling cabinets on the walls for more storage. If, on the contrary, your entrance hall is large, you can organize your own space by creating different areas: reading corner with an armchair, a side table and a bookcase or a work area with a desk that matches the buffet and a pretty work chair.
Let your imagination and creativity go, while testing your sense of organization. At first glance, you may feel like you have to reorganize everything to successfully create your space, but there are several easy and convenient options available to you. Take advantage of this extra space in the house to get more storage, or simply, to dare a different style and create a most welcoming vestibule!