Raspberry Cheesecake Brownies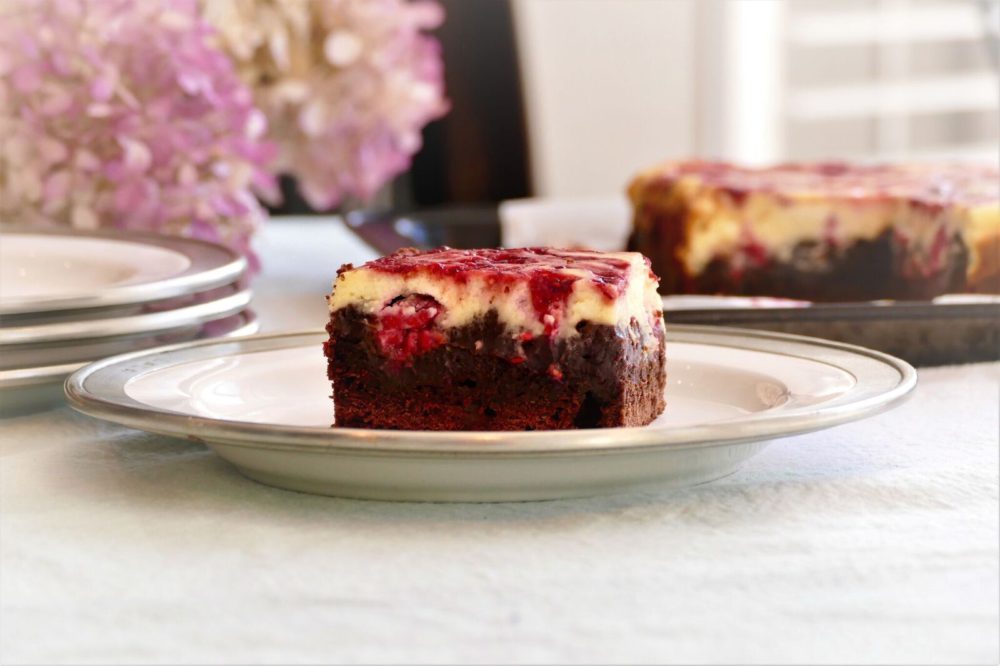 Servings: 10 to 12
Ingredients
Brownies
10 oz. (300 g) or 10 squares semi-sweet chocolate
1 cup (250 g) butter
1½ cup (360 g) sugar
4 eggs
1 tsp (5 ml) vanilla
1½ cup (250 g) unbleached flour
3 tbsp (45 ml) cocoa powder
1 tsp (5 ml) salt
Cheese topping
16 oz. (500 g) cream cheese, softened
½ cup (120 g) sugar
2 eggs
2 tbsp (30 ml) flour
Raspberries
340 g fresh raspberries (washed and dried)
2 tbsp (30 ml) sugar
1 tsp (5 ml) cornstarch
Psss… Be creative! If you don't have raspberries on hand, you can use blueberies!
Directions
Preheat oven to 350 °F (180 °C). Butter and flour a 9 x 13-inch rectangular pan or line with parchment paper.
For the brownies:
In the microwave, melt the chocolate and butter in a microwaveable bowl for a few seconds (stop, whip and repeat). When it is completely melted, stir well and let cool.
In another bowl, combine the dry ingredients using a fork.
In the bowl of a stand mixer, add the eggs and whisk on medium speed.
Add the sugar and vanilla. Increase the speed to high and mix for 2 to 3 minutes. The color of the mixture will lighten slightly.
Reduce the electric mixer's speed to low and add the butter and chocolate mixture to the eggs followed by half of the dry ingredients.
Add the rest of the dry ingredients and mix until the dough is well combined. Spread evenly into the pan and set aside.
For the cheese topping and raspberries
Cut the cream cheese into cubes. Put them in a bowl and whisk. Add the sugar, eggs and flour. Set aside.
Set 1 cup (140 g) of raspberries aside in a bowl and spread the rest over the brownie mixture.
Pour the cheese filling evenly over the brownies in the pan.
Crush the remaining raspberries with a fork and add the sugar and cornstarch.
Drop spoonfuls of the raspberry mixture here and there on top of the cheese filling. Using the tip of a knife, make swirls in the raspberry topping.
Bake 40 to 45 minutes or until the cheese topping seems to have set. Remove from the oven and let cool completely before cutting.
Bon appétit!