Spring Edition: Trend Update
You can't deny that the arrival of spring brings feelings of happiness, right? The weather warms up, buds appear, colors get brighter. These are just some of the things that make us want to embrace the season!
It's a sign of renewal and change: it's the perfect time to embellish your cozy nest, your home, much as a mother bird would. To celebrate the return of sunny weather, Canadel introduces new trends, tips, decors and yummy recipes to try. On the menu: inspiring colors for 2021, choosing the right fabric for your lifestyle, making energizing coffee, creating a tulip centerpiece, and preparing appetizers for drinks on the patio!
Find Inspiration in This Year's Color Trends
Needless to say, colors affect our emotions. Bright and strong. Warm and fuzzy. Happy and embracing. The color chart master Pantone® has unveiled a dynamic color duo: a timeless, dependable and unwavering shade of gray (Ultimate Gray, 17–5104) and a bright, cheerful sun-saturated yellow hue (Illuminating, 13–0647). Together, these two colors offer many combinations and can be incorporated into any room.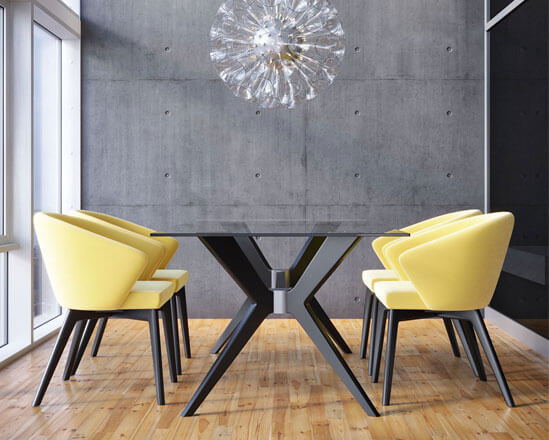 Elegant and neutral, this modern shade is very trendy. The advantage of gray is that it can be incorporated into a range of colors including canary yellow. This combination will make your decor sophisticated and harmonious while adding a touch of excitement!
This citrusy color is perfectly suited to a burst of creativity, a hue that evokes smiling emoji and cheerfulness. Whether in accent pieces, chairs or a bench at the foot of the bed, yellow furniture will bring light into your home.
For the table, choose bright yellow chairs, get out the silverware and add pretty flowers with colors conveying the color of the sun. In the kitchen, choose a sunflower-colored island to brighten up the room. Elsewhere, embellish your home with decorative accessories: pillows, throws, curtains, rugs, pictures, wall hangings and more. Here, there, or for a total look, get inspired and create a dynamic decor. Combine the sure thing of gray with the vividness of yellow. And just have fun!
For more decorating ideas featuring this year's colors, turn to page 12 in our new issue of Inspired magazine where you'll find more tips on how to incorporate these tones into your home.
Indulge in Spring Fabrics
Plain, floral, striped or graphic. Leather or velvet. What decisions should you make for your new dining room set? Choosing a fabric is often a difficult step in creating a decor. We have to consider the style of the room, type of chairs, color and texture schemes, use of space, not to mention many other factors that can complicate the task. The article "Dining Room Fabrics Made Easy: Learn how to Mix and Match Like a Pro" provides extensive content and seamless combinations.

It all starts with your favorite color palette. First, figure out which tone resonates with you, then look at your selection under different lighting conditions to ensure that your choices look just as good no matter what time of day or night!
Whether your chairs are used daily or occasionally, for family meals or homework, this information will help you choose a fabric to balance beauty and durability.
The main idea behind these tips is to make a well-informed decision that will make you love your furniture for years to come!
Add a Shot of Caffeine to Your Energetic Decor
Whether enjoyed in your home or in your backyard, early in the morning, during an afternoon break or even in the evening with a drop of alcohol, the irresistible taste and aroma of good coffee help energize body and mind. This spring, create the perfect coffee oasis to give this beloved beverage a prominent place in your decor.
Nestled in a cabinet, in a large sideboard with doors or drawers for cup storage, or simply placed on an island that transforms to suit the occasion, you can be the barista at your beautiful coffee station.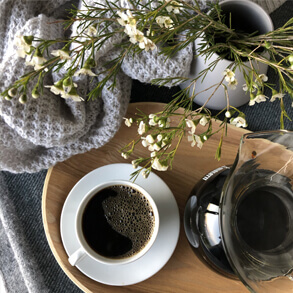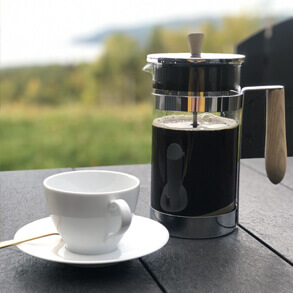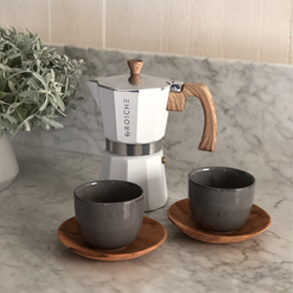 And as an Added Bonus…
In addition to enriching your daily life, coffee grounds add minerals to garden soil. They also repel slugs and snails in the vegetable garden.
Decorate with Flowers
Just as they enhance our gardens in the spring, flowers are beautiful as decorative accessories. The bright petals of narcissus, magnolia, hyacinth or tulip will add beauty to your home. As a centerpiece, on a console table in the foyer, and even as a front-door wreath, flowers can be incorporated anywhere.
Our article "Tulips: perfect table decoration" gives steps and tips to make beautiful floral arrangements. In a square or rectangular vase, with bulbs intact or cut short, tulips come in a wide variety of species and thousands of different shades and shapes. So many options… Have fun creating arrangements that will invigorate your home with springtime notes reminiscent of endless fields of colorful tulips.
Simple Meal Prep
As the weather warms up, opportunities to enjoy a drink on the patio are on the rise. Looking for a light recipe? Consider our recipe of rosé shrimp rillettes. Get out your food processor and fresh ingredients. Friends and family will love this delectable dish served on crackers or bread while sipping a refreshing rosé wine. This quick recipe is the perfect appetizer!
Want something more filling? Easy and hassle-free, serving boards can make life easier! Discover other tasty combinations in this post.
Ahhh, springtime! We've been looking forward to it so much. It's now here. Whether embracing the exciting color schemes of the year or changing your furniture, take the time to match your decor to this new season. It's important to balance the tones to create perfect harmony in your home. Between spring chores and outdoor activities, pick up a few tulips to brighten up the table for cocktails with friends. Which of these inspirations are the most appealing?
The aim of this blog is to inspire you and provide you with the best decorating resources. Sign up for The Art of Dining newsletters and stay on top of trends, tips, crafts and recipes.