Coffee Trends: Home Coffee Stations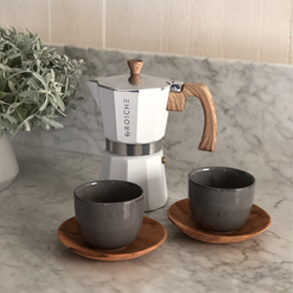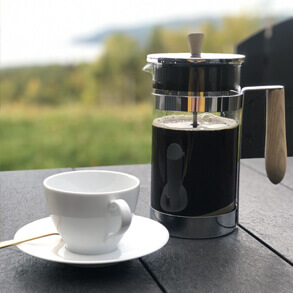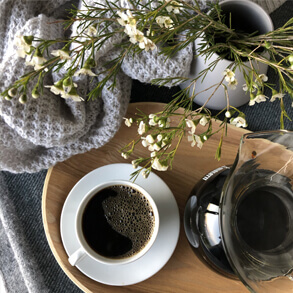 Savoring coffee, whether black, full-bodied, iced, or flavored, is a ritual that lets many of us switch off during our sometimes frantic days. Whether coffee is your fuel or just a pick-me-up, carving out a place for coffee at home or the office is the latest thing.
First appearing in boutique hotels, coffee stations have increased in flair and become sought-after areas, inspiring many to incorporate them in their homes. Regardless of when and with whom you enjoy coffee, a coffee station is a sign of hospitality, togetherness, and even generosity. Here are some tips for setting up your own coffee oasis.
A coffee station at home
There's no need to renovate your kitchen to get your own station. There are many affordable options that will blend with, and even enhance, your decor.
First, if you have the space, you can tuck your coffee bar into one of your cabinets. Choose one that's easy to reach, and clean it out so you can put your coffee maker, a few mugs, and a sugar bowl in. We recommend adding a pull-out drawer because the heat from your machine could damage your cabinet.
The best option is to get a piece of furniture that will be used solely for your coffee bar. Since it will probably be located in your kitchen, it's important to match the style of that room.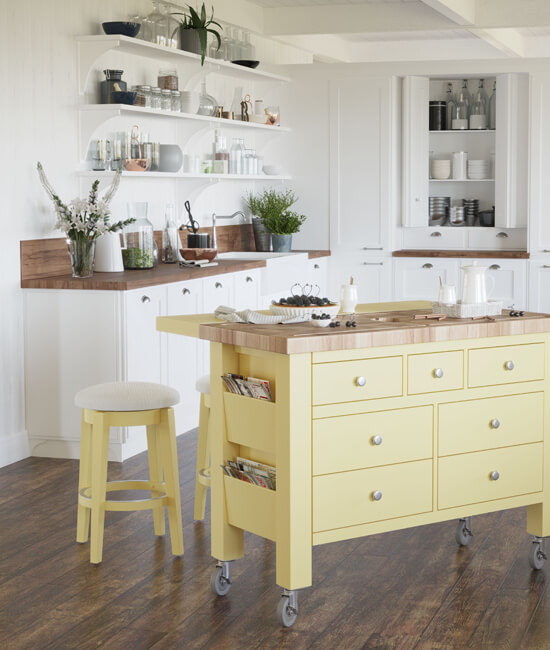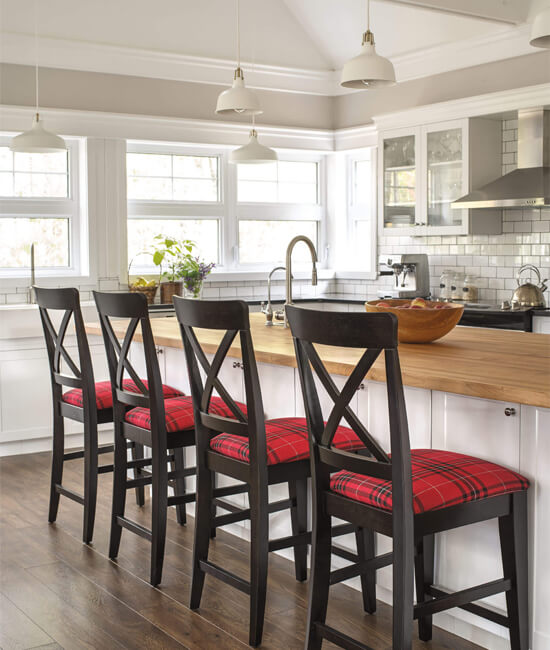 Choose the right spot and the right piece
To determine what form your coffee station will have, first decide where it will go. Is your current buffet too high? Is it already full of dishes you want to keep there? Is it near an electrical outlet and a water source for easy filling and cleaning? Depending on your answers, you may need to purchase a piece of furniture that is better suited to your project.
It's also important to choose an area in the kitchen that has an electrical outlet and can accommodate the station. Measure the space and choose furniture and shelving that will fit. When it comes to choosing a buffet, there are two options.
The first is a large buffet that's at least 70 inches (180 cm) high and has doors to conceal your coffee station when it's not in use. But, as with cabinets, the heat from the machine may eventually damage your furniture. If this is a concern, choose a smaller buffet so you can place your coffee maker on top of it or opt for a shelf-style buffet with a small drawer—like Canadel's—that will accommodate your station perfectly.
It would be wise to select a piece with sliding drawers that will make placing your items, not to mention cleaning, much easier. You can then install shelves above the buffet for a more pared-down look.
A mobile island is another good choice. You can transform it based on your needs and the occasion, and an island can accommodate a permanent or temporary coffee bar with ease. You'll be able to move your station from one area to another, or even outside!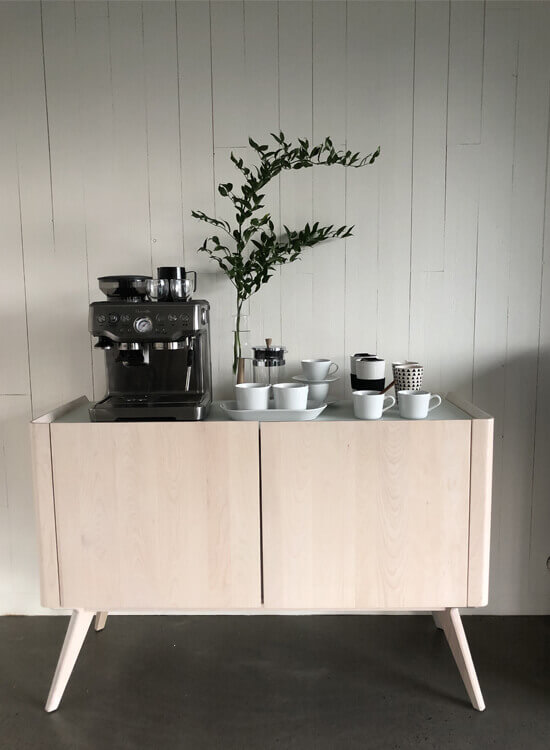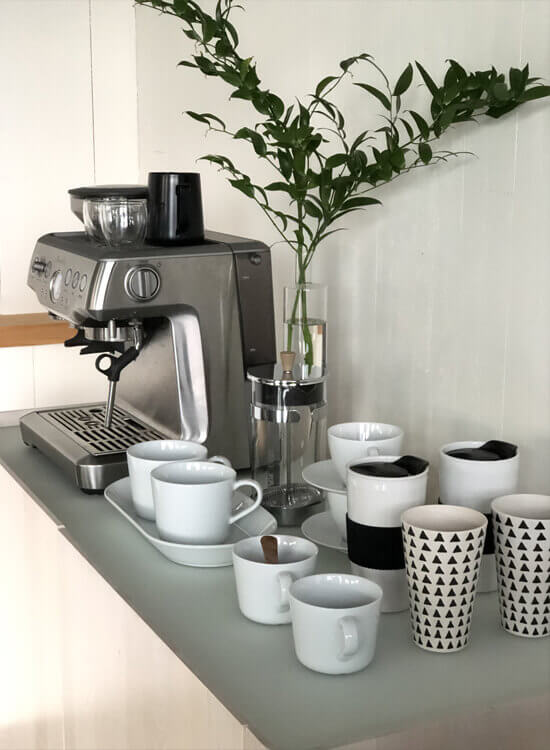 A coffee bar that's as attractive as it is useful
Once the furniture has been selected and the shelves installed, it's time to decorate your coffee nook. Show off your coffee maker by setting it on your buffet, making sure to place it so it's easy to reach the water reservoir and the filter or pod holder.
Then arrange the mugs, utensils, boxes of tea and coffee canisters or bags of grounds in the drawers. Place the sugar bowl and a jar with spoons next to the coffee maker. Decorate the shelves and buffet with curios, or plants. You can even decorate according to the seasons: add pumpkins in the fall or seasonal flowers and ornaments, depending on the time of year.
Impress your guests or treat yourself
Why not go the extra mile by adding fine chocolates, biscotti, and syrups to occasionally spice up your brew? That way you'll have everything you need at your fingertips to whip up Irish, Spanish, Brazilian, or Cuban coffees.
And if you'll be hosting, place your coffee cream, milk, plant-based milks (for example, coconut milk), and even a bowl of Chantilly cream to keep all your guests happy. And for something out of the ordinary, add flavored syrups and cinnamon—just a pinch will liven up your coffee. Then, let your guests have fun experimenting and concocting their own hot beverages.
Coffee's aromas and flavors change depending on the bean's type and country of origin and even the environment where it is produced. If possible, it may be interesting to offer a selection of beans and try a blind taste test. Like wine, some coffee beans have notes of berries, chocolate, or citrus.
Armed with this knowledge, ask your favorite barista for help choosing the type of coffee that will go best with your dessert, because the right coffee and dessert pairing is a pleasing to the palate as the right combination of wine and fare.
Our ancestors began enjoying the fruit of the coffee plant thousands of years ago because of its stimulating properties. We still consume it today for much the same reasons, but also because we associate coffee with life's little pleasures and relaxing moments shared with friends or spent chatting with coworkers.
Setting up a nook for this cherished beverage creates a meeting place or relaxation area at home or work. It's a simple way to treat yourself or those around you.
Egg Coffee
Vietnamese egg coffee is growing in popularity. But did you know that egg coffee was also commonplace in North America more than a hundred years ago? Here's a recipe from a 1927 culinary treatise that belonged that belonged to my great-grandmother.
Ingredients
3 tablespoons (45 ml) soluble ground coffee
3 cups (750 ml) boiling water
1 egg
Preparation
In a saucepan, combine the coffee and the egg. Pour the boiling water over the mixture and heat over high heat for 1 minute. Strain and serve with cream or hot milk.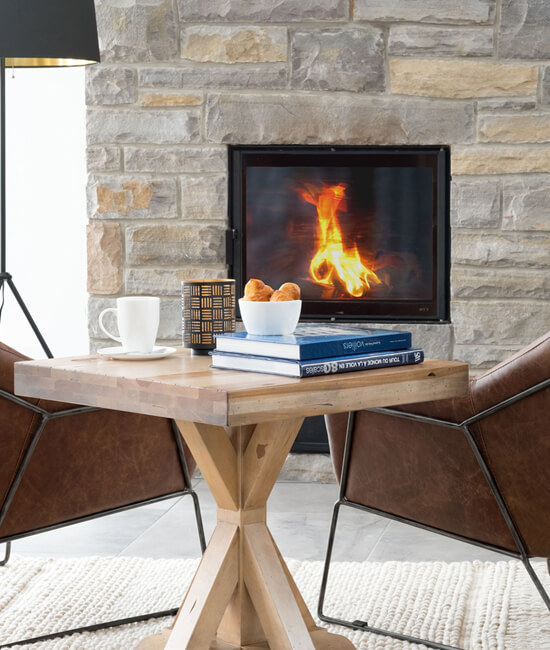 Tip:  Don't throw your coffee grounds in the garbage. Not only are they compostable, but they make excellent fertilizer for your vegetable garden. And slugs hate them!