Rosé shrimp rillettes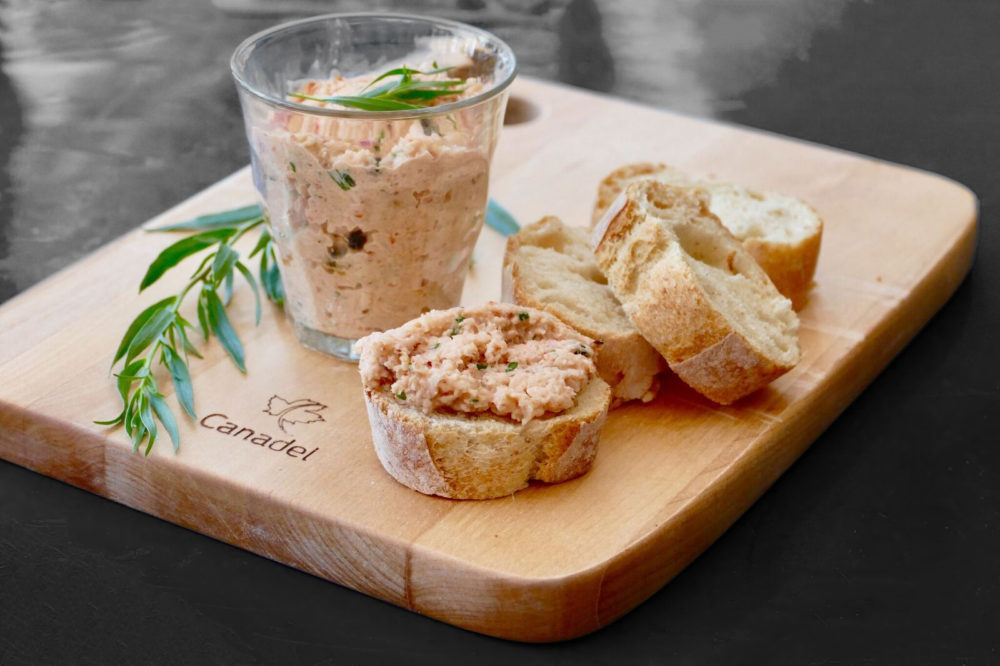 Serving: about 500 ml
Ingredients
400g raw shrimp
2 grey shallots
A sufficient amount of white vinegar to cover the shallots
2 cups (500 ml) rosé wine
2 to 3 bay leaves
Some peppercorns
1 tablespoon (15 ml) tomato paste
2 tablespoons (30 ml) mayonnaise
2 tablespoons (30 ml) plain yogurt
1 tablespoon (15 ml) Parmesan cheese
Fresh tarragon (leaves only)
Salt and pepper
Directions
1) Chop the shallots finely and cover them with vinegar. Let them rest for a few minutes until they change colour.
2) Shell the shrimp and remove the vein and tail (if not already done).
3) Pour the wine into a saucepan with the bay leaves and a few peppercorns. Bring to a boil and add the shrimp.
4) Reduce to medium heat and cook for a few minutes, until the shrimp turns pink.
5) Once the prawns are cooked, empty into a strainer and remove the bay leaves. There is no need to save the used wine.
6) Put the shrimp in the bowl of the food processor.
7) Strain the shallots to remove the vinegar. Add them with the rest of the ingredients and gently start the food processor, giving a few pulses. The texture of the rillettes is up to you but I personally prefer mine with a few pieces and not smoothly mashed.
9) Pour the mixture into a nice bowl and let rest for 1 hour in the fridge to let the flavours marinate.
Serve with crackers, bread, pitas, vegetables or whatever you are craving for!