Dining Fabrics Made Easy: Learn how to Mix and Match Like a Pro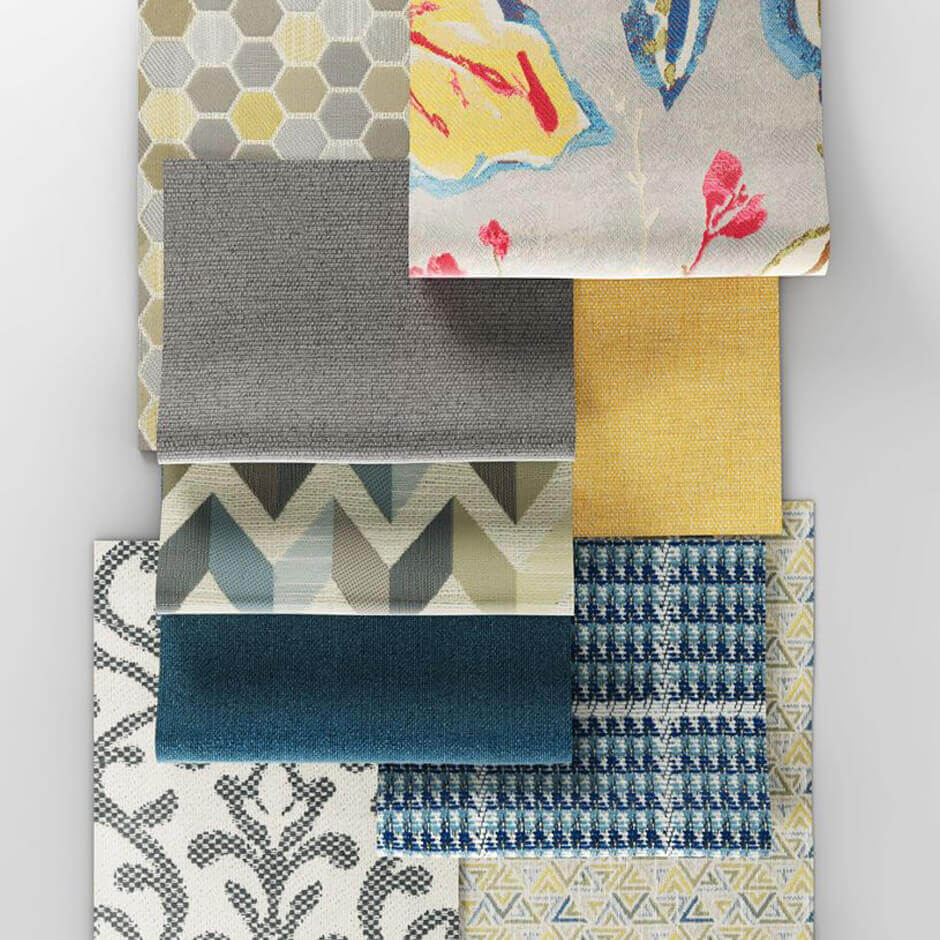 When it comes to selecting a dining chair fabric, the choices can be overwhelming with the infinite colors, textures, and patterns available. In addition, it can also be difficult to reconcile your personal design preferences with the practical considerations dictated by how you live. Understanding the factors below will help simplify your decision.
#1: Lifestyle Compass Points
The furniture industry uses the term "lifestyle" to categorize their products into cohesive groups that make sense and help you shop. Like True North on a compass, the design lifestyle you have chosen should be considered in any decision to make sure all the rooms in your home work together in harmony. Here are a few design lifestyle examples:
Classic- formal, heirloom furniture. This style tends to lean toward rich colors, dark wood tones and fabrics like damask or chenille.
Modern- architectural design with metal accents, and clean lines. This style favors monochromatic tones, light wood and fabrics like luxurious velvet and supple leather.
Farmhouse- warmth and simplicity characterized by natural textures and materials. This style utilizes neutrals with pops of color and fabrics like natural cotton or canvas embellished with whimsical prints.
Transitional- simple yet sophisticated. This style embraces soft lines and comfort with neutral color palettes. Solid fabrics are predominant but you can also see patterned fabrics that are subtle and graphic.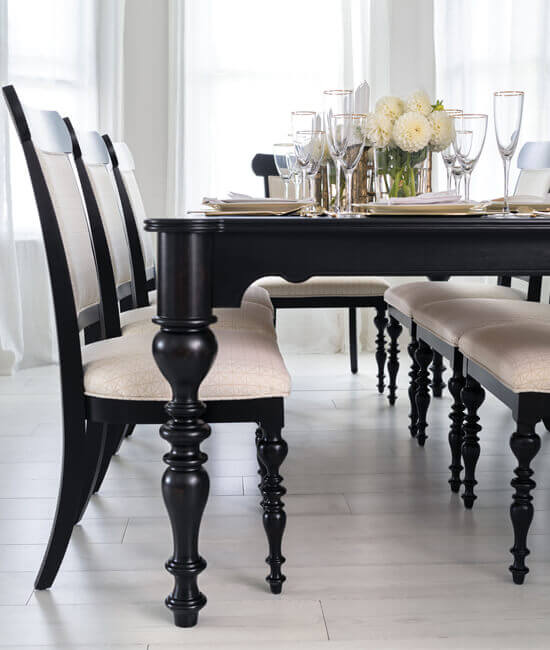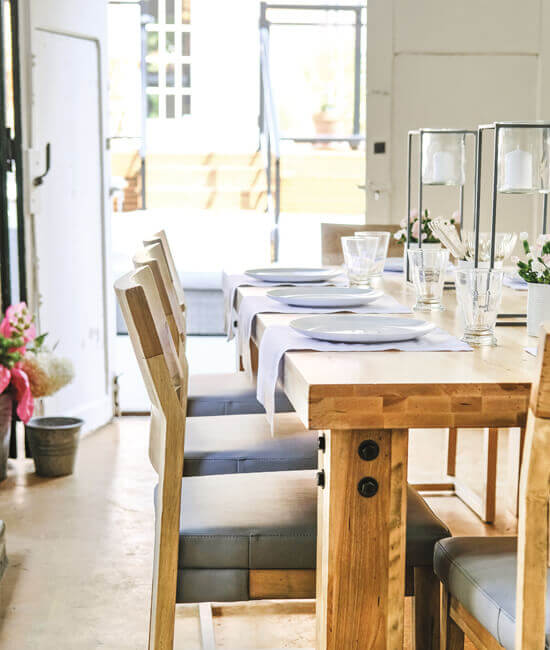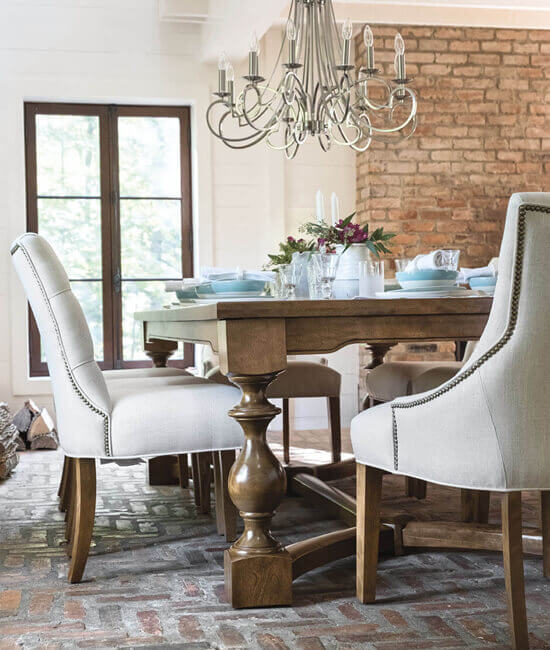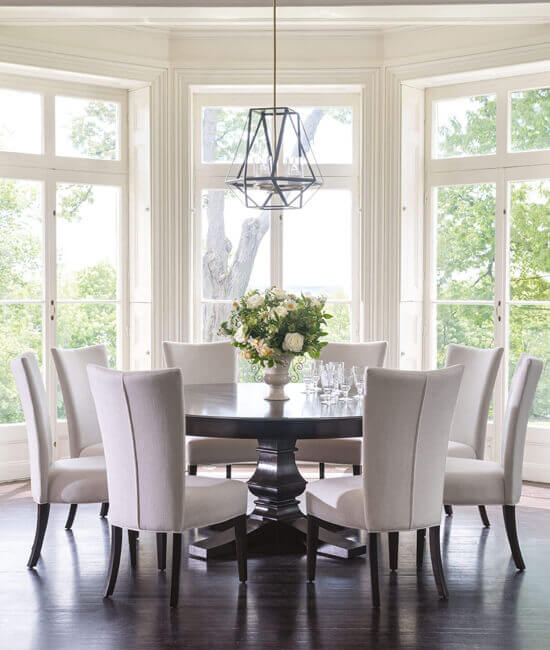 #2: Dining Chair Styles
Whether you prefer a formal or a casual setting, the type of chair you select will help determine your fabric selection.  Here some of the different chair designs available:
Parsons Chairs are fully upholstered and feature clean, simple lines. Offer comfort and style to any dining space, they can handle larger patterns and prints to make a bold statement in your home.
Ladder Back Chairs feature horizontal slats evenly spaced along the chair's back to create a light, open look. This design is usually seen with classic or farmhouse styles, but also works with transitional and contemporary designs.
Slat Back Chairs feature evenly vertically spaced slats. This results in a nice lean, long look you'll see in a variety of lifestyles.
Ladder and slat back chairs can have wood or upholstered seats. This allows for solid, textured or patterned fabrics. Everything from linen, cotton, and wool to abstract or geometric fabrics works with these chairs.
Cross Back Chairs have an X-shape design to draw your attention with a light-airy look that won't overwhelm the room. They appear in a variety of styles ranging from farmhouse to industrial. They work with fabric choices like textured plaids, rich solids, and dainty florals in an array of colors.
Splat Back Chairs have a central, vertical column on their chair back.  The central column is typically dressed-up with scrolls, ribbon twists, angles , etc… They bring exquisite wood detail and allow subtle fabric patterns like florals, chenille or damask to tie the space together.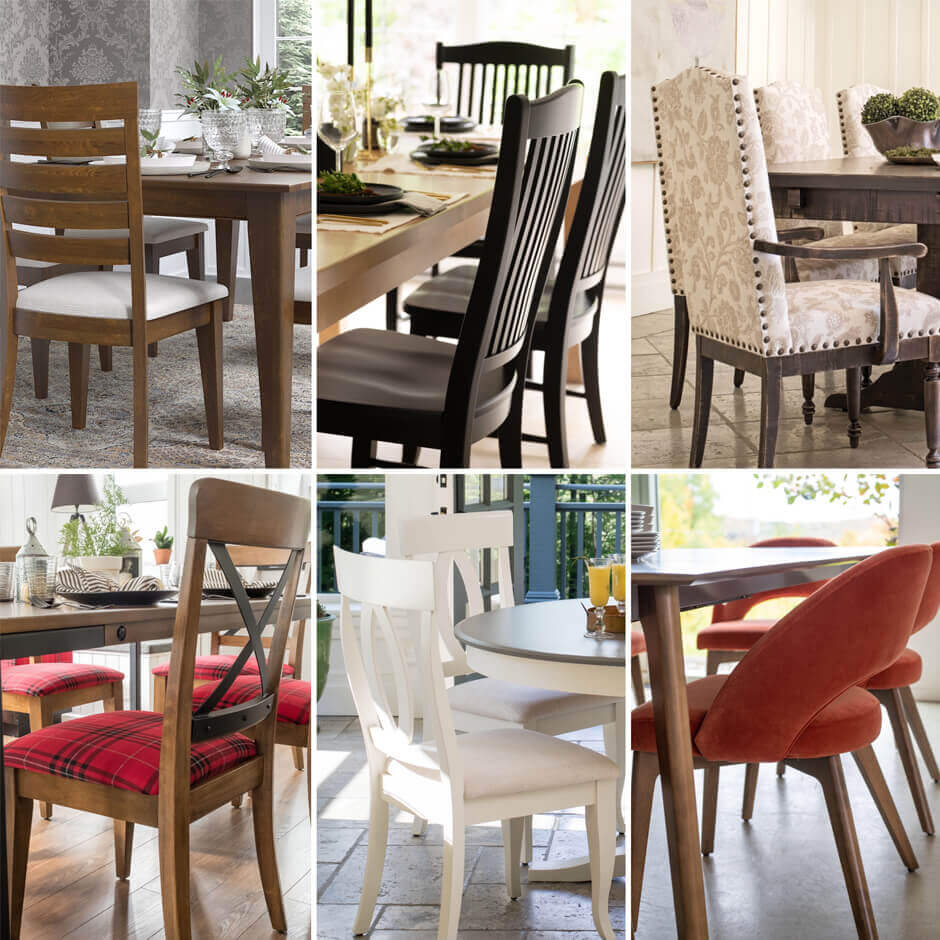 #3: Texture, Pattern & Color Combinations
There are some guidelines about how to mix and match textures, patterns and colors. The most important is that the fabric combination should be pleasing to the eye and complement the room. Here are a few simple guidelines:
Stay in the same color tones and intensities. Avoid mixing primary colors with pastels or muted ones with jewel tones.
Remember that solids with a visible texture technically fall into pattern category but may provide added flexibility.
It's often said that plaids and stripes do not mix, but really stripes go with everything! Here are some of our recommended "pattern buddies" that work together:

Damask, Florals and Stripes
Plaid, Paisley and Graphics
Chevron, Floral and Geometric
Small Polka Dots, Stripes and Florals
Ikat, Textures and Solids

Both Black and White are endlessly versatile and they complement nearly every other color. Mix with reds, blues, pink, green or yellow
You should look at your selections in different light conditions to make sure they work throughout the day or night.
Determine what color palette you love first and then find fabrics that you love. No matter what colors or patterns you choose for your dining chairs, a healthy mix is great, just trust your instincts.
#4: How Your Family Uses Dining Space
Today's consumers are using every nook and cranny of their homes. So it is likely that your dining furniture gets more than just meal traffic. Are you using it for homework or other projects? Do you have children, pets or other concerns that cause spills, stains or other trauma?
A heavy-weight fabric is the best way to withstand constant wear and tear. Think cotton or a microfiber blend.  Woven fabrics typically last longer than prints. Fabrics with tight weaves are generally more durable based on standard abrasion testing.
If your formal dining room is seldom used except for holidays and special events, then you can use textured blends like velvet or chenille. Just be aware that they may require a professional cleaning on occasion.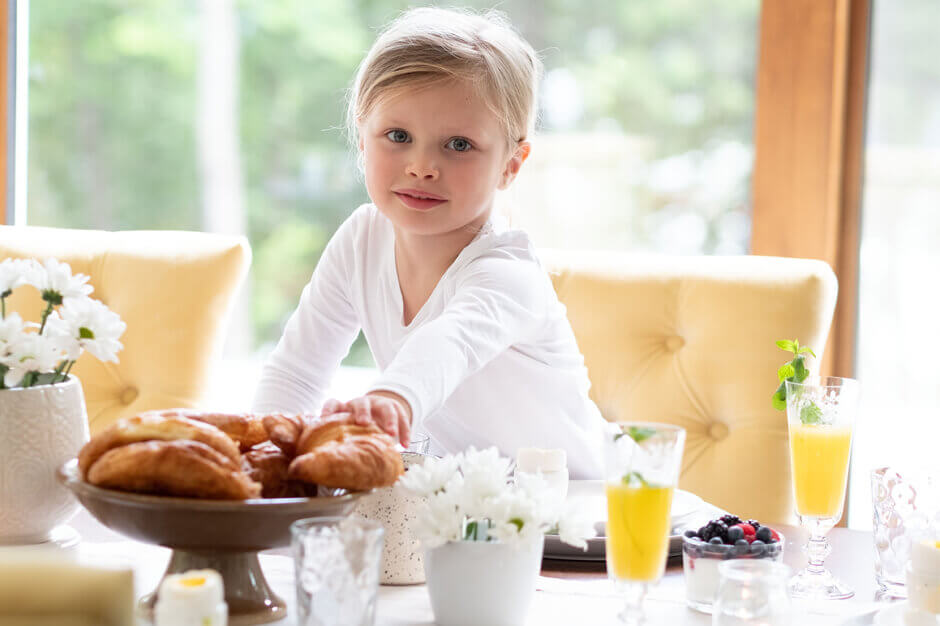 #5: Fabric Protection
Fading can be an issue if a room has an abundance of natural light. This will have an impact fabric longevity and fade it over time. If this applies to you, consider a fabric that is UV (Ultra Violet) resistant.
To help consumers safely treat stains, fabrics have a letter code for cleaning instructions. The most prevalent are "W";  which means you can wash that spill away with regular dish soap and water or "S"; which requires a special solvent to clean them. Be aware of this if prefer to avoid the use of solvents.
Fabric manufacturers (like Sunbrella) offer performance fabrics with additional protection. These are comfortable, color-stable products with diverse, rich colors that stay brilliant for years. These fabrics are easy to clean and offer stain resistance.
Purchasing new dining chairs and tables should be fun and exciting. It should be easy to answer the first two questions about design lifestyle and chair type, unless you are just starting to figure out a new home. It is only a matter of looking at a dining chair to understand if it suits your style and know the name of its type.
The third question about mixing and matching textures, patterns and colors is what most consider the fun part. Just look through your options and play with samples in your room to decide what draws you in the most.
The last two questions are about durability and protection. Just make a choice that will stand up to the way your family lives and offers forgiveness when you make mistakes.
A well thought out fabric choice can lead to a dining room that you will love for years to come.