Secrets of an Inviting Dining Room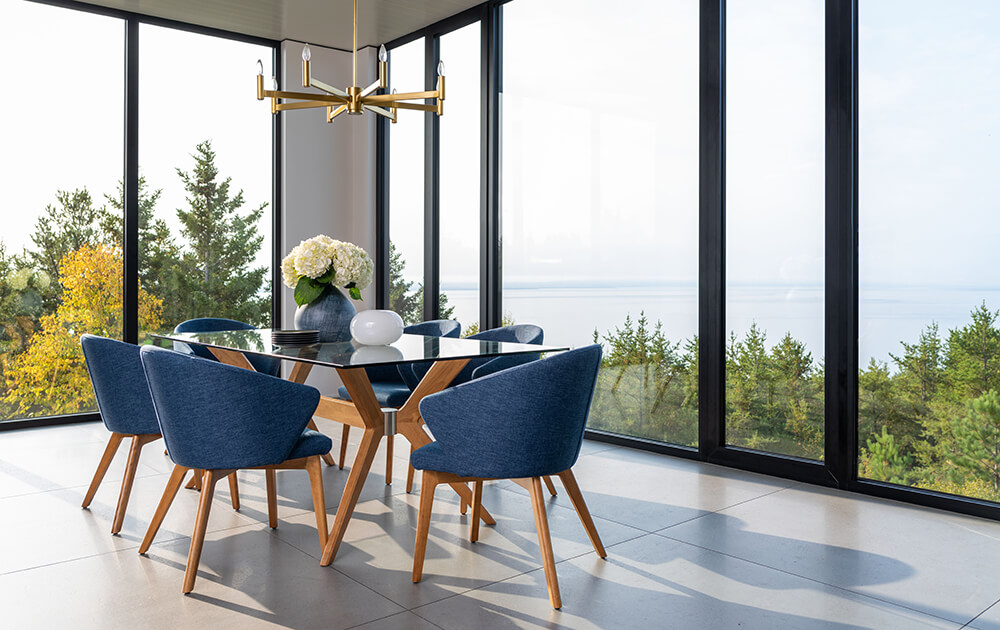 Each room in a home has its own function and purpose. Some are intended for relaxation and others for spending time with loved ones. Like the kitchen and living room, the dining room is a very important place for friendly gatherings. While it may not be used for every meal, or even every day, it still deserves attention.
Ideal for entertaining family and friends, Sunday brunches, and parties that stretch into the wee hours of the morning, the dining room takes on many roles. That's why it's important, first and foremost, to determine its main purpose. In all cases, an inviting atmosphere will give this space a warm and comfortable feel.
A Cozy Balance
A Well Designed Dining Room
To create a decor that is both inviting and balanced, the first and most important step is to plan carefully according to the shape and size of the room. There should always be a clearance of at least 36 inches between walls and chairs or other furniture. This rule ensures that there is enough space for the chairs to move around and that everyone is comfortable.
Most of the time, the dining room is either located within the kitchen or is an extension of it. Nowadays, open plans combine these two rooms and even extend into the living room. In this case, be sure to create a decor that is consistent. There is no need to apply the same style throughout all the rooms, but it is best to have a common thread to tie everything together and create harmony.
If your dining room is in a separate space from the kitchen, have fun! Be daring and decorate the room in a style all its own.
A Touch of Comfort
Since this is a place to take a pause, relax and spend some leisure time, comfort should be foremost on your mind. It doesn't take much. Simply choosing fully upholstered chairs around the table gives an instant "cozy" feel that will appeal to your guests—a popular look that adds a sophisticated and elegant character that will stand the test of time.
Rugs are in!
We love a nice cleverly placed rug that defines a space, especially in an open concept. To choose the right size, measure the table and the chairs when pulled away from the table. Make sure a minimum of two feet extends beyond all sides of the table. The rug should cover the surface of the floor even when chairs are moved away from the table to avoid snagging the rug. As for style, remember that darker colors and patterns are better at hiding wear and tear.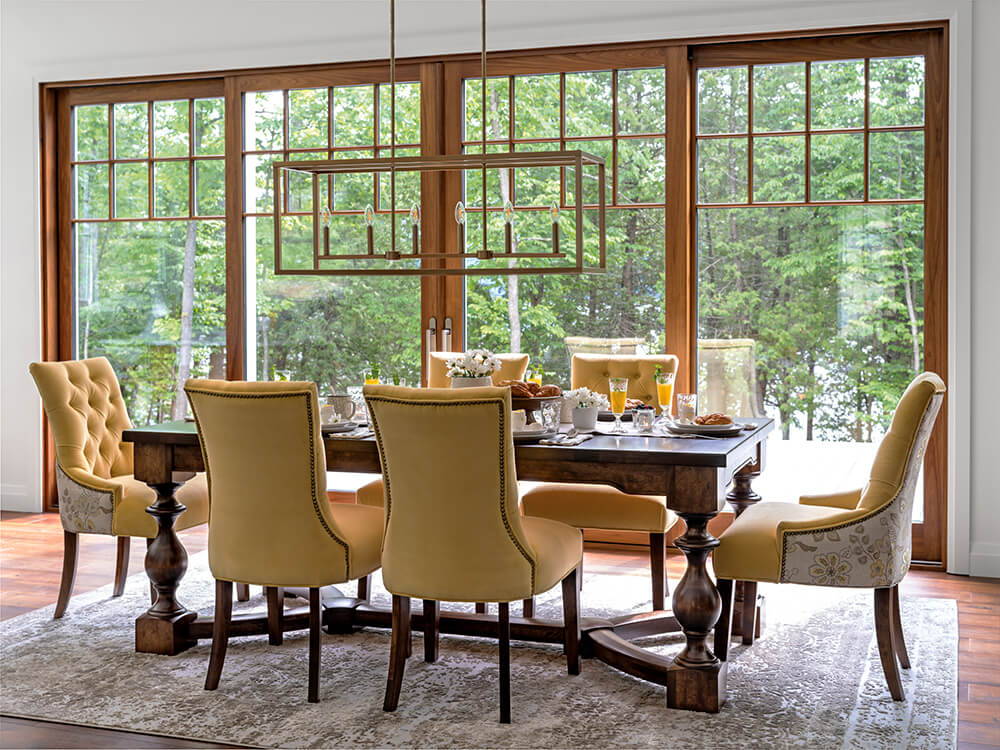 The Right Color
As we see at the beginning of each year with Pantone's flagship colors, colors have a huge influence on our perception, our mood and the character of a decor. Determining a color scheme is not always easy, but it certainly makes all the difference in bringing a room to life. There are many ways to play with the color spectrum to energize a decor.
For example, rich, vibrant tones look spectacular in the dining room. Be daring with a more saturated or vibrant color painted on just one wall or even on the ceiling. Or simply opt for bold-colored chairs. If you're more of a minimalist, a monochrome scheme (the famous tone on tone) is sure to add a touch of refinement and elegance and create a timeless decor. If the dining room is located in a darker area, then opt for lighter shades. Be inspired by what you put on your plate, by what you love, and by what makes you happy in this room.
Psst.
Wait until the table and chairs are selected before painting or wallpapering the walls. Wall colors are more ephemeral and can be changed over time. Furniture is an investment to be cherished for a long time and can be passed on from one generation to the next.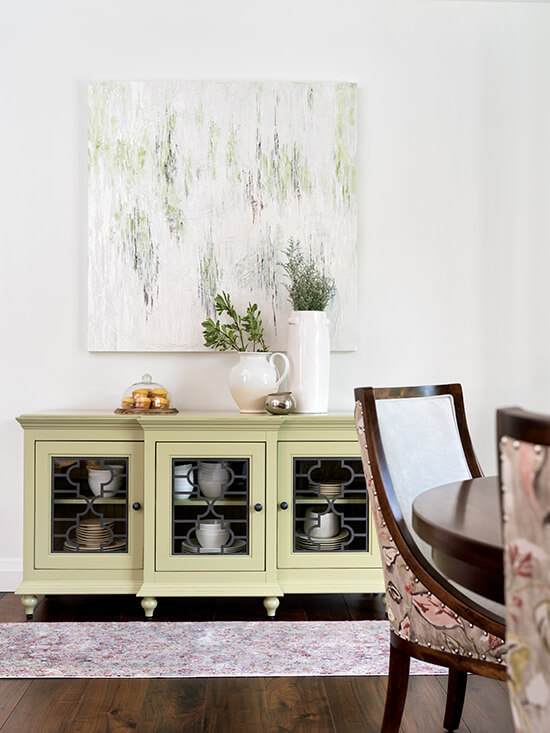 Tasteful Mix and Match
It cannot be emphasized enough that the key to a successful decor is the furniture. Furniture sets the look, the mood and the soul of an atmosphere. In addition, it can last a long time, age well, and we often become quite attached to it. The rest of the decor is transient, the product of trends and seasons that come and go. However, one cannot go without the other. Accessories give life to furniture and vice versa. That's why it's very interesting to mix new furniture with antique pieces in a mix and match approach. Opt for a very classic wooden dining table that will last a lifetime, but have fun with different chair designs. Although it may seem important to prioritize key elements in the room in a more traditional way, you can always add a bit of whimsy. Just think outside the box a little bit by playing with accessories and other small furniture. Mix wood and metal, genres and eras with favorites that reflect your personality.
Practical and Beautiful Storage
Every dining room needs some sort of closed storage. A buffet is a very practical and versatile option that allows hiding what needs to be kept out of sight, but also to show off some accessories to liven up the decor. This is where personal items come into play, such as nicely framed family photos, souvenirs brought back from a trip or a beautifully displayed antique dinnerware set. Or go with a vintage buffet and choose more modern and contemporary items to dress it up, like a mirror, a vase with fresh flowers or a piece of art. However, avoid choosing a piece of furniture that is too bulky. Allow the main elements, table and chairs, to take center stage.
Buffets and benches are also very interesting small pieces of furniture that can be used for several purposes and easily moved throughout the space as needed.
Lights On!
Don't forget that light fixtures play an important role in a successful decor. They can change the mood of a room in the blink of an eye. Consider installing dimmers to change the level of light depending on the occasion and time of day—ideal for the different purposes of the dining room. When it comes to the main light fixture above the table, be sure to consider its size and visual weight. It should not take up all the space, but blend in well with the room. It should be proportional to the space and the furniture and should be hung 30 inches above the table.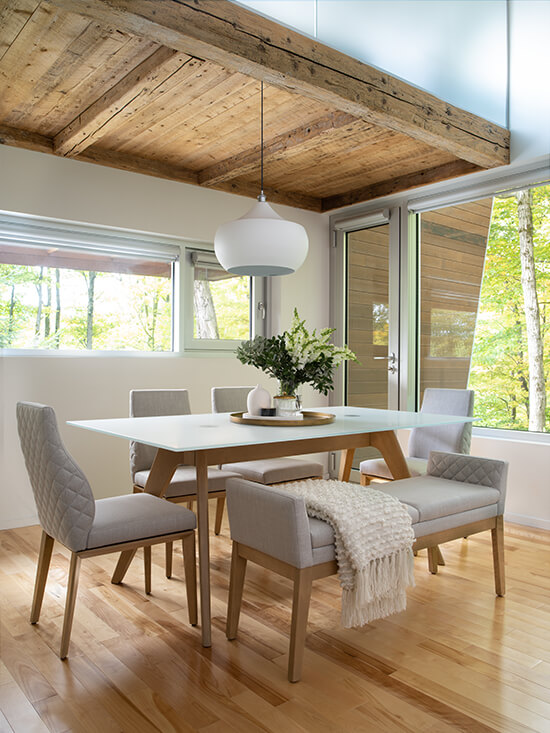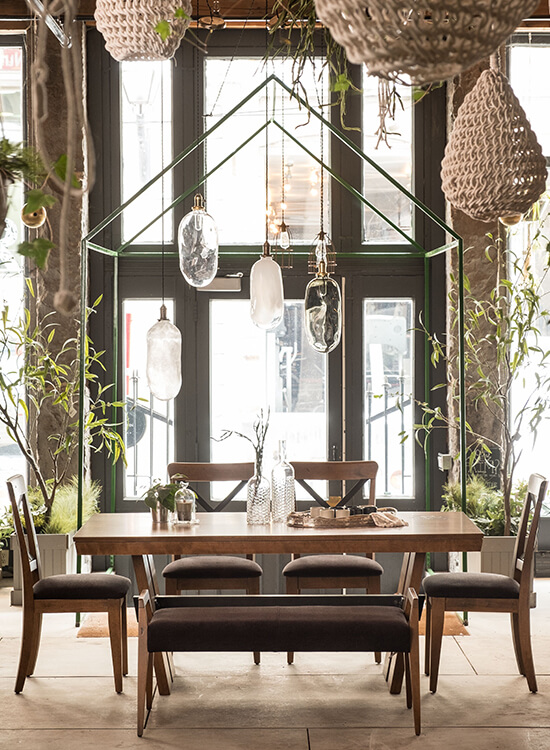 A Hint of Nature
Create a warm and inviting atmosphere with lighting, but bear in mind that nothing beats natural light. Choose a light window dressing to let in most of the light. Otherwise, any way to include nature in your home is good. Adding flowers and plants, artificial or natural, will bring freshness and cheer up a decor. Think of your dinnerware and all the necessary items for entertaining! Food on the table and on the plates is another great way to create an inviting atmosphere.
Back to Basics
Often replaced by the kitchen island, the dining room is making a comeback. Rediscover the joy of gathering around a good meal, hosting parties, celebrating life's little pleasures, and enjoying the moment as time passes. These are the things that will help you design your dream space.