Choosing the right dinning table for your space
Dining room furniture can be one of the biggest investments in your interior design budget. What size and style dining set should you buy? High-quality dining tables and chairs can last a generation, so you'll want to choose carefully for your family's size and lifestyle. Today's dining tables might be any style, from rustic planks to colorful, modern chic; even formal designs have lightened up. We've put together some helpful tips on measuring your dining room, deciding what size dining table you really need, and finding the right size area rug.
How to measure for a dining room table?
The size and shape of your dining room will influence what type of table you can use. Sketch out your dining room's dimensions, and note the location of the light fixture – this is where you'll center the table. Leave about three feet of clear space from the edge of the table to the wall or other furniture, so you can comfortably move chairs in and out. Leftover space can be used for other furniture, such as a buffet or hutch.
Dining tables can be anywhere from 36″ to 60″ wide, so if space is tight, use a narrower table. Just remember, if you need room for serving dishes in the center of the table, a 42″ or wider table is best. If your dining room is square, a large round table can be very stylish. Or, shake up tradition with a large square table that seats two on each side.
If you have a traditional, enclosed dining room, place other furniture (such as a buffet) against the wall first and measure the space that's left. With a hutch or server in a twelve-foot wide dining room, you'll have a ten-foot wide area left for your table and chairs. Any table up to 48″ wide will fit perfectly and leave room to move around. A good rule of thumb for finding the maximum table length you can fit is to subtract six feet from the length of your room.
If you have an open-concept floor plan, you won't have walls in the way. But you'll still need to center the dining table on the light fixture, and map out table dimensions with three feet of room on either side. Make sure you leave open space for foot traffic too.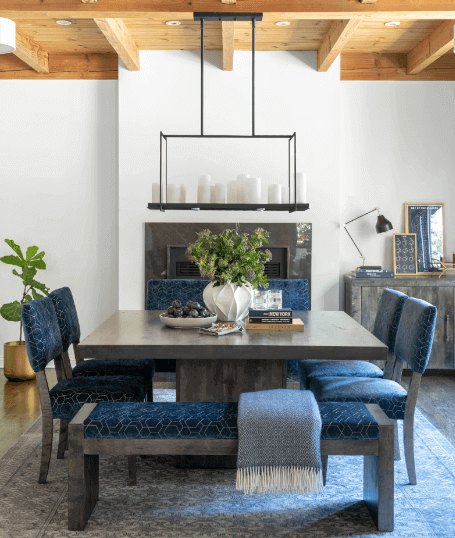 Design a dining room that works
Don't let your dining room sit empty most of the year – make it work for you. Clean, modern upholstered chairs are stylish enough for dining, but they also turn your dining table into a comfortable desk area when you need to work at home.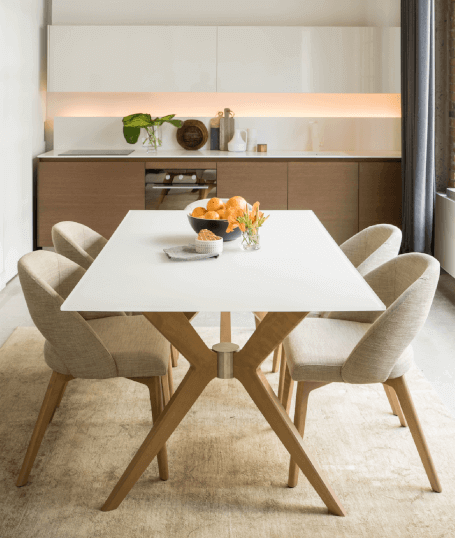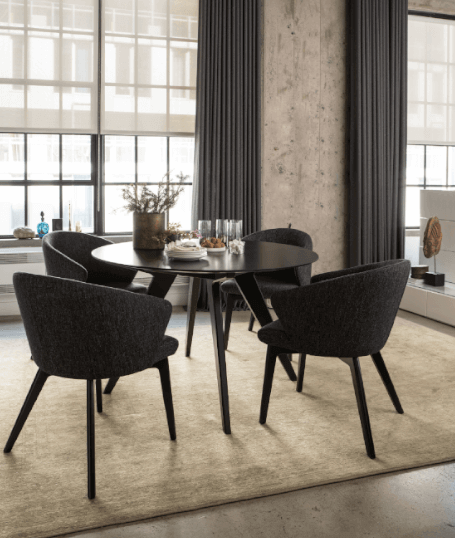 Mix light-and-airy upholstered chairs with a formal table, and this dining room becomes a serene reading spot:
Extra chairs or benches are the perfect seating solutions for special occasions – and they can multi-task around the house. If your home is small, use your extra dining chairs as occasional chairs in a bedroom or study. A bench might be the perfect piece for a hallway, or the foot of the bed, ready to be pulled into the dining room when your crowd arrives.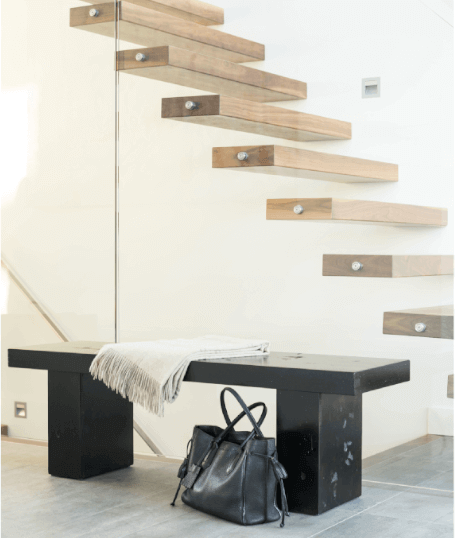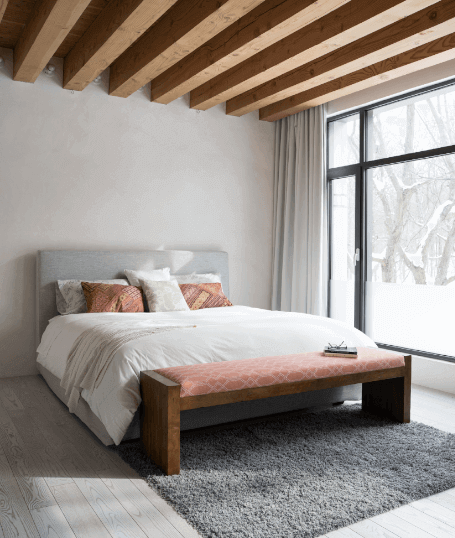 Choose the best dining room rug size
Ideally, dining chairs should sit fully on the rug when people are seated – you don't want to catch the edge of the rug while pulling up to the table. Look for a dining room area rug that's at least 24″ larger than the table on all four sides.
A square rug is the perfect way to delineate the dining area if you have a round or square table; add at least 48″ to your table diameter to calculate your rug size.
If your table is oval or rectangular, measure both your room and table, and make a simple sketch with dimensions to work from. You'll have to do a little math, so grab that calculator! Take your table's length and width, and add 48″ to each one. Convert inches to feet (just divide by 12) and the result is your ideal rug size. Compare that to your room size to make sure it fits.
An 8×10 rug fits a table up to 48″ wide, and 72″ long – this size typically seats six. For most tables that seat eight, you'll want to upsize and buy a rug that's at least 9×12. Remember, you need 24″ of rug for your chairs to sit on, so don't skimp!
A 90″ Dining Table fits easily on a 9×12 rug,with space to add a leaf.
If your table seats eight, but you need to expand it often, a 10×14 rug is probably your best choice. Most dining tables can seat twelve and still fit on a 10×14 rug. If you decide not to go with a bigger rug because you almost never expand your table, no worries! When you do have a crowd, they'll be having too much fun to notice your rug is a bit short.