A Brilliantly Sparkling Season
Each season brings soul-inspiring elements. Fall is certainly no exception as we appreciate the arrival of the bright and toasty colors that bring warmth to the heart, despite the temperature drop. It's a time we love because it rhymes with wool sweaters, pumpkin lattes and the traditional apple-picking outing that yields delicious pies and crisps. With the season bringing us back indoors, the return to school and the end of the vacation season, it's time to pay special attention to our home decor. For the perfect transition, why not take your inspiration, and even your decorative elements, from the outside? Be creative and bring out the artist in you, brighten up your home and incorporate the best that nature has to offer.
DIY—A Trend That Is Here to Stay
The "Do it Yourself" trend has been gaining momentum recently and has clearly not finished its ascent. DIY fulfills a desire for autonomy and enjoyment that inspires many. For some, the motivation lies in a search for economy, a hobby or even ecology. No matter what the project or how complex it is, doing it yourself brings a great sense of pride. Nothing is more satisfying than saying, "Yes! I did it!" when someone compliments your pretty centerpiece or the pumpkin bread made with love.
The fall season brings many fun occasions—like Halloween and Thanksgiving—to come together and make our homes look festive. There are plenty of ways for you to show off your talents.
We have a number of projects that will keep you busy, get you outside and add a little color to your home. With a wide variety of ideas, from the simplest to the more complex, the possibilities are endless.
Meal Time!
Nothing beats a delicious meal in good company and in an enchanting setting. Here are a few ideas to celebrate the beautiful season around the dinner table and dazzle your guests.
Place Cards
Go on an adventure and pick some beautiful leaves that you will turn into place cards! We just love maple and oak leaves.
Directions:
Place the leaves between the pages of a dictionary or under a pile of heavy books to press them. Wait a few days for the leaves to flatten completely.
Make sure that you have a strong, permanent felt or metallic pen and get creative as you write the names of your guests. Let dry for several minutes before handling the cards.
Finally, put the place cards at the top of or directly into the guest plates.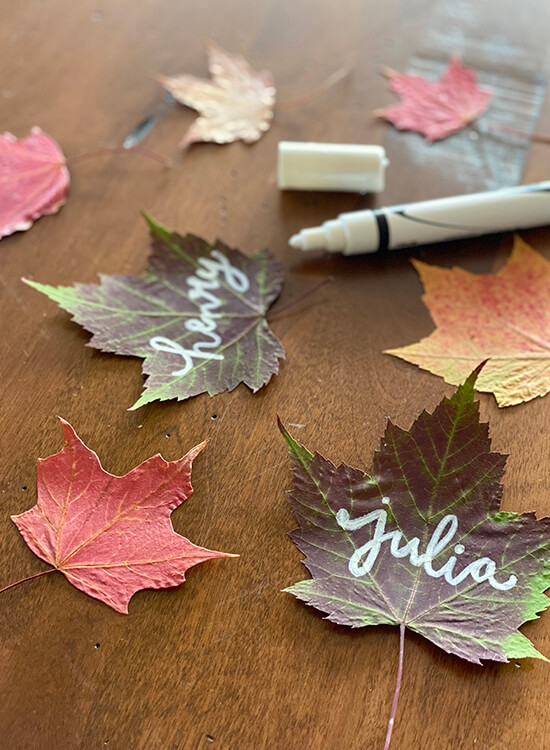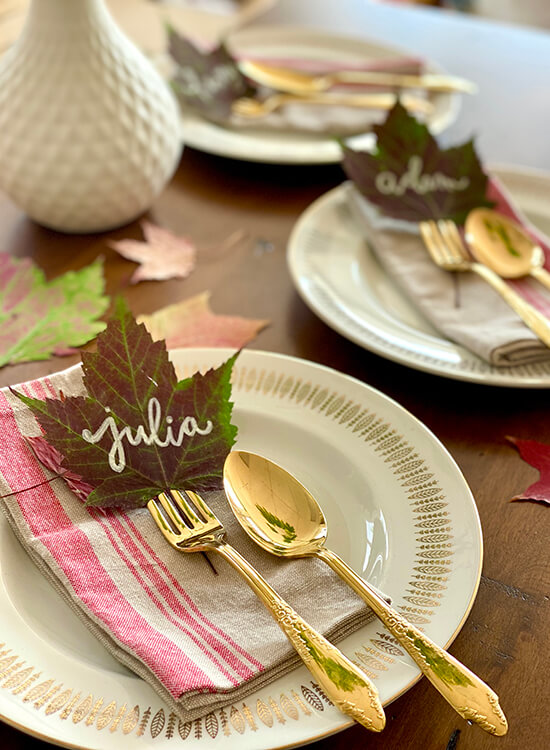 Variation: Use Birch Bark
Take some birch bark and lay it flat.
Place a leaf of your choice on top.
Trace the shape of the leaf and cut out the bark with scissors.
Write the name of the guest or a short message.
Easy, handmade and original!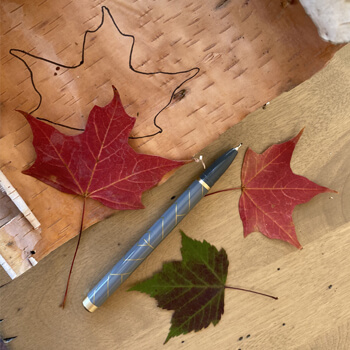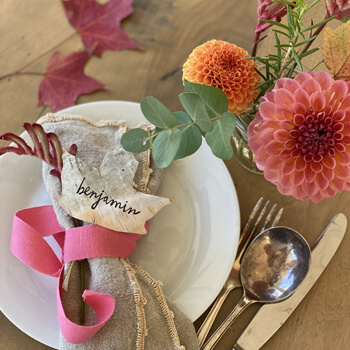 Magnolia leaves are also beautiful in a fall setting. Their dark green glossy finish on one side, and rust-colored suede texture on the other make this leaf a favorite for fall decor. Check with your florist for availability.
Gift Tags
For any occasion, whether a children's party, a shower for your best friend's new baby, or a dinner party with friends, it's always nice to give a little something extra to your guests. If you're already planning to make a few snacks, consider adding a label. Whether to indicate what's in the package, write your guest's name or leave a note, follow the same procedure as for the place cards, attach your decoration to the bag or container in which the treat is hidden and you're done!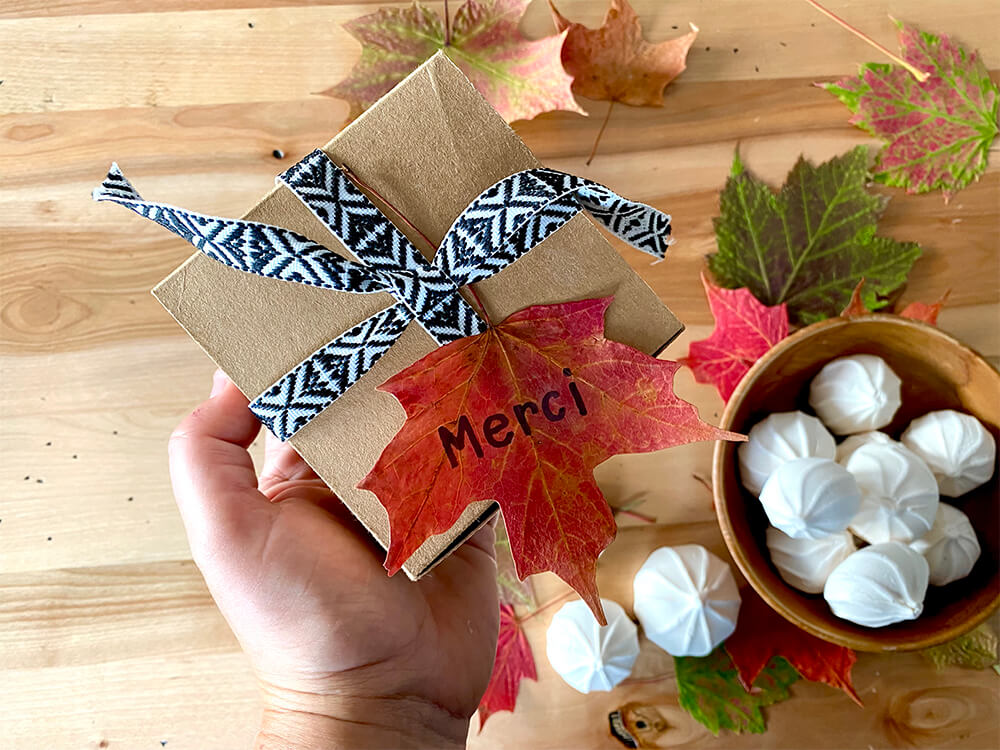 An Artistic Season
We love the warmth that fall brings to our table so much that we want it to shine throughout our entire home! It's possible with these easy-to-make wall decorating projects.
Festive Wreath
This beautiful creation requires a twig wreath, metal or polystyrene foam ring (available at craft stores and big box stores). Simply add the foliage, either with hot glue or with a thin string threaded through each leaf with a needle.
You can also embellish your creation with small branches of berries, tree cones and even some glitter!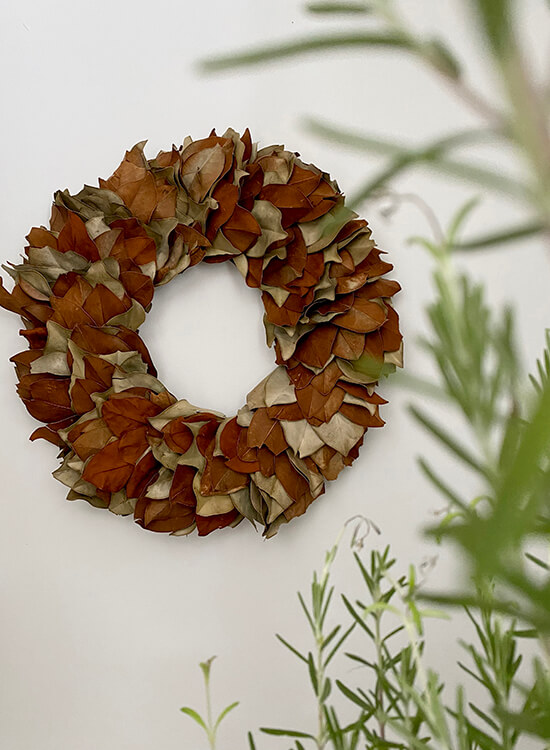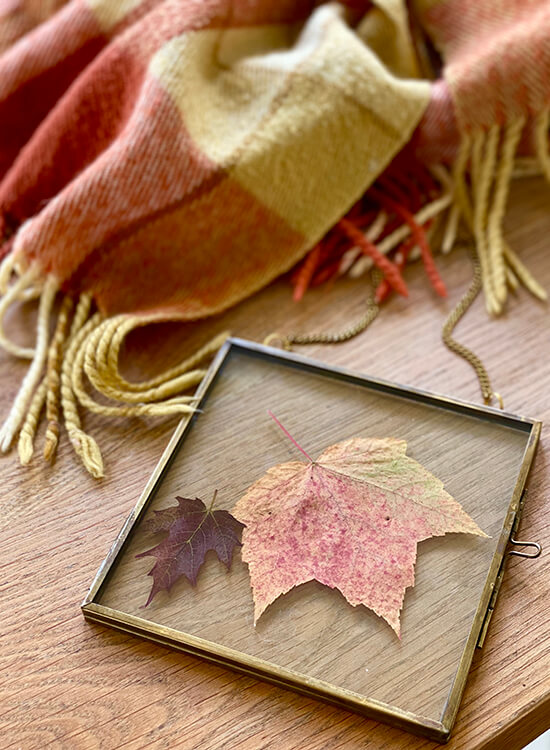 Frame Them
Why not turn these pretty nature finds into works of art? Here's how:
Place the leaves between the pages of a dictionary or under a pile of heavy books to press them.
Select a few clear glass or matted frames, depending on your style.
Place the leaves in the frames as you would a photo or painting. Depending on the size of the frame, you can put just one or create a set.
If you want to line them up, choose an odd number. It can be interesting to play with the patterns and sizes of the frames if you decide to put more than one up on the wall. A mix and match scheme can energize a decor and create a very refreshing impact.
In a Vase
Probably the simplest, yet most appealing suggestion:
Cut a leafy tree branch with pruning shears. Orange berries or pampas-style grasses would also look great.
Leave 25 to 30 centimeters of bare branch.
Still using the pruning shears (or a paring knife), slit the stem lengthwise and fill your vase with warm to hot water. This will promote better hydration and help the arrangement last longer.
Choose a pot or vase proportional to the length of the branches.
And Voilà! Now you have a beautiful centerpiece or decoration to place on the dining room buffet, the credenza in the entryway or the coffee table in the living room.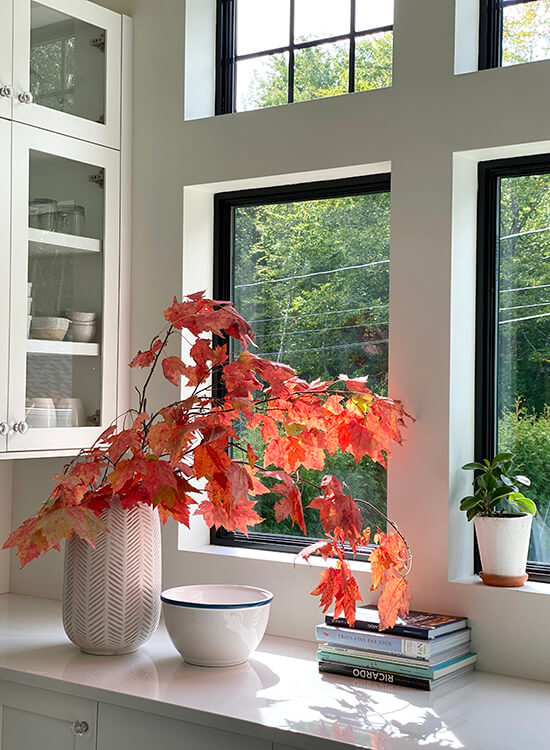 A Festive Look
A festive and original garland is a great idea! It's the perfect activity to do with kids and it's as easy as pie.
To get started, grab an old book or buy a cheap one at a second-hand store. Books that have been around a while have pages that are a little yellowed, which is actually beautiful and charming! Determine the shape:
Cut a triangle out of the bottom of the page and remove it. This will give you a small two-pointed flag or pennant.
Repeat as many times as needed depending on the length you want for your garland.
Attach to a rope or string, spacing each flag about 4 inches apart.
Fold back the top straight part of the flag and glue in place. You can also punch holes at the top of each flag, which will be used to attach them to the main string with twine.
Hang your beautiful garland on the wall, above the dining table or at the head of your child's bed.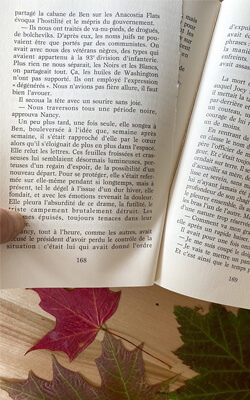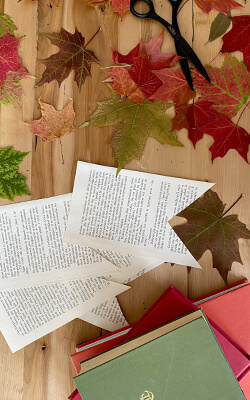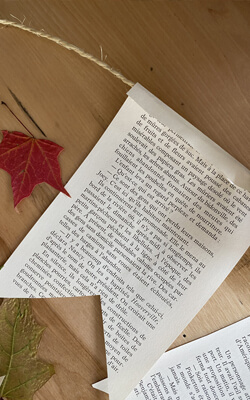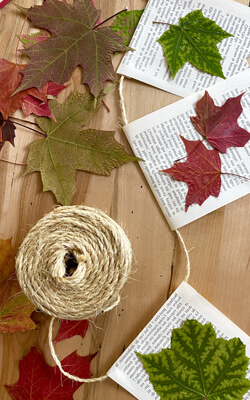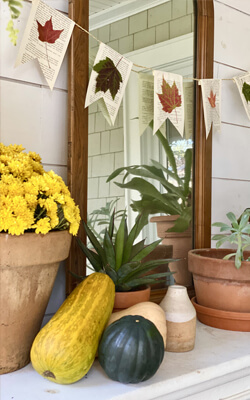 There is beauty in simplicity. Take advantage of the abundance that the fall season offers to bring out your creative side and arrange a cozy and welcoming space. In addition to natural decorations, choose accessories with checkered patterns, and soft pleasant materials like velvet and wool. When it comes to colors, opt for orange, rust, earth tones, mustard yellow, and sage green. Add some candles, a bouquet of dried flowers and pumpkins to your decor. Your home will become a place where you will love to spend time cocooning, resting by the fire and gathering around a delicious warm meal.