Roasted Pumpkin, Cheese and Hazelnut Bread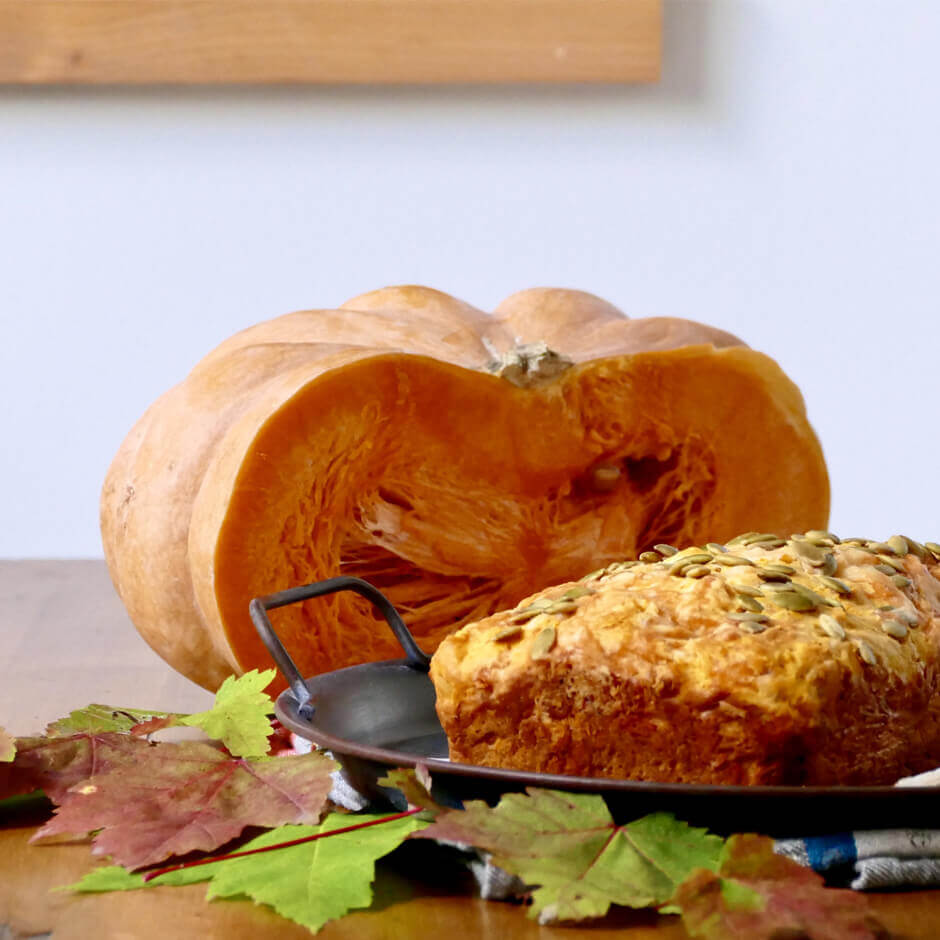 Rather than throwing away your pumpkin after Halloween, why not turn it into a puree and use it in this bread? It's so easy! To do this, cut the pumpkin in half, empty it of its seeds and place flesh side down on a baking sheet. Bake for 1 hour at 425⁰F (218⁰C). Take it out and let it cool for 10 minutes. Scoop out the flesh with a spoon. Discard the peel. If, during cooking, the pumpkin has released a lot of water from the vegetation, place the flesh in a sieve, and leave to drain for 1 hour in the refrigerator. The puree is then ready to be used!
Servings: 1 loaf
Preparation: 30 minutes
Cooking: 55 minutes to 1 hour
Ingredients
½ cup (125 g) unsalted butter
½ cup (70 g) hazelnuts
2 cups (250 g) all-purpose flour
2 tbsp. (10 ml) baking powder
1 C. (5 ml) salt
½ tsp. (2.5 mL) freshly grated nutmeg
½ tsp. (7.5 ml) brown sugar
2 eggs
1 cup (250 mL) roasted pumpkin puree *
1 cup (250 ml) milk
1 cup (100 g) Fontina cheese, Gruyère or Emmental cheese
2 tbsp. 1 tbsp (30 ml) pumpkin seeds
Directions
Preheat the oven to 350⁰F (180⁰C). Butter and flour a 23 cm by 13 cm (9 in by 5 in) loaf pan.
First, prepare the brown butter). Melt the butter in a saucepan on medium heat until it turns an amber color. Place a sieve on a bowl and filter the butter. Discard the residues found at the bottom of the sieve and let the brown butter cool down.
Heat the hazelnuts in a frying pan on medium until the skin cracks. Place the hazelnuts between two paper towels and rub to remove the skin. Roughly chop and set aside.
Combine flour, baking powder, salt, grated nutmeg, and brown sugar in a bowl. Coat the hazelnuts with the dry ingredients.
In another bowl, pour the cooled brown butter and add the eggs and whisk. Stir in the pumpkin puree, half the dry ingredients, half the milk, and mix. Pour in the rest of the dry ingredients and milk and stir to obtain a homogeneous preparation.
Add the cheese except for 2 tbsp (30 ml) and pour the mixture into the loaf pan. Sprinkle with remaining cheese and pumpkin seeds. Bake for 50 minutes to 1 hour or until a toothpick inserted in the center of the bread comes out clean.
Take out of the oven, let stand 10 minutes and unmold.
The brown butter accentuates the nice little nutty taste of this bread, but this step is optional! You can very well use a cooled butter and simply have it melt in the microwave.