The Art of Dining … Outdoors!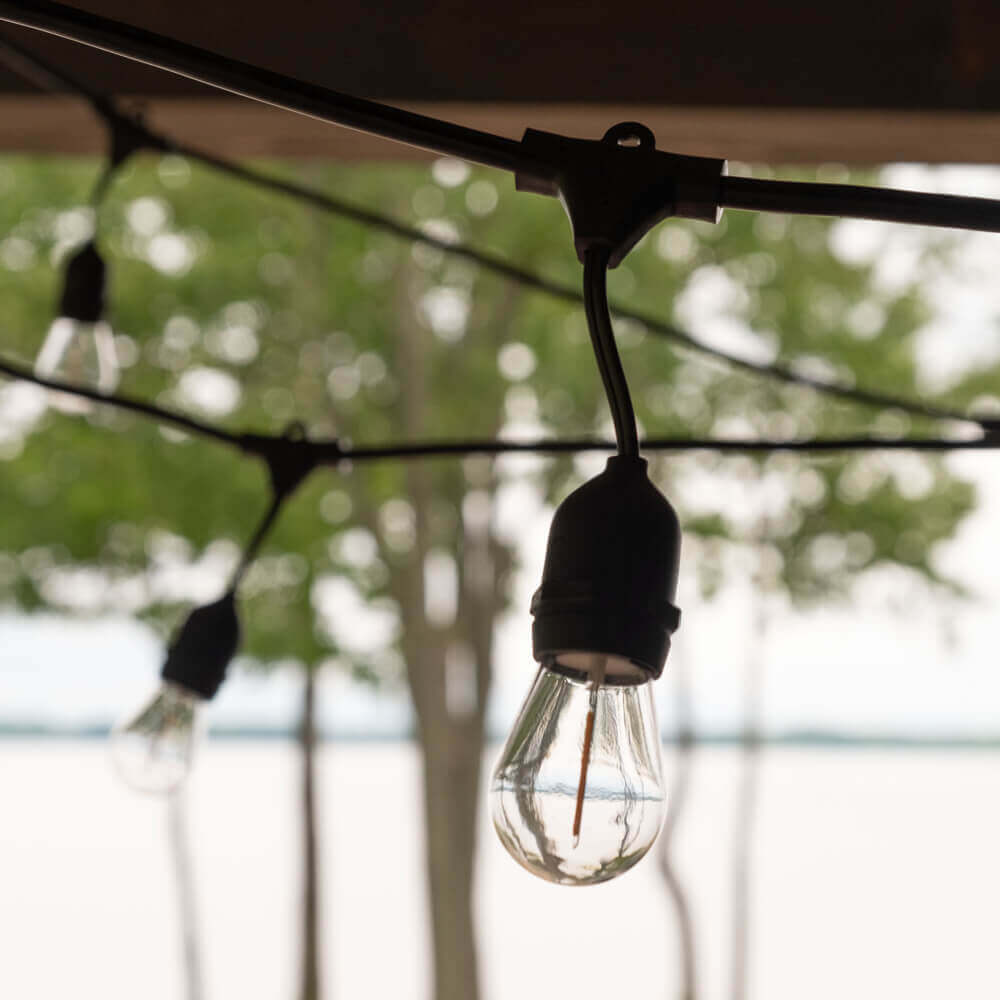 Whether it's a housewarming party, a birthday, or a wedding anniversary, an intimate celebration in your garden, simple gatherings with family, or friends, all reasons are good to invite your loved ones in your backyard.
We have said it time and time again, the kitchen and dining room are the most used rooms in a house. The blog "The Art of Dining" is full of ideas for a successful party. During the summer, hosting and entertaining is certainly one of the little pleasures of the holidays! Afternoons by the pool can quickly turn into improvised dinners. If hosting is an art, preparation is the key, you might say! So here are a few tips on how to combine simplicity with the Art of Dining … Outdoors!
A Touch Of Style In Your Backyard
Just as every room in a house has its purpose, you have to do the same outside. You can easily do so by creating distinct areas to have different atmospheres in your yard. Making your home a reflection of nature while respecting comfort, conviviality, and functionality is a well-known technique in interior design. You can also apply these same tips and trends to make the most of your outdoor space. Be inspired by the colors of your garden and your panoramic view.
Having a service area near the kitchen will save you a lot of trouble. If you have a shaded area in your yard, it is ideal to set up a service sideboard or an island. This multifunctional and unifying furniture will be very practical for storing all the useful items such as cooking utensils, mixology accessories, hand towels, and glasses. Opt for an island with wheels, so you can easily move it inside when the party is over.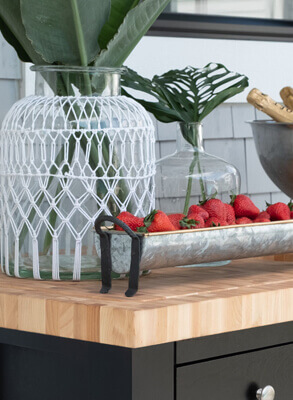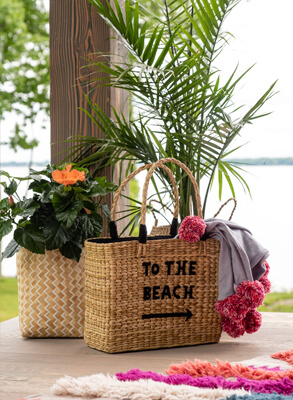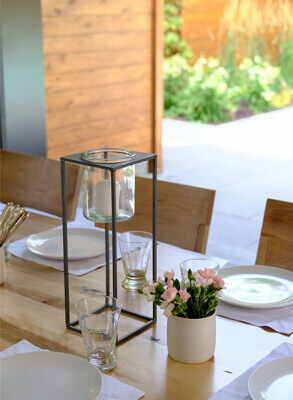 A seating area under a pergola will provide a shaded place for your guests. Decorate the conversation lounge area with accessories adorned with bright and natural colors evoking a green, summery oasis that recalls the beauty of lush landscapes. Place cacti and tropical flowers on the ground to revive this exotic landscape. To create a festive mood after dark, outdoor string lights hanging from the ceiling will add a sparkling touch to any decor.
For your dining area, add character to your outdoor dining set by garnishing it with vases and greenery. The flora you will find in your flower beds will certainly complement your table, just as these small fresh white and pink flowers illustrate it so well.
Insects are necessary for biodiversity. However, we can probably all agree that it is way nicer to go without, especially when you are having a nice time outside. Same goes for the uninviting smell of mosquito repellent, and that artificial aroma of lemongrass that no one really likes. Instead, repel unwanted guests (of course, we are still talking about mosquitoes) with lavender or rosemary. As centerpieces or table place cards, these decorative pieces will also be very useful.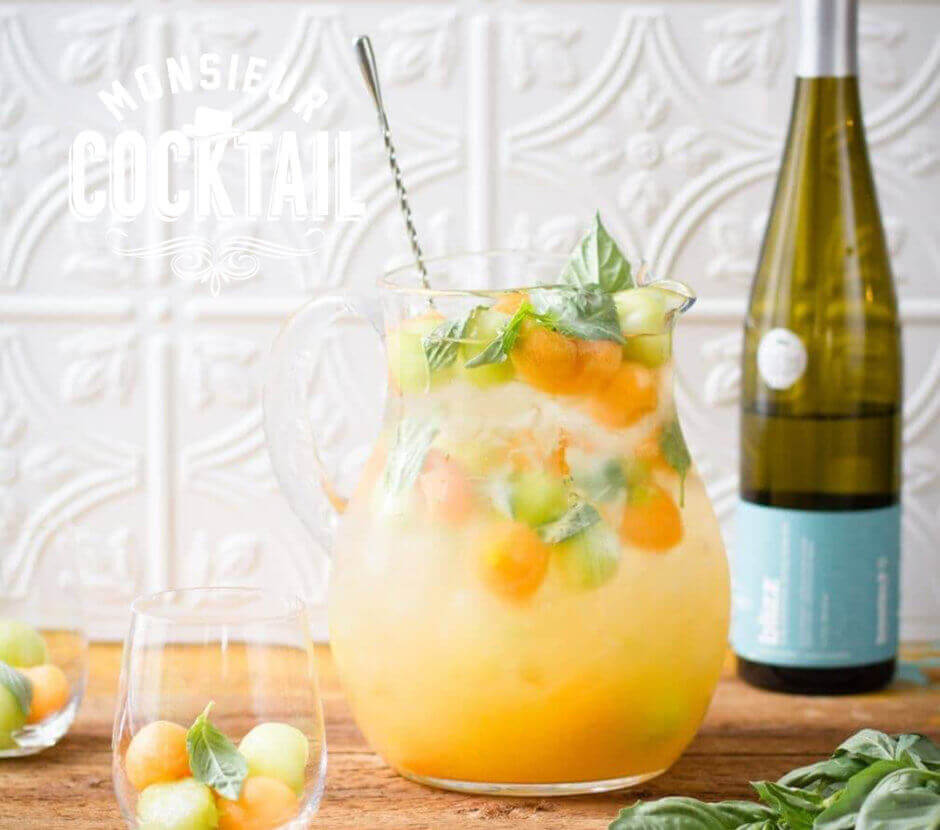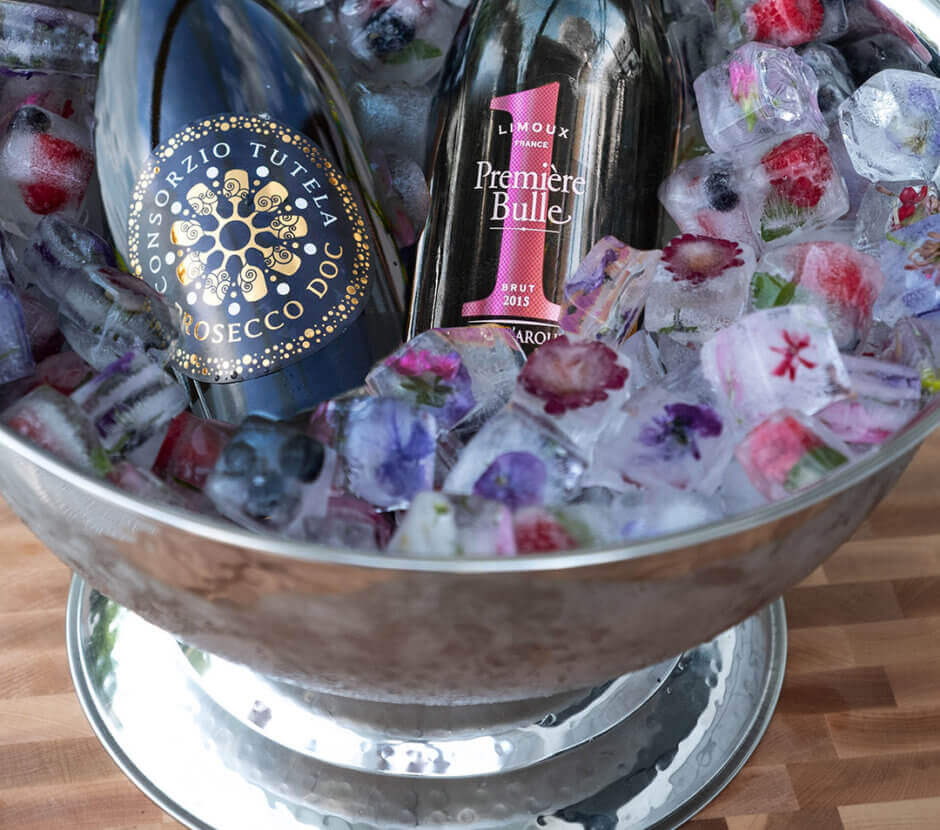 Time For A Refreshing Aperitif
Drinks will stay cool for hours if you use a container filled with ice.  In addition to being beautiful, it is very convenient for guests who will not have to go in the house to get another refreshment. If you have chosen a theme for your party, you can take inspiration from it to decorate and create a whole atmosphere.
Pinterest, worthy, don't you think? As a bonus, here is a white sangria recipe by Monsieur Cocktail. You can serve in a nice pitcher (or double or triple the quantities and pour it into a drink dispenser).
Ingredients (for 8 guests):
10 oz (300 mL) mead
10 oz (300 ml) white wine
4 oz (120 ml) of Cointreau
3 oz (90 mL) simple syrup
12 oz (360 ml) soda
1 honeydew melon
1 cantaloupe
Juice of an orange
Juice of one lemon
Juice of a grapefruit
Fresh basil (for garnish)
Preparation:
Cut the honeydew melon and cantaloupe into balls using a Parisian spoon or into cubes.
In an airtight dish, cover the melon and cantaloupe balls with Cointreau and let infuse overnight.
Keep the juice of the infused melons and reserve the balls.
Add the mead, white wine, simple syrup, and lemon, orange, and grapefruit juice to the pitcher.
Mix with a bar spoon (30 revolutions).
Add the soda.
Decorate with fresh basil and Cointreau infused melon balls.
Create a Simple and Fresh Menu
What could be better than a feast in good company? The epicurean in you will be delighted to take out your apron and chef hat, just like Gordon Ramsay, and to cook an enticing menu. Whether it is for a 3-course meal, a buffet, or a simple potluck, we remind you that the important thing is to opt for simplicity and to literally "savor" every moment. Send the kids out in the garden to get lettuce leaves, cucumbers, and tomatoes to create the perfect appetizer that everyone will love! Add boiled eggs to make a protein salad for a vegetarian option! As the main course, steaks from the local butcher or simple burgers will make the greediest salivate. Serve with grilled vegetables (corn, peppers or zucchini, for example) and roasted potatoes. And for dessert, the excellent cherry and plum turnover pie or the succulent cheese and raspberry brownies will highlight the fruits of the summer harvest.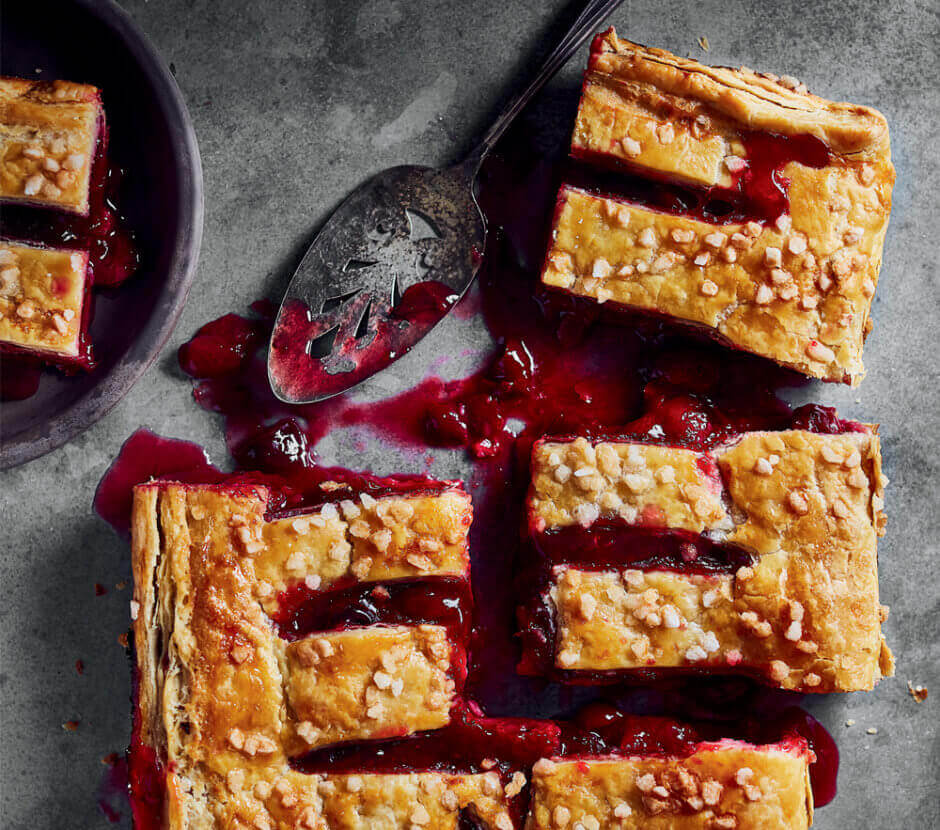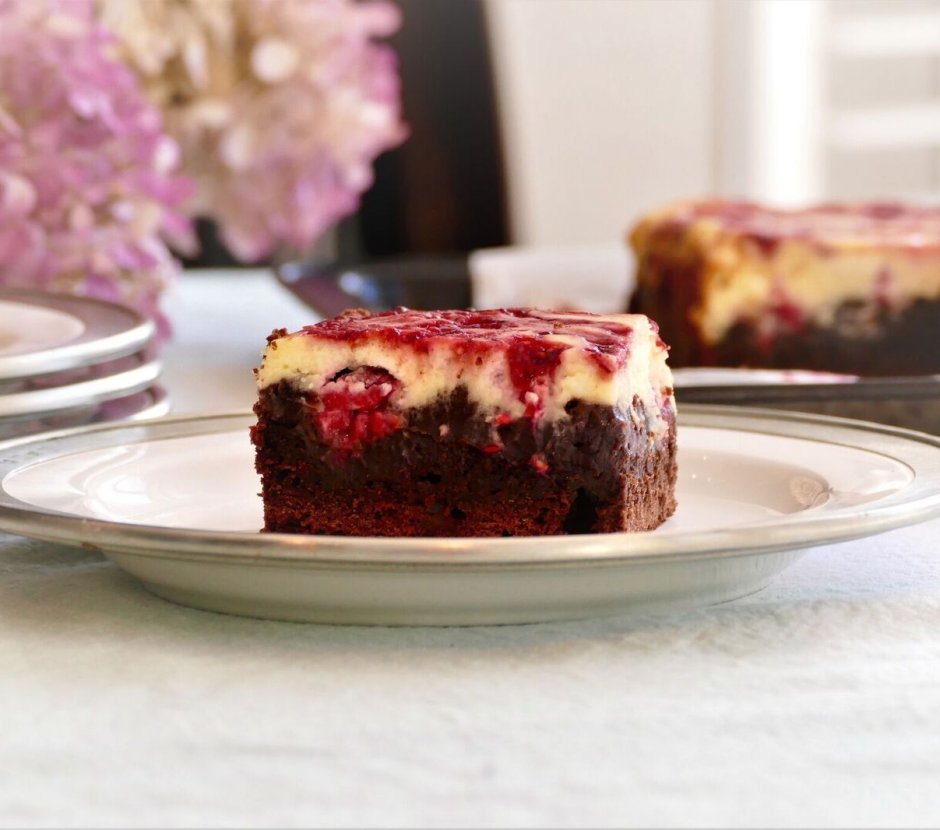 Entertain Your Guests
At a reception, the reunion generates lively discussions and wonderful laughter. Silent breaks are often very rare. Some will be able to entertain each other with their stories of the past few months.
For the less talkative and the more athletic, different games can be considered. Volleyball near the beach or in the water can be organized very quickly with just one ball. The more competitive will prefer to have a net, but at a family meeting, it may be optional! Petanque, cricket, and the bean bag toss game are fun with family and friends. Do you also know the game of "baseball bean bag toss"? The rules are based on the principle of baseball, but with a wooden structure like the bean bag game with several holes. Young and old will greatly enjoy this game! For the less sporty, take out your packs of cards and have fun with your favorite game even outside!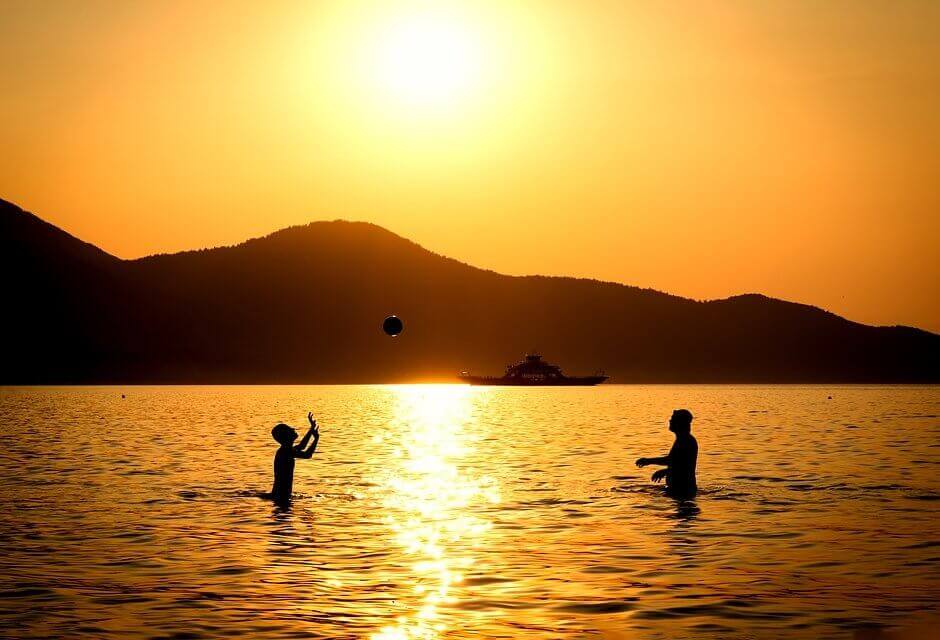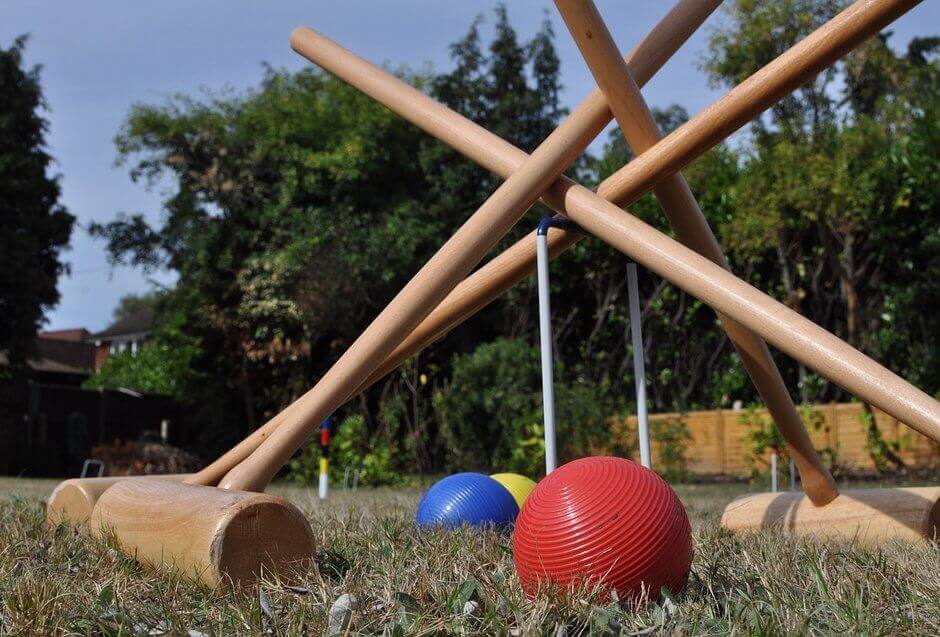 We will remember that the main idea of the art of receiving, inside or outside, is above all to fully enjoy every moment. If unleashed Mother Nature invites herself to your party, simply come back inside in the comfort of your home. Receive in all simplicity and give yourself time to savor every moment. Everyone has arrived, let's celebrate!