The Beauty of Flowers… On Your Plate or in Your Drinks!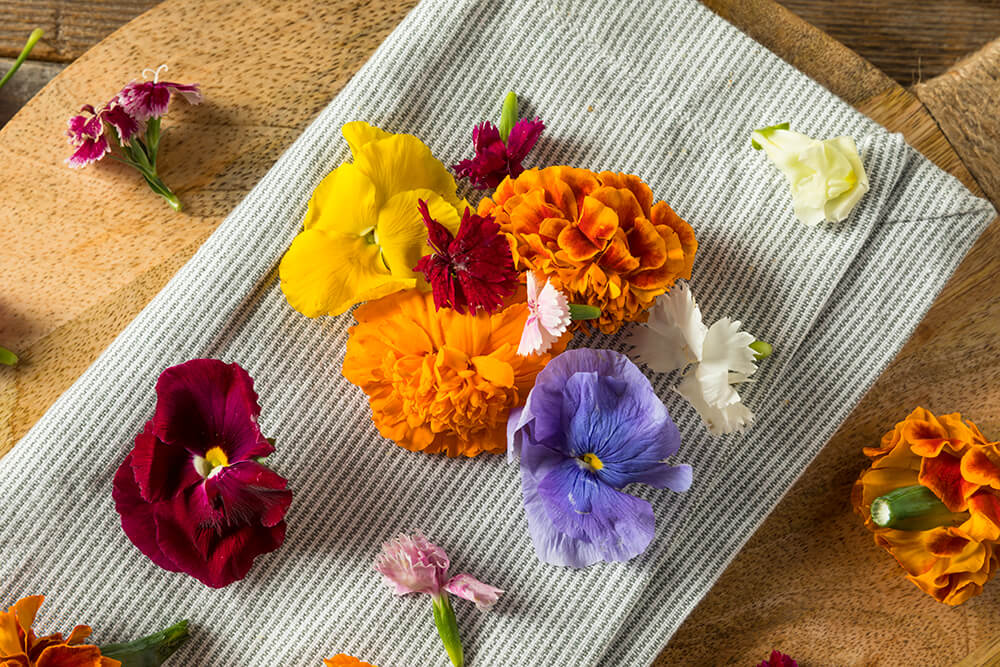 First showcased in dishes on the most prestigious tables as a feast for the eyes and palate, flowers are now increasingly being used on our plates and in our drinks, giving a festive look to salads, cocktails and so much more!
While their beauty might delight us and tantalize our taste buds with their array of flavors, it's best to be cautious when incorporating them into recipes, because not all flowers are edible.
While there is nothing to fear from those found in grocery stores, it's a different story with flowers from florist shops, as they usually undergo special treatments, making them unfit for consumption. The same goes for flowers from your garden, it's better not to eat them unless you know the variety and are sure they have not been sprayed with pesticides.
But flowers identified in nurseries as edible or grown in your garden or in a planter in compliance with organic farming standards, namely, without pesticides or herbicides, will be OK in ice cubes for drinks or in salads.
Enjoying Flowers at their Peak Flavor
To fully enjoy flowers and take advantage of their nuances of flavor, you must follow the steps below.
The ideal time to pick them is in the morning after the dew disappears, and before the heat and sun start to dehydrate them.
They will be perfectly tasty the day they are picked and they can be kept for 48 hours in a cool place, the vegetable compartment for example, placed on paper towels on a plate.
Flowers are washed only when ready to serve; run them under a trickle of water and wipe them gently. Remove the pistil and stamens as they are often too bitter, particularly those of zucchini flowers.
Fruit Flower, Vegetable Flower or Salad Flower?
Some edible flowers have less pronounced flavors, and others may be surprising. Hence, some chefs classify them as "fruit flowers", "vegetable flowers" or "salad flowers". For example, rose and hibiscus with their subtle raspberry flavor are fruit flowers, marigold is a vegetable flower, and nasturtium is a salad flower.
Borage has an iodized taste; blanch before use and serve with seafood, oysters or fish. Nasturtium and their leaves have the subtle peppered flavor of radish; they are magnificent in salads, as are begonias with their crisp acidic note. And the flowers of herbs are also edible! Chive, cilantro and dill flowers can be eaten just like the stems. They have the same flavor as the herb, but in more delicate tones.
Use Pansies to Adorn with Panache!
For many years, the undisputed queen of plate decorating has undoubtedly been the very pretty pansy. Planted in your garden, this annual requires little care and reseeds during the season, and sometimes even the following year. It's the perfect flower for the lazy gardener!
White, purple, yellow, and sometimes red, pansies will add a springtime touch to your Sunday brunch salad. They will be remarkable in a salad containing blueberries, raspberries, strawberries or citrus fruits: their colors blend nicely with the pansies.
And for the vinaigrette, avoid oils with potent flavors. Instead, opt for neutral-tasting oils like grapeseed, canola or even avocado. Vinegars should be less acidic when flowers are the star attraction. Rice vinegar, white balsamic or another vinegar with a 4% acidity content are the best choice. Some chefs even recommend eating the small greens and their flowers without dressing, to better savor their subtleties.
And how about dazzling cocktails or "mocktails" served with a beautiful flower? Nothing could be simpler: just place the flower at the bottom of a glass, then gently pour prosecco, sparkling wine, rosé, dry white wine and, why not, your favorite champagne.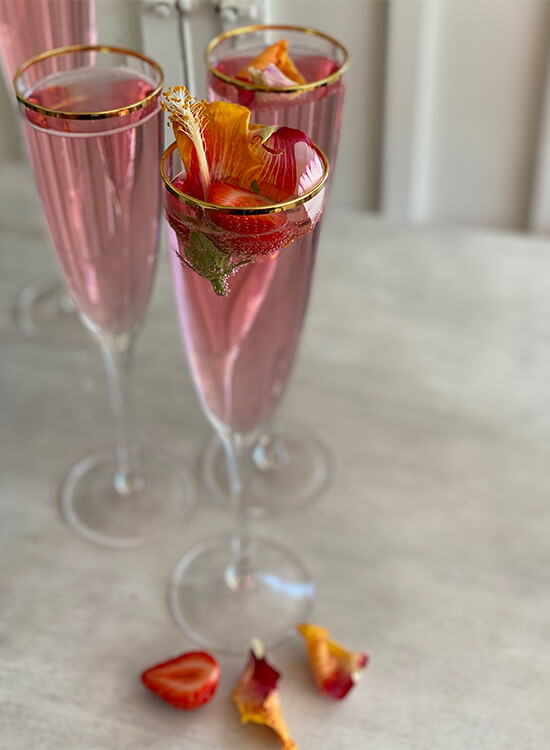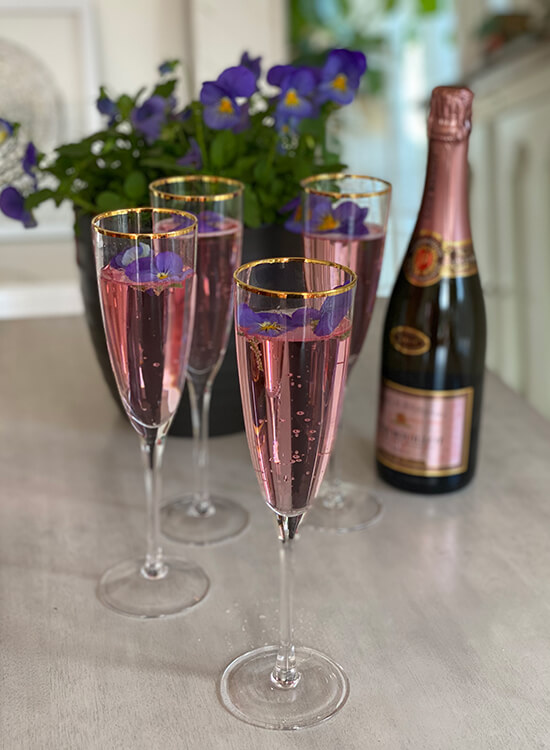 And for even more glamour, serve with an ice cube with a pretty flower frozen into it!
Beauty Encased in Ice
Flowered ice cubes are so beautiful that they are sure to spark a conversation! To make them successfully, it's best to work in stages. First, pour a little distilled water into the bottom of each ice cube mold. Then, once the water is frozen, add petals or a whole flower and cover with water, but not completely. Put back in the freezer for a few hours. Finally, add a little more water and place one last time in the freezer until the ice cubes are completely frozen. When needed, remove ice cubes and serve to your guests—they will be amazed!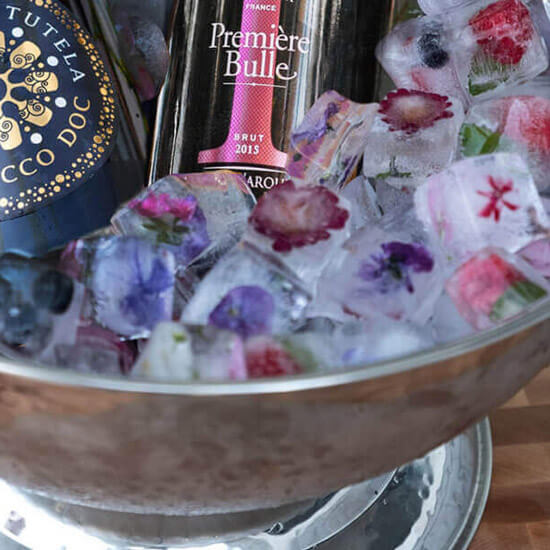 Flowers as a Finishing Touch
Pansies make delightful appetizers and they are also magnificent on a cake, making it a true work of art. The winning recipe is so simple: just make a layer cake with love, then frost it sparingly, making sure to leave the layers visible and to finish, decorate with flowers. The "naked cake" will be outstanding and have a very festive look.
No time to bake? A commercial angel food cake will come to the rescue. Simply frost with whipped cream, add berries and top with flowers. It's sure to be a hit with your family.
Flowers as Beautiful as Crystal
Making crystallized flowers at home is easy. Preheat oven to 210 ◦F. Beat an egg white until almost firm. Pour sugar into another bowl. Dip petals or flowers in the beaten egg, then in the sugar. Place the flowers on a rack and dry in the oven for about 15 minutes.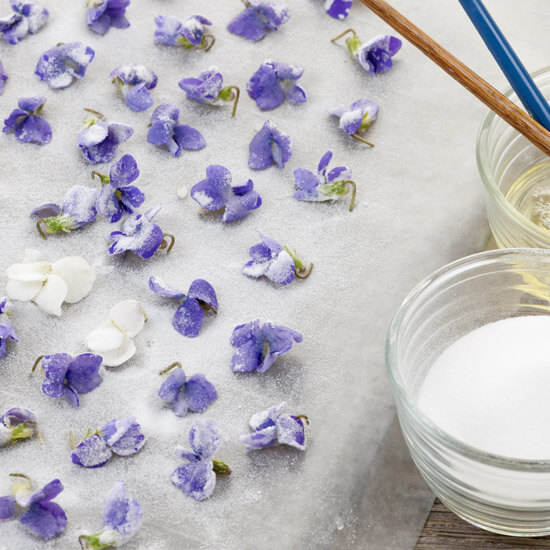 To celebrate the arrival of spring or to surprise guests, flowers have become an important addition to our dishes, delighting the eyes and the taste buds! Although their edibility must be ascertained before use, they offer a new universe of taste and color, passing brilliantly at last from the garden to the plate, because don't forget, we also experience food with our eyes.
And here are other tips for using flowers!
Replace herbs like coriander or basil with flowers in your spring rolls. Dramatic effect guaranteed!
Zucchini flowers are traditionally topped with ricotta cheese and then fried. But they can also be finely chopped and added to a creamy sauce at the end of cooking before serving on a pasta dish.
Out of garlic? Chop chive flowers and add them to your salad dressing. You'll achieve a more subtle taste, and no bad breath!