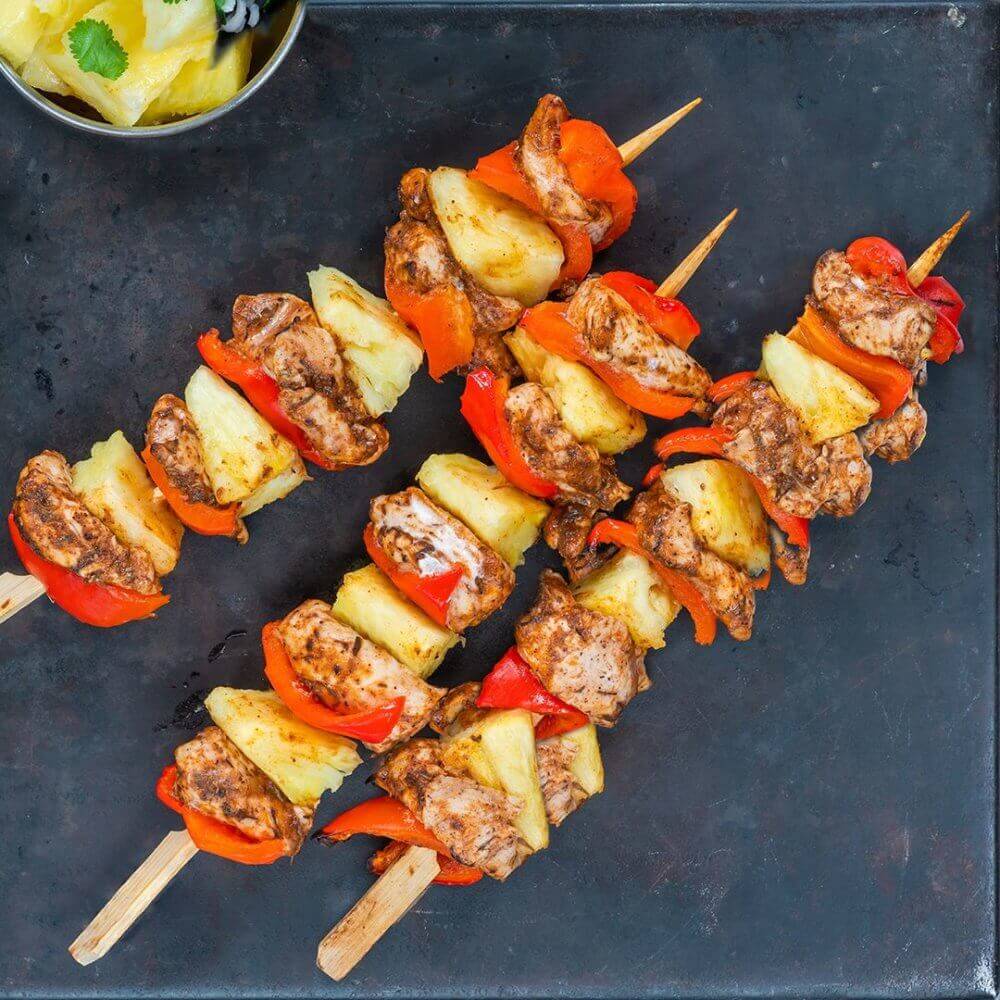 Servings: 3 kebabs
Preparation time: 15 minutes
Marinating time: 24 hours
Cooking time: 20 minutes
Ingredients
3 medium-sized chicken breasts
¼ cup (65 mL) soy sauce or tamari sauce
¼ cup (65 mL) hoisin sauce
1 tablespoon (15 ml) of fresh chopped ginger
2 cloves of chopped garlic
1 tablespoon (15 ml) brown sugar
The juice of half a lime or lime
Hot sauce (of your choice)
2 tablespoons (30 ml) canola oil
Half a pineapple Gold if possible
1 red pepper
Preparation
The day before, cut the chicken breasts into cubes and place the pieces in a resealable plastic bag. Whisk all the other ingredients together except for the pineapple and the red pepper.  Put aside ¼ cup (65 mL)  and place it in the fridge. Pour the marinade over the poultry and empty the bag from all possible air. Seal it and coat the meat well. Leave in the refrigerator for 24 hours.
The next day, cut the bark and the two ends of the pineapple. Then, slice it in quarter and remove the centre. Cut half of the quarters into pieces. Remove the tail and seeds from the pepper and cut it into small pieces.
 Preheat the barbecue to 400 ° F (205 ° C).
Start assembling the kebabs by alternately putting on the pepper, pineapple and chicken cubes on 3 skewers. If they are made of metal or wood, make sure to dip them in water for at least 10 minutes before making the kebabs. If you opt for wood rather than metal skewers, will get more kebabs. It's only a question of length! Pepper and place the skewers on the grill. Lower the burner power  and cook with the lid closed for 10 minutes.
Turn the skewers over and brush them with half of the marinade previously set aside. Close the lid again and cook for 5 more minutes. Repeat to flip and brush until you have used all the rest of the marinade.
Serve on a bed of rice with more vegetables, of course!