Decorate your Living Room in 10 Easy Steps
The living room is the ideal place to spend quality time with our loved ones. Paying special attention to its décor seems obvious.
Want to create a cozy, trendy and functional living room but don't know where to start? You've come to the right place! Discover our top 10 tips to guide you through this wonderful transformation process.
1. Determine the Style of your Home
Taking the time to clearly define your style is the first and most important step to making your home decor a success.
Are you a fan of warm, authentic country decors? Focus your theme on rustic woodwork and natural materials such as stone or brick. Finish it off with floral or checked patterns and classic, romantic shapes.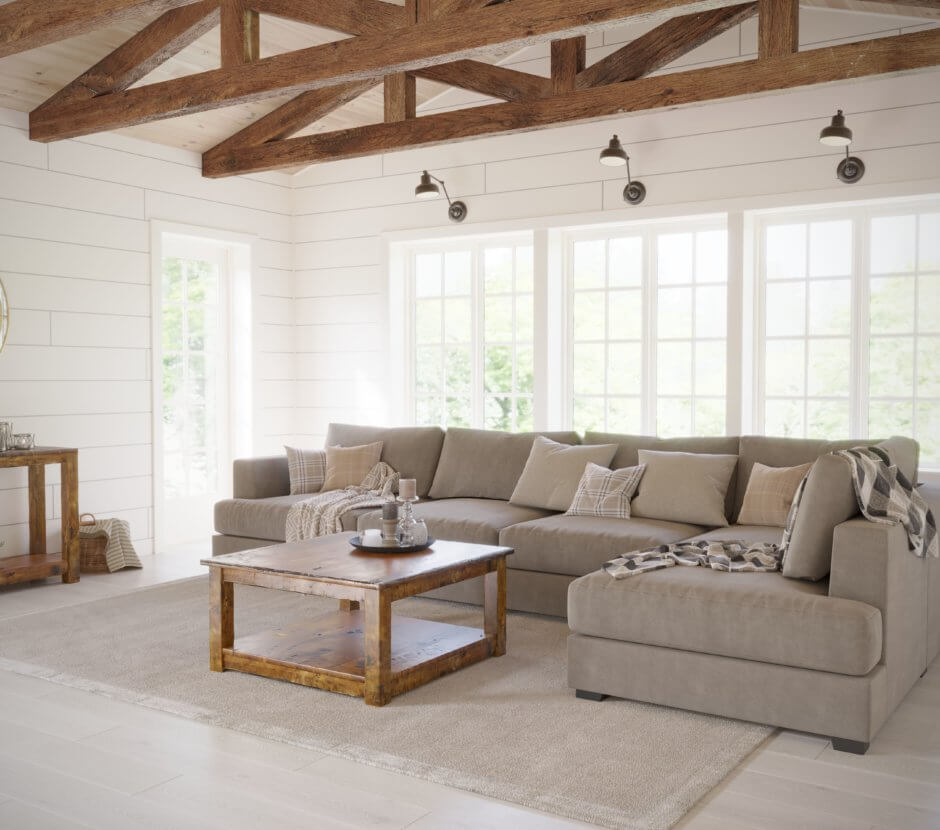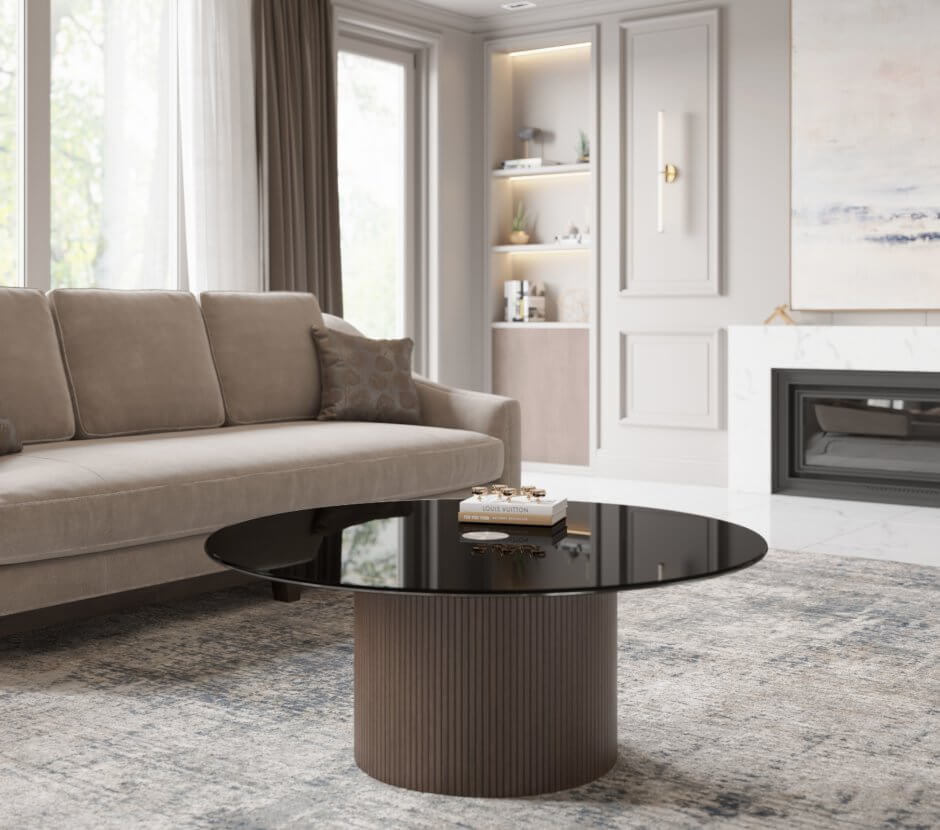 When it comes to home decor, do you prefer avant-garde and minimalist? If so, create a bright, uncluttered room with innovative furniture and accessories.
Your main concern is to create a living room that's both unique and timeless? Can't decide on just one style? Combining the best of traditional and modern styles, the Transitional approach seems to be just the thing! Mix classic, refined elements with more contemporary features for a decor with character!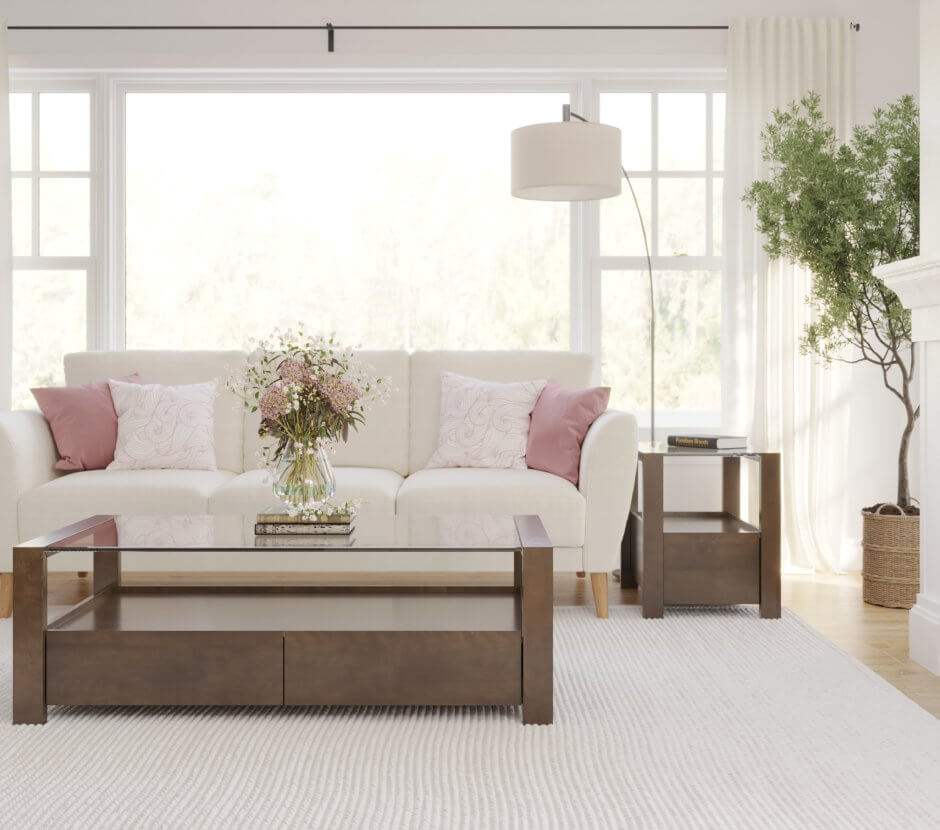 2. Choose the Right Coffee Table for the Space
As the centerpiece of your living room, your coffee table must adapt to your environment.
The first question to ask is what size to choose from. A very small coffee table in a large room will have the same effect as a large one in a small space. In both cases, the surface area will seem smaller than it actually is. So, choose a model that allows proper flow but is appropriate for the space. After all, the table is the star!
As for the shape, it all depends on the style you're going for and the other elements around it. A massive L-shaped modular sofa just calls for a round table. This will create an interesting contrast. On the other hand, if your layout contains a lot of curved lines, choose a square or rectangular model. It's all about balance!
Next, ask yourself what your needs are.
If you're short of storage space, opt for a model with drawers or shelves.
If you're looking for grandeur, opt for a glass table or a delicate model with slender legs.
If you want to add a touch of glamour to your living room, a majestic porcelain-topped table resembling marble will do the trick.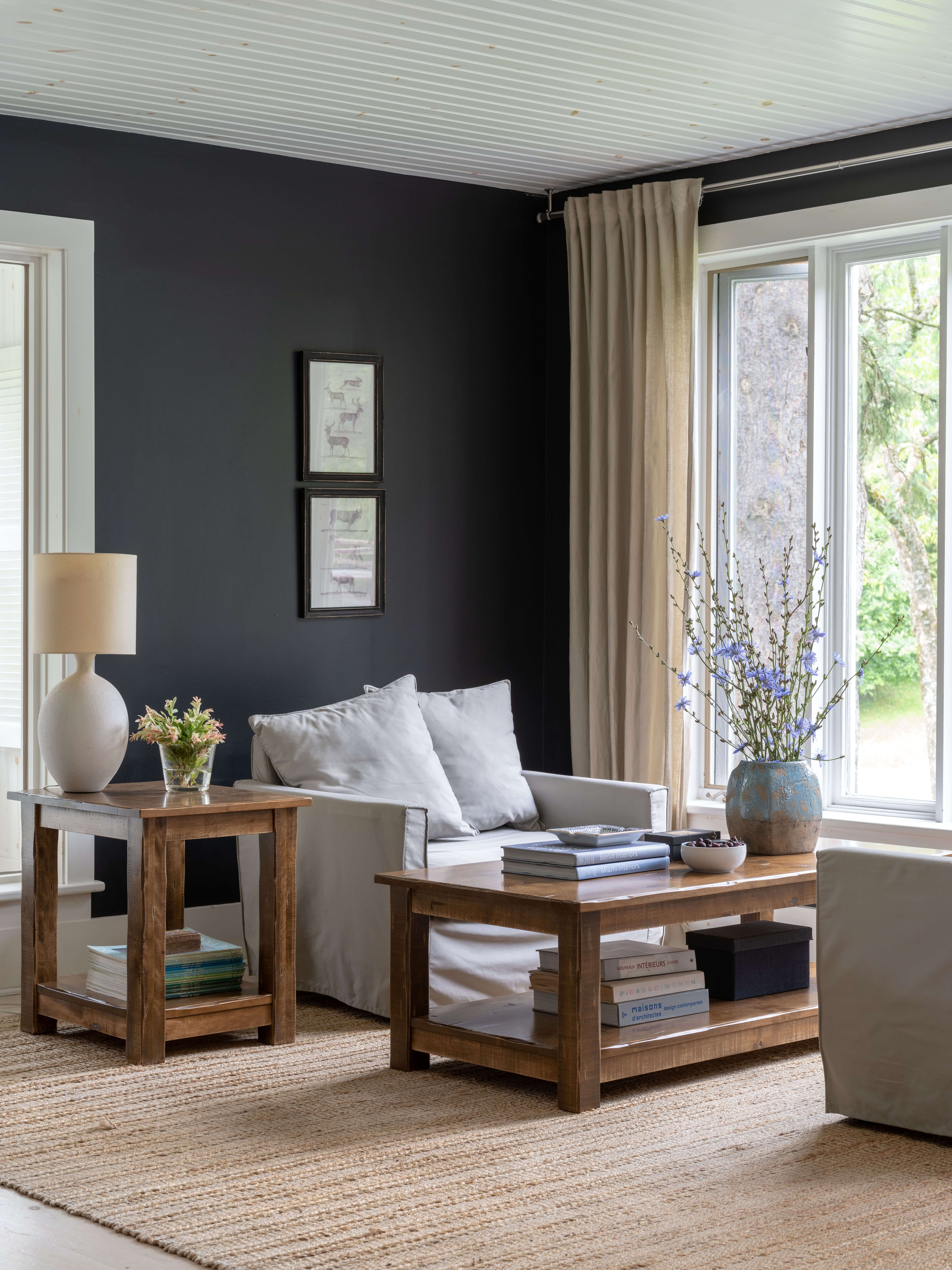 Enhance your table with accessories.
Start with a large vase, bowl, tray or decorative box.
Add a plant or floral arrangement for an interesting effect of height.
Arrange a stack of books to match your color palette.
Finish with a few small objects—candle, decorative globe, sculpture, garland made of wooden beads, etc.
The golden rule is to group accessories of different heights, shapes and textures, giving priority to similar colors.
3. Create Harmony in your Furniture Selection
Of course, living room furniture is more than just a coffee table! With a matching end table, console and TV stand, it's easy to create a charming, consistent decor. And it can prove just as clever to combine different models. Browse our brand-new Accent collection catalog to find your dream furniture!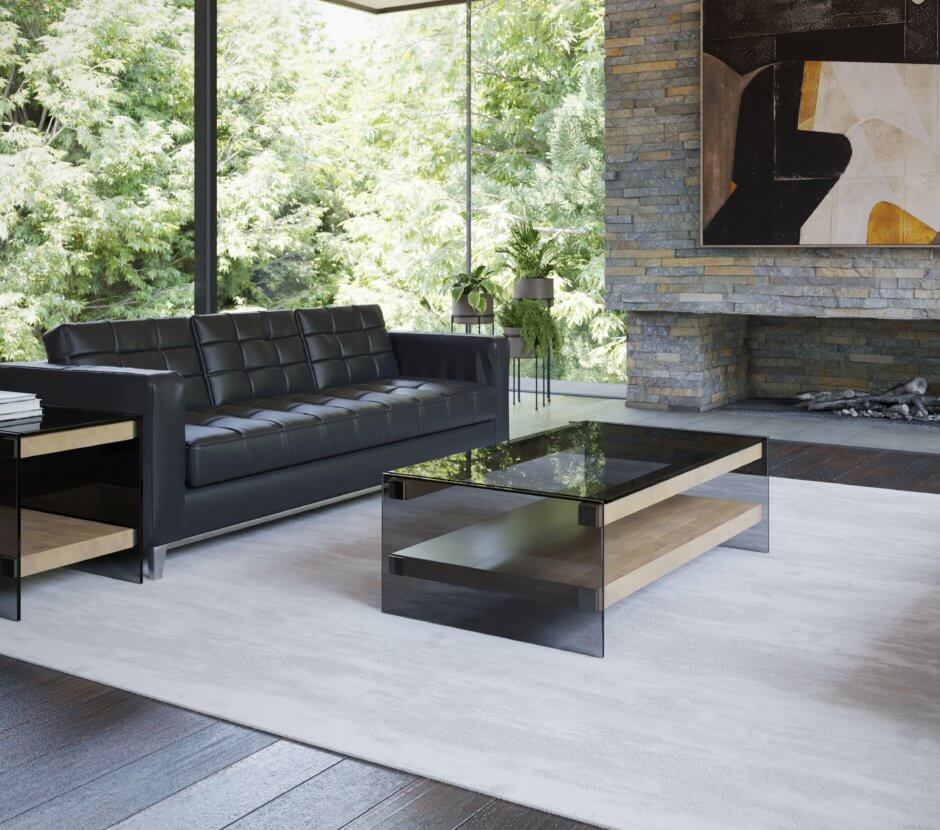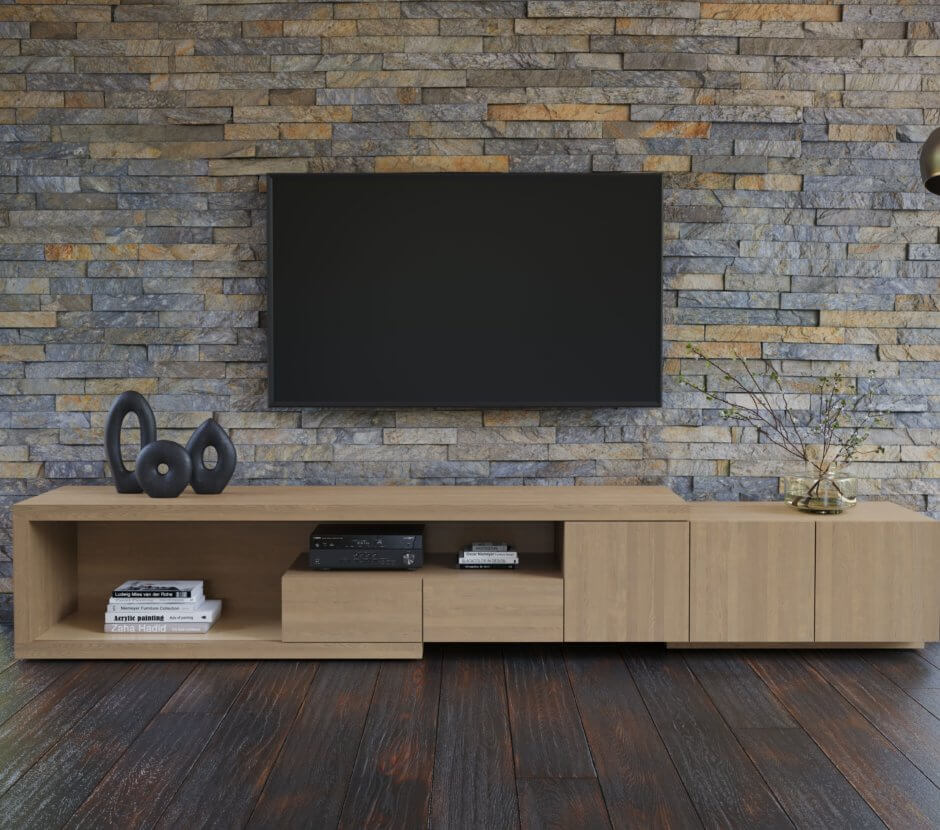 4. Play the Mix-and-Match Card
For a decor that will stand the test of time, buy furniture in neutral, timeless colors that you can easily mix and match with all kinds of accessories. This will make it easy to transform your space. For example, opt for a cream, grey, brown or black sofa and a living room set made of high-quality wood. Then, enhance the look with curtains, cushions, a rug and decorative elements in a variety of shapes, patterns and colors.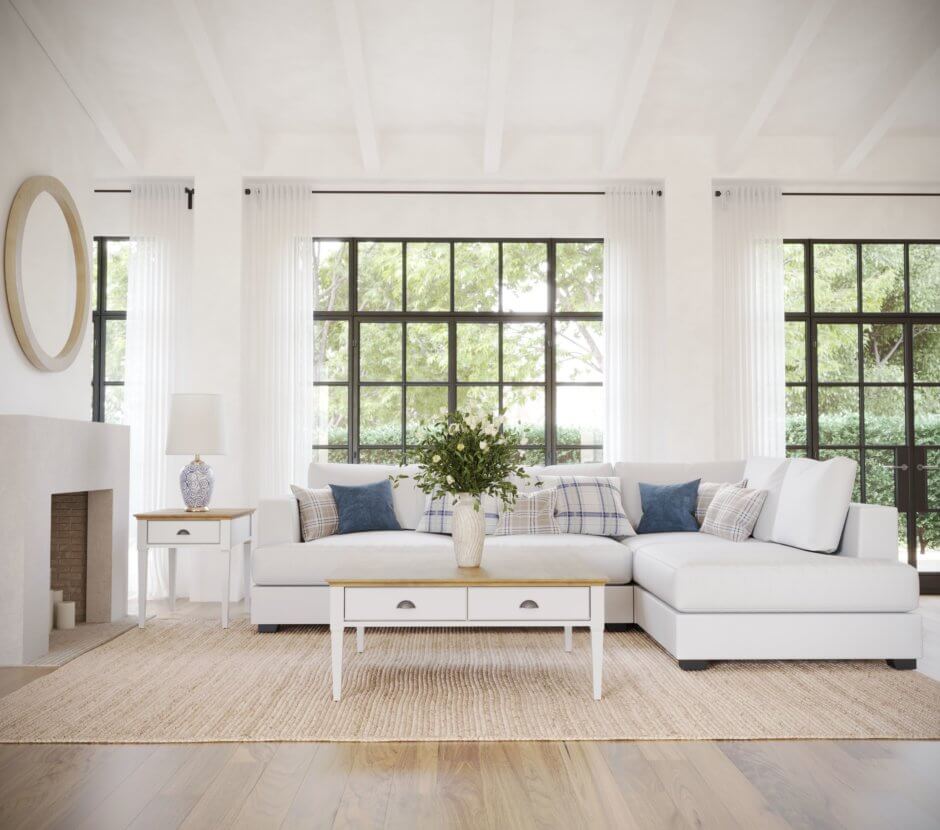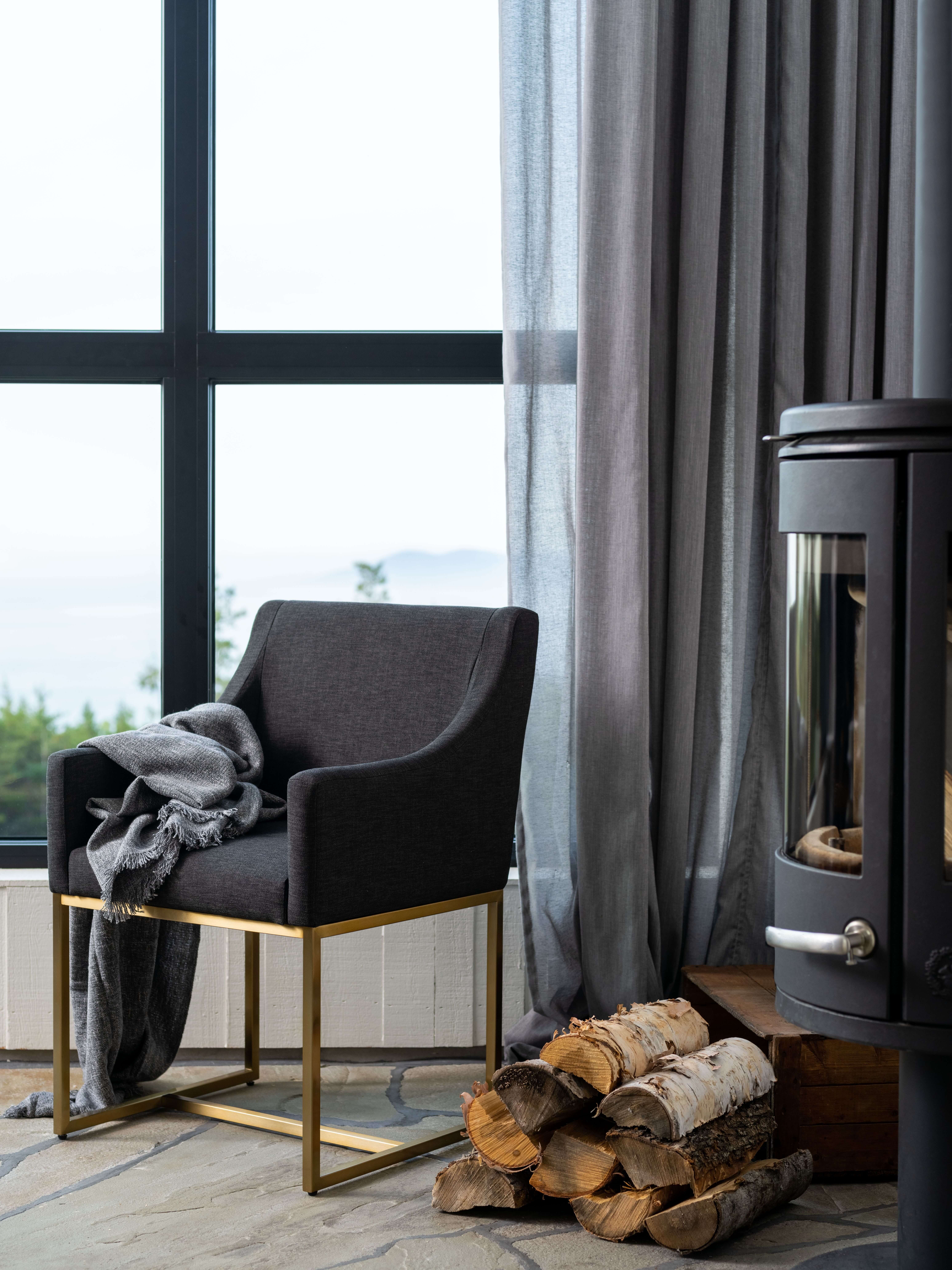 5. Add Side Chairs or a Bench
Since it is often the ideal meeting place for many families, the living room often requires plenty of seating. This is why it's a good idea to add gorgeous chairs, armchairs or a lovely bench. Practical and easy to move around, these will be important additions. Once again, it's a good idea to try a touch of originality by opting for a colorful or patterned fabric.
6. Arrange Furniture around a Stylish Rug
It's a simple trick that helps create a friendly, comforting atmosphere! When it comes to your rug, choose one that is slightly wider than your sofa. Ensure that the front legs of your sofa, armchairs or side chairs rest on the rug. Also, note that the trend is toward textured rugs made from natural materials. Oriental patterns are also an excellent choice.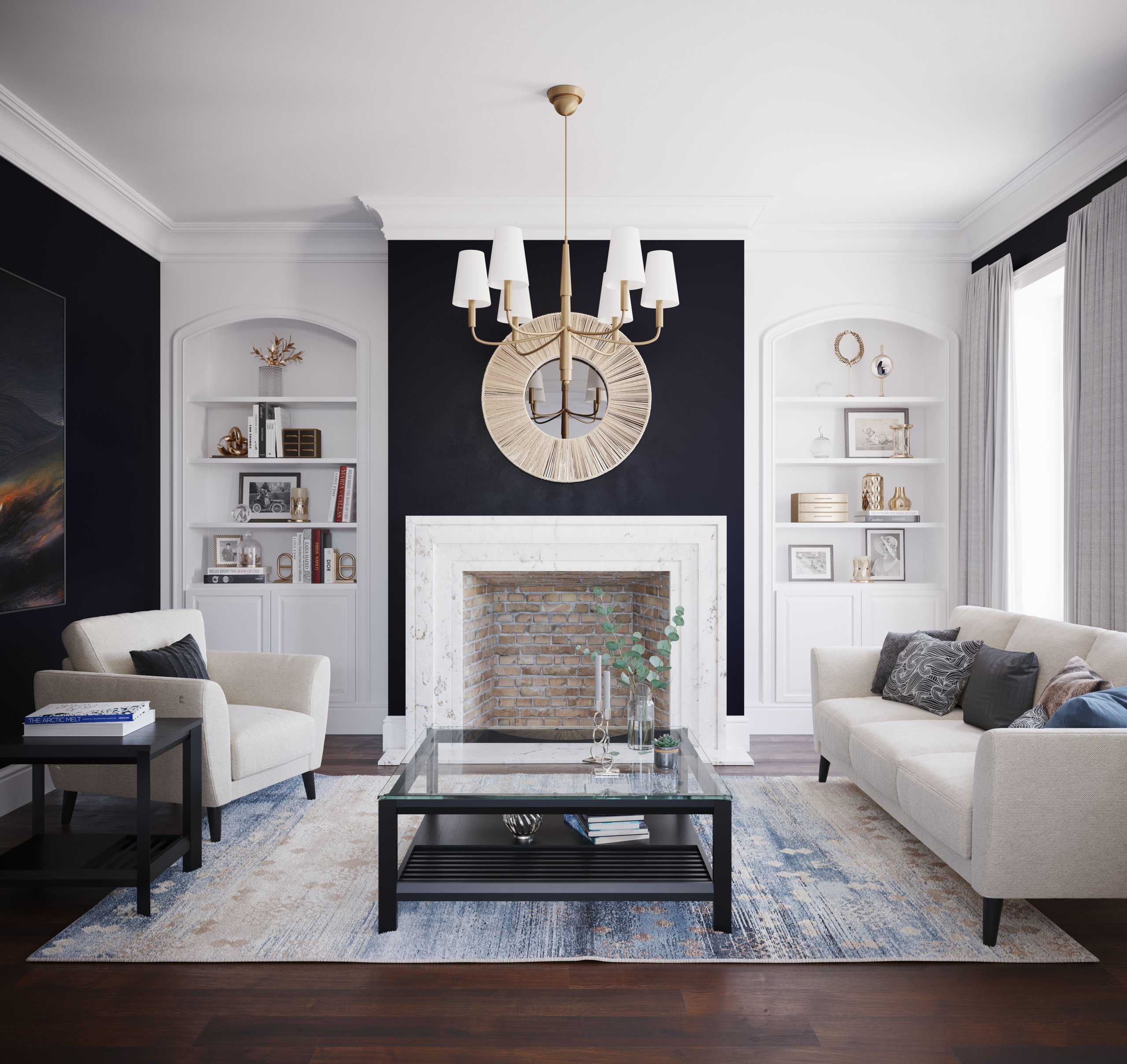 7. Vary Light Sources for a Warm Vibe
The lighting of your living room is not to be neglected. We suggest incorporating a few floor and accent lamps of different heights and styles that complement each other. This will help create a look that's at once sophisticated, dynamic and cozy.
8. Make the Most of a Bare Wall
The possibilities are endless when making an unused wall functional or simply more attractive. Including a large bookcase in which to display books or decorative accessories is a sure bet. Lean a tall mirror against the wall for an instant effect of grandeur. A wall of curtains, a console, an arrangement of personalized picture frames or an exquisite work of art are just a few examples.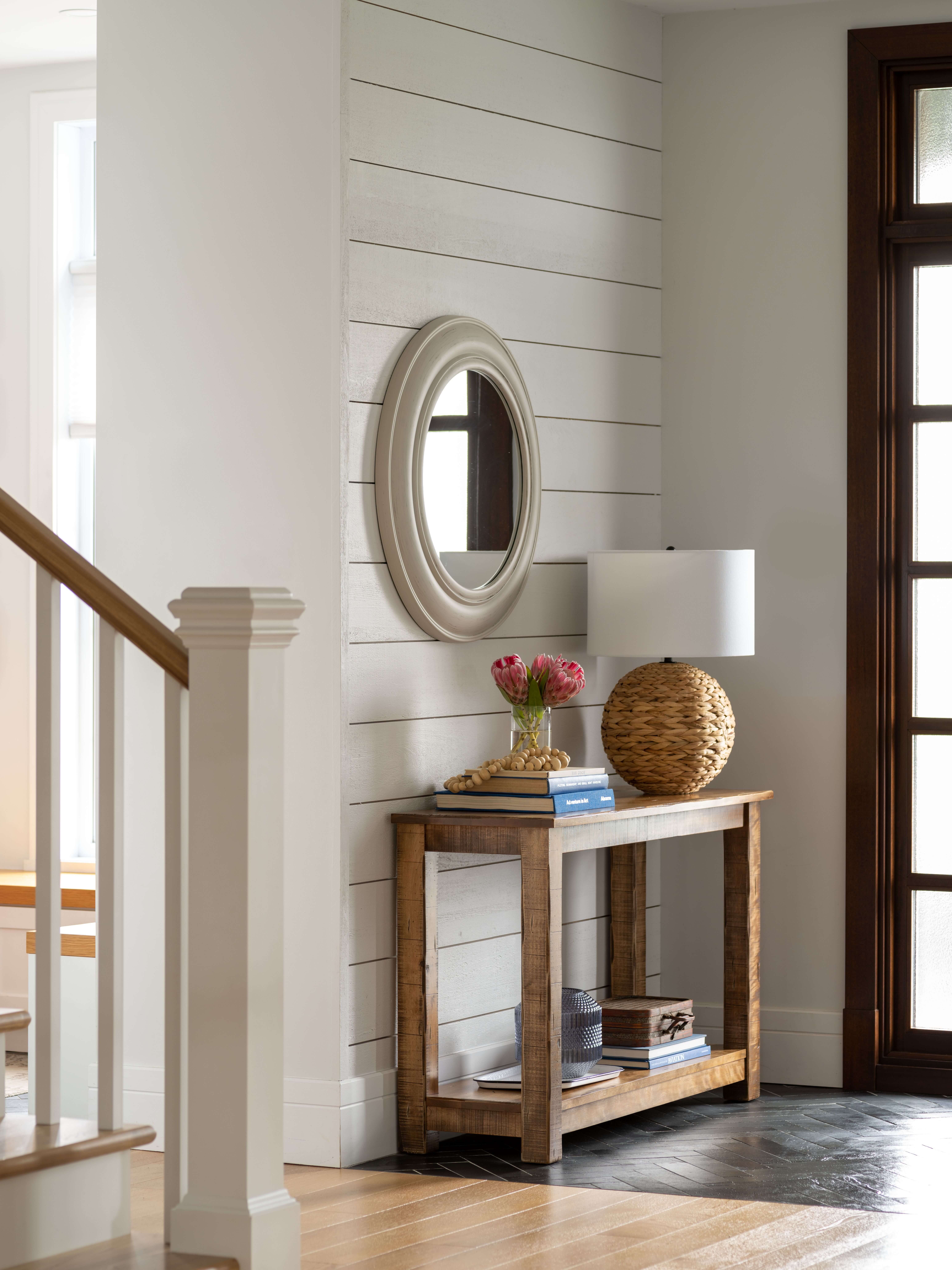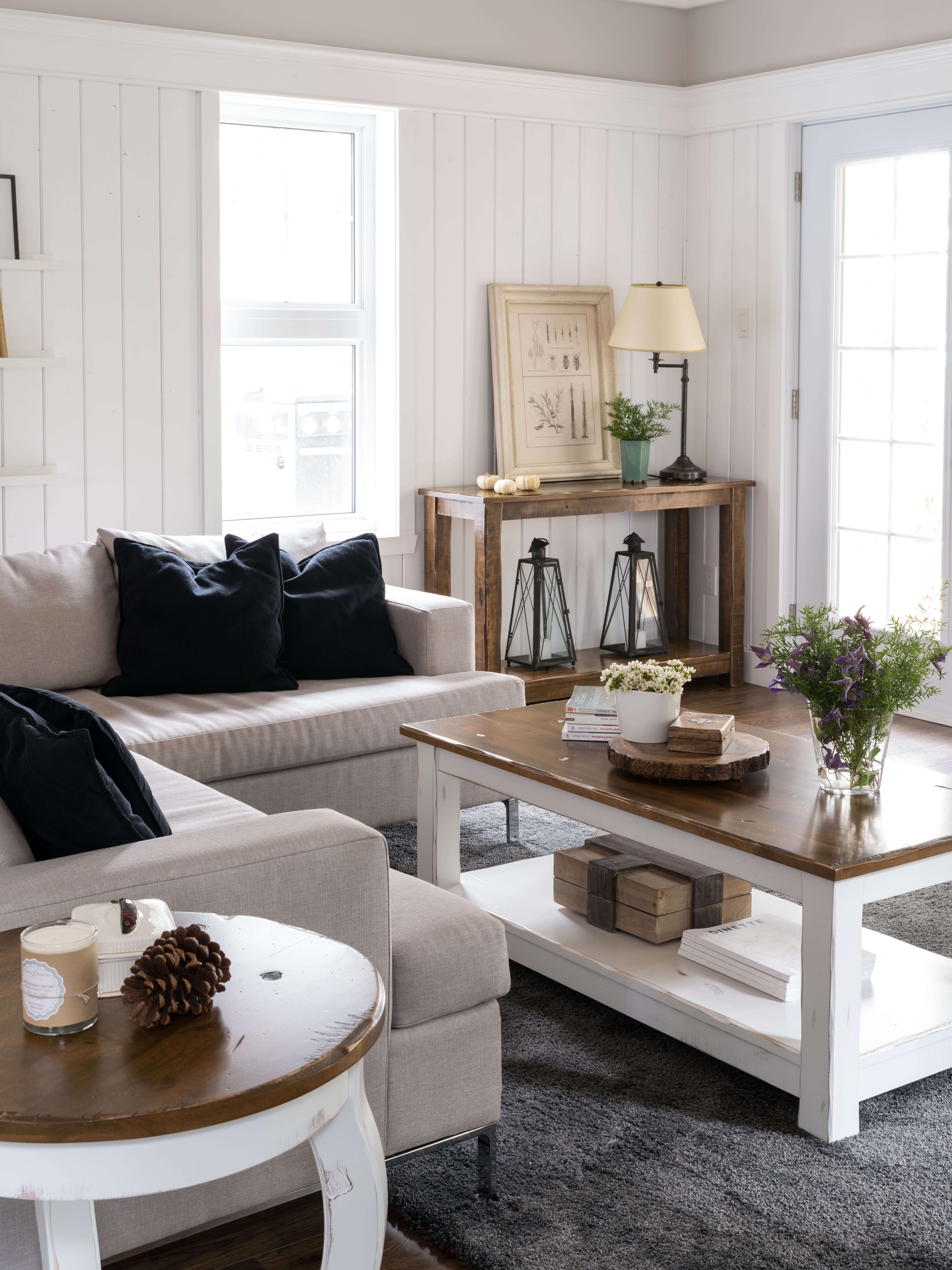 9. Combine Comfort, Style and Functionality with Accessories
Finish off your living room decor with delightful storage baskets, throws, various cushions, candle holders and greenery. For a touch of freshness and glow, incorporate a few different plants of various sizes into your decor. The options are endless—an olive tree, monstera, pothos, peperomias, cactus and more! We're also fond of floral arrangements featuring peonies, orchids or hydrangeas.
10. Aim for Consistency in an Open Plan Home
Creating continuity in style, color palette and furniture is essential if you have an open plan living and dining room!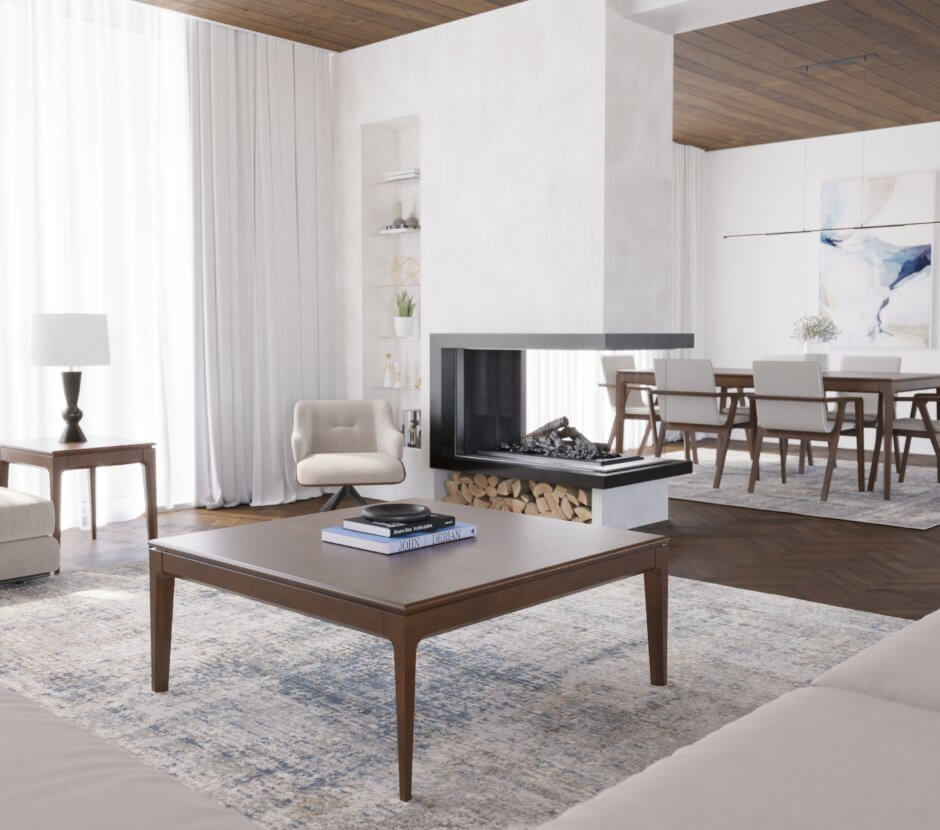 Transforming the look of a room can sometimes seem daunting. But being able to enjoy an environment that perfectly reflects our tastes and needs is a privilege. We hope these tips will help you achieve your decorating project.