Turning Christmas Magic into Winter Wonder
Each year, December brings its share of joy and beauty. No matter how old you are, the holidays are a festive time, even though this year is particularly unusual. A great way to celebrate and get in the holiday spirit is to create a happy Christmas ambiance in your home that will put a twinkle in the eyes of kids and adults alike.
In fact, what's more festive than decorating a tree, lighting it, and placing a stunning wreath on the front door or over the fireplace? When January arrives, we're often sad to see our Christmas decorations get put away and the rest of the winter months can seem gray and dreary.
But this year, let's give the wintery months some warmth. Instead of composting your natural wreath or putting your synthetic one back in its box, why not turn it into a winter wreath? It will keep your home feeling cheery throughout this time of the year and delight the other residents of your home.
Changing your Christmas decor to add wintery touches will preserve the sense of wonder inside and outside your home. Just follow these simple tips to brighten up your decor until spring.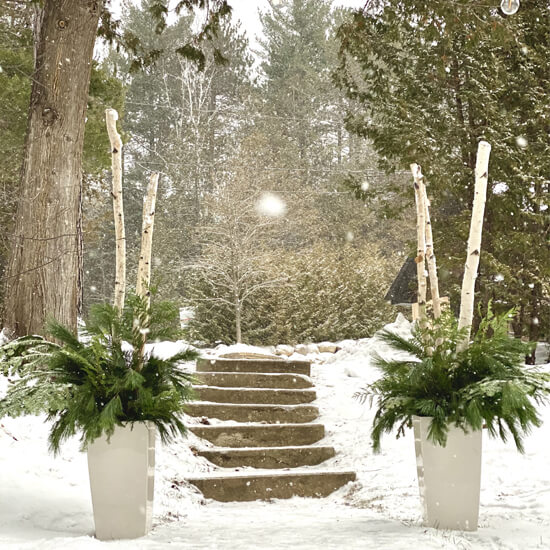 Festive greenery
Even if your wreath has colored accents, ribbons, balls, or holiday-themed accessories, you can still transform it to fit a winter color scheme by following the steps below.
First, keep your natural or synthetic wreath base. If you don't have one, right after Christmas is the perfect time to find one on sale. Then you can keep it year after year to brighten up your winter decor.
Next, take off the festive elements like baubles, tinsel, or anything in Christmas colors. Put them carefully away if you want to put them on your wreath next December.
Then choose natural elements such as branches, birch rounds, pine cones, and even cinnamon sticks. Make this a family activity and take the kids with you to the forest or around your neighborhood in search of pretty embellishments. It's a great reason to get some fresh air and enjoy a tasty hot chocolate when you get back from your refreshing walk.
Get accents like white, blue, and frosted artificial berries. The trick is to choose colors that evoke nature in the winter rather than Christmas. You can often find them in big-box or craft stores.
Finally, arrange your embellishments on the wreath so you can visualize how it will look when it's finished. Move them around as needed, and if you like what you see, attach them with thin wire.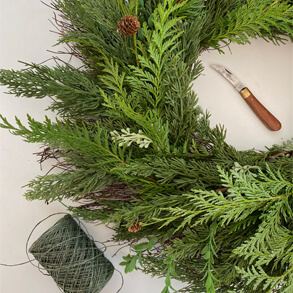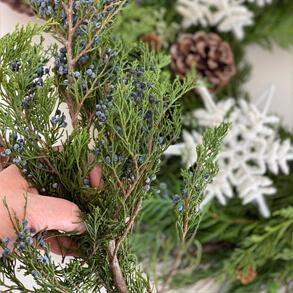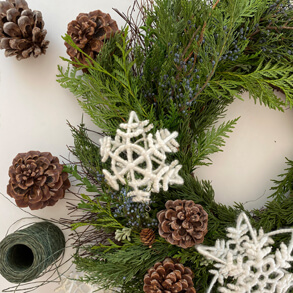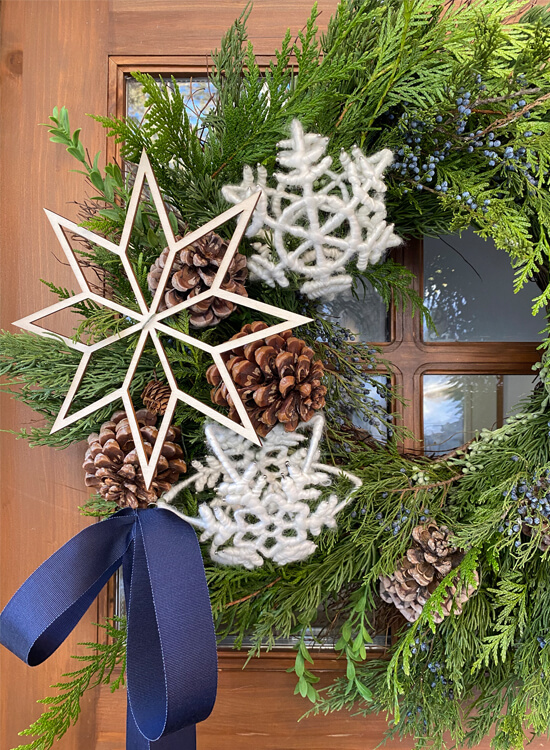 There you have it!
All you need to do now is to hang your creation on your wreath hanger or add, as a finishing touch, a large ribbon in a color that complements your home.
If you liked this project and are looking for more things to spruce up, why not decorate your outdoor planters? And that's how you can transition your decor easily from Christmas to winter.
More winter ideas
We have even more ideas for DIY wreaths—there's something for everyone!
Whimsical wreaths with pompoms made of white wool will refresh most decors. Add some Styrofoam balls covered in raffia for a completely different, colorful look if that's your style.
Hang a wreath made of preserved greenery—real branches that have been treated so they keep looking vibrant—from a large ribbon with wintery colors for a classic, elegant look. You don't even need to add anything else. The look will really pop if you place identical wreaths in your windows.
If you want sophistication without frills, an oversized wreath made from a natural material, such as straw or pine cones, is an understated and classic way to make your door or living room look amazing.
For a rustic look, handy nature lovers can cut wood rounds and glue them to a wreath base. You can then add branches, pine cones, and even dried flowers and cotton.
Wrap felt, fabrics in natural shades, or even a scarf around your wreath for a charming look. Then glue accessories that bring to mind cold weather (such as children's gloves and wooden snowflakes). It's pretty, simple, and fast!
To add a Scandinavian touch to your decor, instead of hanging your winter wreath on a door or a wall, fill a pot or tin with earth or a Styrofoam block. Glue your wreath to a stick and lodge it in the earth or block. Add some greenery to decorate the pot and you're done!
Wreaths brighten up the month of December. Giving them a second life after the holidays is a lovely way to warm up your home when winter sets in. Whether you decide to make your winter wreath a personal DIY project or a family activity, you'll definitely get a lot of satisfaction from admiring your handiwork.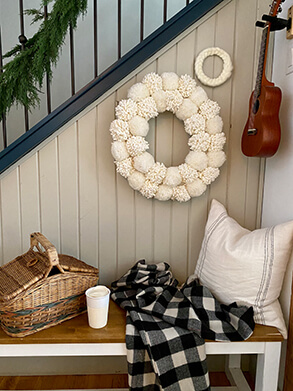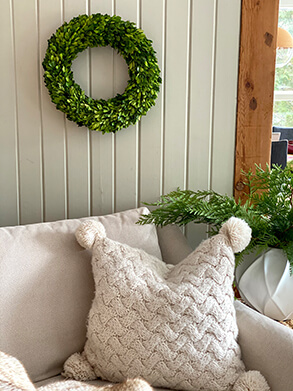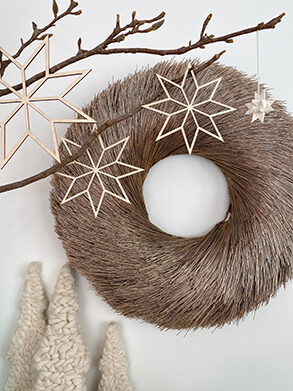 While they're most often associated with Christmas, wreaths are also connected to Advent. Originally pagan, wreaths became a Christian tradition in 16th century Germany. On each Sunday of Advent, one of the four candles on the wreath is lit, and a prayer is said in preparation for Christmas. This tradition has now spread around the globe.