Tips and Tricks for a Shelf of Dreams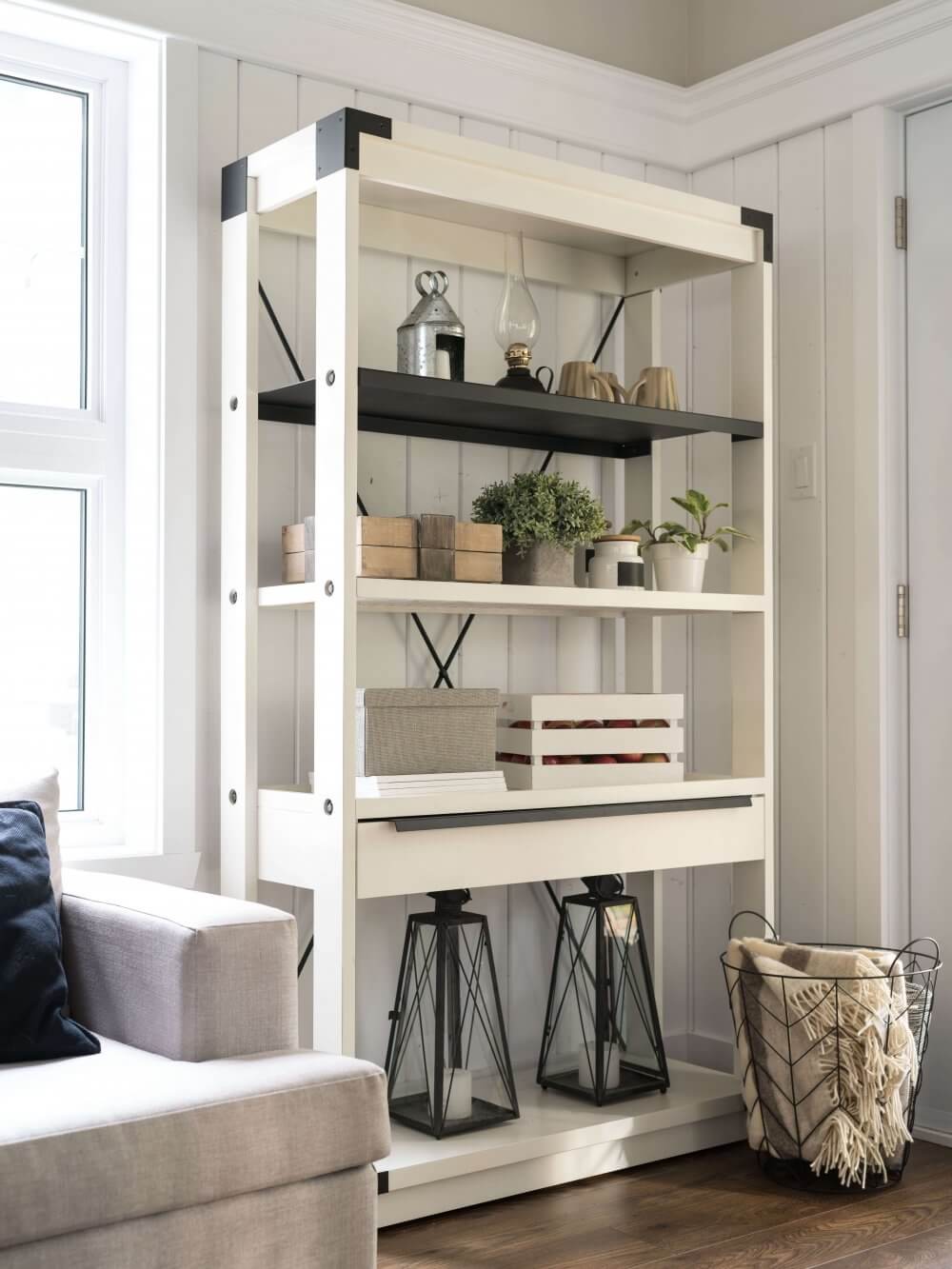 Decoration is a talent that is unfortunately not given to everyone. It is rather easy to draw inspiration from the trends seen in decoration magazines or in stores for the choice of furniture, the color of the walls and for some accessories. However, when it is time to go into detail and choose small accessories, in large quantities, the task can be a little more complicated. It's easy to get carried away by the things we love without thinking too much about whether they fit well together or not. Whether you need storage space or simply want to decorate a room, some basics are important to do so effectively and harmoniously!
Need of Space
Libraries, shelves and wall units are both practical and aesthetical at the same time. They can store multiple objects in one place, without having to scatter. They allow easy access to everyday objects that you often use. Shelves and open bookcases, that is, that do not have doors, are very practical, but must remain orderly. That's why it is better to put a minimum of things and choose a place for each element. Thus, it will be easier to maintain order if everything has its place. This type of storage can be a good practice for people who tend to be somewhat chaotic or messy when things are tucked behind doors, out of sight!
Simple Coquetry
If you have enough storage, but you have several items that you want to exhibit, this trend is ideal for you. The chosen shelf can simply be used as a showcase for travel souvenirs, beautifully framed photos, collectible books, plants or any other decorative element.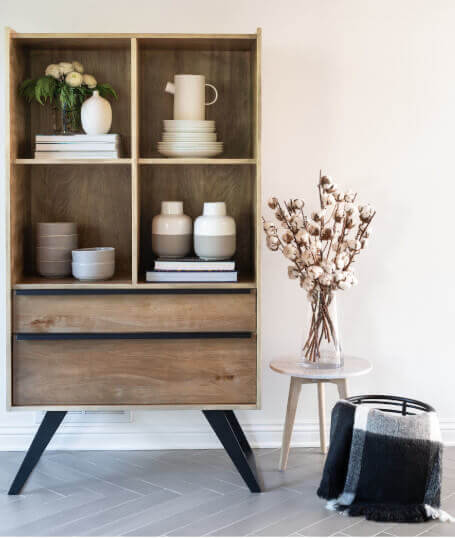 The Choice of Said Shelves
Of course, a multitude of options are available to you; on feet, hung on the wall, with doors, without doors, multi-story, wide, narrow, etc. The right model must be chosen according to the space and dimensions of the room. If you choose to fit the shelf in a large room, you can easily opt for a larger, wider and even freestanding cabinet. Moreover, if the room is large, it can do very well to dress and make it warmer. The same goes for the dining room, the shelf can be very convenient for storing, while exhibiting. For example, collectible tableware, antique cutlery or a nice tea set. In this case, you could also choose a shelf that has doors at the bottom of the cabinet to store more things.
On the contrary, if the room is smaller, the best choice is a shelf completely open so it does not create a heaviness effect. It is also preferable that it be narrower in width and thickness. If you love the shelf idea and want to recreate it, but in a smaller room, a good alternative is to opt for shelves or storage cubes hung on the wall, in height.
In terms of finish and style, go with the style of the room. You can also go in the opposite direction to create a contrast and make the shelf the star element of the room. Focus on timeless styles (Nordic, loft, country) and finishes (cherry, oak, metal) that go well with years and trends.
Key Decorative Elements
Once the furniture is chosen, it's time to decorate it! To ensure the harmony of the final result, two ways of proceeding can greatly facilitate the task. The first is to choose the objects according to the shape or the style. For example, if you like flowers, you can make them your theme and choose objects, floral print or even a nice bouquet of fresh flowers. It must still be limited in the number. Choose between 4 to 5 objects maximum of the same theme. This also applies to color. If you are a fan of walleye, you can select a frame, a vase, a trinket, a candle holder and a book with golden tints. The goal is to create coherence, a soft and pleasant effect for the eyes without falling into excess.
A Whole
Once a few key elements are chosen, you have to fill the rest of the space. We do not want to overload, but we do not want to create an impression of emptiness either. Select objects in the same neutral shades, for example, white, black, gray, to fill the spaces. Choose objects of different sizes and types: stacked books, candlesticks, vases, decorative objects, pottery, a lamp, and so on. That way, the key elements will be featured and will give the soul of your shelf.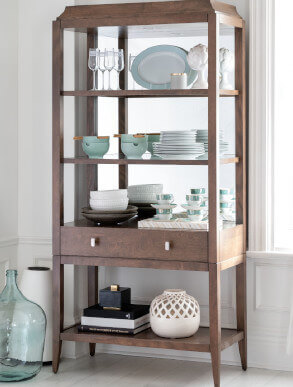 You can also include some plants like beautiful potted cacti or some hanging plants to add a little life to the decor!
Do Things Well
Do not forget that this type of buffet serves as storage, but also as a support for pretty objects. Do not overload your shelf, choose carefully the objects you expose and take the time to put them back in their place if you use them. With the right choice of furniture, it will always be easy and pleasant to replace the elements that decorate it to change the mood. This type of shelf lends itself to any room in your home but particularly adds character to a living room, dining room or lobby. The decorative objects you exhibit are a reflection of your personality, your tastes, and your story.