Pizza dough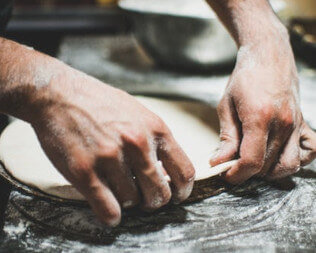 Ingredients
230 g (2 cups) all-purpose flour, unbleached + 60 g (1/2 cup) for kneading
90 g (1/2 cup) medium wheat semolina
5 ml (1 teaspoon) salt
10 ml (2 teaspoons) traditional active dry yeast
15 ml (1 tablespoon) sugar
310 ml (1 1/4 cup) lukewarm water
Preparation
In a bowl combine 500 ml (2 cups) flour, semolina, and salt. Set aside.
In another bowl dissolve yeast and sugar in warm water. Let sit until foamy, about 5 to 10 minutes.
Stir the yeast mixture into the flour mixture.
Form into a ball. Remove from bowl and knead until smooth and elastic, about 15 minutes, adding more flour if dough is sticky.
Put the ball of dough in an oiled bowl and cover with plastic wrap.
Store dough in a warm place until it doubles in volume, about 45 minutes.
Punch down dough. Cut dough in half.  Set aside.