Double-mustard salmon fillet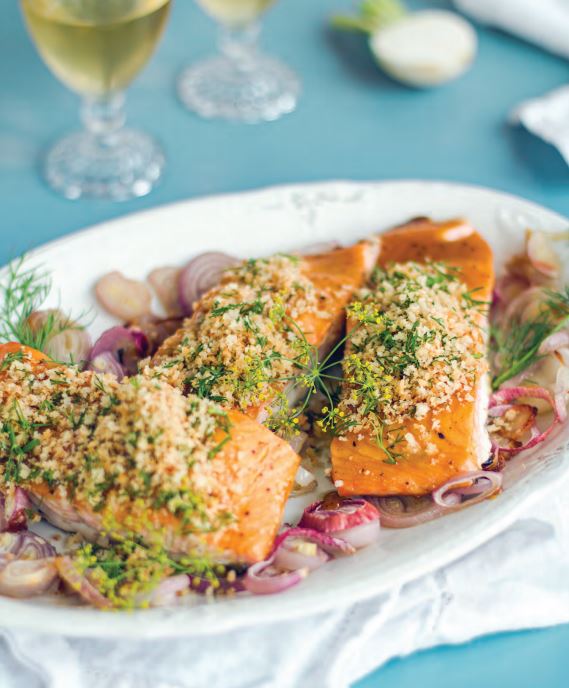 Ingredients
Salmon
3 tablespoons (45 ml) honey
4 teaspoons (20 ml) prepared mustard
4 teaspoons (20 ml) Dijon mustard
1 tablespoon (15 ml) olive oil
Fresh ground pepper
4 shallots, sliced into rounds
1½ lb. (680 g) salmon fillet (cut into 4 sections, if desired)
Panko crumble
1 tablespoon (15 ml) butter
1 cup (250 g) panko
1 tablespoon (15 ml) fresh dill, chopped
Salt
Directions
Salmon
Preheat oven to 375°F (190°C).
Line a baking sheet with parchment paper or a silicone baking mat.
Combine honey, both types of mustard, and olive oil in a bowl.
Add pepper to taste.
Spread shallot rounds on bottom of baking sheet.
Place salmon fillet on top of shallot rounds with the skin side up.
Baste fillet generously with mustard mix.
Bake for 20 to 25 minutes or until well done and skin comes away easily with a fork.
Panko crumble
Melt and stir butter in a pan.
Add panko. Stir thoroughly and add salt to taste.
Remove from heat and add dill.
Set aside.
Add panko crumble to salmon fillet just before serving.