Make the Most of that Summer Breeze
When the sun starts rising earlier and setting much later, it's a sign that summer has begun. Other signs reveal the arrival of summer—flowering plants, the tantalizing smell of grilled meat on the barbecue, cries of joy in the neighborhood…
Each season, the Canadel team offers you tips and tricks to master the art of entertaining and maybe even become a go-to reference. Explore our favorites for the warmer season.
A Scent of Lavender
Search engines are full of ideas using lavender to beautify your home with its soft color, to add an intoxicating scent to your garden and to take advantage of its antiseptic benefits.
Are you looking for an original and fragrant hostess gift? What about sachets to perfume drawers? All you have to do is follow a few simple steps with the kids! And these sachets can also be used as place cards or small gifts for your guests.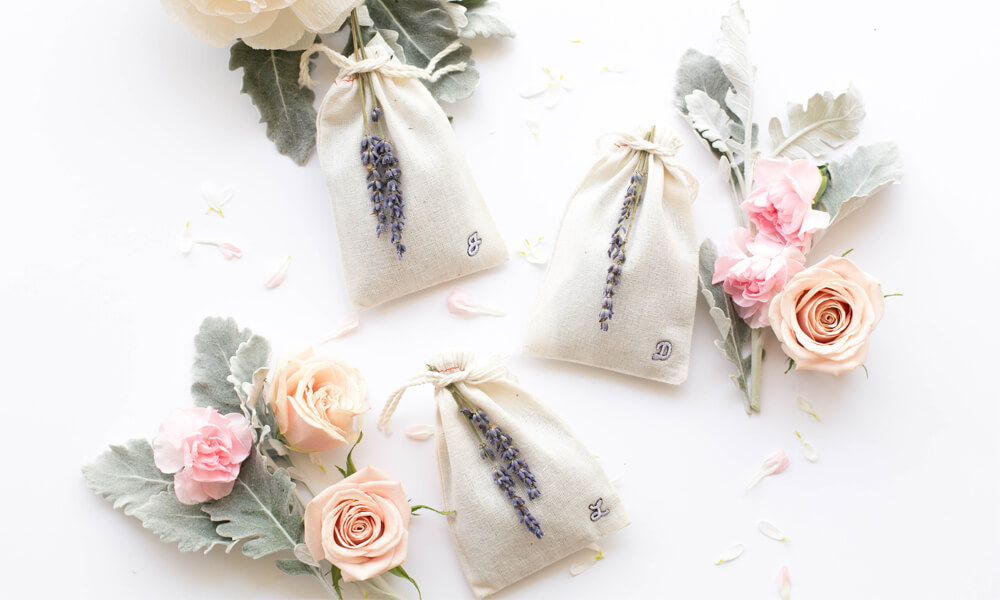 For the grownups, use lavender in cocktails. Find the recipe for lavender gin in this article!
Did you know…
The Latin origin of the word Lavender is lavandaria. It means laundering.
There are 47 species of annuals, perennials and shrubs of this ancient plant found throughout the world.
Depending on the variety, it has several virtues ꟷ lavender can be used to calm the nervous system and is an excellent repellent.
It comes in different colors ꟷ violet-blue, deep pink and even pure white.
Once dried, the flowers can be used for cooking, in fancy ice cubes, to flavor ice cream, in mixed salads, and much more.
Light Shades
Timeless, durable and versatile, light-colored wood is sure to find its place in your decor, whatever your decorating style. Reminiscent of nature's beauty, wheat fields and sandy beaches, these soft hues are sure to enhance your space instantly!
Find out how to incorporate this trend into any room in your home. From entryway to dining room, including kitchen accessories, these tones instill calm, warmth and comfort. Whether you're a fan of farmhouse design or charmed by the Scandinavian influence, choose a light wood to add panache and sophistication to your home. It's also a perfect way to create a friendly atmosphere for a meal with loved ones.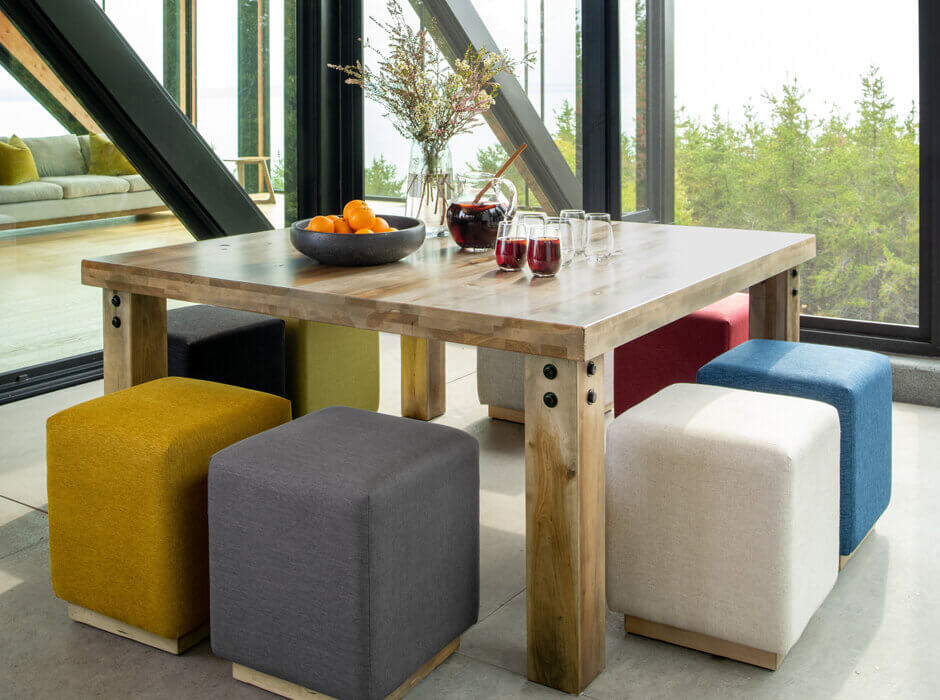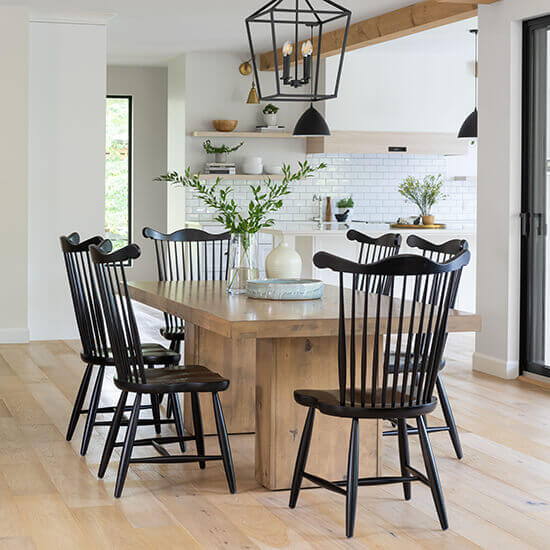 For the more daring, add character and color to your decor. Choose straight-lined chairs in deep black to highlight the beauty of a caramel-colored table. Add a floral fabric and an accent wall to create more vitality.
The chameleon effect of light wood works brilliantly in any style or space. It's up to you!
The Art of Outdoor Entertaining
Grab any occasion to host friends and family. There is so much to catch up on. So why not host some impromptu get-togethers this summer? We say this often—if entertaining is an art, preparation is key.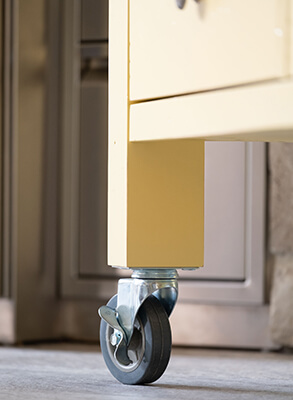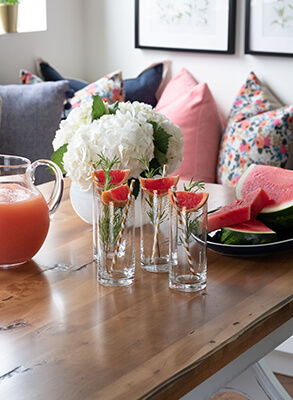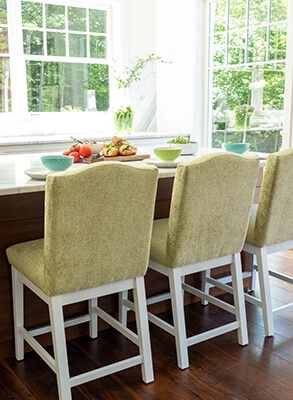 The article The Art of Dining … Outdoors is full of tips to get organized for unexpected gatherings, for example:
Save yourself lots of steps by creating a serving area near the kitchen. Choose furniture that is multi-functional and inviting. An island on wheels, for example, available in many summer colors, will be easy to roll outside.
Keep thirst-quenching drink recipes on hand to serve to your guests. Get out the ice bucket, a variety of summer-flavored ready-to-drink cocktail and colorful glasses. And enjoy!
Design a simple, fresh menu to delight your guests. The important thing is to "savor" every moment, literally. Pick some produce from your garden and create a beautiful platter of fresh vegetables that have been nurtured with love.
If the conversation lags, think of games/activities. It could be a washer toss tournament, a game of dice or simply spending some pleasant time strumming the guitar and singing around a campfire.
The important thing is to keep it simple and allow yourself time to savor the moment with your guests!
Chicken Skewers
The secret to great skewers is in the marinade. Discover a tasty marinade with the Kon Tiki Chicken Skewers recipe. The day before your meal, get out your apron and knife and cut chicken breasts into cubes. Pour in the marinade and leave in the fridge for 24 hours.
Serve with a fresh garden salad garnished with cucumbers, tomatoes and edible flowers.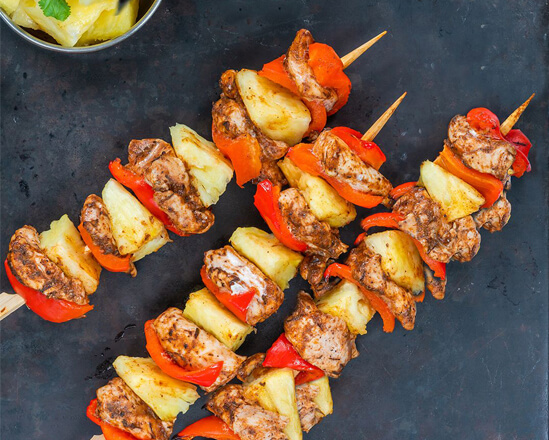 More great recipes are posted in the blog The Art of Dining. Also, each edition of the Inspired magazine features tasty dishes. From appetizers to desserts, you're sure to find a mouth-watering dish!
All in all, summer offers many wonders and pleasurable opportunities. Sometimes, you just have to step outside to witness the beauty of nature. Wake up at dawn to breathtaking morning views and savor breakfast with your significant other. Begin your meal prep comfortably outdoors to the sound of chirping birds. Finish your late night reception around an outdoor fire and gaze up at the starry sky. In a word, enjoy!
Have a great vacation!