Jar of lemon cream without the cream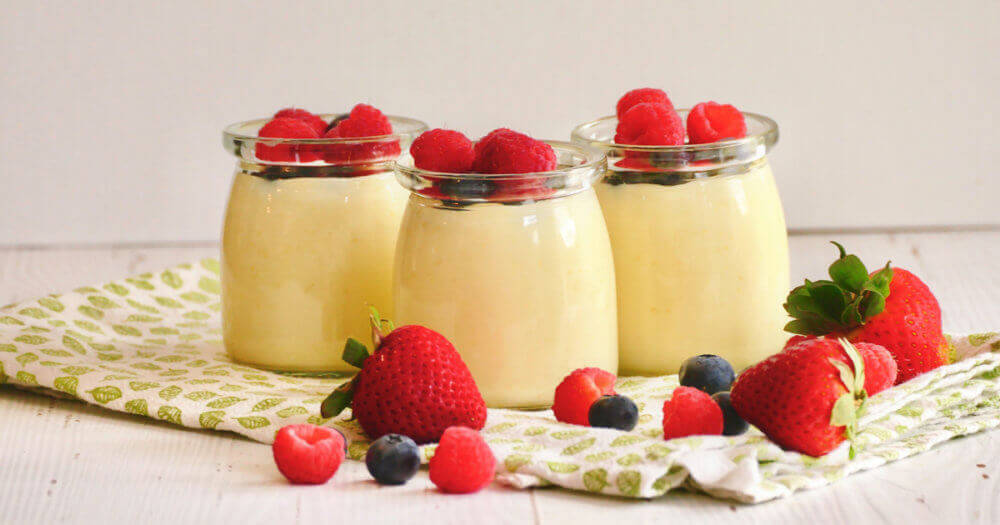 When life gives you lemons, make dessert! Here is an invigorating and succulent dessert. Low in fat thanks to white cheese and Greek yogurt, this dessert exploding in flavour will excite the taste buds of young and old.
Servings: 4 to 5
Preparation time: 20 minutes
Cooling time: 2 to 3 hours
Ingredients
1/2 cup (120 ml) freshly squeezed lemon juice
1 cup (240 g) sugar
4 egg yolks
2 teaspoons cornstarch
2 teaspoons water
The zest a lemon
1 teaspoon (5 ml) vanilla
1 cup (225 ml) plain Greek yogurt
1 cup (225 ml) fresh white cheese or quark cheese
Directions
Pour the lemon juice and sugar into a saucepan and add the egg yolks. Heat on medium power, stirring until the mixture thickens and the mixture coats the back of a spoon. Dissolve the cornstarch in the water, then add it with the zest and vanilla to the lemon mixture. Continue to brew until it thickens even more. Remove from the heat source, add yogurt and white cheese, whisk well.
Pour into individual cups or pots. Cover with plastic wrap and refrigerate until ready to serve.
*Also sold as French-style white cheese