Asian meal soup with chicken meatballs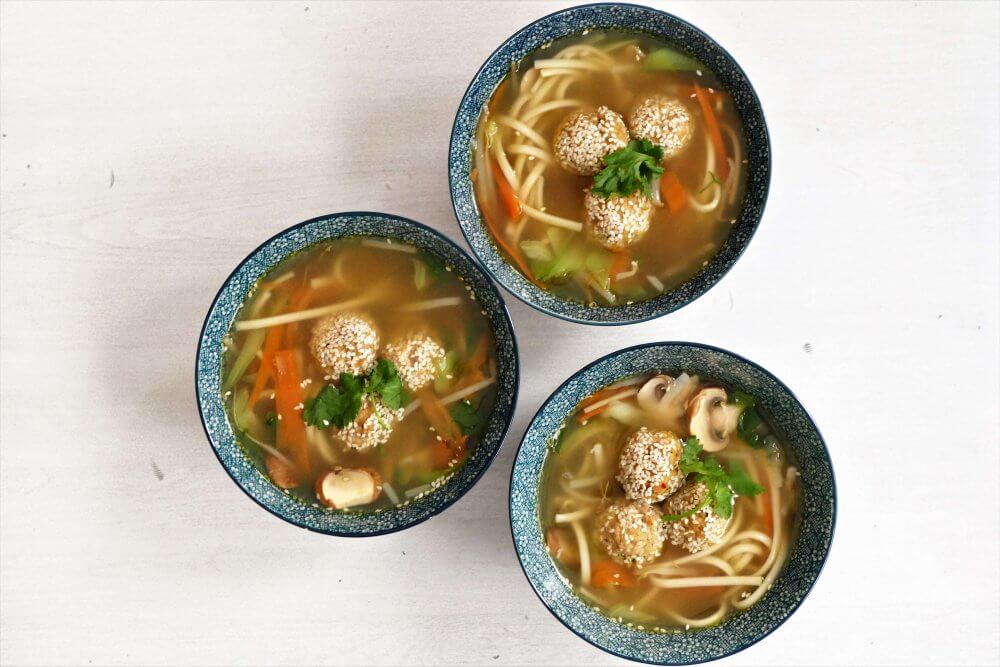 Servings: 4
Preparation: 15 minutes
Cooking time: 10 to 12 minutes
Ingredients
1 slice of slightly stale bread
3 tablespoons (45 ml) of milk
450 g chopped chicken
1 green onion
1 clove of garlic
2 tablespoons fresh coriander
2 teaspoons fresh grated ginger
½ teaspoon or less of sambal oelek
1 tablespoon hoisin sauce
1 tablespoon soy sauce
1 egg
1 teaspoon sesame oil
¾ cup sesame seeds
6 cups chicken broth
1 large carrot
1 big bok choi
4 to 5 mushrooms
About 1 ½ cups sprouted beans
100 g dry udon noodles
Preparation
Preheat oven to 400 F (205 C).
Shred the bread and put it in a bowl.
Pour the milk over the pieces and make sure they are all well soaked in the liquid. Let stand 5 minutes.
Chop the garlic and cut the green onion into chunks. Put them in the food processor's bowl, add coriander and ginger and chop everything together.
Drain the bread well to extract as much milk as you can and add the bread to the food processor with soy sauce, hoisin sauce, sambal oelek, egg and sesame oil. Combine well.
Stir the meat without mixing too long, the preparation should simply be as homogeneous as possible.
Pour the sesame seeds into a bowl and line a baking sheet with parchment paper.
The preparation might seem soft, but cooking will solidify it. Take about 1 ½ tablespoon or a little more of the mixture and place it on the sesame seeds. Roll the meat well to create a coating with seeds, then form little meatballs with your hands and place them on the baking tray.
Bake for 20 to 25 minutes or until cooked through.
When cooking the meatballs, pour the chicken broth into a saucepan and bring to boil.
Peel the carrot the help of a peeling knife to create long slices.
Cut the bok choi into pieces and the mushrooms into thin slices.
Add all the vegetables to the broth with the udon noodles. Reduce to heat to medium and cook for 10 to 12 minutes or until the noodles are cooked.
Put the meatballs into the bowls and pour soup on top. Everything is ready to be served. Bon appétit!
Tip
Cook the meatballs the day before to have them ready for the next day or freeze them once cooked! To do so, simply put the baking plate in the freezer until the next day. Then, transfer the frozen pellets into an eco-responsible bag. Take them out the day before you plan on eating them and let them cool in the fridge until the next day.