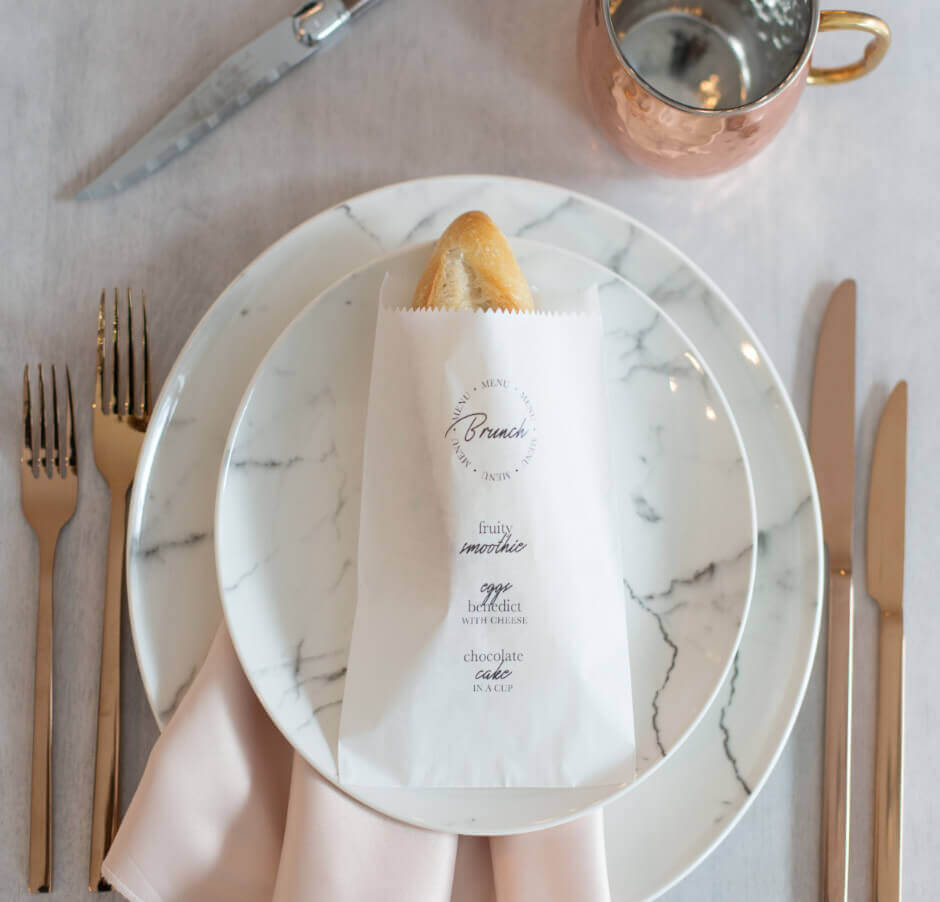 To receive is an art. If this phrase comes up often, it's because it is part of the essence of Canadel and is a great source of inspiration for many of our reflections. Always on the lookout for trends and searching for new ideas, nothing goes under our radar. The importance of the dining room is also very often emphasized and this is what inspired the present subject: the menus.
If you are one to think that menus are only for weddings and big events, think again. Whether it's a brunch, a birthday dinner or the usual Sunday family dinner, any occasion may deserve special attention! Several options are available: individual menu, one menu by table, a menu at the entrance of the room and more. It is then necessary to ask yourself this first question before launching in the creation: what type of meal will be served?
The Meal Is Served
If it's a buffet or a potluck, go for simplicity. Only one presentation card is enough and it can be very simple to make. A large cardboard or a large sheet of craft paper affixed to the wall near the dining table, or in a pretty frame can easily do the trick. Reading the menu will be simple and effective and will give your guests a mouth-watering experience. Take out your pen and write the menu by hand in an applied calligraphy. You can also make small labels that you stick on a toothpick, with the name of the dishes or different foods presented to guide your guests. For example, this may be convenient for identifying the various kinds of cheeses, deli meats or marinated olives.
Creativity Rhymes with Simplicity
If your table decoration is already quite busy, opt for a general menu accessible to all. You can also go with only a few menus at the ends of the table that your guests can consult together. For example, you can simply print your menu on a cardboard and present it on a clipboard. Your menu can take a thousand and one forms, be displayed on original media (easel, origami, wooden log, card, etc.) and that, without much effort! You can opt for a coloured cardboard, a rustic paper, a piece of fabric or even a vellum paper for a modern and minimalist look. Crafts shops are packed with inexpensive materials that will surely inspire you. If you want to create a more professional look and leave the home-made style aside, several websites such as Canva offer menu templates that you can easily fill and print.
Beyond the appearance of your menu, you can also be original with words. It can be fun to leave some mystery behind by creating original names for your dishes. Leave aside the redundant enumerations and go for poetic, humorous or inspired formulations of a famous place to describe what's on the menu!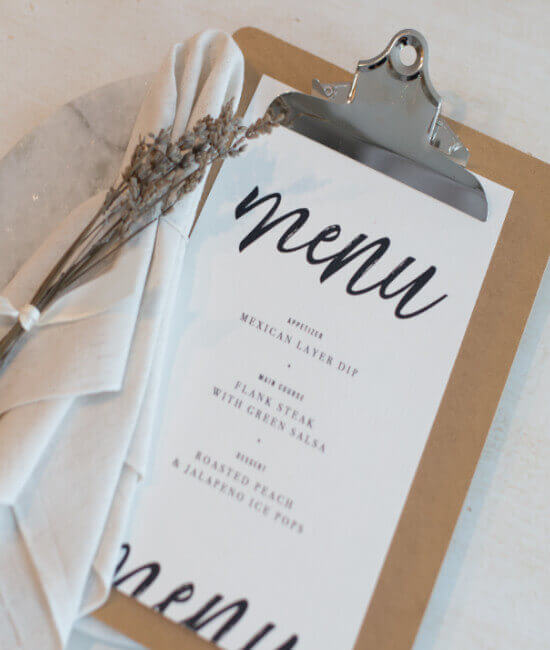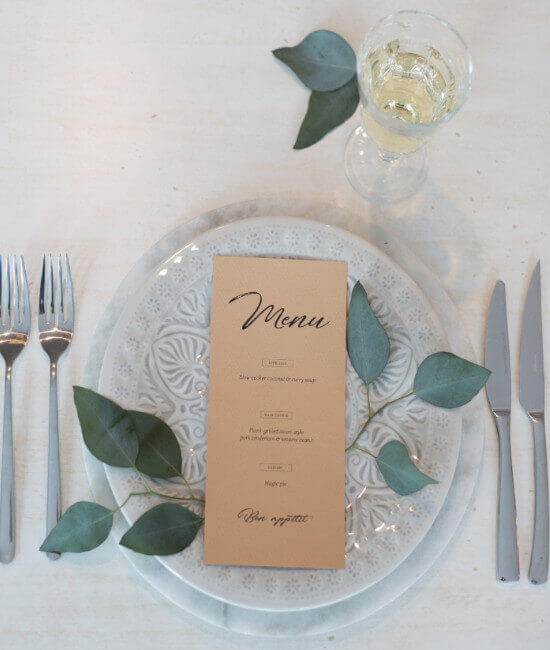 To Each His Own Menu
You can also simply place the menu on your guests' plate so that every one of them can see it and that way, your table is not too crowded. However, add something fancy and original to make it special. Match the menu style to the rest of the decor or to the food you serve. A very simple, but charming way to decorate the presentation of your menu is to add a touch of green on the plate alongside the menu. Depending on the season, choose a branch of fir, eucalyptus or wildflowers. You can even consult your local florist to help you choose, or surprise your guests with an edible flower decoration.
Like any good restaurant that respects itself – and respects its customers – you have to serve bread to your guests. We know the happiness we feel when the waiter arrives with the little basket of hot bread and butter. So make your guests smile by presenting the menu of the evening on a small bag with a mini baguette inside! Choose a non-waxed paper bag to make sure that ink sticks. Place the mini baguette in the bag at the center of each guest's plate and voilà!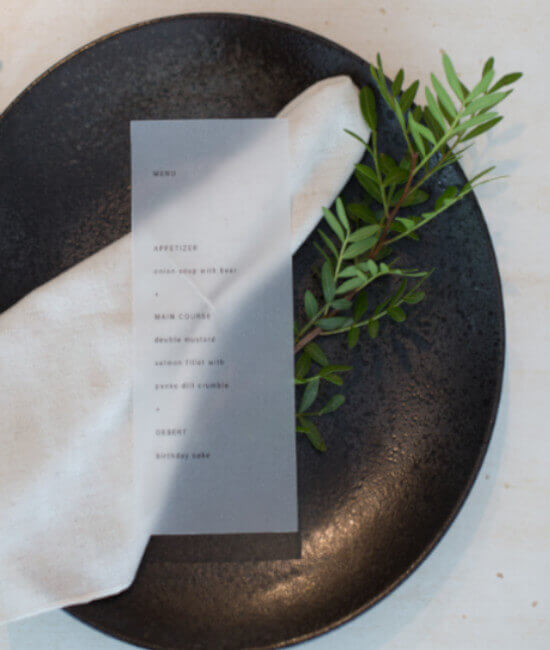 Other Simple and Small Ideas:
Put individual menus in wine glasses.
Create small menus wrapped and tied with a ribbon and hang them at the feet of the glasses or simply put them on the plate.
Remember, no one expects you to receive them as a 5-star restaurant chef and the important thing is to have a good time with the people you love. So be creative and really go for it, but do not forget to have fun and enjoy the moment. Bon appétit!