In an area where everything is computerized, where emails are sent instead of letters and text messages rather than picking up the phone, a little personalized and human attention can make all the difference. It is almost hard to believe that calligraphy was once an art, and even a discipline. Fortunately, in recent years, a trend of natural, even old-fashioned, and a return to our own roots, are emerging. The virtual blends with reality with hand-typed typography, visuals created with handmade drawings and many, many ideas for do-it-yourself projects, well known as DIY. Simple and oh-so-efficient, making placeholders is a perfect example of a self-made project that will make your guests feel special.
Garden Party
Each season has its own special opportunities to host memorable parties. One of the favourites of all is certainly summer time for obvious reasons: the sun, the heat, the nature and the tasty refreshments! The summer also allows us to find a wide range of materials, free for the vast majority, and that can be used for the production of our mark places. For example, a creative and super simple idea is to pick some pretty flowers and some foliage from your garden. For an even more pleasant and olfactory touch, you can opt for a branch of fir or lilac to tempt the senses of your guests with their pleasant smell. Subsequently, you just need to assemble the bouquet with a nice ribbon and a small piece of paper on which you can write the name of your guest. Rocks, pebbles or even fir cones can also be used as name cards! Use a metallic ink pencil to write the name and add a little sparkle to your creation!
For the Eco-Friendly
 You may also put delicate arrangements in small jars of glass or in recycled bottles that you can use as vases. To get a chic look, simply remove the label on the bottle.
Tips: Here is an all-natural trick for this DIY option: immerse the jar or bottle in hot water or rub half of a lemon on the label or sticker. Leave on for ten minutes, then rub with a sponge to remove the labels.
Since the zero waste movement is inevitable, think about offering your placeholders as gifts. Your guests will be able to bring home a little souvenir and use it for their next reception or for their own use or pleasure, depending on the nature of your work. Give them, for example, the vase that you made and that will have been used as their place marker so that they can put flowers in to brighten their home. You can also put the names of your guests on clothes pins and stick a small magnet on the back. That way, you can simply put the pin on the table napkin for the reception and your guest can use it as a fridge magnet to pin a photo or a note! If you grow fresh herbs in your garden, why not offer a small plan in a nice custom vase for your guests! A perfect and practical gift for the kitchen table or the garden dining table to add a touch of green to their plate. Any other type of plant too, such as cacti or succulent will certainly make your guests happy. This is a nice offering that they can use as a centrepiece for a kitchen table.
Draw Me a Place Mark
For the most skilled and wonders of the pen, a small artistic creation can also be a very nice touch of attention. The name of your guest, simply written on a kraft paper or cardboard, and placed in his plate will certainly have its effect. If you feel more inspired, you can even take out your artist's material and make a little personalized design for each person. In the event that talent, inspiration or time is lacking, but you still want to create something special and artistic, watercolour is a miracle solution. You do not have to be Picasso to put pretty colours on cardboard. For a soft and fickle effect, simply spread and wipe the paint with a cloth or give it a little blow and watch the colours spread by themselves and create a perfect, simple and volatile design.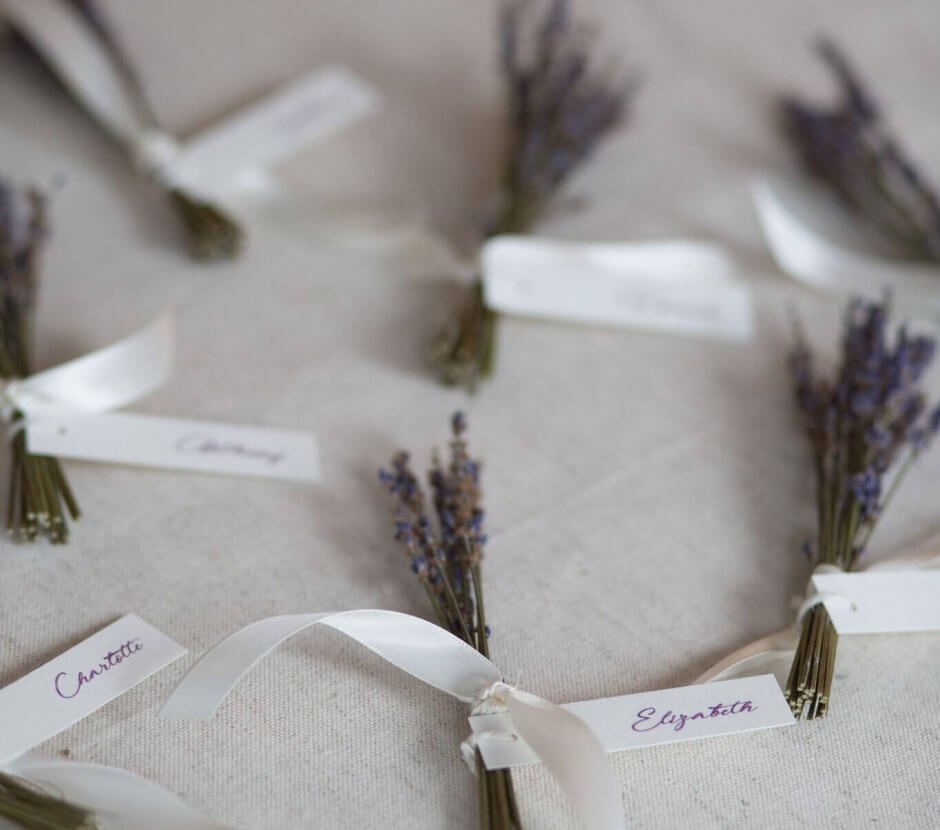 Dress It Up
Because chairs are not just for sitting, but much more if you're a bit creative, they can be used as a placeholder! Dining chairs, wooden chairs, or bar stools all lend themselves to this idea. It's simple; just fix a satin ribbon, a band of tulle, jute, linen or any other fabric that you like, on the back of the chair. Then, knot it to create a beautiful bow, hang a small label on it with the name of the person and voilà, it's done. This way, your guests can find their respective places quickly and feel like sitting on a custom throne just for them!
The Host Magic Recipe
The magic recipe for a successful evening consists of three elements: a good meal, good wine and good conversations. In order to have a lively evening, think about who your guests are and where to sit them to avoid embarrassing situations or someone getting bored. However, do not put people who know each other well or see each other very often at the same table or sitting next to each other for the whole evening. Mix them! There is no better way to learn more about a person! As the famous proverb says: "To know someone, you must have eaten together."