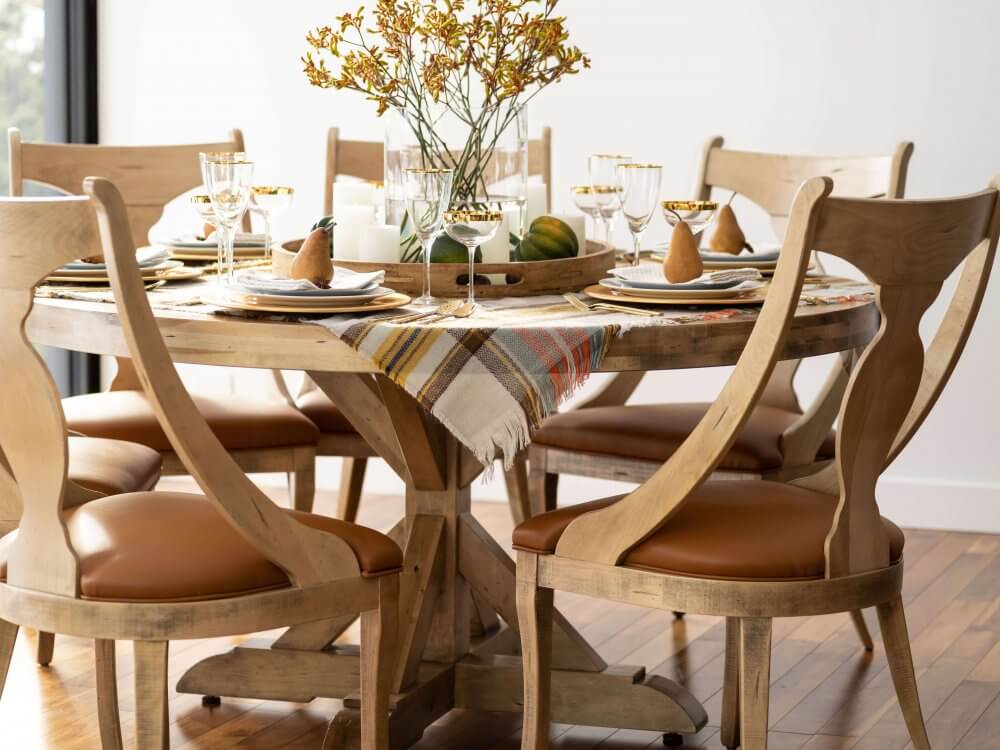 Thanksgiving began as a day of giving thanks for the blessing of the harvest and of the preceding year. It is a special holiday to not only entertain and host loved ones, but also share old and new traditions with family and friends. Good company and delicious food are always the main centerpiece, but creating a beautiful Thanksgiving Day table helps to create a festive mood and joyful ambiance.
Togetherness, food, love and friendship are an important part of the day. Whether you see your friends and family just once a year or every week, Thanksgiving is all about reuniting with loved ones, making new memories and cherishing old ones. Fall inspires this holiday…the changing leaves, autumnal colors, and the warmth of cozy fires and comforting food. The main focus is family, so decorating for the season is simple and casual. Guests should feel a sense of joy and gratitude in your home and especially at the table.
A beautifully decorated Thanksgiving table creates a festive mood and welcomes your guests to the table. It's so important to not lose sight of what this beautiful holiday is all about…good people and great food. The food is what brings people to the table, so don't stress too much about the decor, keep it simple, festive, and fun. Gone are the days of fancy china and silverware; although, some of these old touches can still be brought to your table. There are so many different ways to decorate your table for the holiday from rustic to modern and everything in between. No matter your style, here are a few simple steps to help create the perfect setting for your guests to enjoy Thanksgiving!
Tradition- New and Old
Tradition is so special during this time of the year. Whether it be old or new traditions, it's fun to include them into your table decor. Maybe it's grandmother's old gravy dish passed down to you or heirloom table linens or glasses. Whatever it may be, include these touches in your table decor. Mix them in with your new decor and create a table that is both eclectic and nostalgic for family and friends.
Use food to style the table
Let your food also serve as decor. Maybe you are using rosemary in your recipes. Save a few pieces and put a sprig on each place setting…or you can even add it to the water glasses. Small pumpkins also make a beautiful touch on each place setting. And don't be afraid to look outside for ideas too! Maybe you have an abundance of pinecones or acorns in your yard…they also make pretty autumnal centerpieces or place settings.
Greens and Candles
Greens are always a good idea especially when it comes to styling your table. Eucalyptus is simple and pretty. It doesn't take up too much room either. Gather some and line it down the table. Add in some pretty candle votives for ambience and lighting.
Keep it simple and casual
I love the look of white minimalist looking dinnerware. Add in touches of gold and copper with your flatware. When it comes to table runners or table clothes, again keep it simple and casual. I love the look of a kraft paper table runner. It's so easy and practical. You can even write your guests name in calligraphy at their place setting. If you have kids at the table, even better! Less clutter and more room for food and conversation is key!
Togetherness, family, and friendships is what matters most during this joyous time of year.  Try not to overly stress about making your table the most perfect Pinterest worthy design. If you put love into making your table beautiful, it will show and your guests will be grateful to be in your home enjoying a delicious feast with family and friends. Decorate your table with joy, love, and giving in mind and it will all fall into place.