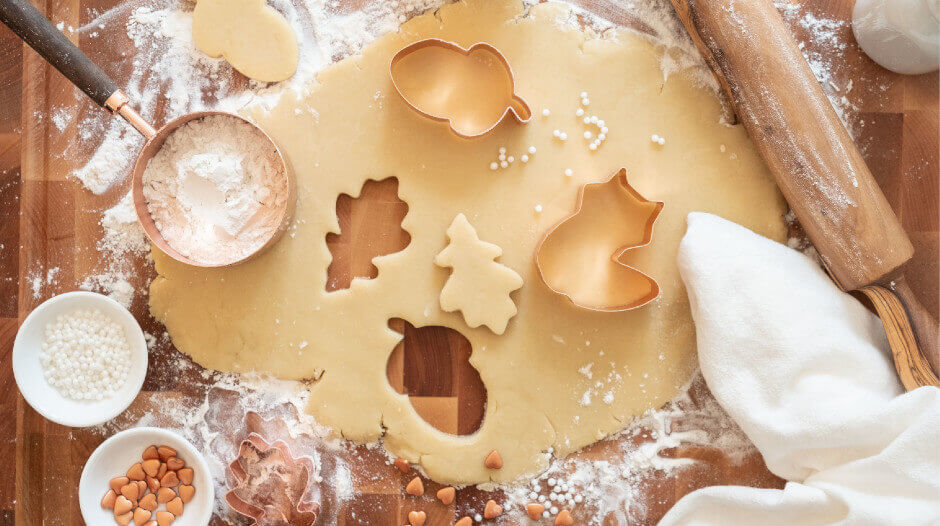 Ingredients
2 ½ cups (625 ml) all-purpose flour
¾ teaspoon (4 ml) baking powder
½ teaspoon (2 ml) salt
1 cup (250 ml) unsalted butter softened to room temperature
1 cup (250 ml) sugar
1 egg
1 ½ teaspoons (7 ml) vanilla extract
Preparation
Preheat oven to 350°F (180°C) and line a baking sheet with parchment paper.
In a bowl, combine flour, baking powder and salt.
In a separate bowl, combine butter and sugar with an electric hand mixer and beat until creamy and well-combined.
Add egg and vanilla extract and beat until smooth.
Stir in the dry ingredients.
Separate the dough in half and mold into two disks.
Wrap the disks in plastic wrap and let cool for 30 minutes.
Generously dust a clean surface with flour and deposit one disk onto the surface. Roll out one disk at a time until it is 5 mm (¼ in.) thick.
Use cookie cutters to cut out shapes and transfer them onto the baking sheet.
Bake for 8 minutes, or until edges just begin to turn lightly golden brown.
Allow cookies to cool completely on cookie sheet before moving and frosting, if desired.