Cookies in a jar as a gift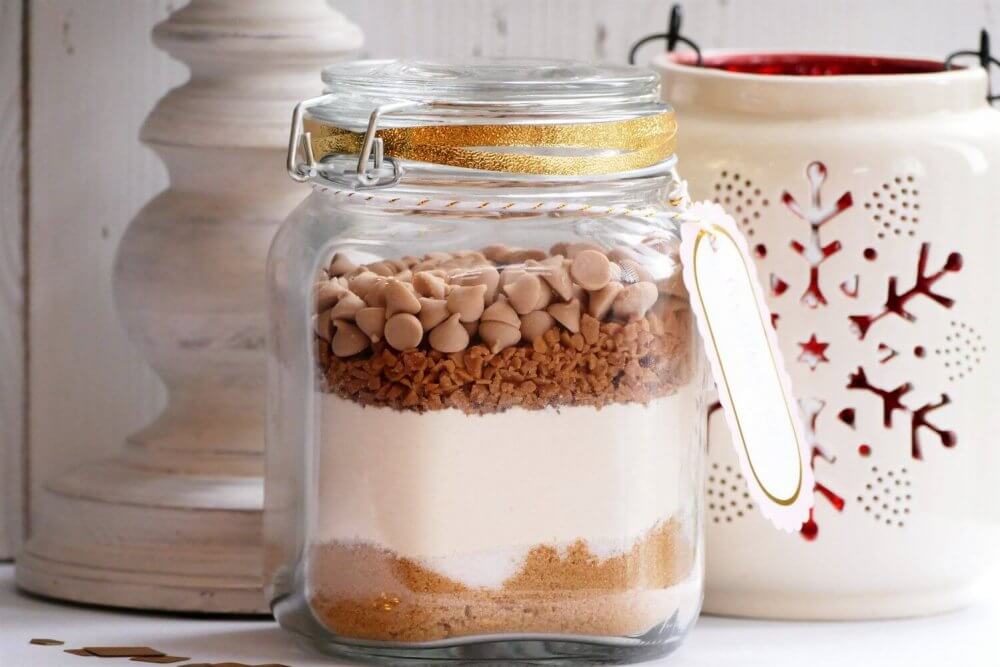 Dried apples caramel cookies
Servings: 24 cookies
Preparation: 10 minutes
Ingredients
¾ cup (160 g) brown sugar
¼ cup (60 g) sugar
1 ¼ (205 g) unbleached all-purpose flour
½ teaspoon (2.5 ml) baking soda
½ teaspoon (2.5 ml) salt
½ cup (90 g) Skor® Caramel chips
½ cup (110 g) Hershey's® Sea Salt Caramel chips
½ cup (50 g) dried apples, diced (optional)
Preparation
Take a Mason jar with a capacity of one litre or another pretty jar that can hold the same amount.
Pour the brown sugar into the jar and lightly press down to equalize it.
In a bowl, whisk in the sugar, flour, baking soda and salt and pour over the brown sugar.
Add the caramel chips, then the sea salt caramel chips and finish with the diced apples, if desired.
Close the jar and garnish with a nice ribbon and a label with the name of the person to whom the gift is intended and another with the method of preparation for cooking.
Cooking Instructions to Write on the Label
Preheat oven to 350 ○ F (180 ○ C).
Microwave ½ cup (115 g) of butter in the microwave for a few minutes in a large bowl, until melted.
Add one egg to the melted butter, whisk lightly, pour in the cookie mix and blend it all together.
You can use your hands to make sure the preparation gets homogeneous.
Take about 2 tablespoons (30 ml) of cookie dough, roll it into a ball and flatten the scoop.
Place the cookie on a buttered and floured baking sheet or a silicone baking sheet.
Put 12 cookies on the plate and cook for 12 minutes.
Take out of the oven and let the cookies rest for 5 minutes before transferring them to a rack.