Pasta with Cherry Tomatoes and Chickpea Crumble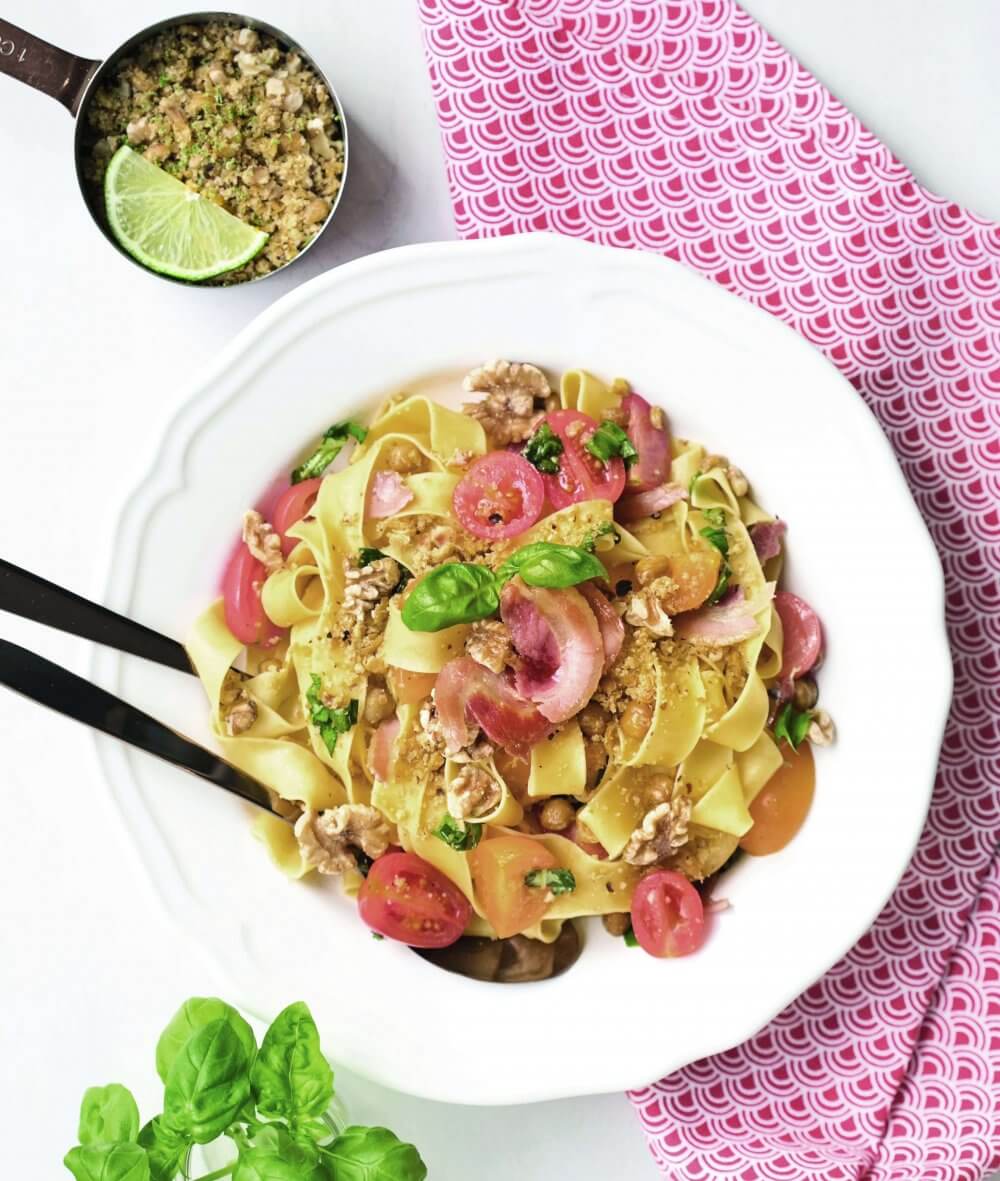 Servings: 4
Preparation time: 20 minutes
Cooking time: 25 minutes

Ingredients
2 pints cherry tomatoes, approx. 2 cups (500 ml), cut in half or into bite-size pieces
3 tbsp. + 1 tsp. (50 ml) extra virgin olive oil, divided
1 small clove garlic, finely grated
1/4 cup (60 ml) fresh basil, minced, and a little more for garnish
Sea salt and freshly ground black pepper, to taste
1 cup (250 ml) canned cooked chickpeas, drained and rinsed
1/4 cup (60 ml) walnuts
1/4 tsp. (1 ml) garlic powder
1/2 tsp. (2 ml) lemon zest
1 lb. (500 g) fresh pappardelle pasta
Preparation
Preheat the oven to 400°F (200°C).
Transfer the tomatoes to a large bowl and toss with 3 tbsp. of olive oil, along with the garlic, basil, salt, and pepper. Set aside.
Towel dry the chickpeas as thoroughly as possible and transfer them to a baking sheet. Toss the chickpeas with the remaining olive oil, and salt and pepper to taste. Slide into the oven and roast until the chickpeas are slightly crisp and browned, about 12 minutes. Remove them from the oven and scatter the walnuts onto the baking sheet. Roast the walnuts and chickpeas together for 4 to 6 minutes, or until walnuts look roasted. Let cool completely.
Meanwhile, bring a large pot of salted water to boil over high heat.
In the bowl of a food processor, combine the roasted chickpeas with the walnuts, garlic powder, lemon zest, and some salt to taste. Pulse to a crumbly mixture. Set aside.
Cook the pasta according to package directions and drain. Add cooked pasta to the bowl of tomatoes and toss. Top the rustic pasta with the chickpea crumble and minced basil. Serve immediately.
Note: Any leftover chickpea crumble will keep in a sealed container for up to 4 days in the refrigerator.