Lobster "Tartar" with Apple, Sesame and Ginger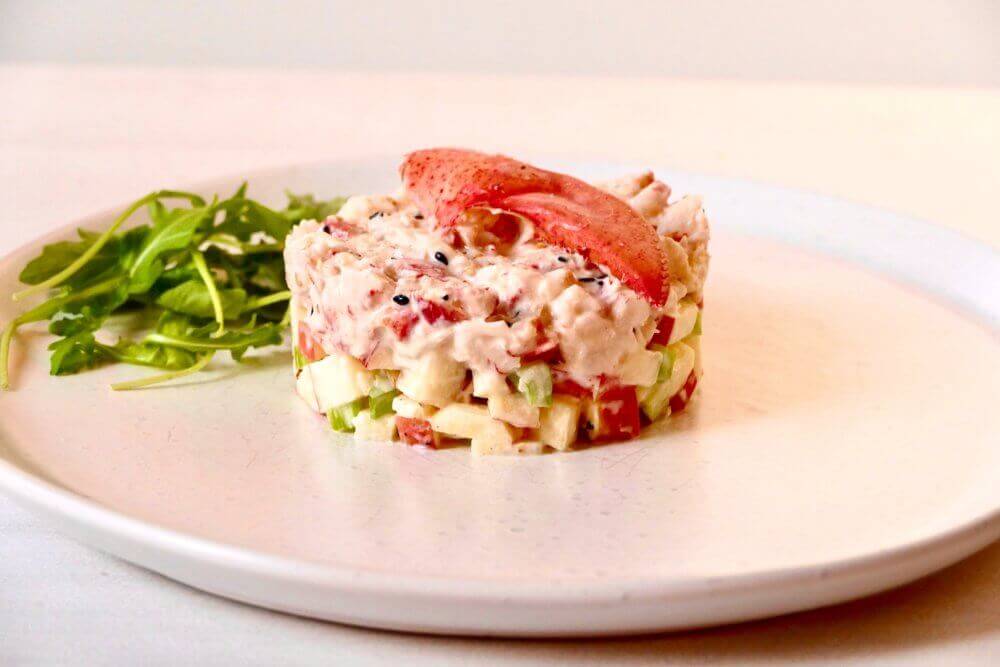 Now is the perfect time to enjoy lobster! Here is our own version—"faux tartar"—a true delight, simple to make but clearly worthy of a great restaurant!
Serving: 2
Preparation: 20 min
Cooking time: none
Ingredients
1 lobster 650 to 700 g (1 1/2 lbs), cooked and shelled
1 tsp (5 ml) sesame oil
1 tsp (5 ml) mirin
1 tsp (5 ml) chopped fresh ginger
Juice of one lime
3 tbsp (45 ml) mayonnaise
1 tbsp (30 ml) sesame seeds
Sriracha to taste
1 apple, diced
1 celery stalk, diced
Salt and pepper
Preparation
Reserve the meat from the tip of the lobster claws and coarsely chop the remaining meat. Combine the lobster meat with the sesame oil, mirin, ginger, and add to half the lime juice, 2 tbsp (30 ml) mayonnaise, sesame seeds and sriracha. Taste and season with salt and pepper. Set aside.
Coat the diced apple with a bit of lime juice and mix with the celery and remaining mayonnaise. Season with salt and pepper.
Place a tartar mold (you can use a cookie cutter) in the center of each plate. Divide the apple and celery mixture into both molds and flatten the mixture slightly with a spoon. Divide the lobster mixture and, again, flatten the mixture. Gently remove the cookie cutters, place the reserved claw tips on each tartar, and serve immediately with some greenery.
Enjoy!