Flank Steaks Marinated in Balsamic Vinegar with Arugula Pesto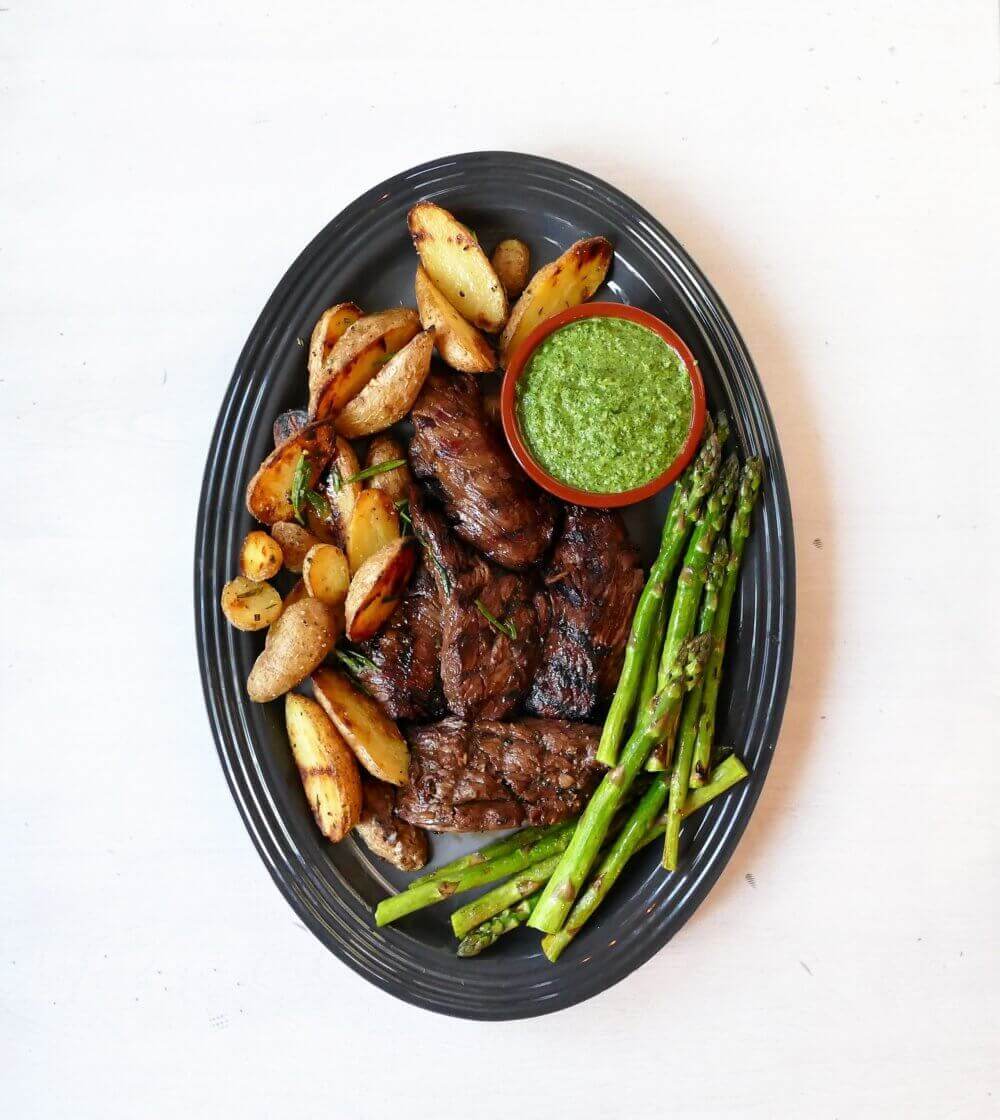 It is a fact that we are eating less beef, but when summer comes, I find the appeal of a tasty grilled flank steak hard to resist. And I like to serve it with vegetables in a large serving dish. Everyone takes what they want, and I don't have to get up again to serve those who want more—it's just perfect. Also, since the meat has to marinate for at least 12 hours, there is little preparation left for the next day. And that's even better.
Servings: 4 to 5
Preparation: 20 minutes
Cooking Time: 10 minutes
Ingredients
1 1/2 to 1 3/4 pounds (700 to 800 g) beef flank steaks or tabs
1 tbsp (15 mL) green peppercorns in brine
2 shallots
¼ cup (60 mL) balsamic vinegar
¼ cup (60 mL) olive oil
1 tbsp (15 mL) Dijon mustard
2 sprigs rosemary
Salt and pepper
Arugula pesto
¼ cup (25 g) pine nuts
2 tbsp (30 mL) white balsamic vinegar
¼ cup (60 mL) good quality olive oil
4 cups (1 liter) arugula
2 tbsp (30 mL) freshly grated Parmesan cheese
Salt and pepper
Preparation
The day before, cut the flank steak into 4 to 5 portions, making light crosshatch marks with the tip of a knife and place the steak in a container or sealed plastic bag.
Crush the green peppercorns with the flat side of a knife. Peel and dice the shallots. Whisk together the balsamic vinegar, olive oil, Dijon mustard, green peppercorns and shallots, and pour the marinade over the flank steaks. Coat the meat thoroughly and place in the refrigerator for at least 12 hours.
The next day, roast the pine nuts in a frying pan and remove them from heat. Pour olive oil and white balsamic vinegar into a blender with 2 cups of arugula and process into pesto. Add the remaining ingredients and blend until the desired texture is achieved. Pour into a bowl, cover and let sit in the refrigerator until ready to serve.
Preheat barbecue to 400○F (205○C).
Remove the meat from the marinade and pat dry, season with salt and pepper. Place the flank steaks on the grill, reduce the heat under the meat to medium, and cook for about 4 to 5 minutes on each side for rare.
Serve with arugula pesto and grilled vegetables.
Enjoy!