Creamy Mojito Popsicles for the Young and Old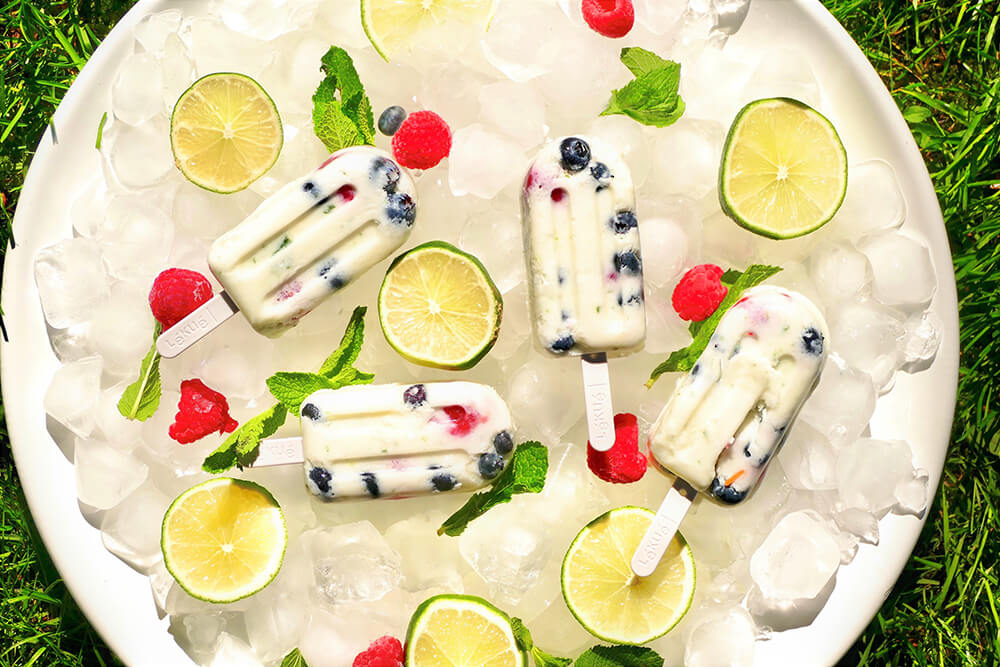 Our popsicles are simply perfect! They will delight children's taste buds and please adults who can, if they wish, add a little touch of rum. Slightly tart and fruity, very easy to make, no cooking required and with subtle notes of mint, they are truly refreshing. These popsicles are sure to please everyone.
Servings: 12 to 16 popsicles
Preparation: 10 min
Cooking time: none
Freezing time: 4 hours or more
Ingredients
1 ½ cups (375 ml) water
½ cup (125 ml) freshly squeezed lime juice
Zest of one lime
1 1/8 cup (300 ml) sweetened condensed milk
2 tbsp (30 ml) coarsely chopped fresh mint
3 tbsp (45 ml) rum (optional)
Raspberries and blueberries
Preparation
Pour water, lime juice and zest, sweetened condensed milk, mint, and rum (optional) into blender bowl and switch on for a few seconds to blend.
Place 2 to 3 raspberries and a few blueberries at the bottom of each popsicle mold. Cover with mixture and place a stick in the center. Repeat. Put in freezer until thoroughly frozen, 4 hours or more.
To serve, simply remove from mold.