Extendable Tables for Every Need
There are many things to consider when buying a dining table—whether you're going to use it daily or just on special occasions, whether it's for a kitchen nook or formal dining room. You also need to keep in mind where you're going to put your table, how many people you want to seat, and what materials, fabric, and style you prefer.
Needs change over time and based on the occasion, so it's important to consider that when purchasing furniture. An extendable table may be the best solution for your needs, and Canadel's high-quality dining sets maintain their timeless beauty through the years.
Weighing your current and future needs
To gauge your needs, first think about how many people will sit around your table. Then, think of the future: are you thinking of moving in a few years into an apartment or a condo, upgrading to a bigger home, or downsizing? And your table may grow as your kids get married and grandkids come along. Life changes will sometimes create a need for more space at a table, whether it's for homework or remote working, and will certainly alter your requirements.
Where your table will be placed must guide your decision because a table that is too large will overwhelm everything while limiting your guests' comfort. The general rule of thumb is to estimate 25 to 30 inches of space per person seated around the table.

While your room may have enough space for your guests to sit comfortably during a meal with family or friends, you may opt for a smaller table so that it doesn't always take up the entire room, giving you a more pared down, uncluttered decor.
With an extendable table, you can host more people and, when the leaves are removed, free up your space for day-to-day living. You can even gain 16 to 60 inches, depending on the model and the number of leaves! And whether the chosen model has legs or a pedestal, leaves are an option.
You just need to determine what type of leaf will meet your needs. Depending on the style of table, there are different types of leaves available: detachable, butterfly, automatic self-storing, and drop.
They all have different features and benefits, so it's important to understand the differences between them so that you can choose the style that will best meet your needs.
Removable leaves
Offered with our wooden tables, removable leaves can be placed in the middle or on the ends of a table, and for certain models, up to three leaves can be added, which is great for seating numerous guests when opportunities arise! That said, you need to have enough space to store the leaves and remember that they will need to be put in place before a meal and removed afterward.
Canadel makes a range of rectangular and boat-shape tables that open in the middle with self-storage systems. Self-storage systems are perfect for people who don't have much storage space because the removable leaf is stored manually under the table. With this option, you'll need to follow a few steps before setting the table for your guests: first, open the table and remove the leaf, which sits on supports under your tabletop. Put the additional panel in place and then close the table up again. With certain table models, you can also add two additional removable leaves, which cannot be stored under the table.
Remember: removable leaves need to be stored in the same conditions as those of your table. So, if your table is on the ground floor, it's important to keep the leaves there as well. The self-storage system makes it easier to manage conditions. Also, round, oval, and square tables have removable leaves only.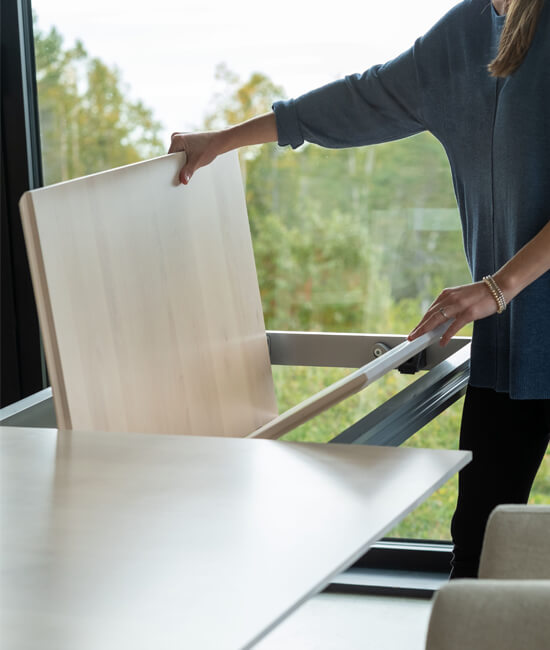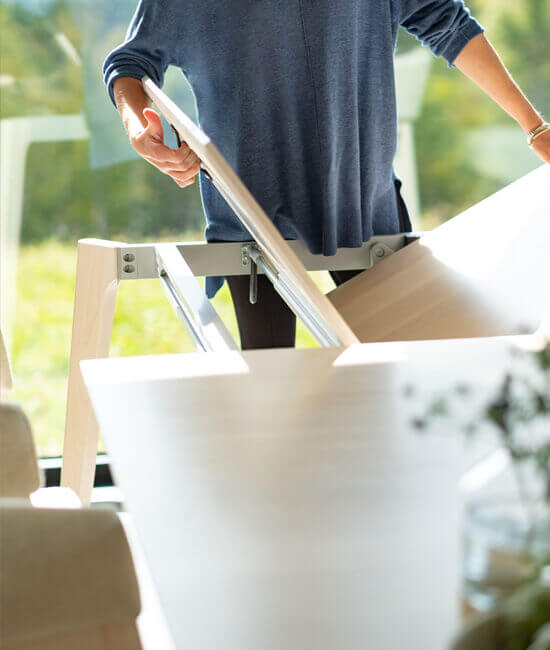 Butterfly leaves
Butterfly leaves placed at the ends of a table avoid a split in the middle, but they can also be placed in the center. Folded in half and completely hidden under the tabletop, they also work with a retractable mechanism. This type of leaf cleverly and effortlessly folds in two. Thanks to a swiveling part, the leaf opens and closes easily. As with the other types of leaves, some table models have wheels on their legs for even more ease. The subtle wheels glide smoothly to extend the table so the leaves can be removed. And the leaves are as easy to add as they are to put away! With this mechanism, one person can easily maneuver the leaves on their own—a fact that many will appreciate.
Drop leaves
Drop leaves hang from each side of the table when not in use. They take up little space and are quick and easy to handle. The drop leaf option is also available with our fabulous islands, so you can create a lunch counter to eat at.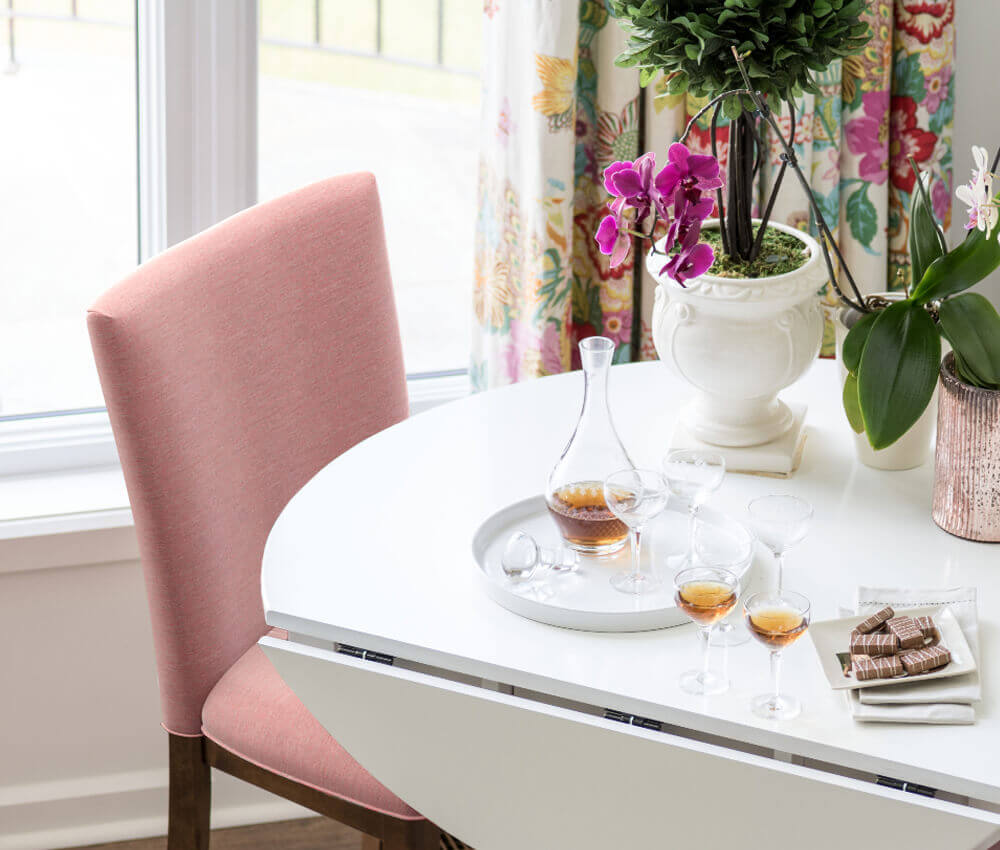 The various types of leaves are an ideal solution for smaller kitchens and dining rooms or for people who desire minimal effort. Depending on the type of leaf and whether it's placed under the tabletop, it's as easy as extending the table to reveal the leaf, taking it and putting it in place or simply pulling the leaves out into place. Each table model has specific types of leaves, and they blend effortlessly with all styles.
With certain models, the leaf can be stored carefully under the table, so you can make the best use of the often limited space in apartments and condos. Combining aesthetics and utility, even if a leaf is concealed under the table, leg comfort is guaranteed because considerable thought has gone into clearance.
Whether your tastes and inspirations tend toward classic, contemporary, industrial, or farmhouse style, the dining table you buy should satisfy your needs now and in the future.
At Canadel, we proudly offer numerous leaf options so you can customize the table of your dreams based on your tastes and needs. Tables with butterfly, automatic self-storing, and drop leaves require little handling and less storage, so you can spend many a joy-filled evening sharing a delicious meal with family or friends around a beautiful table.