Baked Chicken Wings with Coffee Flavored Barbecue Sauce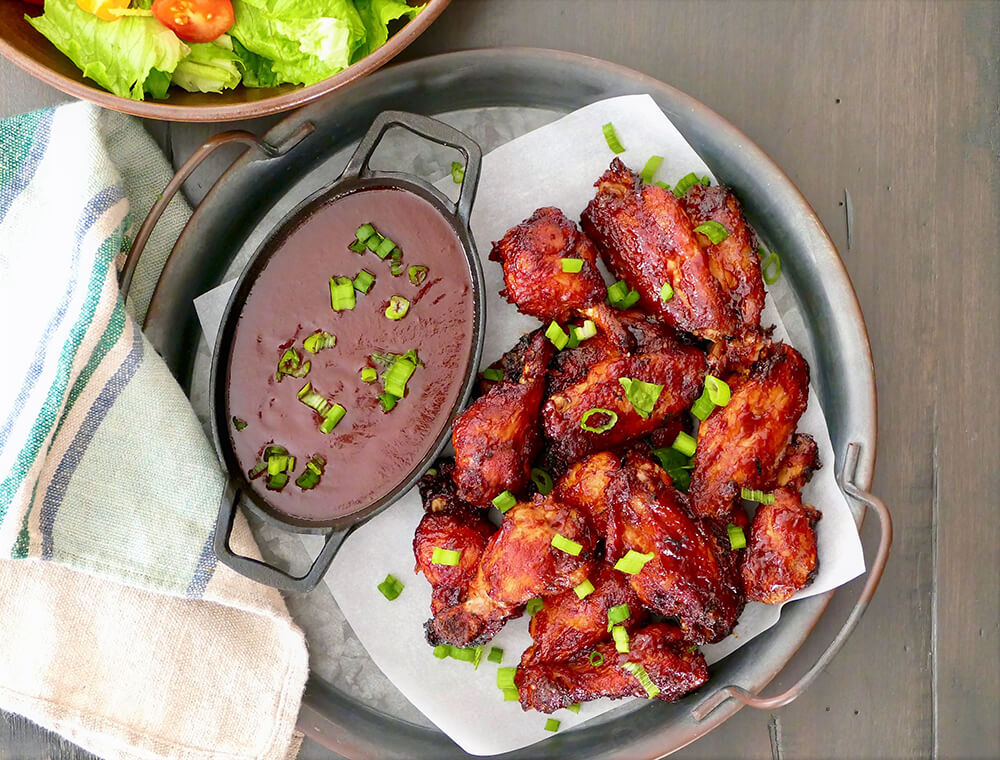 Add a different and delicious sauce to these tender finger-licking-good chicken wings. A perfect treat to enjoy during the upcoming Super Bowl!
Servings: 3 to 4
Preparation: 20 min
Cooking Time: 40 min
Ingredients
2.2 lb (1 kg) chicken wings, fresh or thawed
2 tsp (10 ml) baking soda
1 tsp (5 ml) salt
Sauce
1 cup (250 ml) ketchup
1/3 cup (80 ml) brown sugar
2 tbsp (30 ml) molasses
1/4 cup (60 ml) espresso or strong coffee
2 tsp (10 ml) cocoa
1 tsp (5 ml) ground cumin seeds
1 tsp (5 ml) smoked paprika
1 tsp (5 ml) hot sauce, or more to taste
Salt and pepper
Preparation
Preheat oven to 425○F (220○C). Line a baking sheet with parchment paper.
Rinse wings, drain and pat dry. If not already prepared, cut wings at the joint, slice off tips and set aside to make chicken stock. Place wings in a bowl and coat thoroughly with baking soda and salt. Set aside.
In a saucepan, stir ketchup, brown sugar, molasses, coffee, cocoa, ground cumin seeds, smoked paprika, hot sauce, salt and pepper for 3 to 4 minutes on medium heat. Set aside 1/2 cup (125 ml) of sauce to serve with the wings.
Place wings in the oven for 20 minutes. Take them out of the oven and brush with sauce. Return to the oven for 10 min. Take the wings out again, turn them over and brush with the remaining sauce. Bake for another 10 minutes.
Take out the wings, place on a plate and serve with the remaining sauce.