Stuffed Pretzel Bites with Three Fillings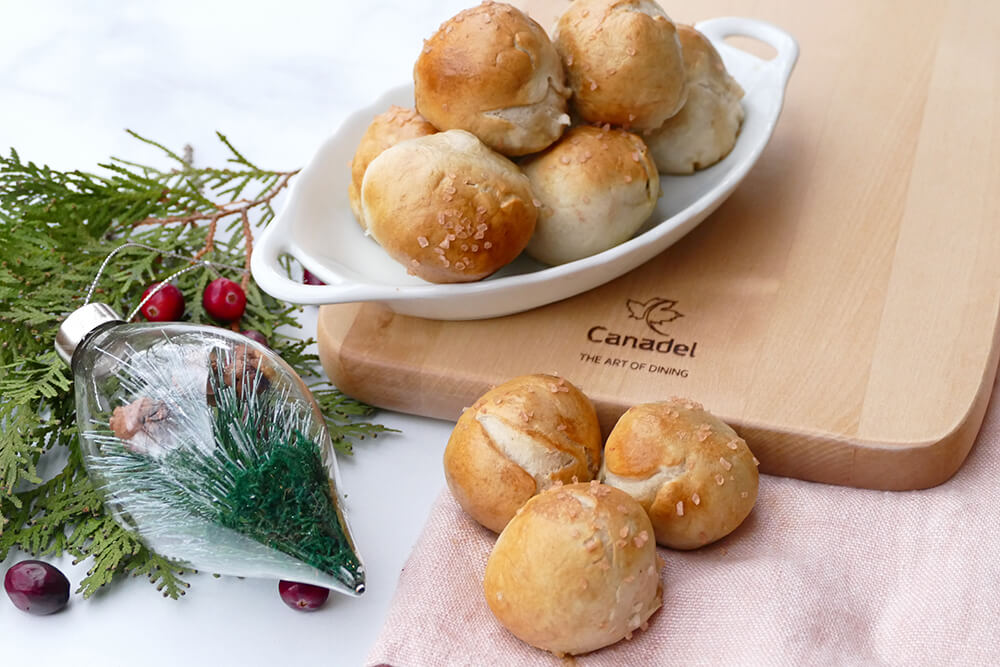 The first time I made this recipe, I said to myself, "Wow! That's really good!" But after thinking a bit more, I figured it would taste even better with three types of filling instead of one. I love spanakopita, onion confit, and mushrooms. And that's how this trio of absolutely delicious bites was born. Your guests won't be able to get enough of the delicious fillings in the middle of each of these moist, tender pretzels. The spinach and mushroom fillings are easy to make, but the onion confit takes longer. Short on time? No worries. You can use store-bought confit instead!
Servings: 42 bites
Prep time: 1 hour
Chill time: 1 hour
Rest time: 45 minutes
Cook time: 45 to 50 minutes
Ingredients
Onion confit filling
1 large sweet onion
2 tbsp (30 ml) butter
1 tbsp (15 ml) maple syrup
Salt and pepper
½ cup (60 g) grated Gruyere or Emmental
Spinach filling
1 dash olive oil
1 clove garlic, minced
3 cubes frozen spinach, thawed
¼ cup (60 ml) crumbled feta cheese
2 tsp (10 ml) minced fresh mint
Salt and pepper
Mushroom filling
1 large shallot
⅔ cup (227 g) cremini mushrooms
1 tbsp (15 ml) butter
2 tbsp (30 ml) chopped walnuts
1 tbsp (15 ml) truffle oil
Pretzels
2 cups (500 ml) warm water
2 tbsp (30 ml) traditional dry yeast
2 tbsp (30 ml) maple syrup
2 tbsp (30 ml) melted butter
5¼ cups (660 g) all-purpose flour
2 tsp (10 ml) salt
8 tbsp (120 ml) baking soda
Fleur de sel or kosher salt
Directions
Dice the onion. In a cast iron pan, heat the butter over medium heat. Add the onion, maple syrup, salt, and pepper and mix well. Cook, stirring occasionally and reducing the temperature as needed, until the onion is caramelized, about 30 minutes. Transfer the confit to a bowl and refrigerate for 15 minutes. Add the grated cheese to the confit and set aside.
Drizzle olive oil in a frying pan and add the garlic. Cook, stirring for 1 minute. Add the spinach and cook for 2 to 3 minutes until the excess water has evaporated. Transfer the filling to a bowl, add the minced mint, feta, salt, and pepper. Set aside.
Dice the shallot and chop the mushrooms. In a frying pan, heat the butter and cook the shallot for 2 minutes. Add the mushrooms and walnuts, and season with salt and pepper. Cook, stirring until the water has evaporated. Transfer the filling to a bowl and add truffle oil.
Spread parchment paper on two baking sheets. Take 1 teaspoon (5 ml) of the onion confit and form a small ball. Place it on the baking sheet and repeat. You should get about 14 balls. Repeat with the 2 other fillings and freeze for 1 hour.
In a large bowl, add warm water, yeast, and maple syrup and let the mixture rest for 5 minutes. In another bowl, combine flour and salt. Mix the melted butter and half the flour into the yeast mixture. Repeat with the remaining flour.
Knead the dough for 5 minutes on a lightly floured work surface. Place it in a bowl, cover, and let rest for 15 minutes.
Take the first baking sheet with fillings out of the freezer. Take about 1 tablespoon (15 ml) of dough and stretch it between your hands to form a flat disc. Take one ball of filling, place it in the center of the dough, fold the dough over the filling, and pinch the top and bottom together like a dumpling. Then roll it between your hands to form a ball.
Place the pretzel on the baking sheet and repeat for each ball of filling. Let them rest for 30 minutes.
Preheat the oven to 400 °F (205 °C). Line baking sheets with parchment paper. Fill a large pot with water, bring it to a boil, and add the baking soda. When the water stops foaming, add 5 pretzels and cook for 30 seconds. Place the pretzels on a baking sheet and sprinkle with salt. Repeat.
Cook the pretzels in the oven for 15 to 17 minutes or until the tops are golden. Serve.
These bites freeze well. Just spread them out on a baking tray and freeze for 12 hours. The bites must be kept frozen in a closed container. Take out the desired number of bites 45 minutes to 1 hour before cooking to bring them to room temperature.