Strawberry and Rhubarb Muffins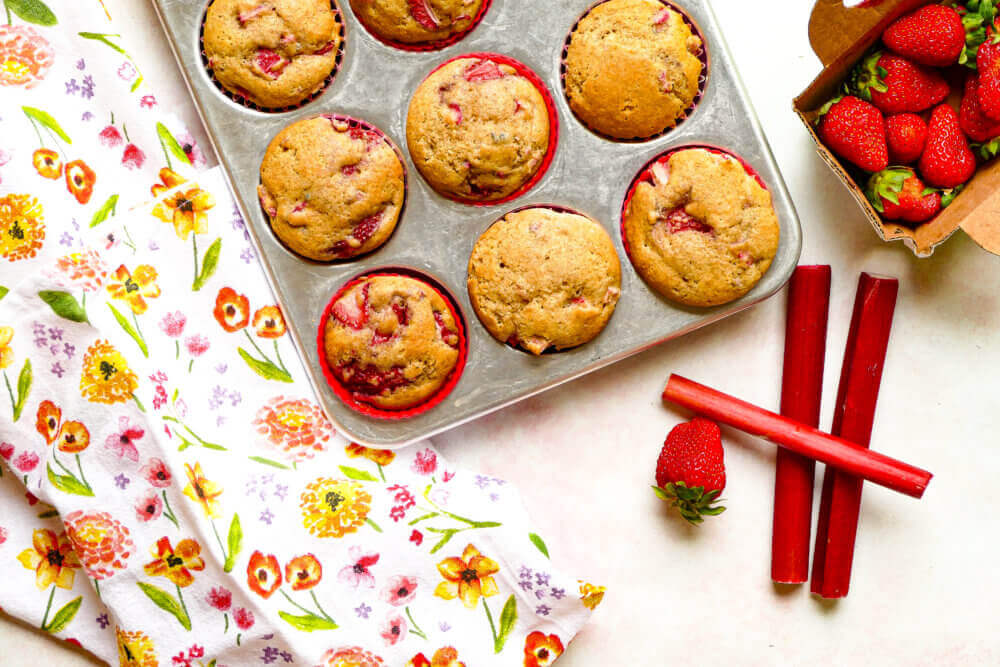 These tender, tasty and generously fruity muffins will be sure to please everyone! Perfect for snacks, they are also convenient for back to school or work!
Servings: 16 muffins
Preparation Time: 20 min
Baking Time: 25 min
Ingredients
1 cup (250 ml) all-purpose flour
1 cup (250 ml) whole-wheat flour
1 tsp (5 ml) baking powder
1 tsp (5 ml) baking soda
½ cup (125 ml) unsalted butter at room temperature
¾ cup (180 ml) sugar
2 eggs
1 tsp (5 ml) vanilla
1 tsp (5 ml) salt
½ cup (125 ml) milk
1 cup (100 g) diced rhubarb
1 cup (150 g) diced strawberries
Preparation
Preheat oven to 350 oF (180 oC). Place paper or silicone liners in the cups of a muffin pan.
In a bowl, combine flour, baking powder, baking soda and salt. Set aside.
In another bowl, whisk butter and sugar together. Beat in eggs one at a time, and vanilla. Pour in half the dry ingredients and mix. Add half the milk and mix. Repeat the last two steps and mix until smooth.
Using a spatula, add the rhubarb and strawberries and gently mix. Fill the cups and bake for 25 min. Rotate baking tray halfway through baking. Remove from oven when a toothpick inserted in the center of a muffin comes out clean. Let cool 10 min and remove from pan. Place muffins on a wire rack to cool.
Enjoy!