Golden Rules for a Successful Decor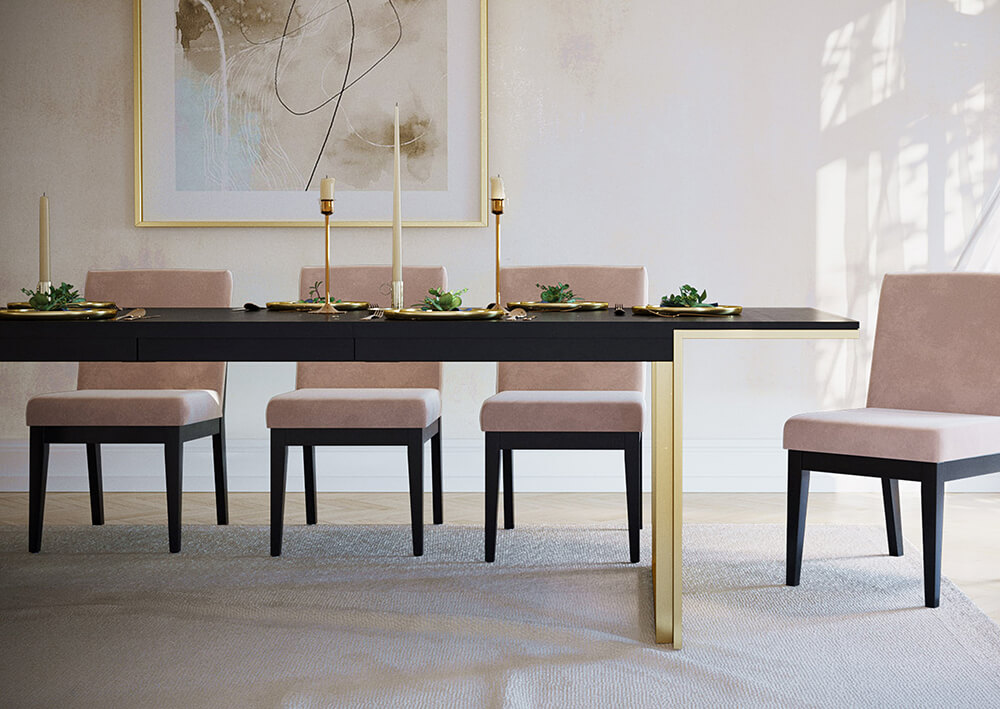 Known around the world for hundreds of years for its unique, chic and lustrous character, gold easily makes a statement in all aspects of our lives. Long associated with luxury and wealth, it is much more accessible than we think. We owe its comeback in the decorating world to industrial and modern trends, but its place in our homes is certainly not limited to these styles. Our love of light wood, a more classic and traditional atmosphere, and natural aesthetics are no exception to this warm accent!
The Perfect Balance
Coveted for its rarity, gold is much more effective when used sparingly. Its opulent bright finish can quickly become overpowering or too flashy.
Its strong presence enhances any space and adds THE missing touch to any decor.
Gold also suits many different styles, whether you are a more classic type or have a penchant for vintage. Its versatility brings perfect balance to a country atmosphere, adding a refined and modern touch. It warms up minimalist and Scandinavian environments and brightens up darker and monotone rooms.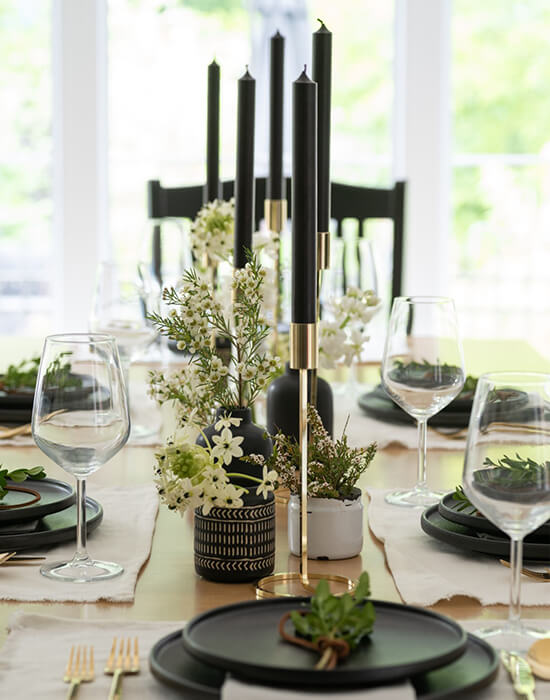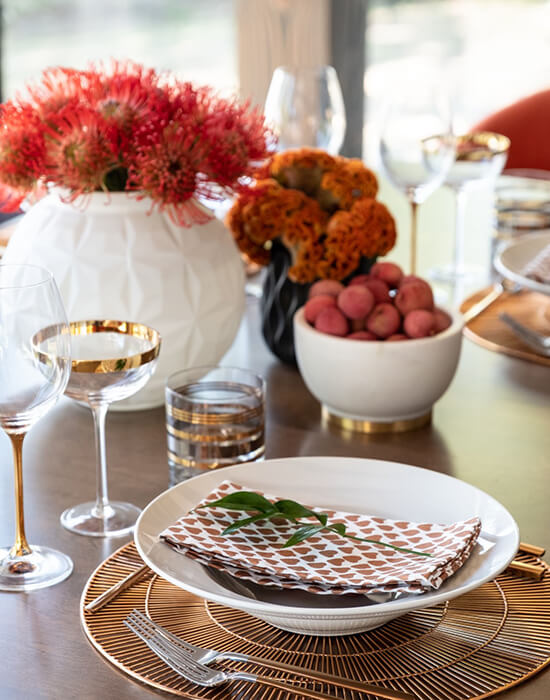 A Great Ally
Gold is a great ally in boosting neutral colors. It blends brilliantly and timelessly with black, beige, gray and white, creating instant chic and sophistication. We also love gold paired with rich shades such as deep blue, dark green, purple and terracotta.
In terms of materials, its glossy, shiny finish adds a very interesting counterpoint to velvet, rattan, wood and concrete. Don't be afraid to mix styles and finishes. On the contrary, this is the best way to highlight each piece of furniture and accessory.
Balancing Traditional and Modern
Gold has a modern look, but its popularity in our homes is not new. So why not be inspired by the past to create a decor that is both current and rich in history? The Art Deco style of the 1930s offers many interesting elements that lend themselves perfectly to the trends and spirit of the times. This flawless precious metal goes hand in hand with geometric shapes and prints like chevron and palm tree patterns. These prints, with touches of gold and used on cushions, chair covers and even a nice wallpaper are an original and effective way to give a graphic and structural look to a room.
In the kitchen, easily revitalize classic wood cabinets by adding brass handles. At the counter, stools in golden hues beautifully complement a decor. And in the dining room, beautiful velvet upholstered chairs with metal frames light up the traditional-styled table that has been used for many family gatherings.
Discreet, yet unmistakable, gold refines a neutral or dated decor and brings an air of freshness and renewal.
In Which Room?
Gold, which reflects natural and artificial light in a remarkable way, fits in all rooms. However, it is wise to adapt it to each space to fully appreciate it.
In the Bedroom
Since the bedroom should convey calm, comfort and rest, it is better to opt for very small details like the contour of a mirror, a candlestick or frame placed on the bedside table, or a flower vase. You can also give a nod to this bright finish by choosing a rug, pillows or curtains in a warm yellow variation like ocher or mustard to create a soft ambiance.
In the Living Room, Dining Room or Hallway
These rooms are the exception, where boldness is fitting. Incorporate small, flashy pieces of furniture, such as a wooden buffet or coffee table with gold accents, or a bench with golden legs that will give the hallway a touch of sparkle. Or splurge with a painting, frame, wall decoration or wallpaper adorned with sparkling details. Standing or hanging lamps, knick-knacks and sculptures: everything goes as long as there is balance along with a mix of materials and textures!
The Kitchen and the Bathroom
Because these rooms are primarily functional—but are also where we spend a lot of time—we like to combine pleasure with function. Here, go for brightness with brass faucets, gold-hued cabinet and door handles, and even include the dishes, salt and pepper shakers, and soap dish! Added sparingly, small touches will create perfect harmony.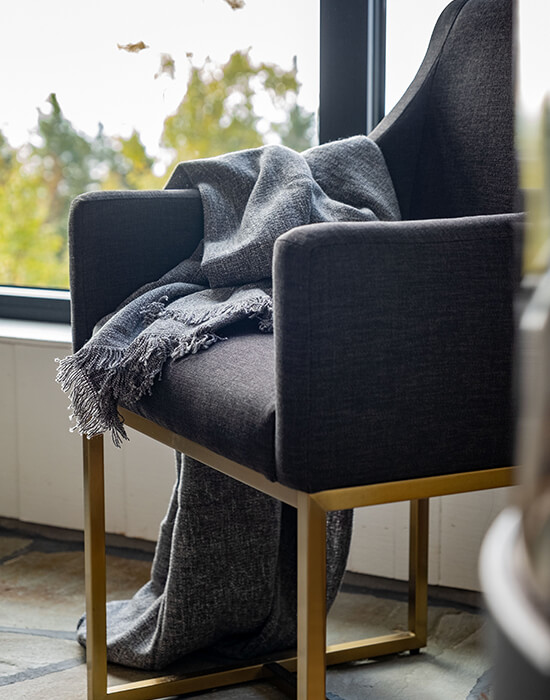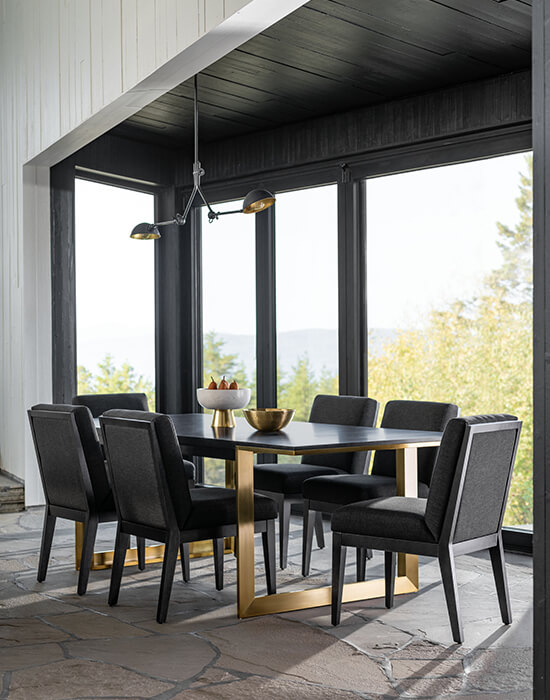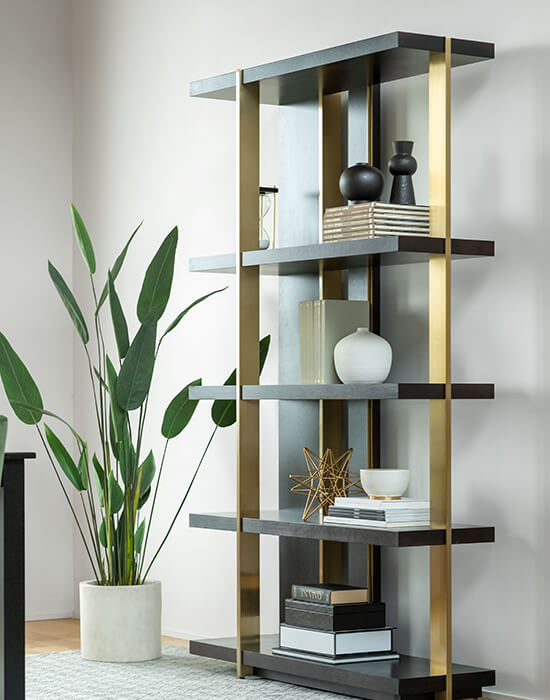 Avoiding the Pitfalls
If you haven't already fallen in love with this glittering metal, then it's just a matter of time. However, as the saying goes, "Too much of a good thing is not always good." So go with moderation. You don't want a bling-bling look that will be the exact opposite of the chic look you're aiming for.
A Few Tips to Master this Golden Trend:
Choose only small touches of gold.
Carefully select the colors to combine with gold for the "wow" factor you wish to create.
To incorporate a print, choose something simple and timeless. Fine stripes, marble and damask go hand in hand with this trend.
If you shy away from gold for fear of overdoing it, go for a soft brushed or matte finish that is less shiny than the classic look.
Worth its Weight in Gold
Trends are our guides—inspirations that help us perfect our decor. We must never lose sight of the primary goal of interior design, which is to build a warm, safe and welcoming environment that reflects who we are, a place of our own that expresses our personality and preserves our most precious memories. Because having a place to share unforgettable moments with those we love is worth its weight in gold and this should be echoed in our decor!